Once all the wedding details have been confirmed it's time to choose the invitation to send out to friends and family. Your invites should reflect the look and feel of your wedding and stir up a sense of excitement amongst your guests. Here are ten of the latest wedding invitation trends to inspire you: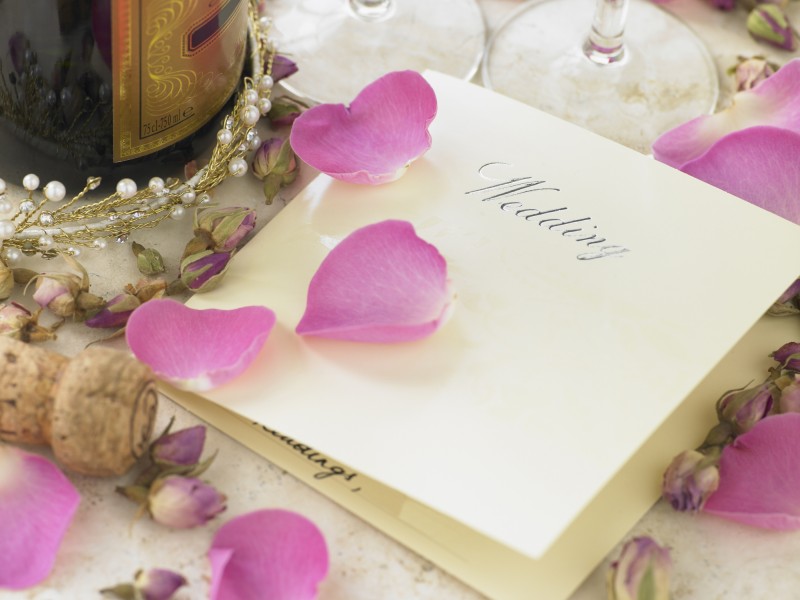 Adding three dimensional details
Create an original design that will stand out from standard flat printed cards by adding texture to your wedding invitations using layered card, fabrics, twisted wire, or pressed flowers.
Add glamour with crystals & gems
Crystals and gemstones are finding their way into every aspect of wedding design, and wedding invites are no exception. A couple of self-adhesive crystals can enhance the design on any printed card. Alternatively you could have a plain and simple white card with an added ribbon belt in your accent colour and rhinestone buckle.
Mix and match patterns
Eye catching patterns such as oriental flower prints, stripes, polka dots, and paisley have been a major trend in wedding invitations for quite a while, but the latest fashion is to combine two or three of these patterns, in the same colour scheme, for a high impact invite.
Handmade charm
Handmade wedding invitations are becoming popular and, as well as saving you money, handmade cards are very personal and can be tailored for each individual guest. Couples are using family photos, caricatures, and images of places they have visited to create unique designs.
Contemporary monograms
A monogram of the bride's initials has been used on wedding invites for many years, but a new trend for sophisticated logo style monograms, incorporating both sets of initials or even the couple's names, has resulted invitations that can be tongue-in-cheek and formal at the same time.

Strong colours
Hot pink and turquoise were fashionable invitation colours until recently, but this season sees a move towards darker shades such as plum or burgundy red. Select up to three complementary colours from your wedding palette to make your invite completely different from everyone else's. Traditional white may still be used for the more formal weddings, but many couples are choosing bold colours to blend in with their wedding theme or season.
Less formal wording
While it used to be customary for cards to be distributed by the couple's parents, many couples are deciding to send the invites directly themselves. This means couples are moving away from traditional invitation wording, and choosing less formal invitations. Formal phrases such as 'we request the honour of your presence' are being replaced with more colloquial sentences such as 'we'd love you to come and celebrate with us'.
Environmentally friendly invites
Recycled and handmade paper make beautiful bases for the cards, and natural materials such as leaves, twigs and pressed flowers can introduce a dash of colour and texture. You can also e-mail your invites to avoid the waste of paper. Eco friendly invitations are becoming increasingly popular as going green becomes an inspiration for the theme of numerous weddings.
Electronic wedding invites
Contemporary couples might prefer to send a multi-media electronic invite complete with soundtrack, animation, and video, instead of a standard wedding card delivered by post. Others are using social platforms such as Facebook to spread the word about their impending nuptials, and provide links to their wedding website.
Unusual envelopes
From fabric pouches to coloured plastic wallets that are designed to hold the invitation, the reply card, directions, and accommodation details, together with the gift list information, wedding invitation envelopes are getting a face lift! The standard envelope is old news when it comes to wedding invitations; these days as much thought goes into the design of the invitation's wrapping as the card itself.
Use Easy Weddings to connect with your dream wedding suppliers.
Browse the directory and start planning today!