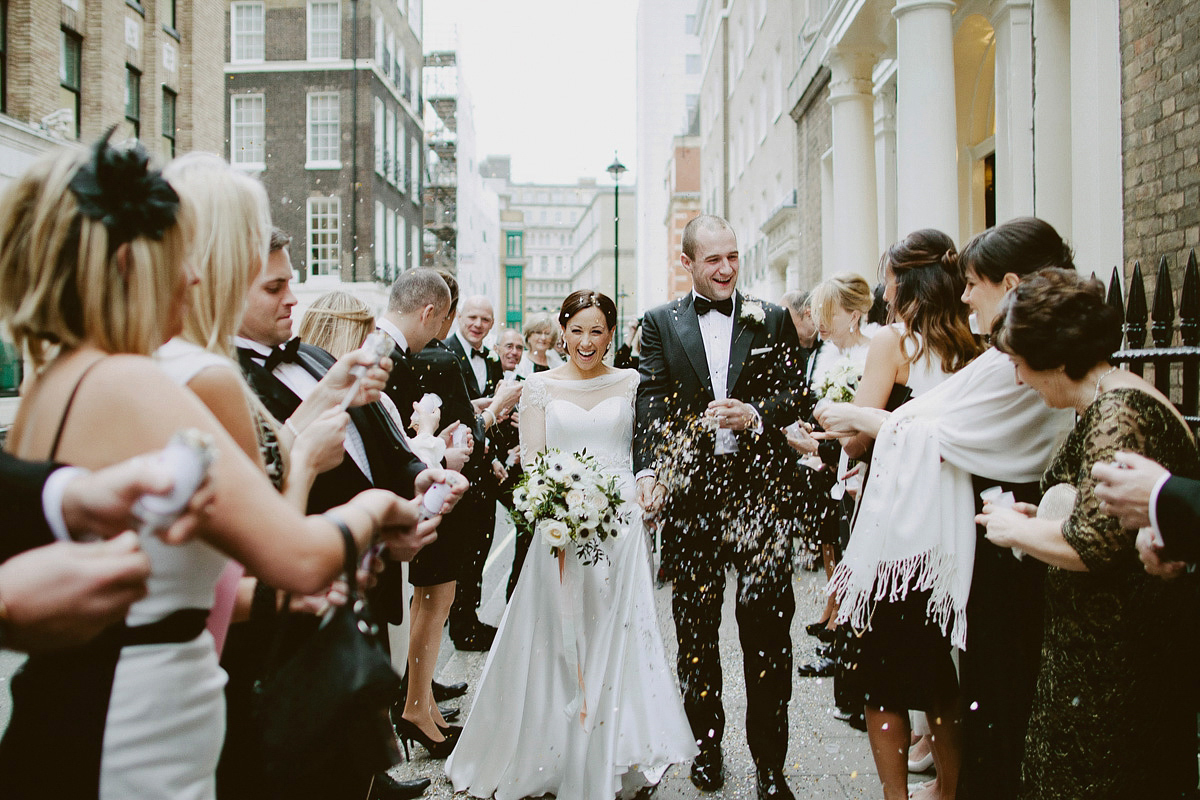 The Royal Society of Arts' primary motive has always been about bringing creative minds together for the greater good. Now your love story can be a part of its unique history. Read on to find out more about RSA House weddings, and our top reasons to book your wedding at this exceptional London ceremony and reception venue.
1. RSA House's charitable history
If you choose RSA House for your wedding, you will not only create long lasting memories, but your fees also funnel into the RSA charity mission. Its 30,000 strong fellowship connects bright minds and proactive problem solvers to fix the most prominent social challenges of today.
Over its impressive 250 year history, some of the world's most enlightened thinkers have passed through the halls of RSA House. Alexander Graham Bell first demonstrated his telephone invention in The Great Room and Winston Churchill was awarded the Albert Medal to acknowledge his commitment to society. RSA House's outstanding history and charitable values makes it a unique environment to make your commitment to one another.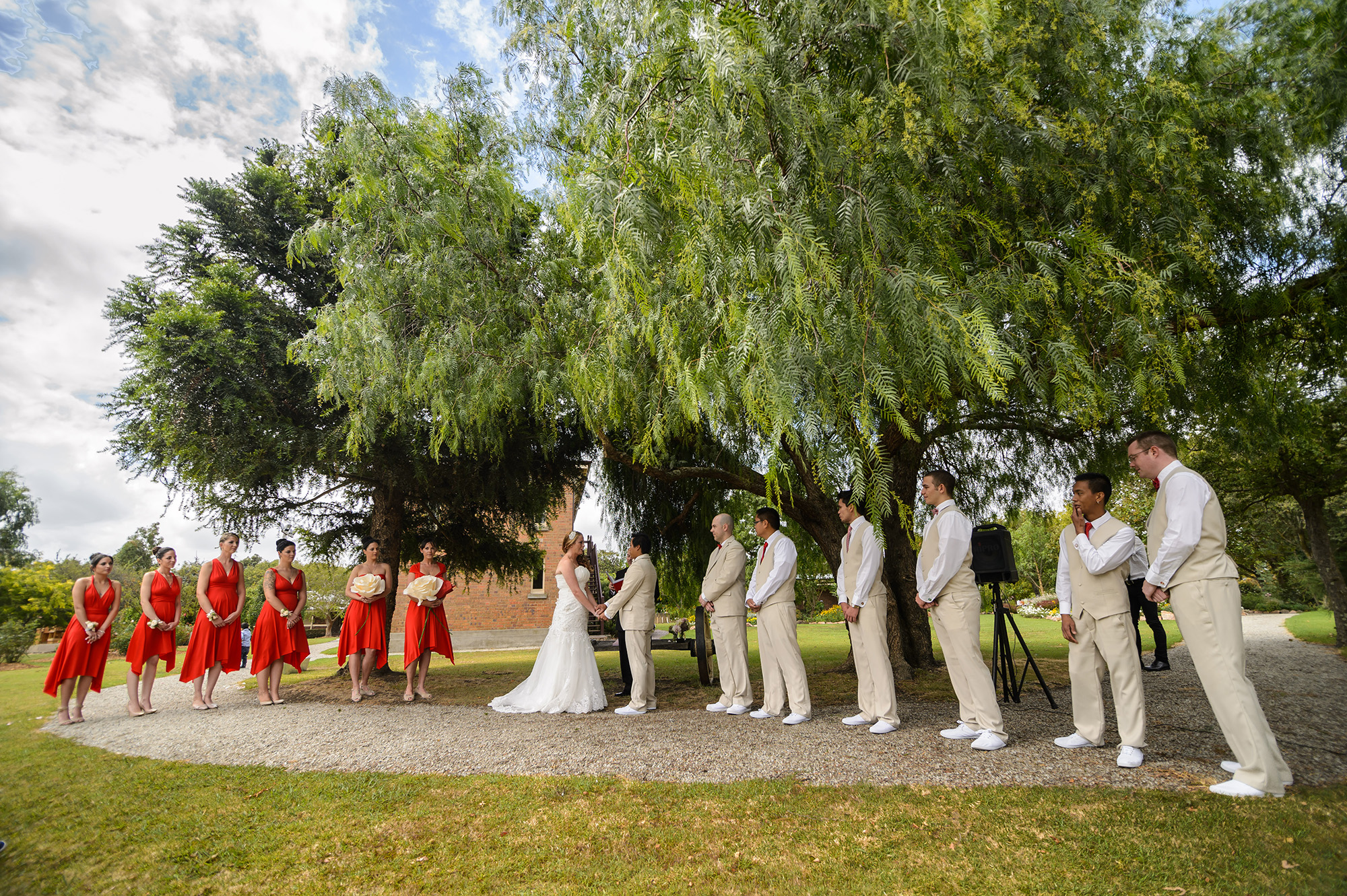 RSA Weddings, John Adam Street, London
2. Unrivalled Central Location
Above all, it's important to check if the transport links work for you and your guests. Luckily, RSA House boasts a very central location, behind The Strand on John Adam Street. Therefore, Charing Cross, Embankment, Leicester Square and Covent Garden tube stations are all within short walking distances. There are also lots of nearby car parks and London hotels for your guests to park and stay, so all of your loved ones can make it for your special day.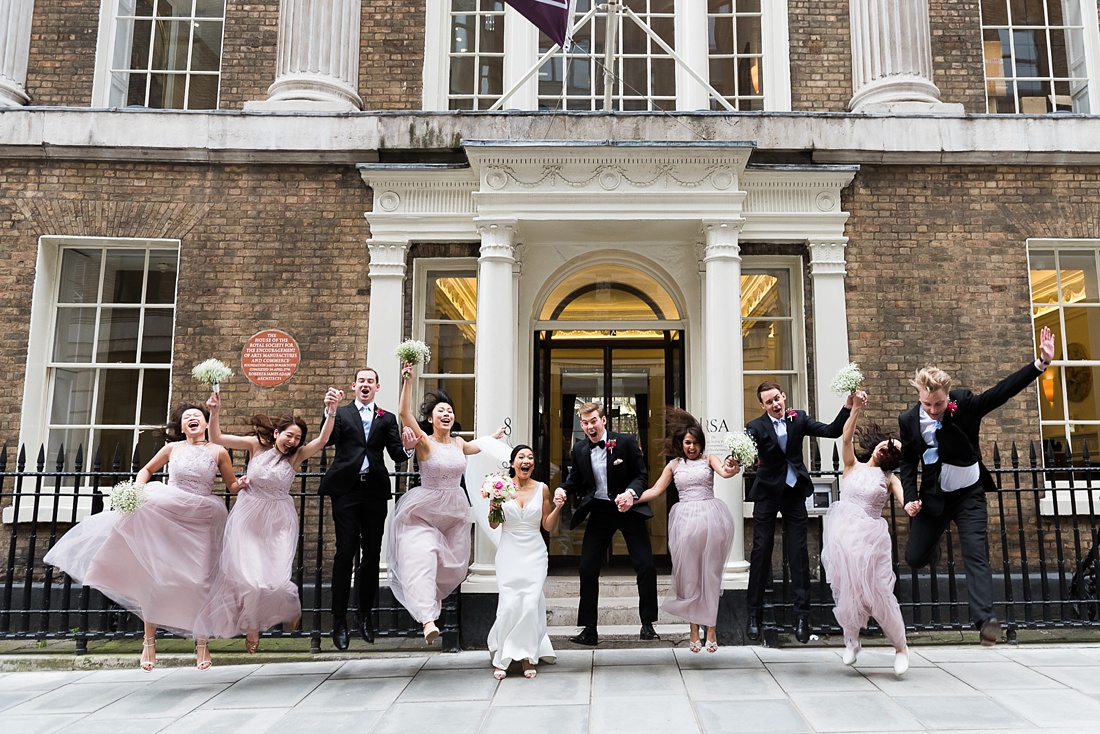 Local Town Halls and Churches
Although RSA House is licensed to host civil ceremonies in four of its elegant rooms, you can still opt to marry in a town hall or church if you prefer. Given its central location, there are plenty to choose from, all with distinctive styles and atmospheres.
Old Marylebone Town Hall in Westminster has seven sublime ceremony rooms and an exclusive range of civil ceremony scripts to choose from, from modern through to romantic. Other popular choices are Lopus Christi Catholic Church, St Martin-in-the-fields and St James's Piccadilly. Classical vehicles can be arranged to transport you and your wedding guests to your post-ceremony reception at RSA House. Take a look at the map below to browse churches in the local area.
Central London churches, RSA House weddings
3. Innovative and award-winning catering
CH&Co is the in-house catering specialist for RSA House, and its exceptionally high levels of service and food quality have been awarded the Royal warrant for HRH The Queen. This incredible honour is a credit to the company's impeccable spread of seasonal, sustainably sourced dishes. In fact, due to their mindful approach, CH&Co has become the most diverse caterer to be awarded the top level 3 star rating by the Sustainable Restaurant Association.
RSA House is proud to have partnered with CH&Co as its values align with the RSA charity mission statement. CH&Co believe that good nutrition and healthy ethically sourced food ultimately helps to enrich society too.
Above all, CH&Co are committed to meeting and exceeding your expectations. Their flawless reputation will ensure that every guest is replenished and that all of their dietary requirements are catered for. Darren Archer is their head chef. His innovative, creative and flavoursome flair keeps the menus fresh and appealing. They can offer any kind of refreshment, from canapes and bowl food, through to seated silver service. Darren and his team look forward to creating a bespoke catering package for you.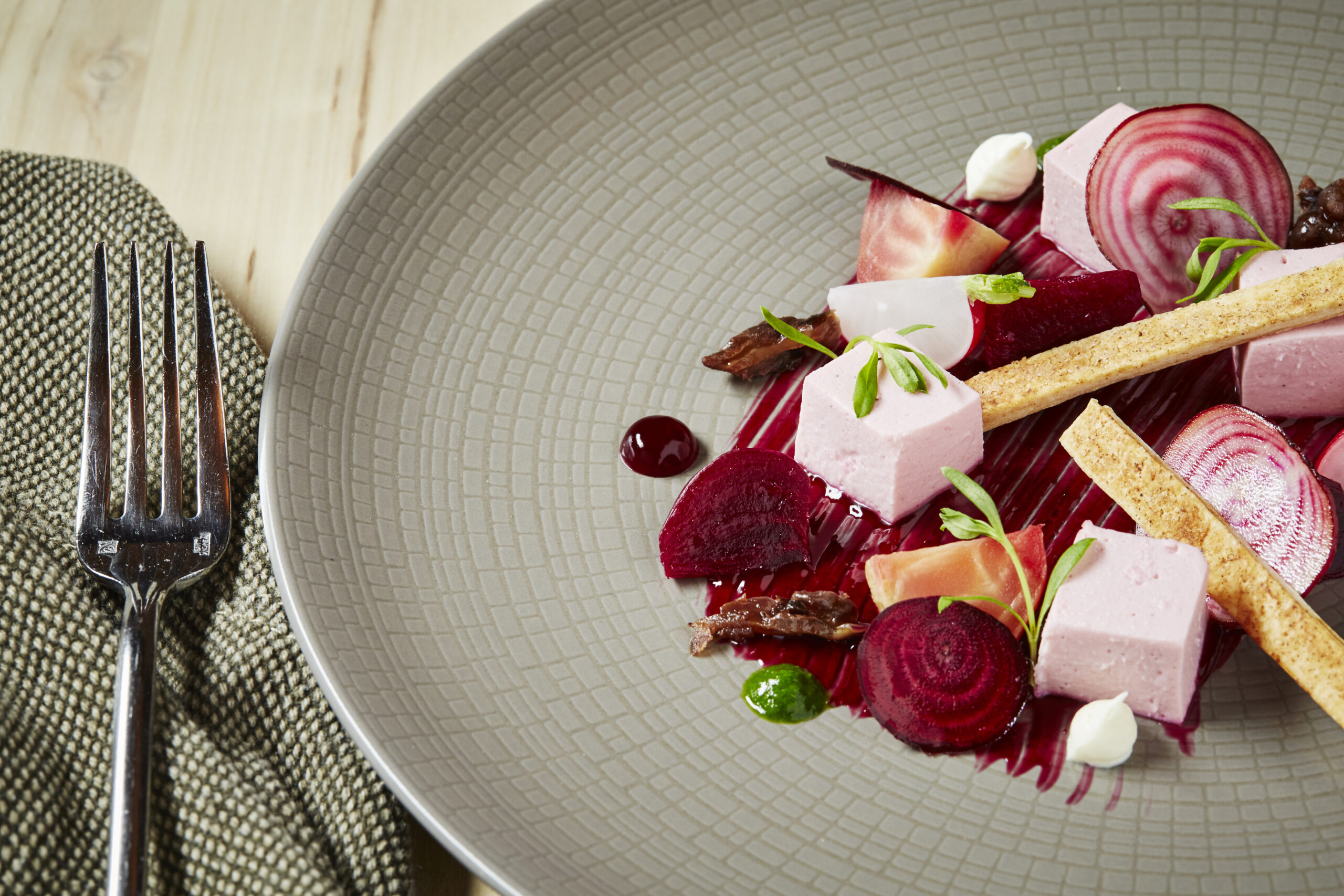 CH&Co are the primary caterer for RSA House weddings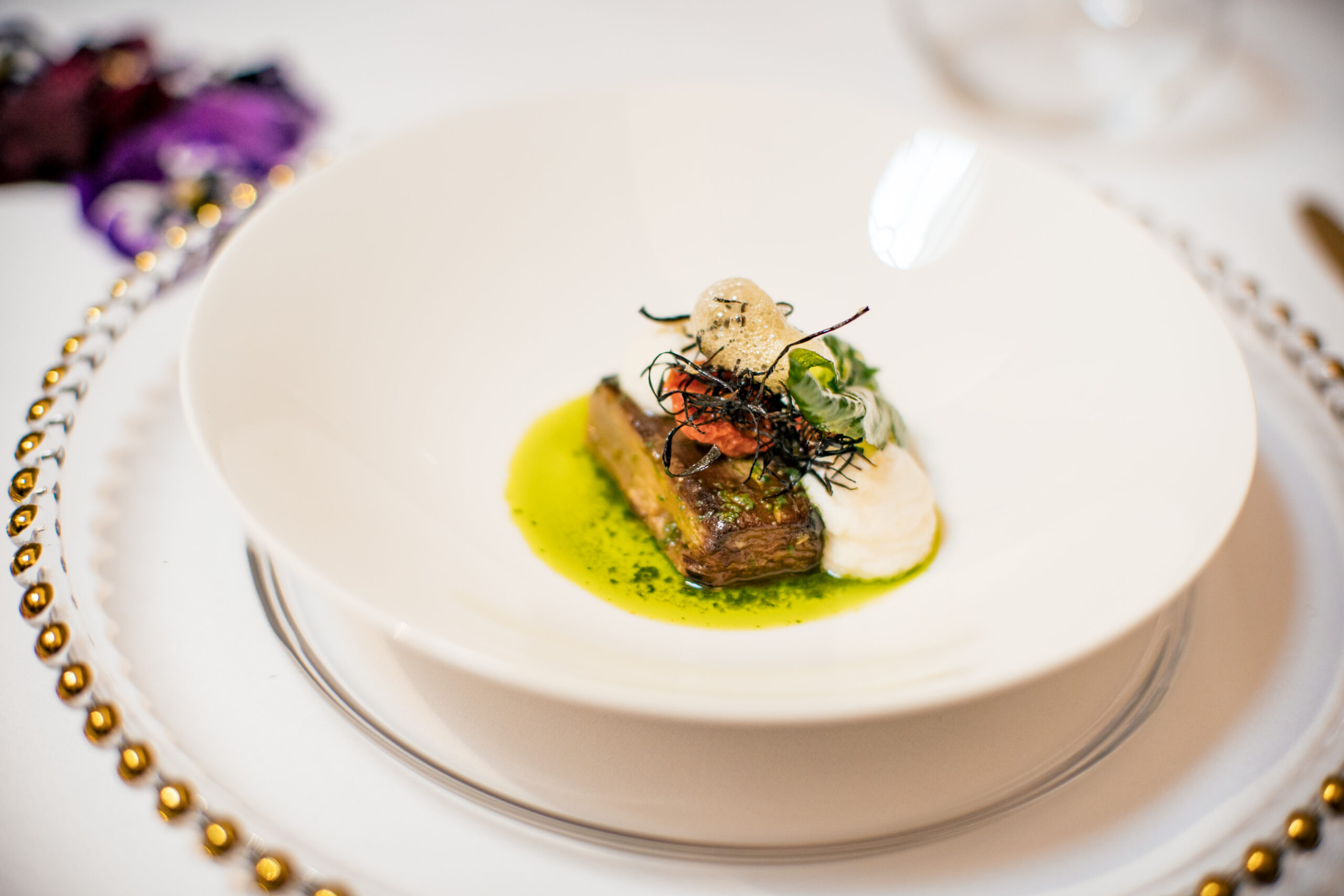 Delicious bespoke menus are created by CH&Co for RSA weddings
4. Versatile rooms and exclusive hire
RSA House is composed of five attractive Grade I Georgian townhouses, and its iconic facade is very similar to 10 Downing Street. Naturally therefore, this beautiful backdrop has been used for iconic movie sets, such as the multi BAFTA winning Iron Lady film. Inside, the original monochrome marble tiled hallway, high ceilings and sweeping staircase are other highlight features of this central London wedding venue.
RSA House also has the benefit of fully exclusive hire, so you can make the spaces completely your own until 2am. There are a variety of rooms that are licensed for ceremonies and reception dinners on both floors (all of them have exemplary disabled access). The advantage of this variety is that you can create a smooth flow from room to room, rather than having to organise a service turnover between the ceremony and the wedding breakfast.
The Great Room
130 ceremony / 130 dinner / 220 standing
Out of all of RSA House's reception spaces, The Great Room is the pièce de résistance. Its large air conditioned space is naturally lit by the skylight dome. As you step onto the graceful wooden floors, you'll instantly be captivated by the remarkable wrap around painting by Irish artist James Barry. The intricate, whimsical scenes of 'Progress of Human Knowledge and Culture' took him an impressive 24 years to complete. Wedding ceremonies work well set up facing the clock face. There is also an inbuilt stage and screen that can be used or covered during the ceremony dependent on your preference.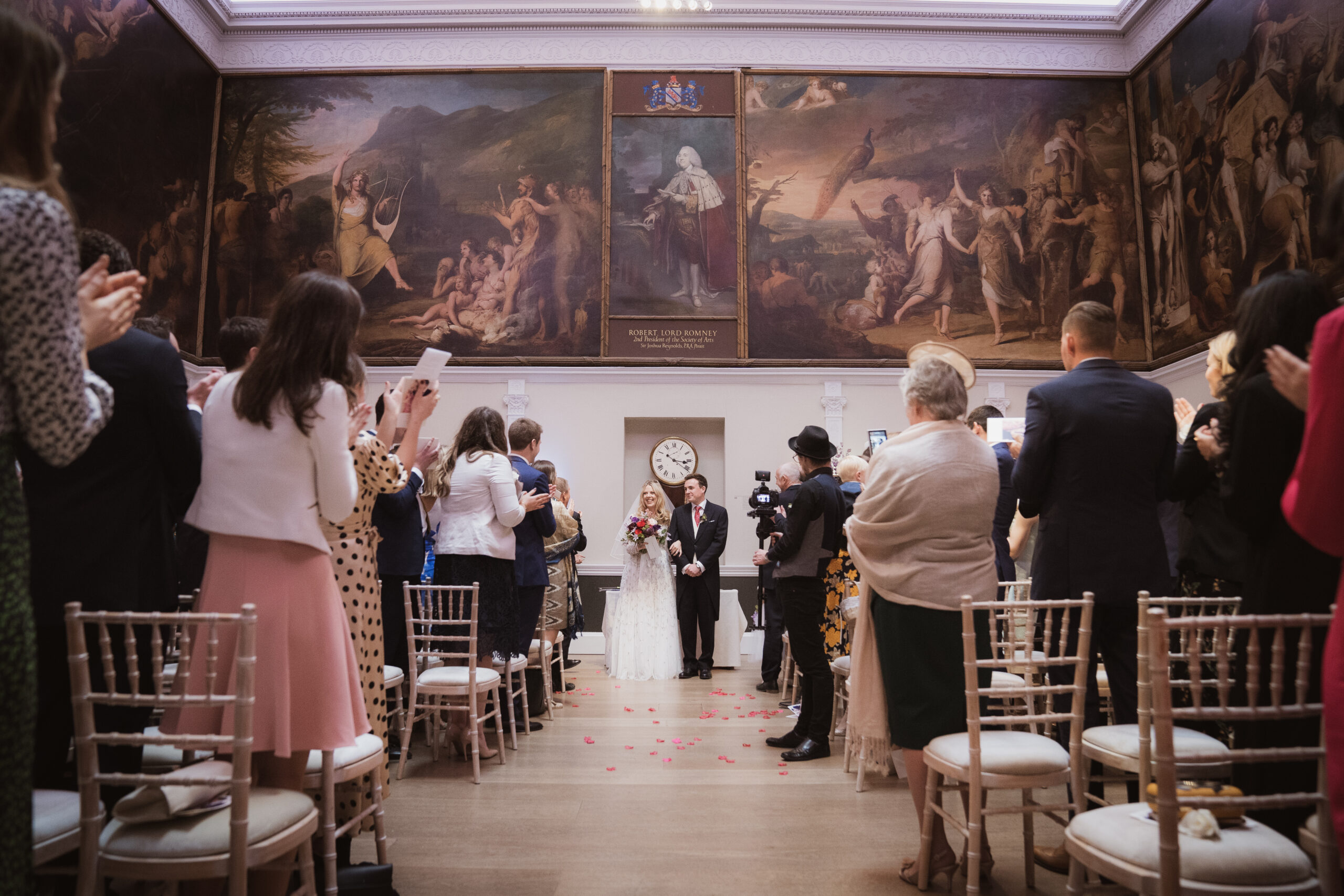 Ceremony in The Great Room, RSA House weddings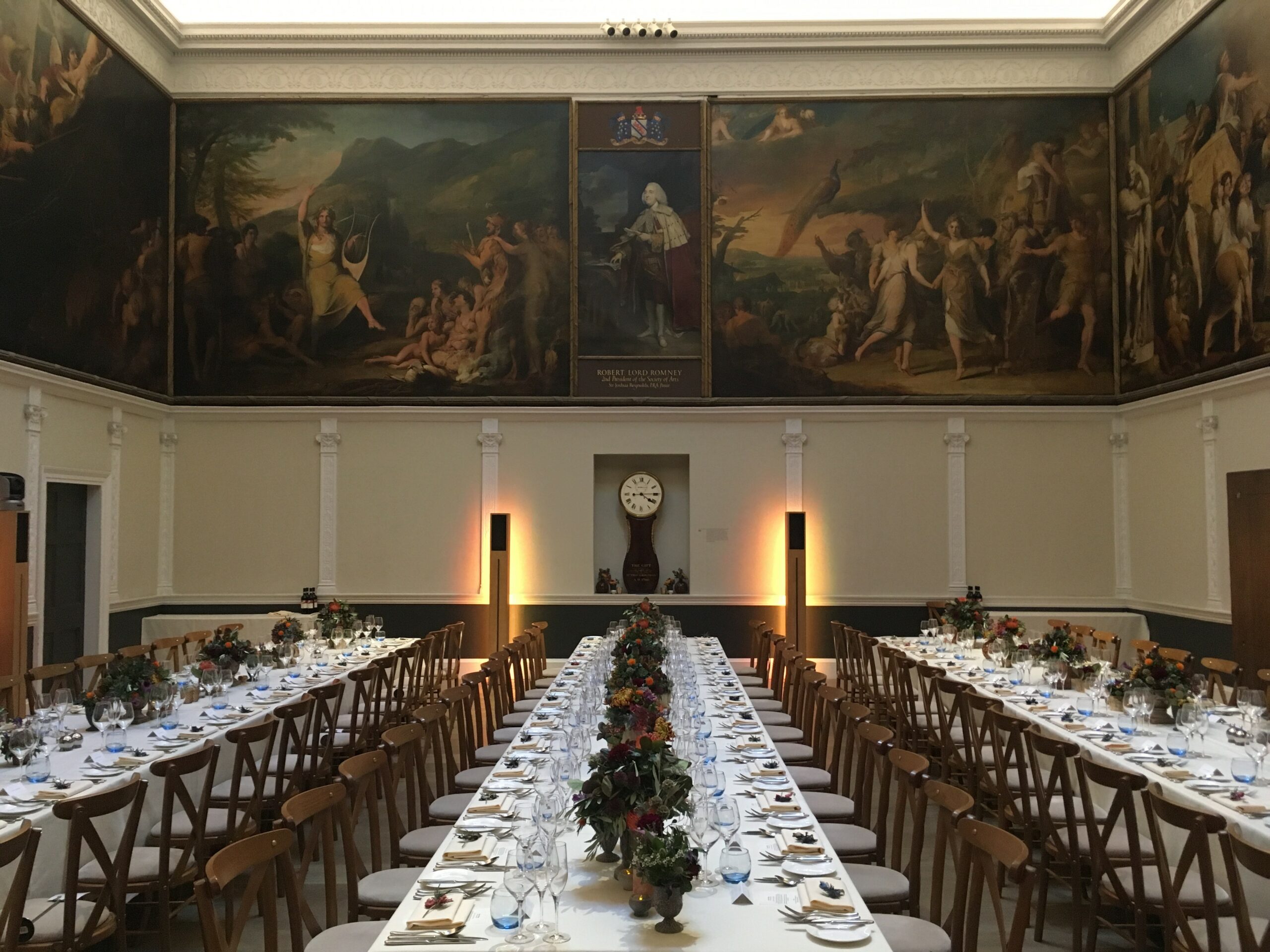 Wedding breakfast in The Great Room, RSA House weddings
The Benjamin Franklin Room
100 ceremony / 110 dinner / 150 standing
On the ground floor, The Benjamin Franklin Room overlooks the historical theatres and lively thoroughfare of the Strand. Inside, the bright neutral interiors feature four classical columns and two Adam fireplaces. The muted toned walls creates an elegant space to fill with your favourite florals and covered candles. In light of its history as a model room for award winning innovations, the eye catching Troika chandelier is a touching nod to Franklin's bifocal lenses. The light fixture reflects a geometric pattern onto the ceiling; it's a stunning centrepiece to stand beneath and say your vows.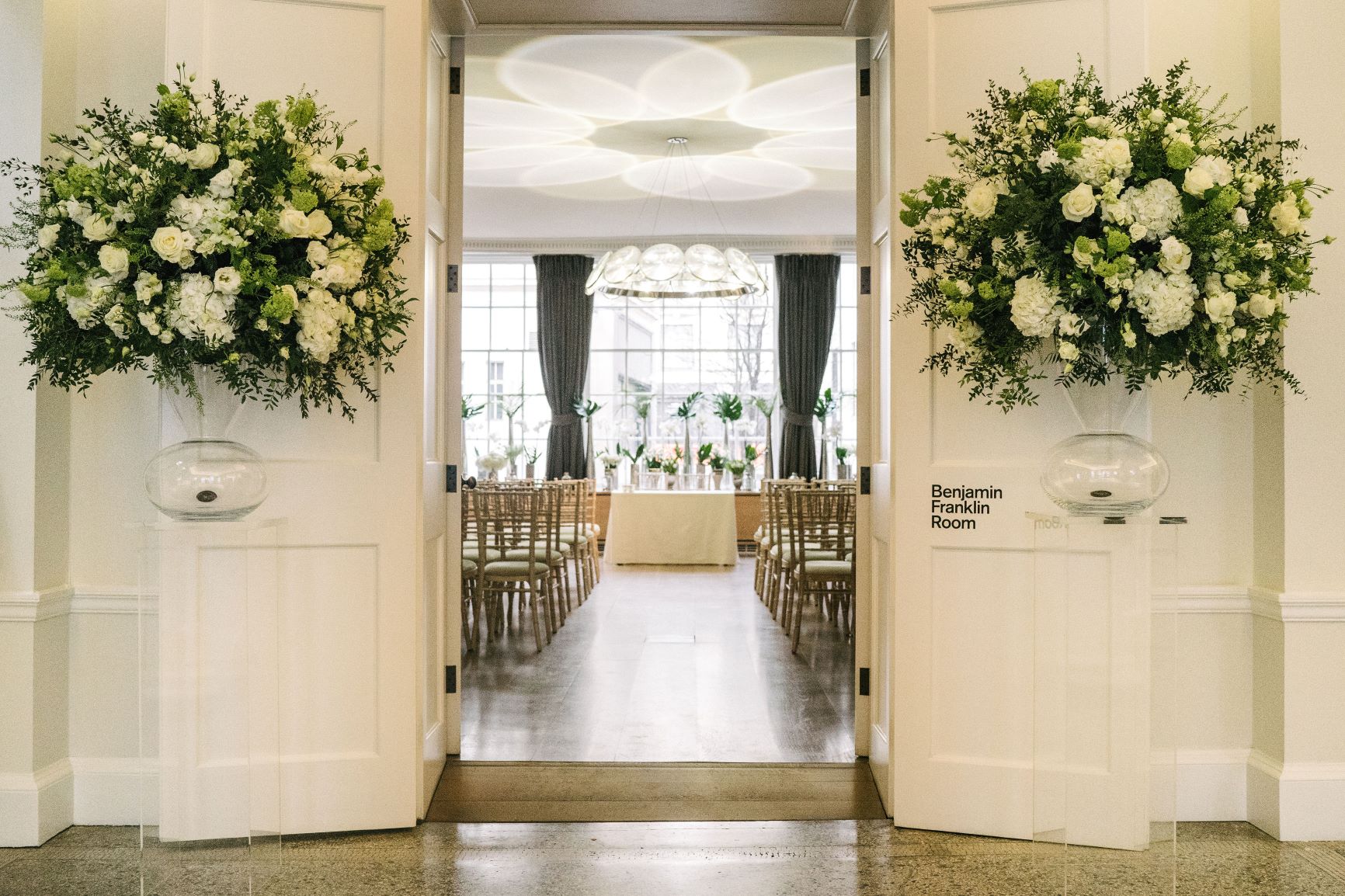 Ceremony in The Benjamin Franklin Room, RSA weddings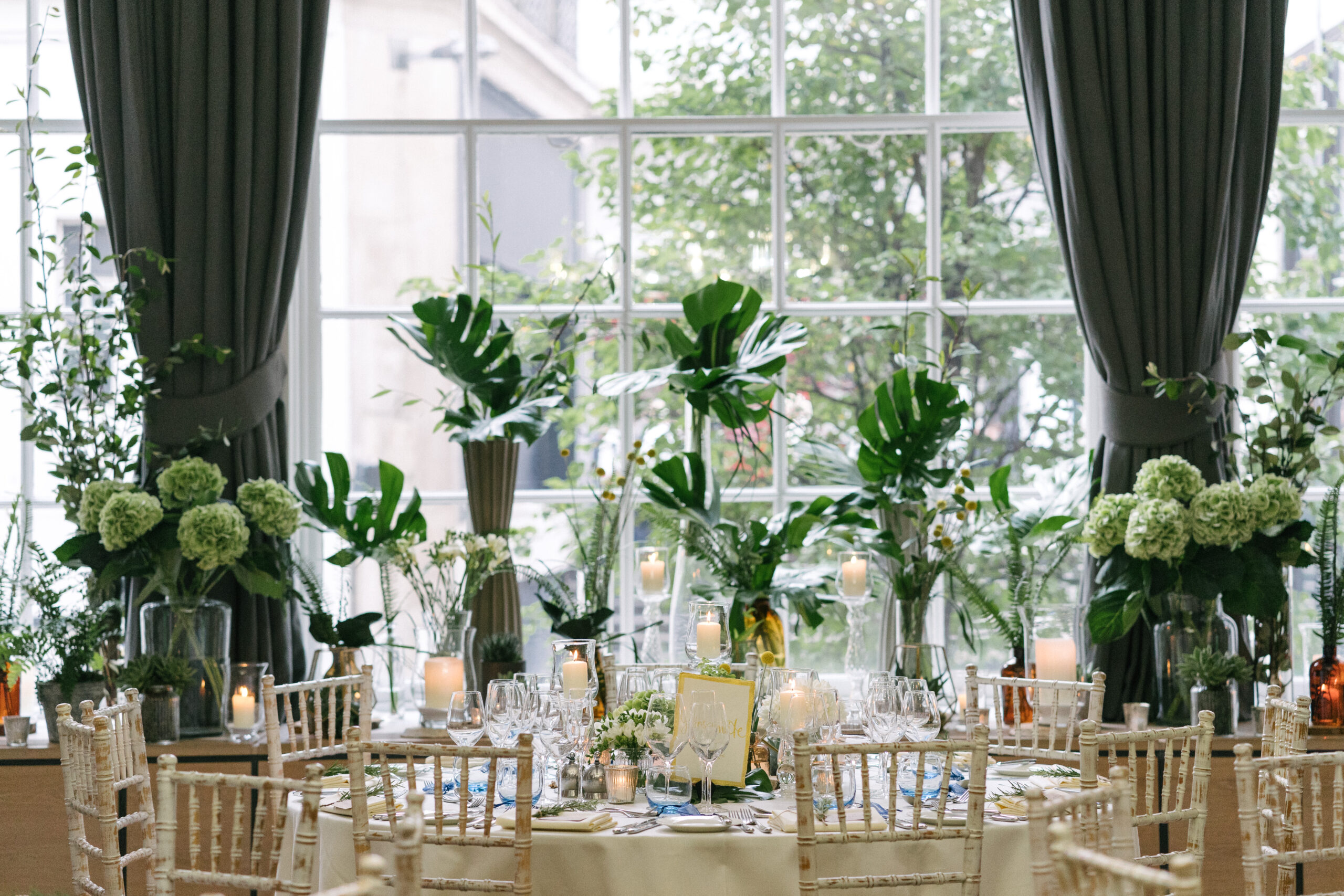 Botanical inspired theme in The Benjamin Franklin Room, RSA House weddings
The Tavern Room
40 ceremony / 48 dinner / 60 standing
For more intimate wedding ceremonies and drinks receptions, The Tavern Room acts as a suitable function space or break out room. The polished wooden floors, muted grey tone walls and delicate Adam ceiling create a serene atmosphere. The luminous up lighting and 52 inch plasma screen add other visual dimensions to the space.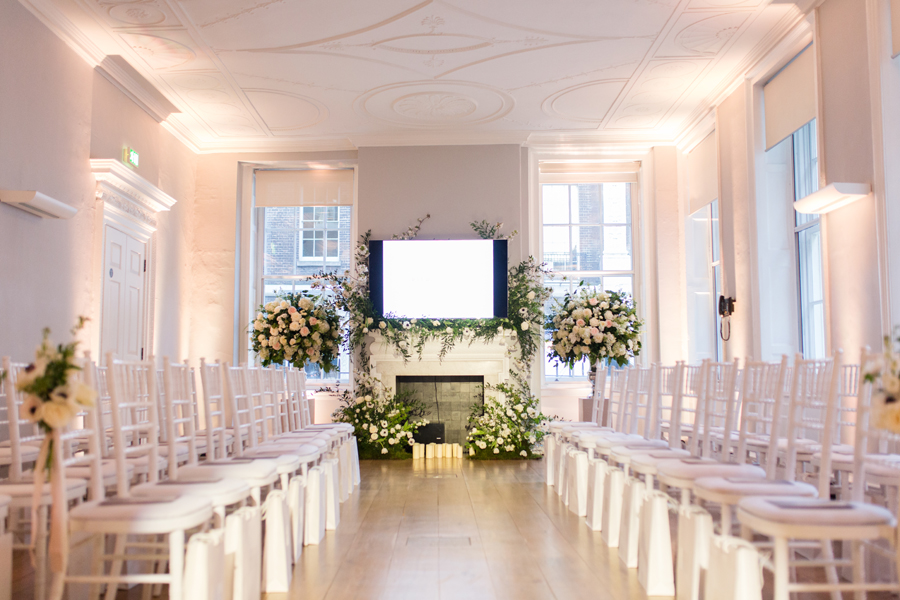 Ceremony in The Tavern, RSA House weddings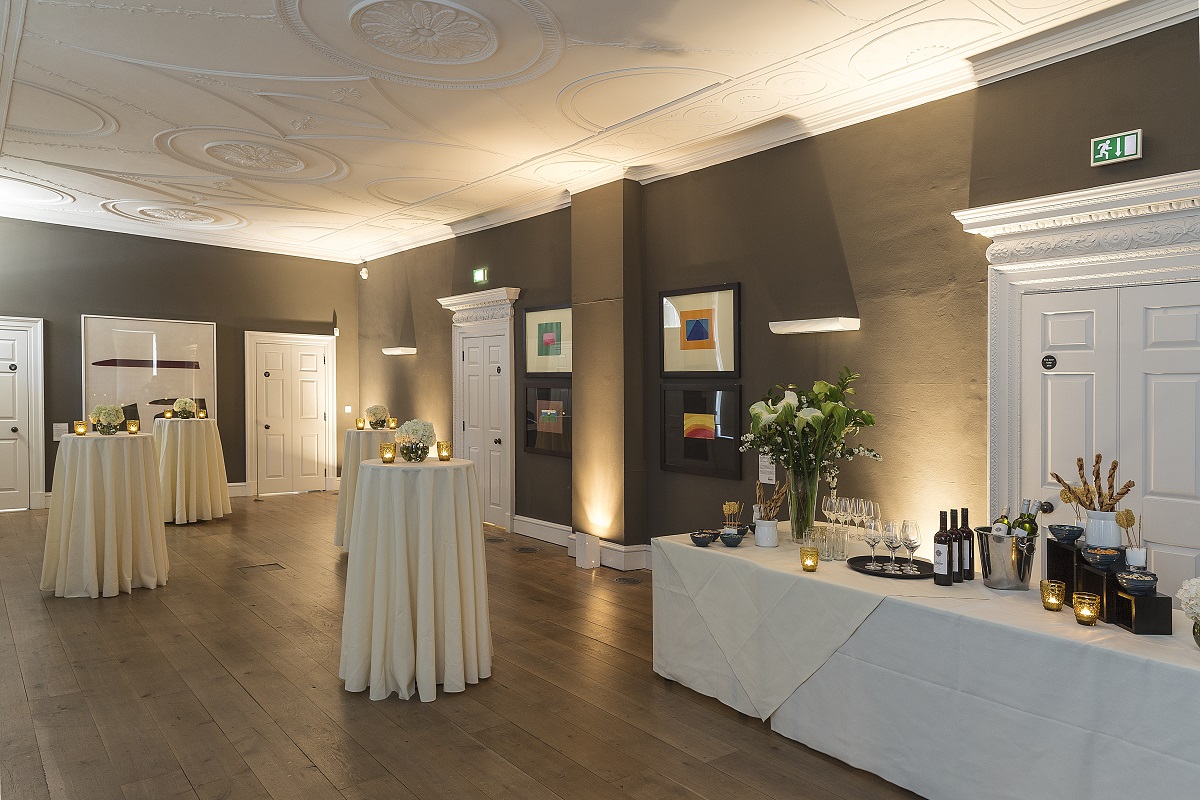 Drinks reception in The Tavern, RSA House weddings
Vaults
80 ceremony / 110 dinner / 220 standing
The final event spaces are The Vaults in the basement, with their own private entrance on Durham Street. It's an atmospheric contrasting space to the upper rooms, with exposed 18th century brickwork, vaulted ceilings and colour changing up lights.
This renovated wine cellar now includes a modern kitchen, cinema room and 4 interconnecting vaults to make your own. The interiors feature quirky original characteristics, including the last remaining section of the old cobbled road to the River Thames beneath the cinema seats. The space also incorporates thoughtful touches for your event, including metal strips along the walls for you to hang your own photographs or posters. In essence, it's a unique space to wed, dine and dance into the night beneath the mirrored disco ball.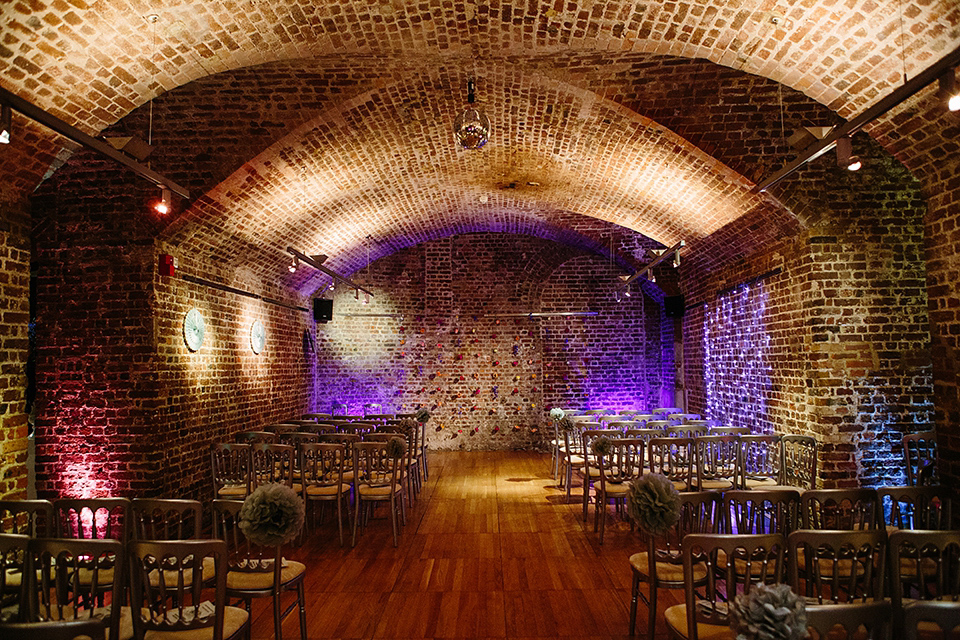 Ceremony in The Vaults, RSA House weddings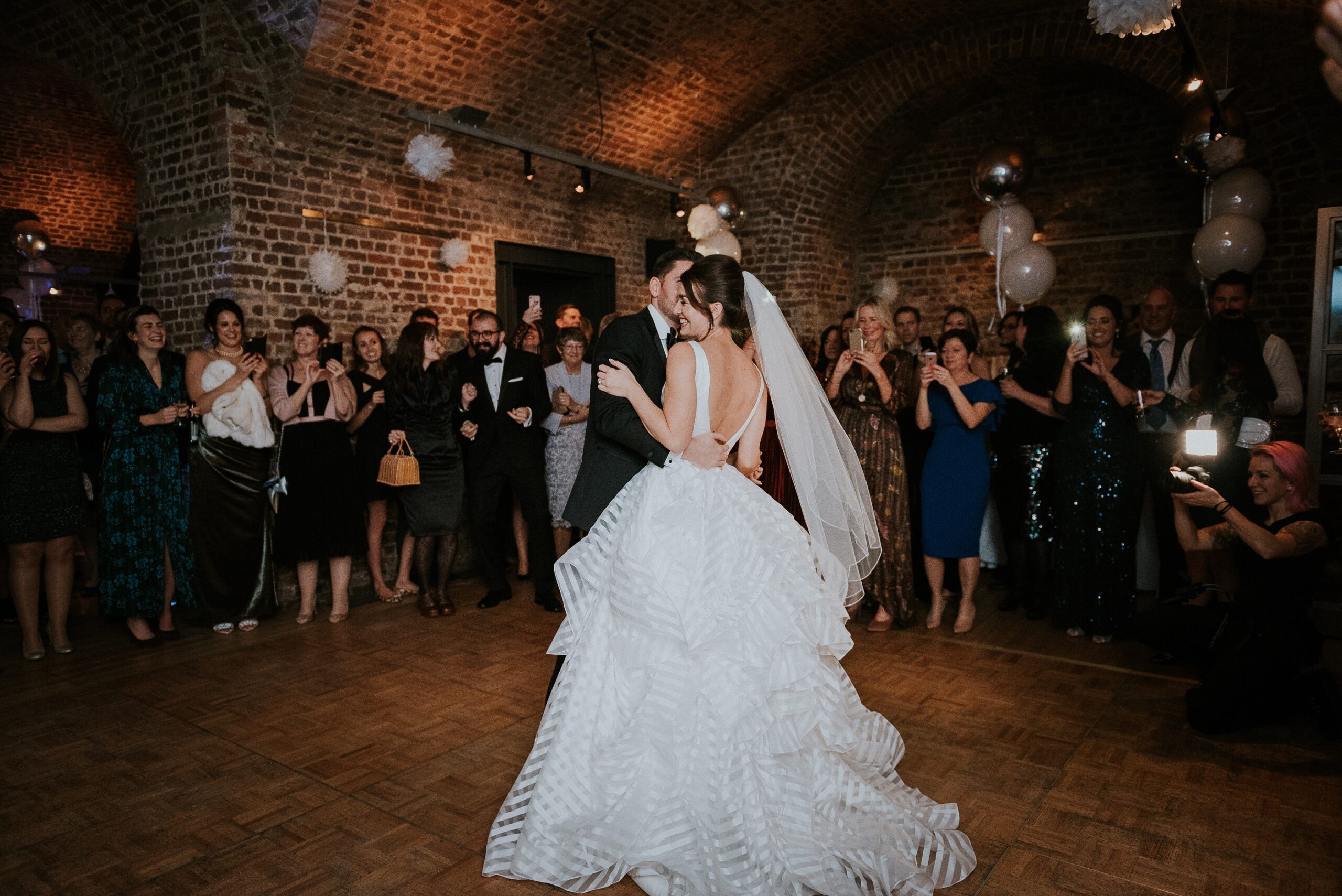 First dance in The Vaults, RSA House weddings
5. Iconic photo opportunities
High quality wedding photography will fill your albums with lasting memories and emotions of your big day. It's wise to have a good idea of the surrounding photo opportunities so that you don't miss out on any iconic shots on the day itself. You could even hire a car with your photographer to tour the most photogenic sites nearby, whilst you guests enjoy drinks and canapes at RSA House. Have a look at the photography ideas below.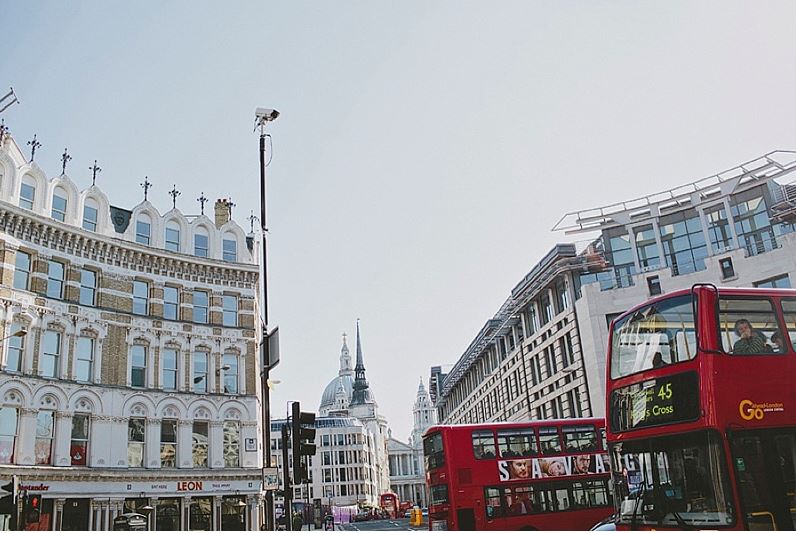 The Strand surrounded by regency buildings and iconic London scenery, RSA House weddings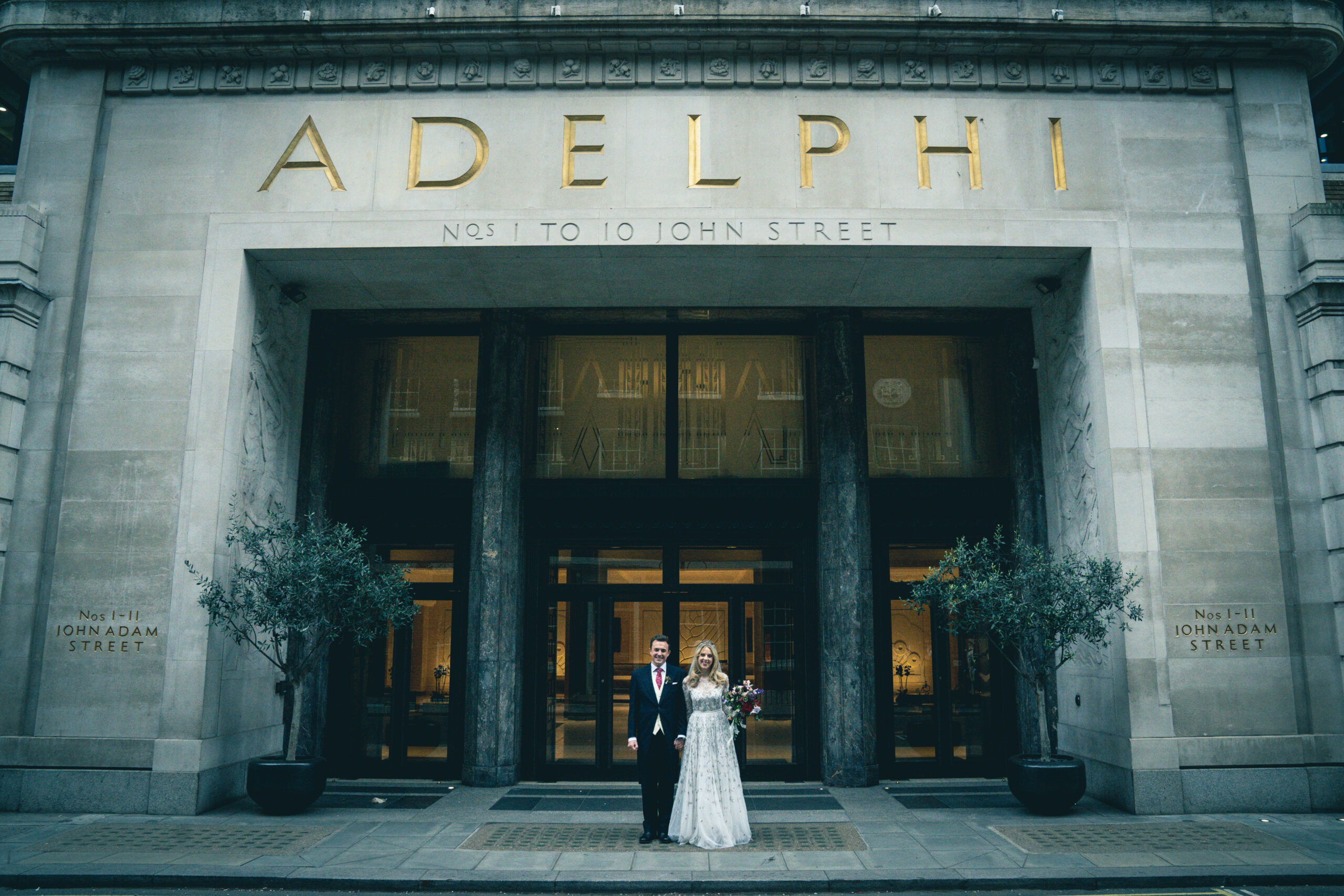 The Adelphi Terrace, RSA House weddings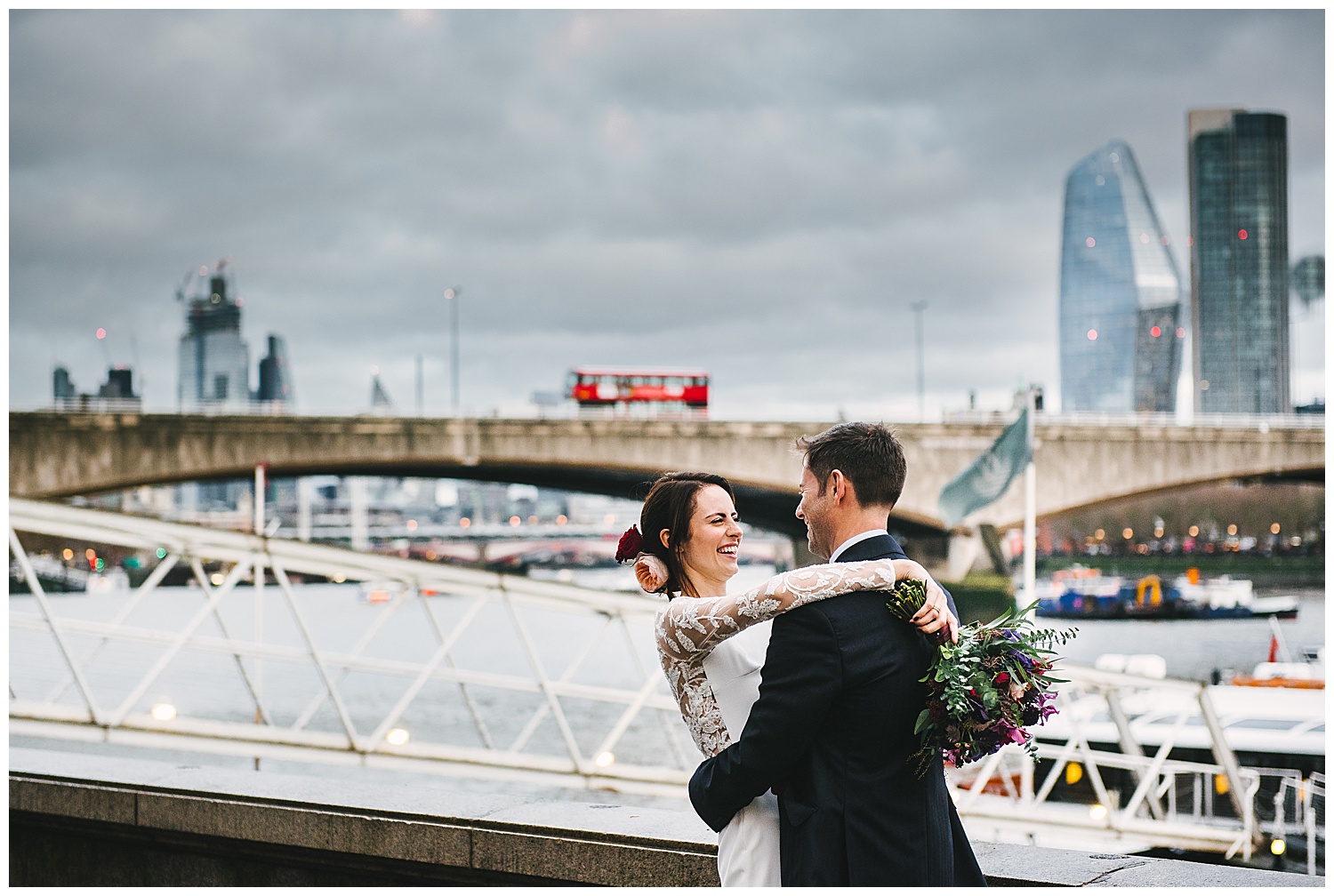 Victoria Embankment, overlooking the London skyline, RSA House weddings
The Grand Staircase at RSA House, RSA House weddings
What Our couples Say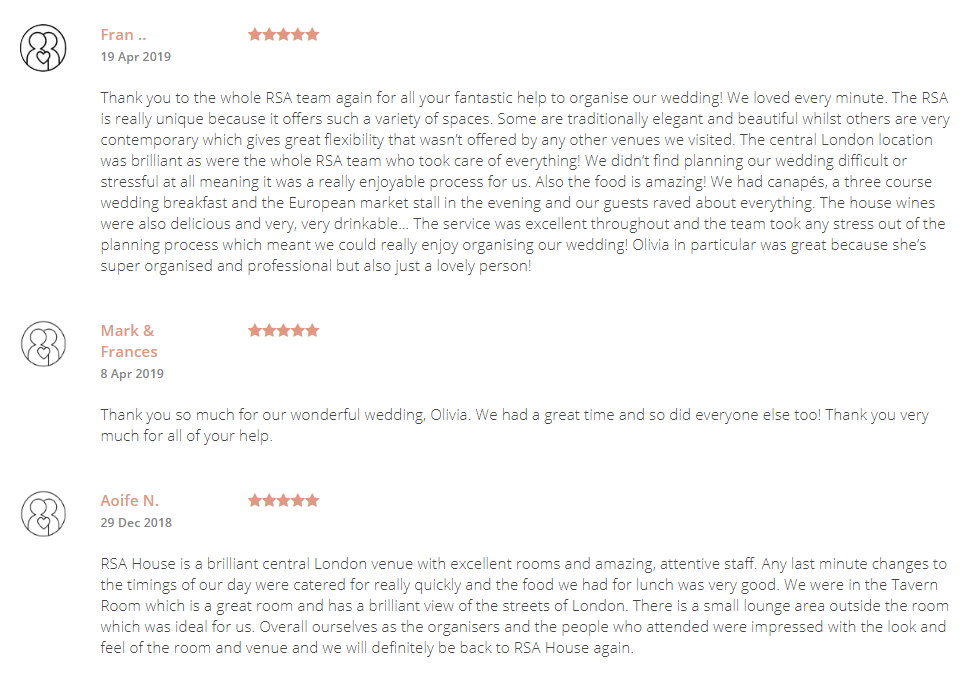 Looking for more heritage venues in London? Take a look here at our extensive collection of London wedding venues