House of Cards and The Princess Bride star Robin Wright has reportedly tied the knot over the weekend in a secret ceremony that has our boho vibes tingling.
The actress and her French fiancé Clément Giraudet are yet to confirm their marriage, but social media is already slipping out bits and pieces about their big day.
A Robin Wright fan Instragam has shared an image of what looks like Wright in her wedding dress on the day and we are floored.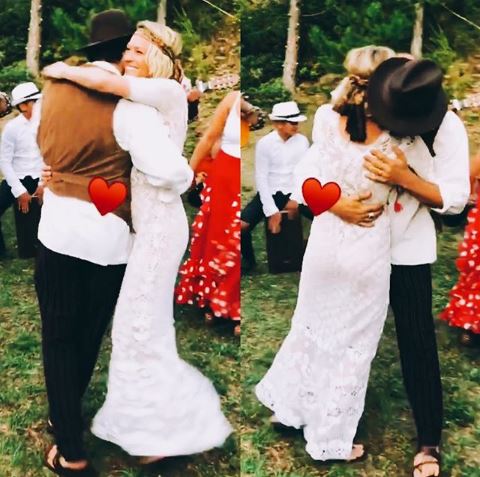 The actress opted for a mid-sleeved lacy gown that looks fitted around the waist until a mermaid-like flair, while her now-hubby went for a bohemian vest, shirt and loose trouser look. But it's the real backyard boho details that have got us buzzing, with Clément's boho hat and sandal footwear and Robin's gorgeous chic headwrap and loose, glam waves.
It's a far cry from the suits and demeanour of Wright's on-camera persona Claire Underwood, but we are digging the casual style and hippy vibes of a celebrity wedding that's a lot less OTT and looks way more personalised and, quite frankly, fun!
If that image wasn't enough to confirm that the two truly were married in a romantic, private ceremony somewhere in the French countryside then this Instagram post by Wright's daughter Dylan Penn surely seals the deal.
Captioned 'Weddin vibes' it shows Penn and other guests celebrating in the same location. Our eagle eyes can spot the musician in the white hat sitting on the speaker, who features in the image of Wright and Giraudet, also pumping out the beats in Penn's video.
Take a look to get more of a vibe of what this boho dream wedding really looked like. And of course, we wish the happy couple all the best when they do go public!