Hiring a wedding marquee is a great solution to holding your wedding in your back garden, or in the grounds of a venue with a low capacity. If you're considering hiring a wedding marquee for your wedding reception, check out our pros and cons.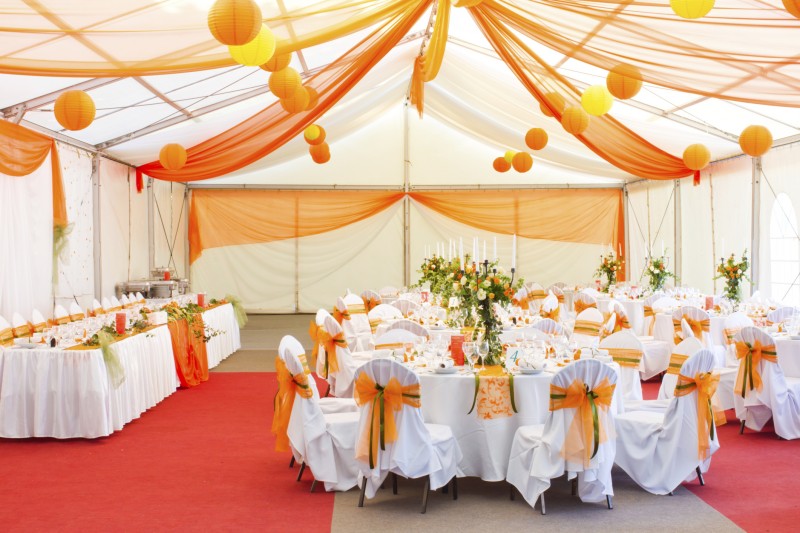 Why hiring a wedding marquee is a great idea!
Flexible capacity
You can hire a marquee based on the ideal number of guests you want to invite instead of having to limit your guest list to fit in with the limited space of your venue. Wedding marquees come in many different sizes, and as long as you can fit it in your garden, you can hire whatever size you need.
A blank canvas
With a wedding marquee you won't be restricted by the existing decor or style of your wedding venue, and can create your own scheme using lighting and coloured or patterned drapes, producing the venue you have always dreamt of. You will have a blank canvas for your wedding theme and decorations which is one of the best reasons to hire a wedding marquee.
Affordability
Assuming you are using your own garden and don't have to hire a garden or park, hiring a wedding marquee should work out cheaper than reception venue hire unless you insist on having the latest mod cons. You should be able to save some money on food and alcohol too as you won't have to use the services of a catering company provided by a venue.
Changeable layout
A marquee allows plenty of flexibility; for example you can take off the sides if the weather is dry and sunny, or lay down flooring if it rains the night before the wedding. You can also section off the dance floor and decorate it differently to the rest of the marquee to create a sense of drama when the band starts to play and the curtains are pulled back. It's not difficult to change the layout of a marquee, you can simply add screens or curtains, so you can choose whether you want a separate area for your drinks and food.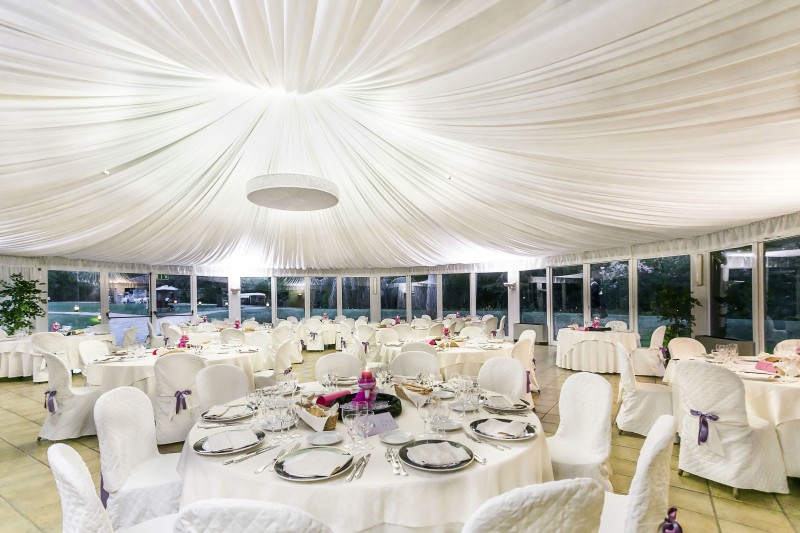 Potential downsides of hiring a wedding marquee
Hiring facilities
Hiring a marquee also involves hiring the facilities that go with it. Your hire list could include tableware, a dance floor, tables and chairs, lighting, a power supply, a stage, a sound system, and guest toilets.
Noise problems
Marquees aren't sound proof so if you are holding the reception in your garden you may risk aggravating your neighbours, particularly if you haven't invited them! Wedding receptions produce quite a bit of noise especially if you are hiring a live band, or even a DJ. You will most likely have to finish the celebrations at a certain time out of respect for your neighbourhood.
Seasonal prices
You can have a marquee reception in summer or winter, but you will need numerous extras such as air conditioning, heating, or flooring to ensure your guests are comfortable. A marquee is a seasonal venue and is best suited for summer. It comes as no surprise then that these are the most expensive seasons to hire a marquee.
Clearing up afterwards
If you hire a wedding venue you can leave all the mess for the venue staff to clear up, but if you have a marquee in the garden, it's very likely that you will have to do at least some of the tidying and cleaning prior to the arrival of your marquee supplier who will dismantle it. Having a back garden marquee wedding means extra responsibilities for you and your new husband, or you families.
Use Easy Weddings to connect with your dream wedding suppliers.
Browse the directory and start planning today!