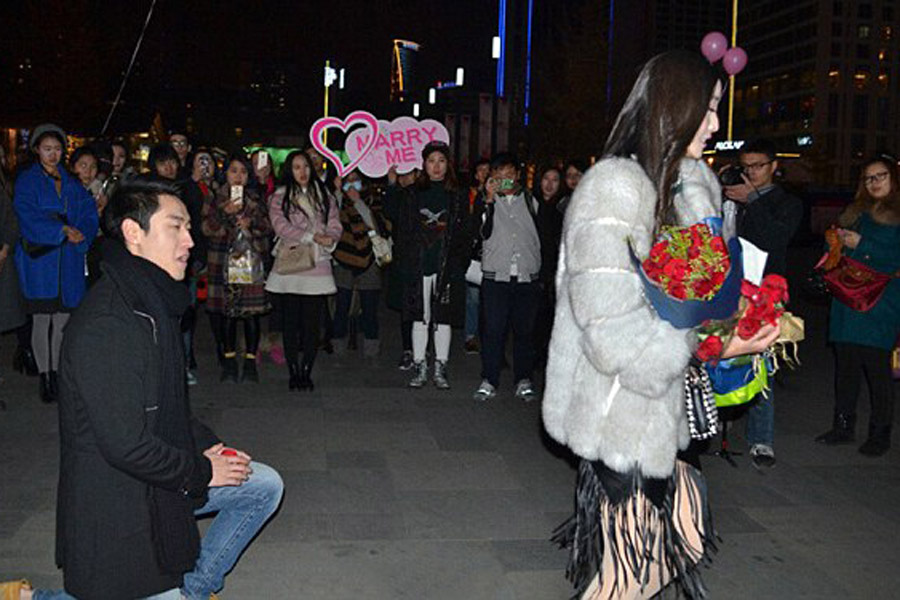 Who says size doesn't matter? A Chinese man's elaborate wedding proposal has been rejected by his girlfriend because his engagement ring wasn't big enough.
The unidentified man's very public proposal took place at a square in Chengdu, in South-West China, and even featured a flash mob. After the professional dancers had finished their act, the triumphant man emerged from behind them and got down on one knee, proudly displaying his diamond engagement ring.
The woman, who was, at first, overcome with emotion apparently changed her mind upon eyeing her modest-sized ring – and promptly turned and left without saying a word.
She was, reportedly, overheard explaining to her friend that the size of the diamond was smaller than agreed upon.
"Before we agreed on a one carat diamond ring," The Daily Mail quoted her as saying. "Why is it so small? Is he so careless or he just doesn't care?"
The one-carat woman has copped a barrage of insults online after the images were posted online on December 19. The general consensus on Weibo, China's equivalent of Twitter, is that she didn't deserve the proposal.
Oh, dear!
Would you reject a proposal based on the size of your engagement ring?