Unless you've been living under a rock you've probably already heard the news that Nick Jonas and Priyanka Chopra are married!
We are in love with everything about their wedding, from the fun Sangeet ceremony, to the stunning dresses, to what could possibly be the cutest wedding photo in the history of celebrity couples.
The couple tied the knot in a fantastic 5-day wedding affair in Jodhpur, India, creating a truly memorable experience for themselves and their wedding guests by combining their cultures together.
While the wedding included traditional Indian elements such as the Mehendi and Sangeet ceremonies, the couple also made it their own by incorporating some of their western culture into the celebrations.
We absolutely adore cultural weddings and the energy and history that goes into them. But whatever you do, you should never steal a tradition from another culture.
Instead, make your own! It will be far more meaningful to create something out of your own culture and love as a couple.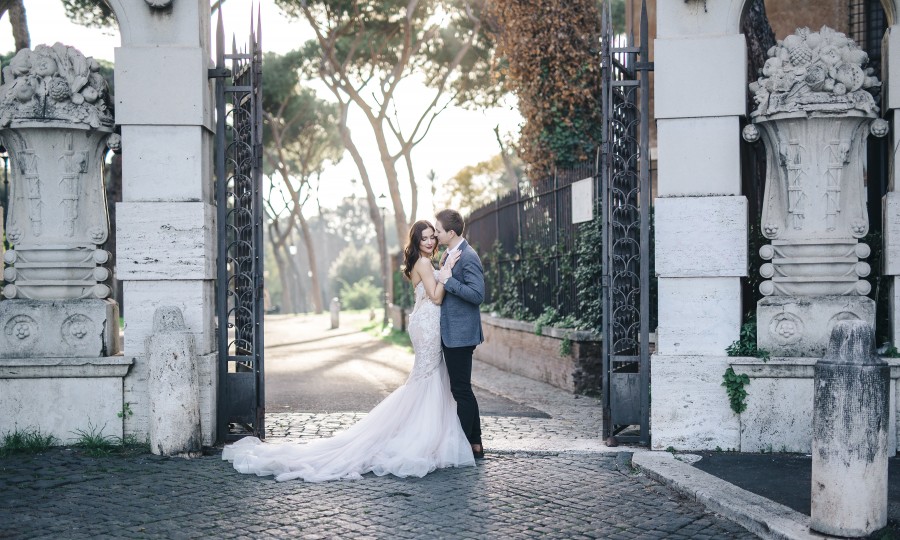 Celebrating a festival wedding
Jonas and Chopra celebrated their wedding across five days, incorporating their family and friends into many traditional ceremonies in Indian tradition.
We're already seeing festival weddings become more popular in western culture so there's no saying that you can't celebrate with your family and friends before and after your wedding.
You can't celebrate a Mehendi or Sangeet ceremony, but you can bring your family and friends together for a pre-wedding winery tour or celebrate the following day with a post-wedding brunch.
If you are making a weekend out of it, we suggest finding a location where you can all celebrate together. Consider glamping accommodation, cabins, or a large BnB spot for your guests to stay with you on the weekend of your wedding.
Creating your own traditions
As both Jonas and Chopra said when posting about the wedding:
"One of the most special things that our relationship has given us is a merging of families who love and respect each other's faiths and cultures. And so planning our wedding with an amalgamation of both was so so amazing. An important part of the pre wedding rituals for the girl in an Indian wedding is the Mehendi."
Chopra celebrated this ritual of the bride having henna applied to her hands and her feet with her groom-to-be, family and friends (include the fiancé of Joe Jonas, and Game of Thrones star Sophie Turner!)
If you don't have any traditions of your own such as a Mehendi or tea ceremony, then it's time to make some of your own using your own culture.
My family has a tradition where the father of the bride has to make breakfast for the bride and her family the day of her wedding, and that's been going on for three generations now. Or consider a spa day the day before your wedding if you want more family and friends involved. A house-call nail technician or masseuse coming to your house and pampering everyone while you have your own fun could be a lovely way to start a new ritual in your family.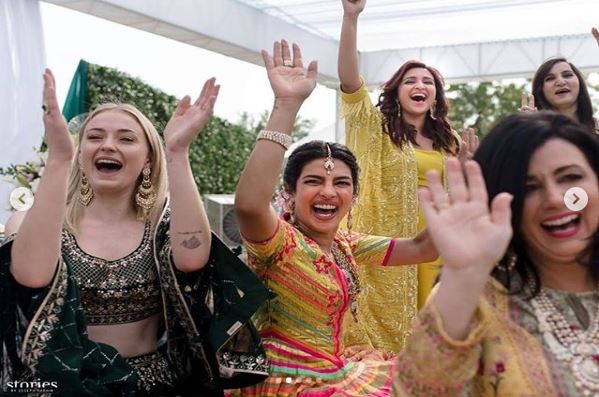 How to get those amazing photos
As I mentioned before, this could be one of the best photos of a celebrity on their wedding day that we've seen in a long time.
The reason? It's natural, fun, and shows Nick and Priyanka having fun on their wedding day. Which at the end of the day, is what it's all about!
If you want to be able to capture gorgeous candid images like this then consider hiring a photographer that specialises in candid photography and giving them the environment to capture great shots like this.
Rather than having a traditional sit down wedding you could consider boho cushion-style seating or a more cocktail style reception. This will automatically make your wedding less formal and give your photographer more opportunities to capture friends, family, and of course yourselves in the moment.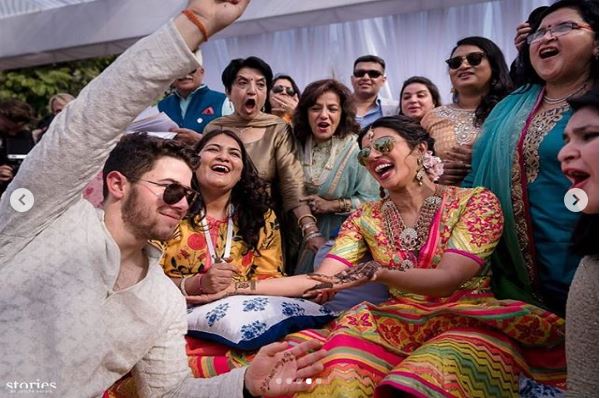 Hiring out a lavish hotel
You might not be able to hire an entire palace that happens to be the sixth-largest private home in the world, like Jonas and Chopra did, but you can still find somewhere for a lavish wedding!
Look at hiring out lavish hotels like the Four Seasons or Sofitel and treat your guests to that luxury experience. Alternatively you could go for hiring out an entire venue with a more rustic charm, and hire out items and decorations to go for a luxe rustic theme.
Remember, just because your wedding is in a certain location doesn't mean that you have to stay there as well. You never know what affordable accommodation is just around the corner from your dream luxury venue.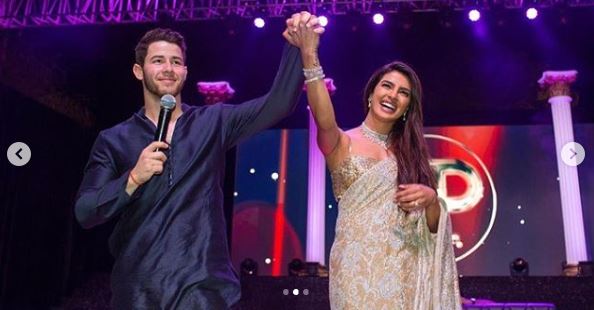 Reception entertainment
The Sangeet ceremony is a musical ceremony that consists of a talent competition and performances from both sides of the bride and grooms family, depicting the love story of the family. Jonas and Chopra included this in their wedding day and it looks like fun.
For the rest of us, Instagrammable entertainment like acrobatics or dancers that you can hire are hugely popular at the moment and a great way to entertain your guests. You can include this in your reception, or, if you're having a festival wedding you can be like Jonas and Chopra and organise it for the night beforehand.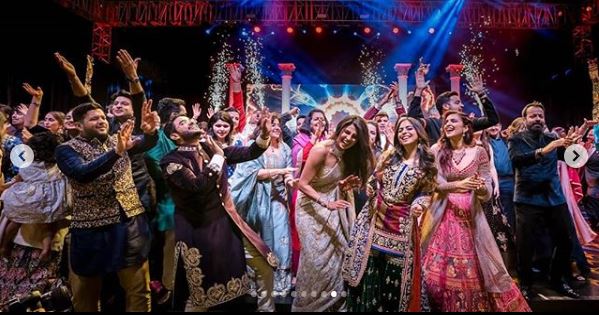 A send off to remember
At the end of their wedding ceremony Priyanka Chopra and Nick Jonas celebrated by setting off fireworks to celebrate their marriage.
Fireworks are actually very accessible and there are plenty of wedding suppliers who will offer these for you on your big day! Give your guests something to remember your wedding by and invest a bit in these celebrations, or do what I'm doing and get married on New Year's Eve to get your fireworks for free!
Alternatively if you're getting married in a suburban or city location where fireworks aren't possible you can give all of your guests sparklers to send you off with. They don't quite give off the same bang but they can still make for some stunning pictures!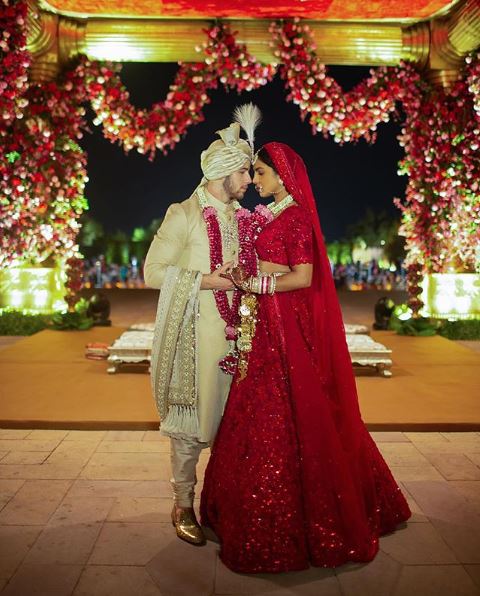 All of those stunning dresses and outfits
Priyanka stunned in her gorgeous Ralph Loren gown for the couple's Christian wedding ceremony, but it's the stunning sherwani by label Khosla Jani that has really got people talking.
If you want to make that statement when you enter your wedding reception then get yourself a gorgeous gown with a pop of colour. Not only will you make a statement, but you'll also get some more gorgeous pics.
It's not just outfits for the bride, Nick Jonas also stunned in his different looks. We're seeing more and more grooms opting for statement pieces for their weddings, whether it's a velvet, burgundy, patterned or unique design.
https://www.instagram.com/p/Bq-FKcAHyXN/