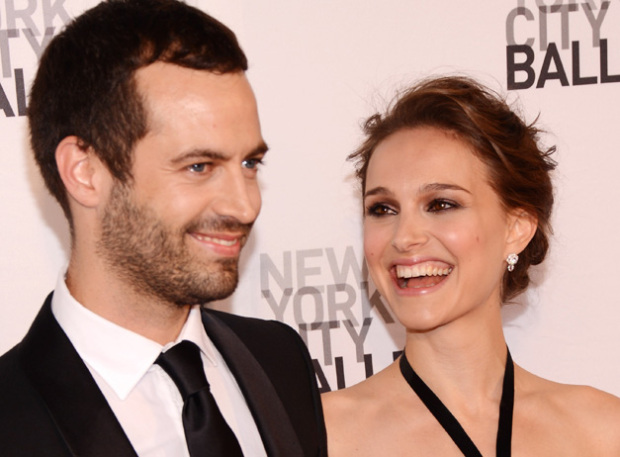 Details of Natalie Portman's secret weekend wedding are starting to leak out and, by all accounts, it was a simple and fun outdoor wedding for about 100 friends and family.
Portman, who last year won an Oscar for her role as an obsessive ballerina in Black Swan, married the film's choreographer, Benjamin Millepied, the man who taught her to dance.
The super-secretive couple exchanged vows outdoors (at night) during a traditional Jewish ceremony at a private home in the coastal town of Big Sur, California, one of Nat's favourite hangout spots.
"Natalie was married under a chuppah [a traditional Jewish wedding structure] made of twigs and wood…," a source told Life & Style magazine. "She walked down a custom runner made out of wooden tree stumps that created a pathway down the aisle."
Nat's sweet and very simple tea-length white wedding dress was designed by Rodarte, who also designed the gown she accepted her Oscar in as well as all the dance gowns she wore in Black Swan. She wore a simple garland of flowers in her hair and Millepied donned a dark tuxedo.
In attendance were celebrity guests including former child star Macaulay Culkin, Rashida Jones and Ivanka Trump, as well as the couple's one-year-old son, Aleph Millepied.
Another source told E! News the nuptials were "amazing," saying that "the beauty of the weekend was that it was kept a secret, and everyone was relaxed and had a great time because of it."
Other details of the wedding include:
– Instead of flying in flowers as so many celebrities are want to do, Nat and Ben opted for wildflowers native to Big Sure where their wedding ceremony took place.
–  Guests were given packets of wildflower seeds as bomboniere. Each packet was adorned with "merci," the French word for "thank you".
– Rather than a wedding cake, the couple opted for French macaroons.
– The menu was entirely vegan, in keeping with the bride's diet
Mazel tov to them both!