We all want to have a wedding day worthy of the silver screen. But the trick is to find a movie wedding that isn't going to break the bank!
If you've ever wondered about the cost of your favourite wedding movie then wonder no more. Fashion brand Kaleidoscope has teamed up with a wedding planner, dress designer and cake designer to calculate the cost of some of the most popular wedding movies of all time.
Warning: spoiler alerts ahead for anyone who is at least 7+ years behind on their movie nights.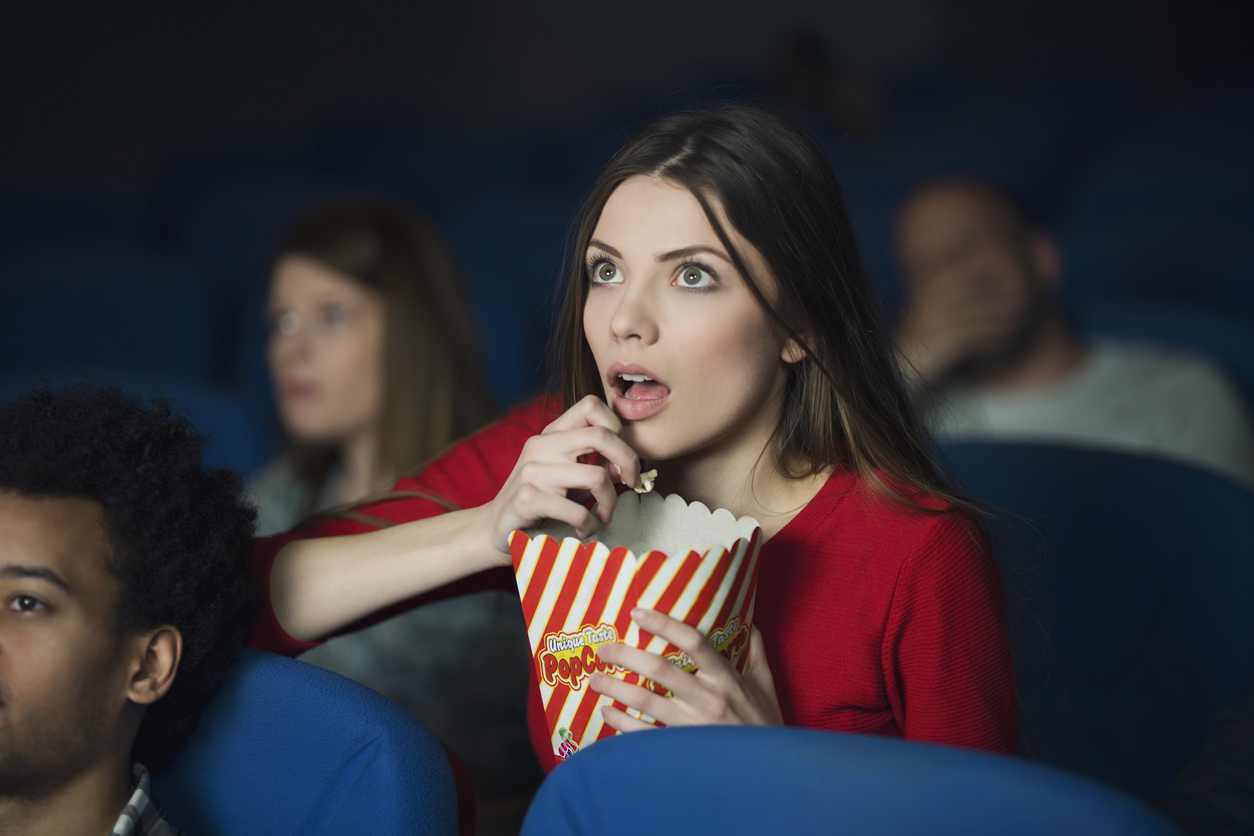 Sophie and Sky's 'wedding' in Mamma Mia
It's a good thing that Sophie and Sky didn't lash out on their boho wedding considering they never actually went through with the marriage in the end! Though I suppose it does help to keep costs down when your Mum owns a resort on the Greek Islands.
All in all their day comes in at a modest £4,905. The most expensive part of the day would have been the venue, coming in at £3,965, which would include the hilltop chapel location and gorgeous festoon lighting for the reception at the hotel.
The ceremony band in the chapel would have cost around £405, with the couple then spending between £90 and £150 on florals. Sophie's stunning boho-inspired gown would have cost just £300.
The ABBA songs they threw in for free. Though we're not sure whether they should pay us for having to sit through Pierce Brosnan's singing…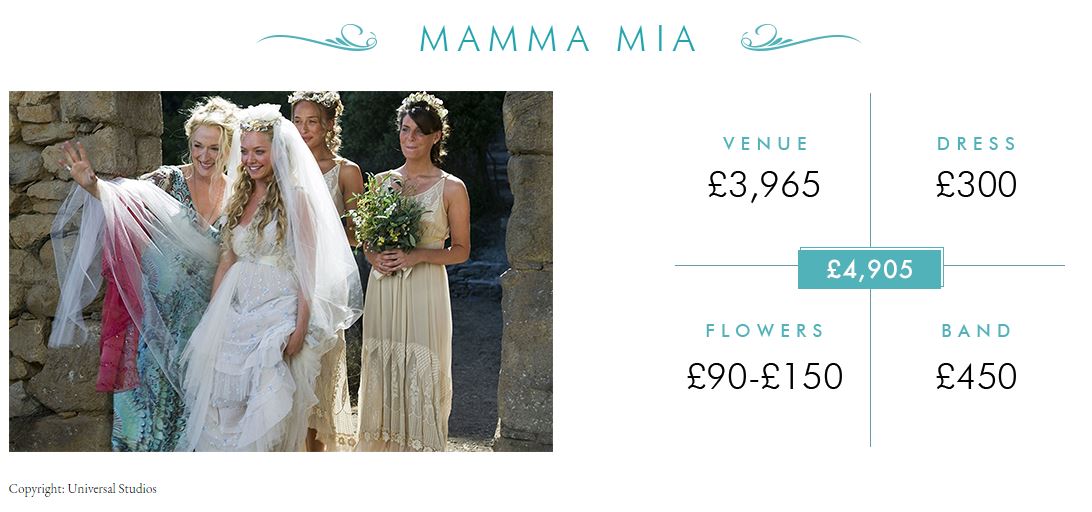 Michael and Kimberley's nuptials in My Best Friend's Wedding
You could be forgiven for forgetting who Michael and Kimberley are and why you should care about their wedding, and that's mostly because you care about Julia Roberts' (creatively named Julianna) wedding instead. Except, of course, she doesn't get one.
This wedding comes in at £16,633. And it's probably one of the more affordable weddings on this list. With a venue cost of just £2,308 Michael and Kimberley have got themselves a bargain, which is probably a good plan considering she's 20-year-old college student who plans to drop out to follow her future husband (don't get too angry, this film came out in 1997).
They also spend a bargain £135 on flowers and £2,600 on a choir, pianists and band. Before splashing out a whopping £11,590 on a ruffly, absolutely 90s wedding dress that resembles the top of a meringue.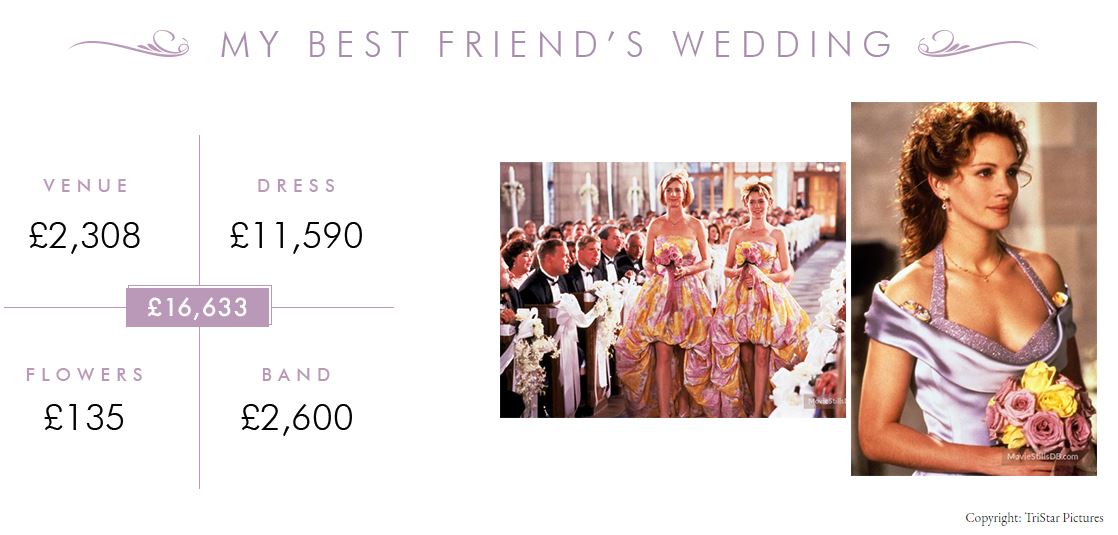 The wedding from I Love You, Man
If you'd forgotten the names of Michal and Kimberley from My Best Friend's Wedding, then you have nearly no chance or remembering the couple from this film. Or, to be honest, a lot about this film at all.
I Love You, Man actually focuses on the lack of friends of groom-to-be Peter and his journey to find a best man for his wedding to fiancée Zooey. Of course, now we'd say to shirk tradition and do your own thing, but that wouldn't particularly make for a good movie.
Despite buying a bargain dress at £345 and spending just £270 on flowers this wedding comes in at a total of £27,378. The couple splashed £6,500 out on their wedding band.
But it's actually the reception at luxury 5-star resort Belmond el Encanto in Santa Barbara, California that takes us the majority of their costs. In fact, the venue alone would have cost them £19,918!
Jim and Michelle from American Pie get married in American Wedding
From what I remember about this couple, I don't know how Jim and Michelle managed to afford a wedding that comes in at £76,778!
Their wedding venue is the biggest cost, with the pair tying the knot at The Ritz Carlton, in Half Moon Bay in California. Coming in well above the average venue cost, this would have cost them £63,080 alone!
They also spent £6,500 on their wedding band, £1,350 on their flowers, and Michelle splashed £5,000 on her perfect wedding dress.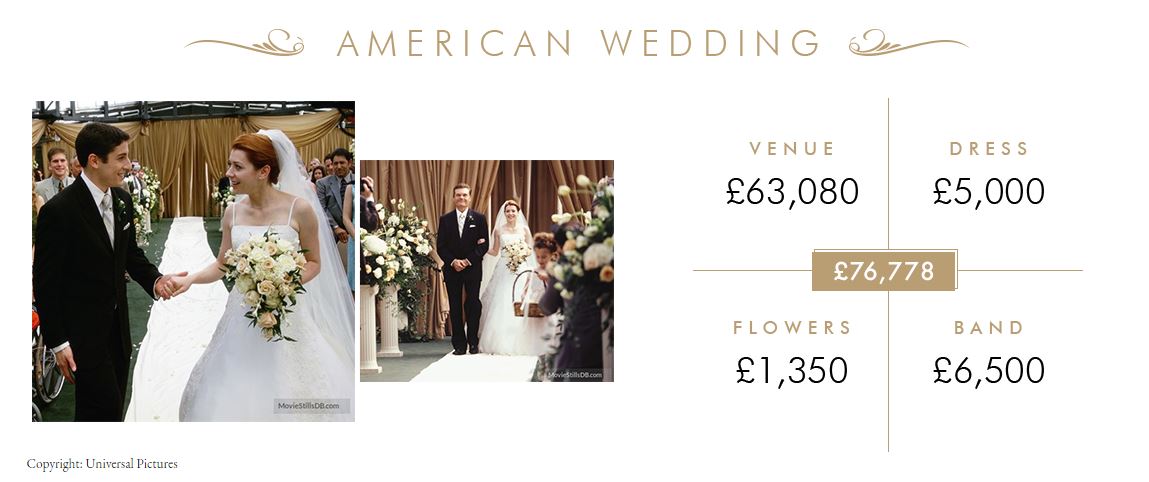 Lillian's wedding in Bridesmaids
You might think that dropping £86,590 on your wedding band is a bit extravagant, but it's not actually the most expensive music on this list! A performance by American vocal group Wilson Phillips is to blame for this extravagant cost.
The rest of the wedding is somewhat reasonably priced. The flowers would have cost just £225 while the La Arboretum venue comes in at an affordable £3,849. Lillian's Elle Saab inspired dress would have cost her around £5,409. But we're not sure whether that includes the dry cleaning costs of all the dresses from that infamous scene…
All in all this wedding still comes in at a whopping £98,086.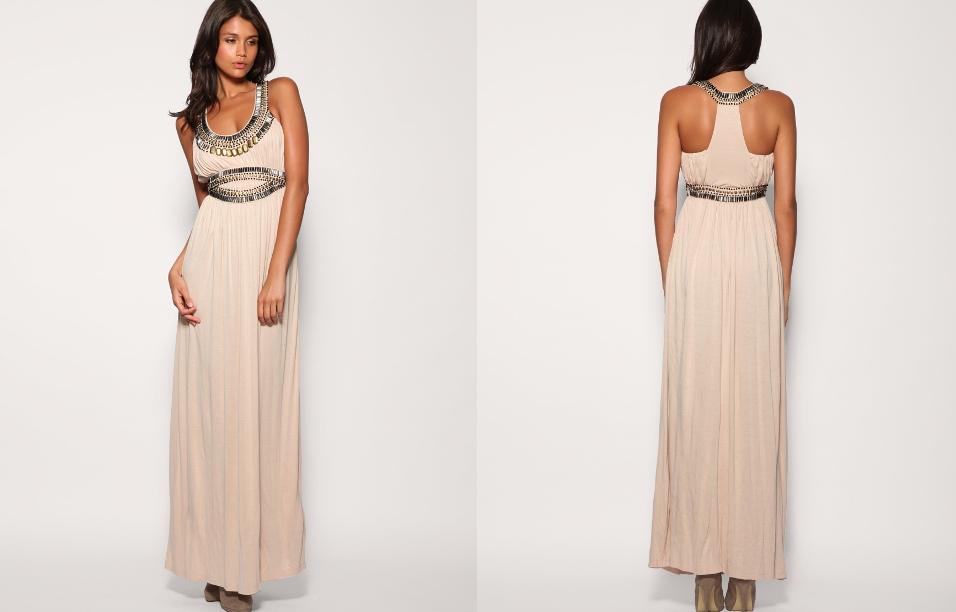 Peter and Juliet's wedding in Love Actually
Despite the rest of their relationship not really being explored in this film, Peter and Juliet's wedding from Love Actually is #goals.
But that's probably because the entire day would have cost them a whopping £166,727!
Firstly, there are the gorgeous flowers around the church which would cost around £1,350. Then there's Juliet's gorgeous dress, worn by Keira Knightly, coming in at around £6000. The church itself wouldn't have set them back too much, with the Grosvenor Chapel in London estimated to cost around £517. Don't even get us started on their exit boat.
But then there's the heartwarming and perfect moment where the couple is serenaded by the vocals of Lynden David Hall, accompanied by an elaborate orchestra, choir, and an electric guitar and organ combination of course. That serenade would have cost a massive £158,860!
Though technically it was organised as a surprise for the couple by best man and Juliet's-wanna-lover Mark.
Does anyone know where I can find a best man willing to drop £150,000+ on someone else's wedding? Asking for a friend.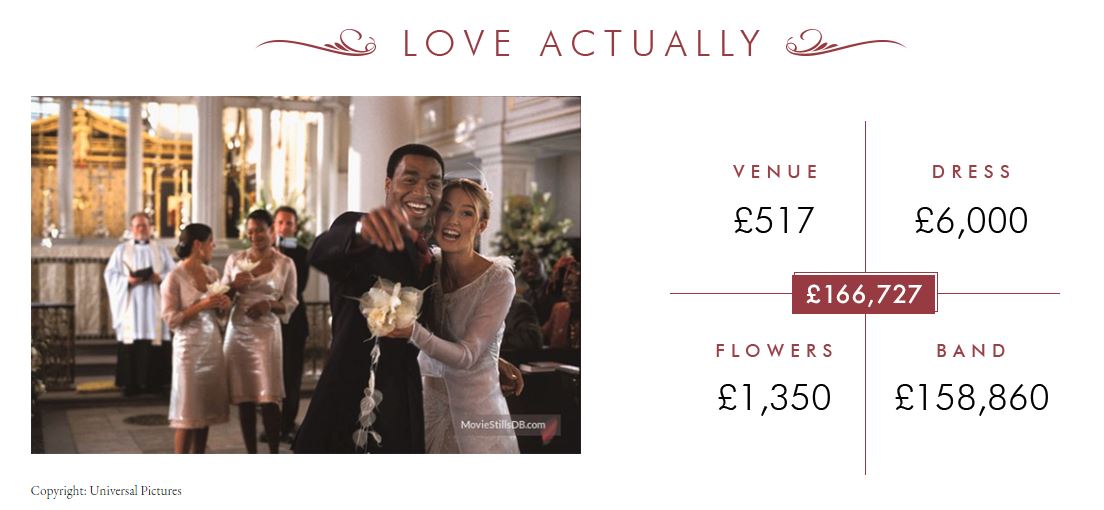 The wedding in The Godfather
When the daughter of The Godfather gets married you know you're in for a treat. Although marrying into the family of a mob boss might be a deterrent in itself, I feel like spending £188,140 on a single day would probably send most people running to the hills.
Again, it's the music that does it with a performance from Johnny Fontane, aka crooner Al Martino, said to cost around £179,340. Connie Corleone also spent around £8,500 on her wedding dress, though I think we can all assume that daddy picked up the bill.
The rest of the wedding was done on a budget with the ceremony and reception being held at home and saving on costs, and the wedding flowers coming in at around £300.