Everyone loves a beautiful setting for a wedding. From beaches to forests, wineries to countryside, we all want that special setting to say 'I do'. While you can find the perfect venue for your wedding if you search high and low, you can also create a beautiful backdrop without needing to search. Creating a beautiful backdrop is perfect for every wedding. If you're marrying in a beautiful setting, then it'll only add to the majesty. And even if your venue isn't as picturesque as the ones you've seen on Instagram, you can create some seriously stunning vibes with these backdrop ideas.
Draped linen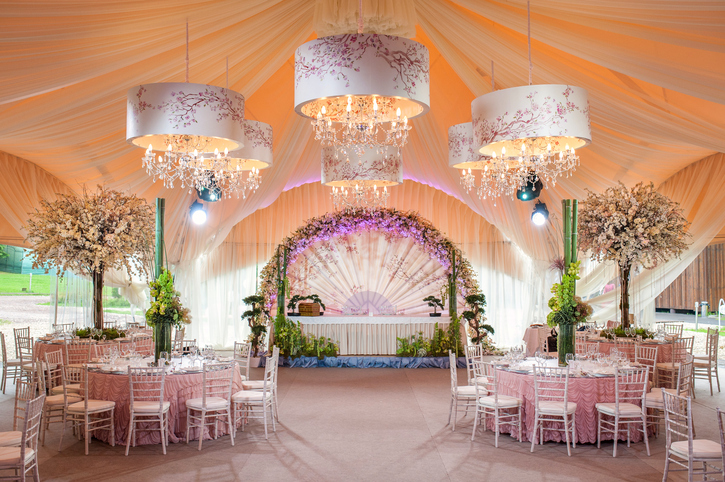 Drapery has long been a perfect way to enhance a wedding venue. Yet, drapery doesn't need to feel dated if it's done with fabrics that feel modern. This is why linens are the perfect choice for your wedding drapery. Elegant and breezy, linen adds a senses of space and lightness to a wedding venue.
What's great about drapery is that it is perfect for covering up an imperfect wedding venue. You might not be completely happy with the venue that you picked for various time and budget constraints, but it's the best you could do. The way to lift this venue to another level is with drapery. Pick up some high quality cream white linens and drape until your venue looks like you've stepped into ancient Greece.
The other thing about clean white linen drapery is that it goes with literally everything. It can be the blank slate that your venue needs. You'll be able to place fairy lights, an elegant gold metal archway and an abundance of florals or greenery in front of the linens and they'll work perfectly. You'll find that with drapery, the romanticism of your wedding will greatly increase so you'll end up with the venue of your dreams.
we
Rope and macramé features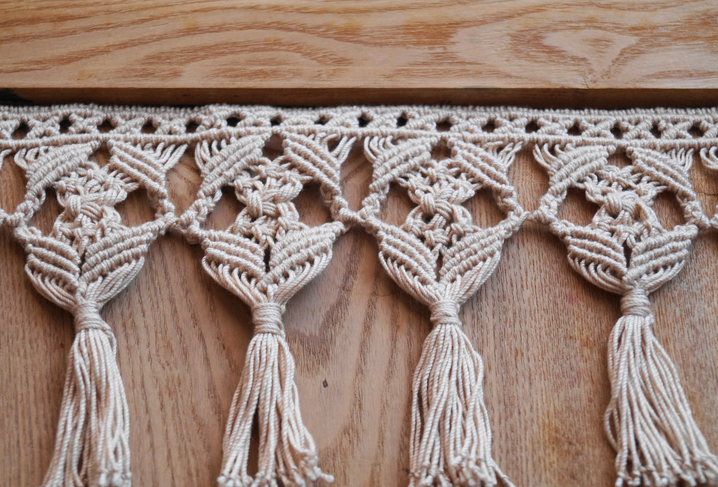 For the last few years, rope and macramé hanging pots have been all the rage in hipster and boho households all over. If you're in love with this look, then it may be time to consider it for your wedding day backdrop.
If you're thinking this will only work for a bohemian themed wedding, then you'd be wrong. Rope is actually considered much more luxe than it is rustic/ boho, making it perfect for your elegant wedding.
You can really go wild with this idea. Instead of standard rope, have roped greenery instead to bring a beautiful touch of nature into the display. Use fairy lights as the roped parts to add a beautiful soft lighting to the feature. Or make it really boho with some dream catcher macramé.
This kind of feature can be perfect for the backdrop to the bridal table at your wedding, or as the backdrop to your ceremony. Whatever you decide for the style and placement of the rope and macramé features, your wedding will be utterly transformed into something magical if you go for this backdrop idea.
Circular designs and hoops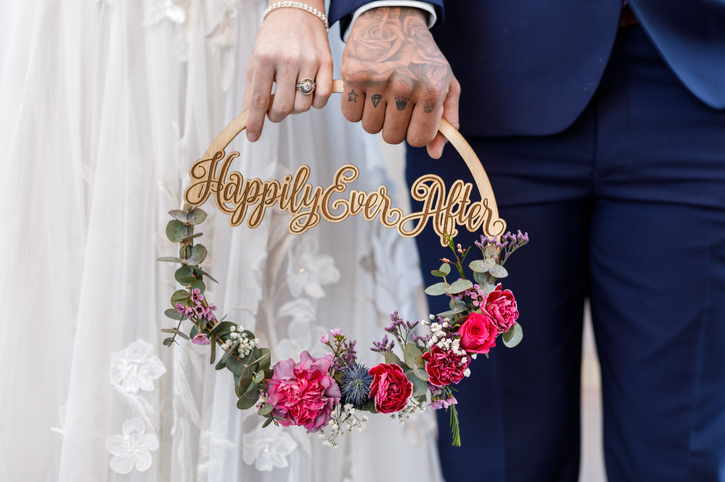 In 2018, we're seeing circular designs and hoops becoming more and more prevalent in weddings. The appeal behind them is that they represent unending love. This is the same idea that your wedding ring has, so it's a beautiful piece of symbolism for your stunning wedding.
Circular designs and hoops are perfect for every kind of wedding. They can go with luxe, boho, rustic, contemporary and vintage themes, and every theme in between. You can go with something ultra-contemporary by having a metal hoop at the backdrop for your vows for example. This can be finished in the colour of the moment: rose gold, or even gold. Having something like this at your wedding is both romantic and interesting, as well as being the epitome of style.
If your wedding is more in the woodland fairy, rustic or boho realm, then you can't go past a floral or greenery hoop or circular arch for your wedding. An abundance of flowers or greenery will really make you feel like you're in a magical and private world that only special guests are allowed to enter in to.
Along with the arches and hoops, you can also find many circular signs for your wedding. Get a personalised one to really take things to the next level and it means you can bring in the circular theme even if you're not that into the arch or hoop idea.
Elegant balloon features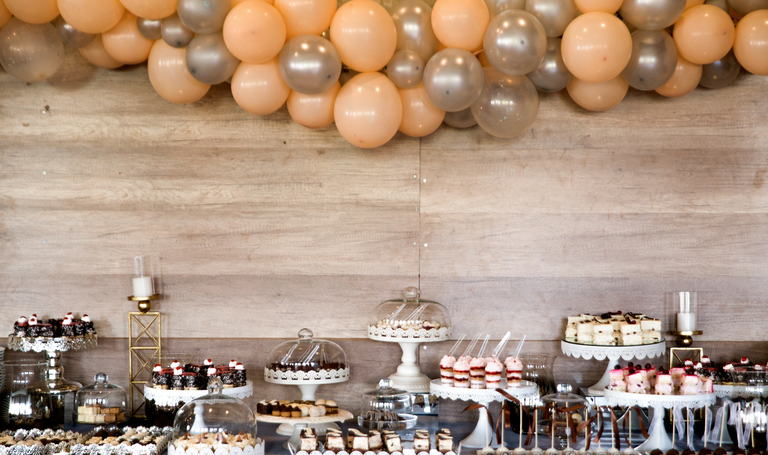 For the past few years, flower walls have been hugely popular. And why wouldn't they be? Everyone loves flowers. If you're after something in this vein but still unique at the same time, you may want to consider a balloon wall or feature instead of a flower one. This fun trend is extremely versatile. It can go with any theme you're going for as the balloons can be in varying colours and styles to really adhere to your theme.
If you're going for a luxe wedding, then you could have a wall or archway made of white balloons. Having them all blown up to different sizes will add some visual interest and diversity to the display, as well as adding to the 3D aspect. You can even add in some luxury metallic balloons in your wedding colours. Bronze, gold, silver and rose gold all work particularly well with luxe themes and add that perfect pop of colour to your elegant balloon wall.
Geometric features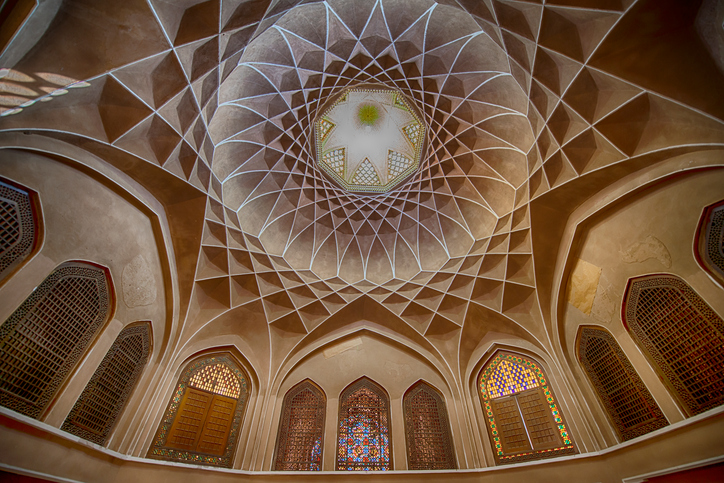 Like the circular motifs, geometric ones are also very big for weddings this year. You can do a multitude of things with this particular style of backdrop. So you can obviously have a clean geometric archway for you to stand under as you say 'I do'. This can be made in metal and coloured to suit your theme or in plain white so it remains neutral. You can have it plain or decorated with flowers of greenery. Both will look amazing against the lines of the geometric arch.
You can also add geometry into your wedding backdrop with laser cut shapes that can be hung from the ceiling or a geometric printed fabric that you can drape with. As for the rest of your wedding, have geometric chairs and table settings, and of course square plates to really tie everything in together.
Looking to hire your perfect wedding backdrop? Click here.