There are so many styles and designs of wedding invitations to choose from that it can be overwhelming, however most couples decide on an invite that is the closest match to their overall wedding theme. Read our wedding invitation ideas to get inspiration for your wedding stationery.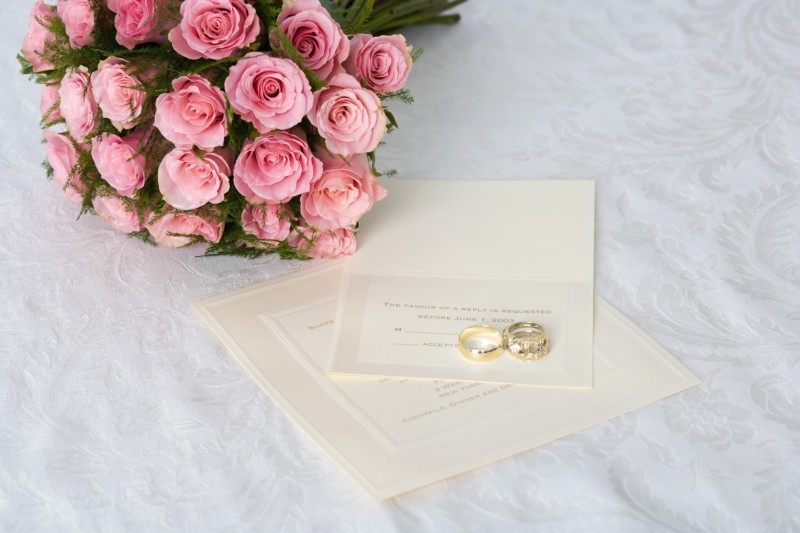 Here are a few wedding invitation trends
Bold patterns
Fun, bold patterns including polka dots, chevrons, and stripes are really making wedding invitations eye catching this season.
Eco invitations
Many brides are choosing to be eco-friendly with recycled or handmade paper invitations. The use of natural materials such as pressed leaves or flowers is also becoming very fashionable. Electronic invites are also a great way to save paper.
A single flower
A single flower is becoming a popular wedding invitation motif, and this can often influence the whole theme of the wedding, providing a consistent design element for the stationery and decorations.
Match to your theme
You will most likely want to match the design of your wedding invitations with the overall scheme of your wedding, and many couples decide to have coordinating invitations, place names, and thank you cards.
Bold colours
Many couples are turning their back on traditional white invitations and choosing a whole range of other colours. Here are a few of the most popular colours, depending on the season of your wedding:
Summer wedding invitations are available in bright hues of apple green, aqua blue, bright yellow, and sunset orange
Winter wedding invitations often feature strong colours such as onyx black, forest green or plum, combined with silver and white. They can also have a Christmas palette of gold and red.
Autumn wedding invitations are more subdued with rusted orange, deep scarlet and chocolate brown
Spring wedding invitations usually have paler tones such as sky blue, leaf green, or magnolia pink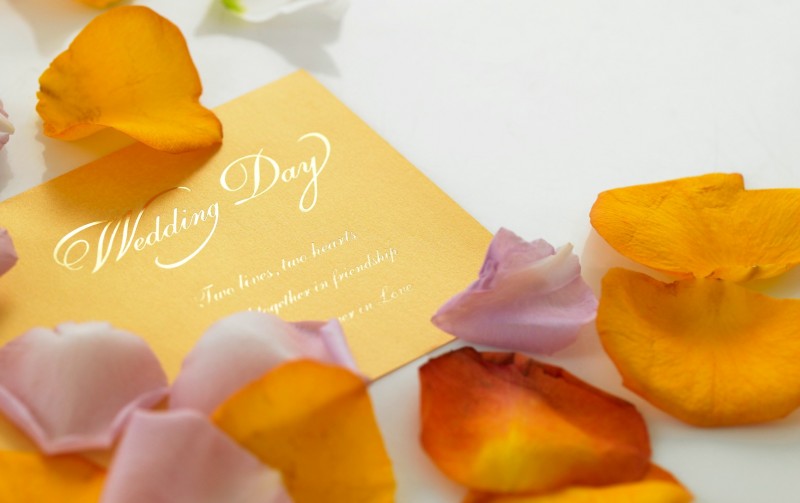 When to send out wedding invitations
It's advisable to order your wedding invitations and other stationery, such as place cards, four to five months prior to the big day. Remember to allow yourself plenty of time to write the invitations; if you are including a personal message as well it can be a time consuming process. Put the invitations in the mail around eight weeks before the wedding. You might choose to do this sooner for a destination wedding, or for a wedding in peak season.
Should I send save the date cards?
Save the date cards can be a great way to combine informing your friends of your engagement with the announcement of the wedding date, and are essential if you are getting married on a holiday weekend, or at a particularly busy time of year like Christmas. They are especially useful if you have many guests travelling from abroad or out of town as they will need to make travel arrangements well beforehand.
If you have decided to send save the date cards, they can be sent up to twelve months in advance. They can be in a variety of formats, such as a postcard, or even a fridge magnet and they don't require a reply. Save the date announcements are becoming increasingly popular in a world where people seem to very little free time, and we want to be certain that our loved ones will be available to share our special day with us.
Use Easy Weddings to connect with your dream wedding suppliers.
Browse the directory and start planning today!