Music plays an important role in a Jewish wedding, both during the ceremony itself and afterwards at the reception. If you're looking for ways to include Jewish wedding music in your celebrations, here are some ideas: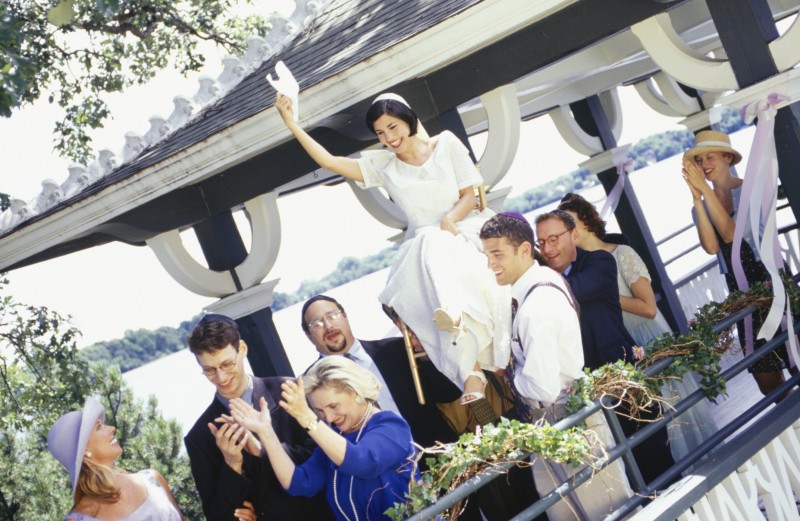 Music suggestions for your wedding ceremony
Music doesn't generally feature during the actual Jewish wedding ceremony, nonetheless you could opt for various pieces to be used during the prelude, postlude, or when you are signing the register. The most important time to play music is during the processional and there are generally two pieces of music. First music is used to announce the arrival of the rabbi, family elders, the groom, and the groom's parents, as well as the bridesmaids. The second piece of music indicates the entrance of the bride.
Baruch Chaba (Blessed is He), is popular choral piece for the bride's arrival, otherwise you might consider Eshet Chayil (A Woman of Valour) which is an instrumental tune. Wagner's Bridal Chorus is generally not used at Jewish weddings as the composer was notorious for his anti-Semitic opinions.
Always ask your Rabbi if you wish to play music at your wedding ceremony to ensure that it is appropriate. These are a few Jewish wedding songs that could possibly be used during the ceremony:
Hana"ava Babanot (The Fairest of Maidens)
Y"did Nefesh (Beloved of my Soul)
Od Y"shama (The Voice of Gladness Shall be Heard Again)
V"ha"er E"ne"nu (Enlighten Our Eyes to Your Torah)
Erev Shel Shoshanim (Evening of Roses)
Erev Ba (Evening Comes)
Dodi Li (My Beloved is Mine, and I am His)
S"u Sh"orim (Look up to the Gates)

Music suggestions for the wedding reception
While DJs are now a popular choice for Jewish wedding receptions, bands are the traditional option. They will generally be Jewish themselves and will be accustomed to Jewish traditions even if they play different kinds of music as well.
True traditionalists may opt to hire a Klezmer band for their big day. Klezmer music is supposed to mimic the human voice, and a violin makes crying, laughing and wailing sounds. Supporting music is generally performed by hammered dulcimers, a bass or cello, a drum, an accordion, and a clarinet. Set dances quite like square dances, together with waltzes and polkas, can take place to Klezmer music. The word 'klezmer' simply referred to 'musician' in the Yiddish language, but it is now used for this type of of secular celebratory music often played by Ashkenazi Jews.
The most famous Jewish wedding custom is the 'Hora' where the new couple is lifted to shoulder height on two chairs as the guests dance around them in a ring. Usually this tradition is accompanied by an assortment of traditional Jewish music encompassing the most well-known piece 'Hava Nagila' (Come Let Us be Glad). 'Siman Tov U Mazletov' (May Good Luck Come to Us) may also be played.
Use Easy Weddings to connect with your dream wedding suppliers.
Browse the directory and start planning today!