Hiring a wedding marquee is a great idea if you are planning your wedding in your own back garden or if you want to hold it in the grounds of a venue such as a stately home that can't accommodate the number of guests you'd like to invite. Find out everything you need to know about hiring a wedding marquee.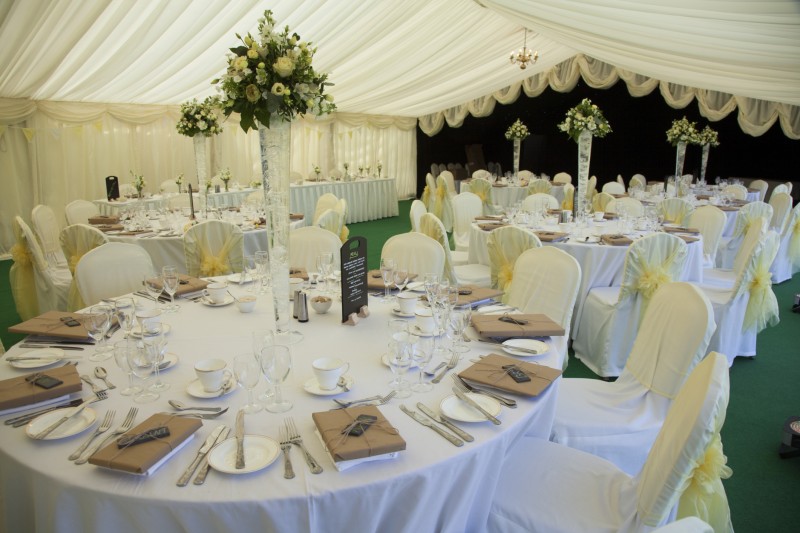 Benefits of hiring a wedding marquee
Unlike many permanent structures, a marquee can be designed to suit the tastes and needs of the bride and groom. Such things as the lining and valance can be matched with the chair covers, table cloths and flower. Those having an evening celebration should also consider working in lighting effects on the walls of the marquee.
It is also possible to have the sides of the marquee open or raised and bring the outdoors in on a lovely summer's day. Why not position a seating area nearby so you can incorporate parasols and an outdoor bar to encourage your relatives to freely move in and out.
Holding a marquee wedding also allows for choice when it comes to catering. The couple can decide whether to trade the traditional sit down dinner for something more relaxed, a barbeque or spit roast for example.
The key advantage of hiring a marquee is that the space can be as large as you need and can be presented to incorporate any ideas you may have about the ideal layout of your reception. You may dedicate spaces to such things as dancing, which would also need a sufficient area for your band, and an informal seating section for those who'd prefer to sit quietly and discuss your day. Areas can be cordoned off by screens and curtains to create the illusion of rooms.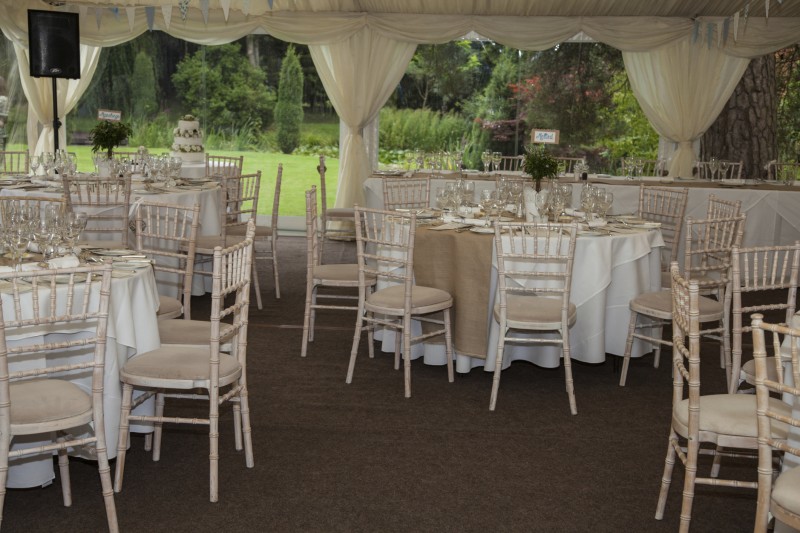 Finding a wedding marquee supplier
You will need to hire your marquee between nine and twelve months in advance of your wedding date, depending on the season during which you hold your event. Take a trip to your supplier a month prior to your big day to check everything is on track and to confirm all details and arrangements.
Before you start talking to marquee suppliers make sure you have an idea of budget, your wedding date, how many guests you're having, where the marquee will be located, and what time of day your wedding will be.
Visiting suppliers will allow you to cast an eye over the quality and condition of the chairs and tables as well as allowing you to look closer at decoration colours and fabrics for the interior. Always ask if you would like to see a marquee set up, ready for a similar function.
Always be willing to consult with your supplier and don't be averse to haggling should there be a need for it. Most marquee providers will be happy to change their standard package to suit the customer so don't be shy when it comes to asking about a particular feature that isn't included on their price list. The more information you can give the supplier the better.
Has your supplier got a team on call in case there are any emergencies on the day? You don't want your guests to be standing around without any music or lights so always check they have contact with an electrician.
Wedding marquee seasonality
While a marquee is a fabulous feature at any time of year, there can be issues to bear in mind during certain seasons. Sure, the best time to hold an outdoor marquee wedding is during the summer but this is peak time for marquees and you should factor this into your budget accordingly.
Costs will be significantly lower in spring and the weather can be great at this time of year. You cannot, however, legislate for extremely windy days, or the odd blustery shower so be prepared to spend most of your time inside should you be caught out.
Don't be afraid to hold a marquee event in winter either, just be sure that you venue is kitted out appropriately with heating, flooring and walkways to allow your guests to be both warm and dry during the proceedings.
Use Easy Weddings to connect with your dream wedding suppliers.
Browse the directory and start planning today!