A good wedding DJ will be able to provide a great atmosphere at the reception with their selection of tunes and get the whole wedding party to their feet. Here are some reasons why you should hire a wedding DJ as well as the potential pitfalls to avoid.

Don't feel you have to leave the music to after dinner when everyone is dancing – a professional wedding DJ can be a great asset on your big day, and can work with you to play appropriate music for every part of your wedding. You can have a DJ playing an instrumental set throughout the drinks reception, you can choose specific songs to mark your arrival and to introduce the various speeches, and you can even alter the music style and tempo from one dinner course to the next.
Reasons for hiring a wedding DJ
Wedding DJs will have a wider repertoire than even the most versatile band.
Live bands may take considerable breaks, while a DJs music is continuous.
A DJ will take up less room in your reception venue than a live band
A wedding DJ, even a top quality one, will generally be less expensive than a live band
A wedding DJ will usually be more flexible and more easily respond to the requests of your guests
Your DJ can be the MC (Master of Ceremonies) during the entire reception and he can make all the necessary announcements on behalf of the venue.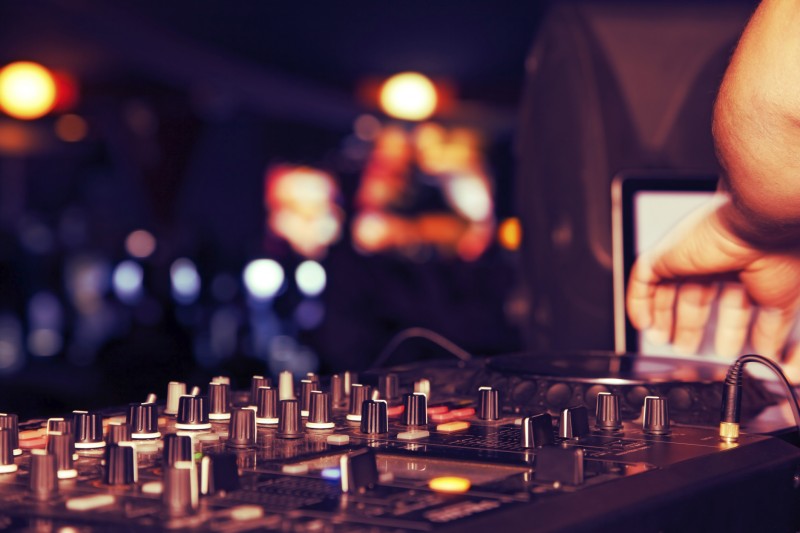 Getting the best from your wedding DJ
Don't just hire a wedding DJ with a good reputation, and leave them to get on with it, you may not be pleased with want you get. The music played at your wedding reception will have a considerable impact on how your guests remember it, so you want to be sure you get it hits the right notes. If you want the perfect reception you have to give your DJ some material to work with. A good DJ will present you with a song list to choose from and also be able to respond to your requests.
Arrange to see your wedding DJ in action before you book them to get a feel of their performance style, and to what extent they engage with the guests. Make sure you are given consent to do this, most people won't appreciate you gate crashing their function!
Meet with your DJ and describe how much audience interaction you want, do you just want them to play the music, or do you want them to act as master of ceremonies, pronouncing the different dances, the bouquet toss, and your departure? Be explicit about what you want when you're hiring a wedding DJ. You can also give them a 'do not play' list if there are songs you really dislike, or tunes that have negative associations for you which might detract from your big day.
Use Easy Weddings to connect with your dream wedding suppliers.
Browse the directory and start planning today!