When it comes to decorating the wedding reception, the dining tables are a good place to start planning. They are often the centre of attention and therefore you want to make sure they look beautiful and set the mood for your décor. There are many different ways to decorate your dining tables with different elements and here are four ideas for wedding table decorations: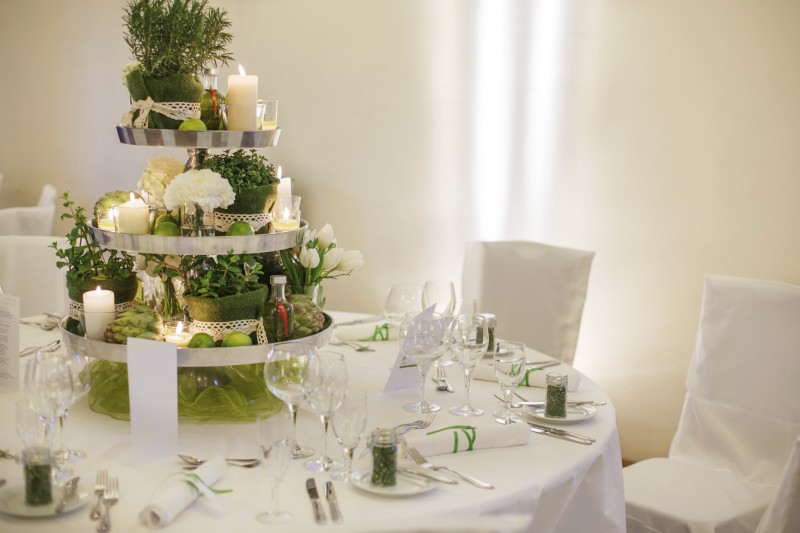 Wedding table decorations – lovely linen
Traditionally wedding table linen is plain white or ivory to present a contrast to the colourful flowers and decorations. If you have multiple tables, try to find different coloured tablecloths in different shades of your wedding colour for a warmer effect than plain white.
Highly patterned table linen in bold colours is becoming popular, with plain accessories placed on top, but if a whole table of colour is too much for you, pick table runners in your wedding colour, or make them out of similar material to your bridesmaids' gowns.
Wedding table decorations – unique place settings
Consider the style, colours, and overall effect that you wish to create with your place settings before you start to buy them. Would you prefer a motif, such as a specific flower or symbol, or perhaps your initials, to run through the place setting? Do you wish the setting to come with a modern or vintage feel?
There are different elements that can be paired up to create a decorative place setting and these include place names, wedding favours, disposable cameras, serviette rings, and unique glassware. Do you want to completely personalise the setting using photos of your guests on place names and favours or do you wish all the place settings would look the same?

Wedding table decorations – eye catching centrepiece
If you have a traditional table layout, with a number of tables of eight to ten guests, each one should come with some sort of focal point or centrepiece. The most popular type of centrepiece is a flower arrangement, either fresh or artificial, but there are numerous other options to keep in mind.
A group of helium balloons, a beautiful stand of cupcakes, a lamp to go with your theme, or a miniature tree adorned with ornaments are all great alternatives. Candles make superb table centres, especially when you group candles in different heights, or float some in a bowl of water.
For a modern look, many couples are picking centrepieces that don't all match, but that utilise a similar theme. Maybe they are all the same colour but use different materials, or they use the same blooms but are of different heights.
Wedding table decorations – sparkly table confetti
There is a current trend for adding crystals to every aspect of your wedding, and sprinkling a few crystals on each table will really provide sparkle to your wedding breakfast.
Using confetti to finish off your decorations also provides a touch of magic to your tables. You can go with traditional paper confetti, but this can get messy if drinks are spilt. Opt for metallic confetti instead, with horse shoes, stars and hearts to add shimmer for your tables.
A more romantic alternative is to scatter freeze dried rose petals on the tables to match your wedding flowers and colour scheme.
Use Easy Weddings to connect with your dream wedding suppliers.
Browse the directory and start planning today!