After finding your dress and your wedding venue, picking your flowers can be one of the next biggest decisions. Flowers all have associations and little meanings that can really add another special little touch to your wedding day. Here are 10 of our favourite flowers to make your wedding bouquet utterly perfect.
Roses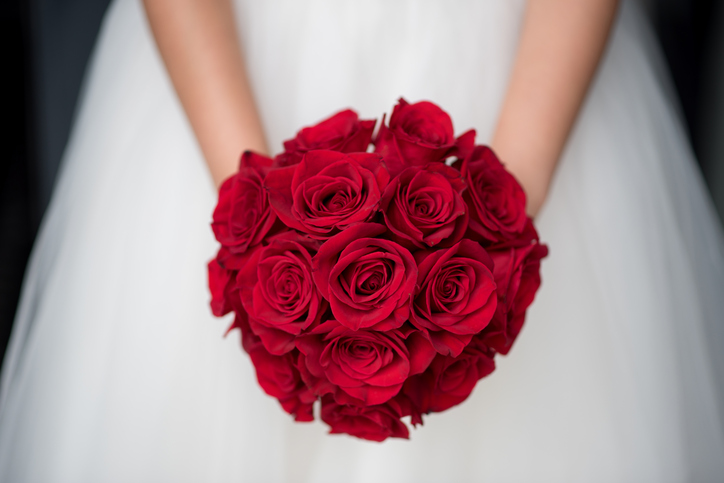 Roses would have to be the quintessential wedding flower. These romantic flowers were thought of by the Ancient Romans to signify beauty, love and desire. William Shakespeare referenced roses in his most famous love story play, Romeo and Juliet. And more recently roses are constantly being used in dreamy perfumes, modern fashion, and pretty much everywhere where a touch of romance is needed.
All of this backing behind a rose makes it perfect for a wedding bouquet. But not only does it symbolise romance and love, the rose is also one of the world's most beautiful flowers. It's hard to resist them. Roses are also extremely versatile. They come in many different varieties, colours and sizes too. White, light pink or red roses are particularly romantic, but if you want a variation, consider deeper pink, yellow or bright orange roses. You'll be amazed at all of the colours you can get.
The rose's classically elegant shape makes it look like total perfection in a bouquet. Consider this timeless flower for your bouquet.
Peonies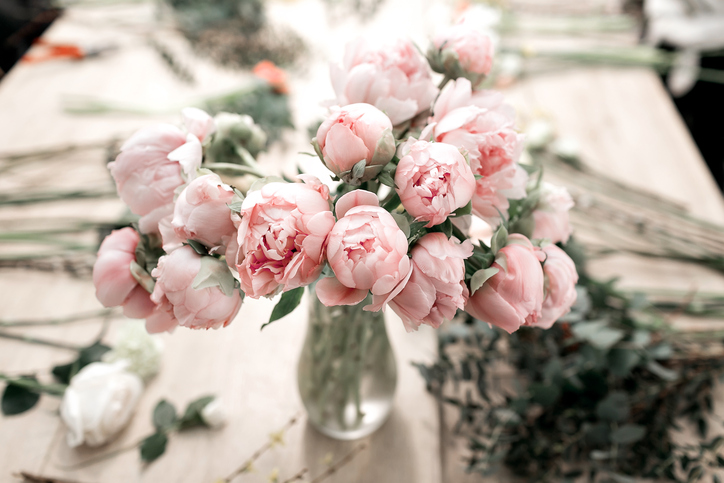 Peonies are quite similar to roses in the intensity of their layered petals, except they're more extreme. They're bigger and more intricate and completely delightful. Not only do peonies look amazing, they also have a delectable scent. So if you're quite a sensory person, then these big and beautiful flowers are for you. Find peonies in most colours from warm coral pink, to light lime green and even buttercup yellow. These soft and delicate flowers are so extremely romantic that they are the perfect addition to a wedding bouquet.
Ranunculus or buttercups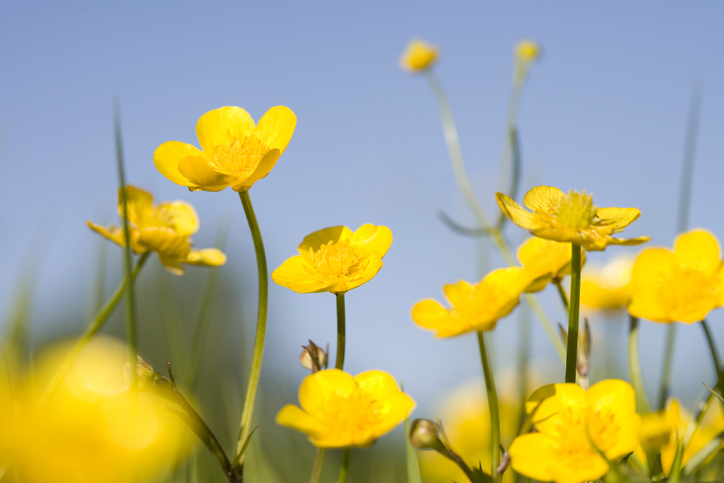 Ranunculus, more commonly known as buttercups, are brightly coloured flowers that will liven up a bouquet instantly. These densely petaled flowers are not unlike roses or peonies in shape and overall look, however these flowers are known more for their vibrancy than the other two. Bright orange, golden yellow and rich burgundy are all common colours of the wonderful Ranunculus. These work particularly well in a wedding bouquet if your wedding is mostly white and you want that pop of colour, or if you are passionate about all things colourful and need your bouquet to match your personality.
Proteas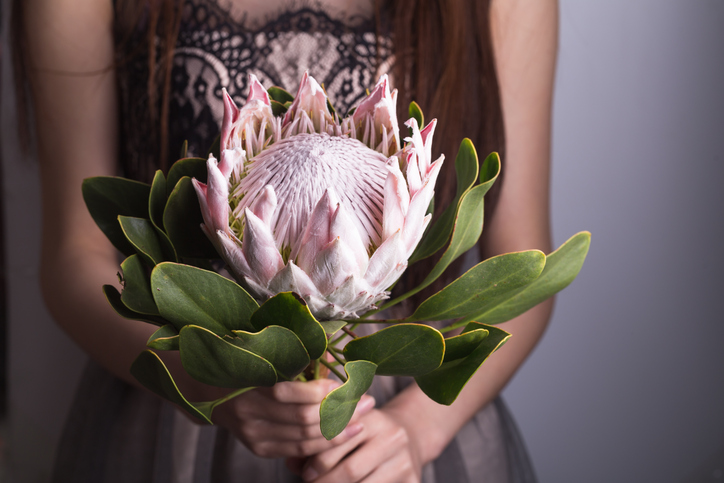 If you're looking for something a little more atypical and exotic, then Proteas may be the flowers for you. This native South African flower, also known as a sugarbush is a symbol of hope and change, which is an incredibly beautiful sentiment for your wedding day. Who doesn't hope for a beautiful future with their partner? And everyone changes and grows as they spend their life with someone. These flowers are hardy and absolutely stunning. Their unique multi-coloured look paired with their bold shape, makes these flowers a total show stopper for a wedding bouquet. If you're up for something unique, then these flowers are definitely for you.
Dahlias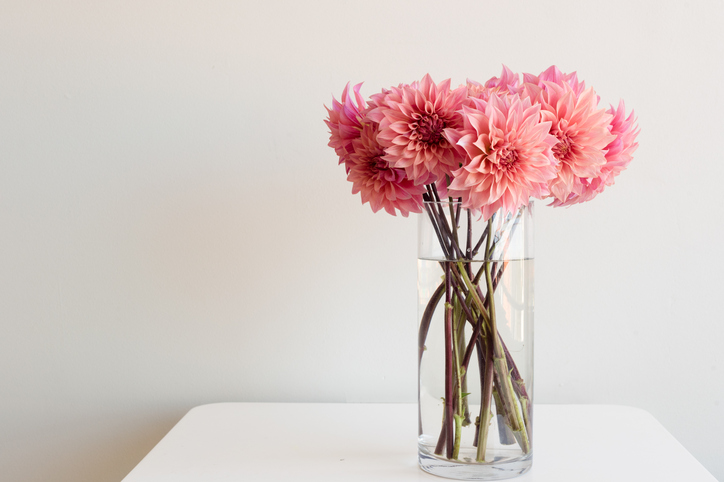 Popular in the wedding circuit is the dahlia. These round flowers with intricate petals are dreamy and oh-so-romantic. This is only complemented by their colouring which is most commonly peach and white. If you're having a boho, rustic or outdoor themed wedding with fairy lights and a Mazzy Star song playing as you slow dance with your new hubby, then dahlias are the perfect dreamy choice for your bouquet.
Poppies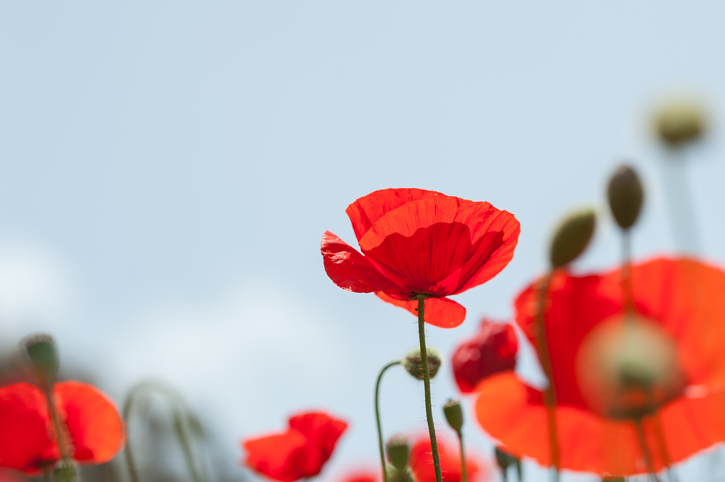 As we all know, poppies are well-known symbol for war remembrance. With this alongside their use in the Wizard of Oz, poppies tend to symbolise sleep or death. These two things are not exactly themes you're hoping to think of at your wedding, however don't lose hope. Poppies can also represent peace which is a lovely sentiment. Poppies are not a common choice for wedding bouquets but it doesn't mean they shouldn't be used. These beautiful brightly coloured flowers may have some sad connotations, but you can reclaim this striking flower by using it in your wedding bouquet. Their simple and unique style paired with their vibrant colour make them ideal for a bouquet.
Orchids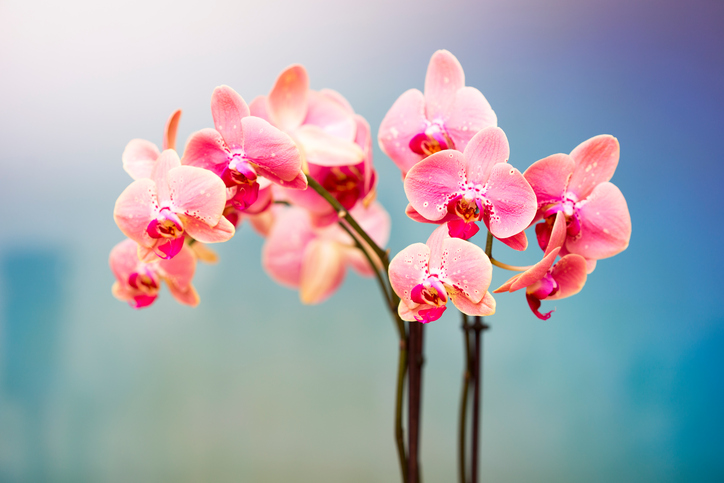 If you're looking for a bit of luxury in your bridal bouquet, then perhaps you should consider the beautiful orchid. An ancient symbol of wealth and procreation, the orchid is a famously expensive flower that has the perfect delicacy for a bouquet. In recent years, orchids, like roses have become a symbol for love with many lovers gifting potted orchids as romantic gestures. If this sweet flower that most commonly comes in pink and white speaks to you or you have a history with it, then use it for your wedding bouquet. Choosing something you adore will make you happy and there's no better place for happiness than a wedding.
Lisianthus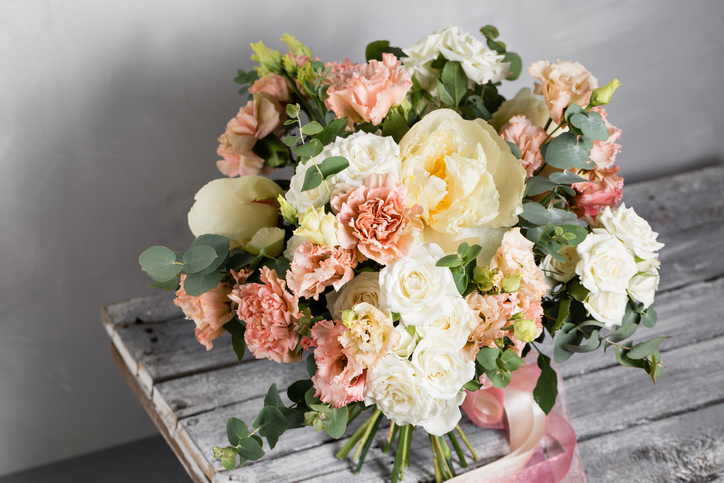 Similar to roses in shape, colour and size, the Lisianthus is a beautiful alternative to a classic. Unlike a rose, the Lisianthus is a much hardier flower that will hold up better in a bouquet. As these flowers tend to grow in bunches on a single stem, the Lisianthus is not only one of the hardiest flowers, it's also one of the most cost-effective. You can't really get any better than that! These flowers are perfect on their own or can be used as accompaniments to bigger and bolder flowers.
Amaranthus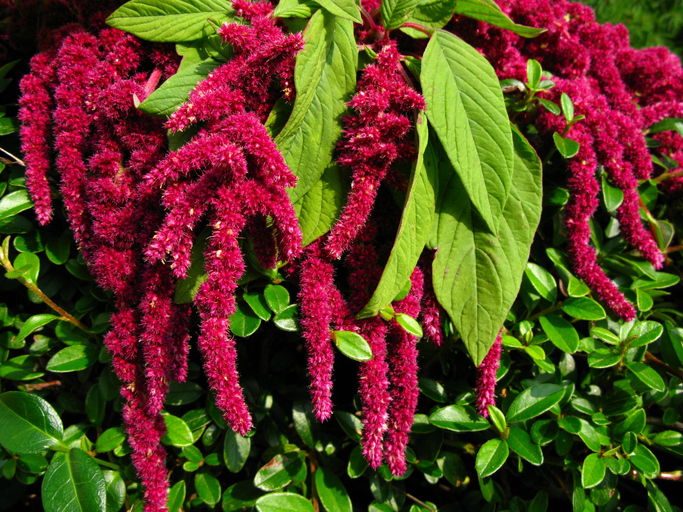 Amaranthus is a highly unique plant with deep red flowers. It is native to Africa and it is a wildly unusual choice for a wedding bouquet. The meaning of the name derives from the Greek language. Translated, this flowering plant is a symbol of 'unfading'. Which is another gorgeous sentiment to consider housing in your bouquet. The deep and vibrant red of these flowers make them ideal for a colour-filled bouquet. They're available in later spring, summer and autumn in the UK.