When you think about how you fell in love with your partner, you probably think of the music that was around at the time. You might think of that Beyonce track that was on the radio or something a bit retro like Simon and Garfunkel if you spent those early days listening to records together.
Music is a powerful force. It enhances emotions, good and bad, and brings moments to life. This is why you have to have music at your wedding and why it is important to get the playlist right. It doesn't have to be the coolest playlist or one that is made for your guests. It's your wedding after all so the music needs to be a representation of you as a couple.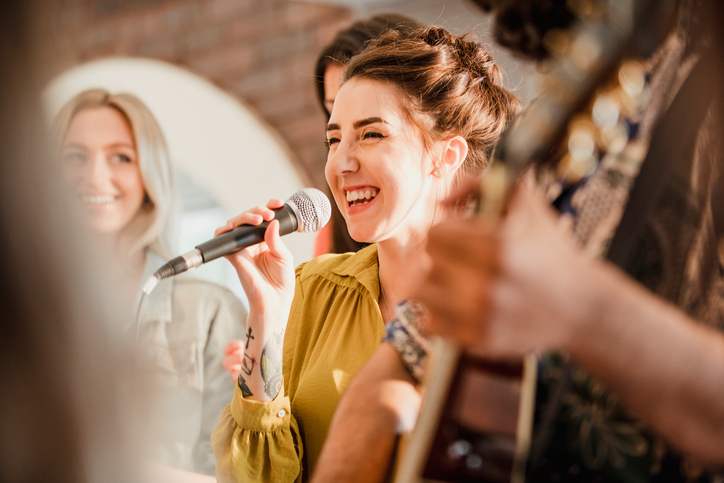 If you've only grown up listening to whatever has been played on the popular radio stations, you've probably missed quite a few classic tracks in your time. Here are some beauties that will help bring out those feels at your wedding.
Classic wedding songs for your big day:
In My Life
This beautiful track hails from The Beatles sixth studio album – and arguably their best – Rubber Soul. This track is soft and slow and perfect for your first dance or for when you're walking down the aisle. The easy sound of the lead guitar paired with the harmonies make this song a killer for weddings.

Dream a Little Dream of Me
This sweet tune dates all the way back to 1931 so as you can imagine, it's been covered by many singers and bands over the years. One of the best and most popular versions is the one given to us by Mama Cass of the Mamas & the Papas in 1968. This version is dreamy and smooth and is the perfect addition to your wedding playlist.
As Time Goes By
If you love old films, then As Time Goes By is a great choice. This song is most notably featured in the 1942 American classic Casablanca, but also makes an appearance in a more modern classic Sleepless in Seattle. The song is about loving someone in the moment, which makes it perfect for weddings as your day should be completely in the moment, not dwelling on anything else. The most famous version is by Dooley Wilson from Casablanca but you can find many other covers of this beautiful and romantic tune.
Will You Still Love Me Tomorrow
This is another track is about loving someone in the moment. The version recorded in 1960 by The Shirelles is a gorgeous song. While the lyrics do question what the future holds for this couple, they are also completely in love with each other in that moment. Which is a lovely sentiment for a wedding. If you're after a slower and more modern version, Amy Whinehouse covered this classic in 2011.
Can't Take My Eyes Off You
If you love a honey-toned song from the 60s, then Can't Take My Eyes Off You is a great choice. This number is great for weddings as it starts slow and romantic and then the beat picks up making it really fun to dance to. The Frankie Valli version is the most well-known, but you may also recall Heath Ledger belting this one out in 10 Things I Hate About You. So, all the 90s babies will be familiar with this tune.
Stand By Me
Everyone will know this song, probably by the 80s movie of the same name. Yet this Ben E. King number dates back to 1960 when it was first recorded by the singer-songwriter. This track is a simple and lovely song about sticking together through it all, which is what you're looking for in your spouse.
Wild Horses
This Rolling Stones track from 1971 is a bit different to some of the others on this list. It's slow enough to slow dance to for your first dance but it also has a cool edge. This song is about doing anything for your partner. It's about not letting anything get in the way of the love you share. This track, while a less typical wedding track, is a beautiful homage to a great love that will last a lifetime. If you love the Rolling Stones, then this one has to feature in your wedding.
Over The Rainbow
Over The Rainbow is one of those gorgeous old songs that's about the magic of dreaming. If you're a couple who love to travel and experience new things, then this song is perfect for your wedding. The song is about not settling and dreaming of a better life for yourself so if you've found your perfect mate, then this track can really encapsulate your big love and dreams and them coming together. Choose the classic by Judy Garland or the stunning ukulele version featured in 50 First Dates by Israel Kamakawiwo'ole.
La Vie en Rose
This is one of those perfect vintage tunes that never goes out of style. This song was released by French singer Edith Piaf in 1947. The literal translation of this song is 'life in pink' which as anyone who has heard the expression 'rose-coloured glasses', will know that this song is about the optimism of love. This original version of this song is hauntingly beautiful, but if you'd prefer an English version, there's a lovely guitar cover by Daniela Andrade, and a sweet English and French version by Laura & Anton, or you could even just get your band to play it.
Don't Worry Baby
If you love a classic, but nothing older than a 1960s track, then Don't Worry Baby by The Beach Boys is the perfect track for your wedding. This sun-infused, honey-toned Californian number is super romantic. It's about admiring your partner for everything that they help you with. It's about hard times and good times, and it's just a stunning track that if you haven't already heard, run to listen to it now. You'll love it.