Bridesmaids duties are usually reserved for the more mature bridesmaids and the maid of honour, while the younger ones only need to look pretty in their outfits. Check out the bridesmaid duties that may need to be covered before, during, and after the wedding.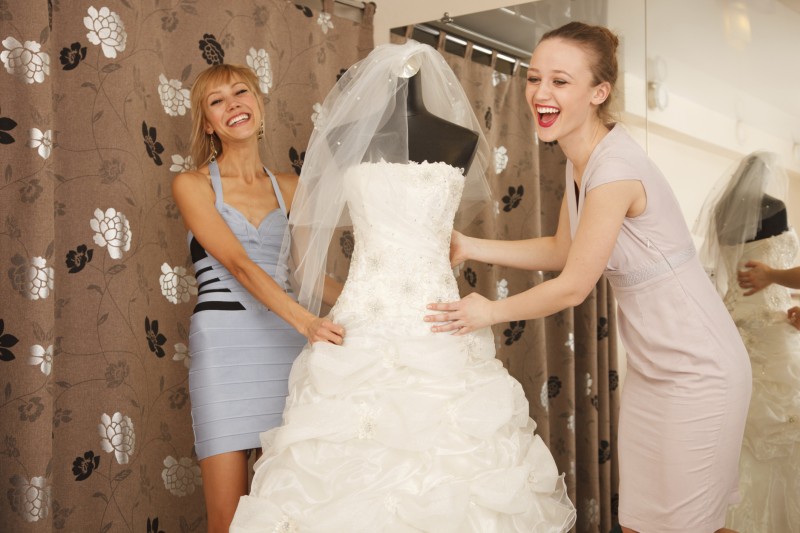 Bridesmaid duties prior to the wedding
The most obvious duty of the bridesmaids before the wedding is to offer some input into the style of the bridesmaids' dresses and to come for dress fittings. However there are several other tasks you might want them to get involved in such as going wedding dress shopping with you, making wedding invitations or wedding favours, helping to arrange your hen night or bridal shower, and collecting wedding items such as the bouquets. You can also ask one of the bridesmaids to keep track of any hen night and bridal shower gifts you are given so you can write thank you cards.
Duties on the morning of the wedding
On the wedding day your bridesmaids should get to the venue, or wherever you are getting ready, in plenty of time to have their hair done and makeup applied, before they get into their frocks. They may need to help any younger bridesmaids or flower girls to get ready, and try to keep them calm and occupied.
Make sure your bridesmaids know how they are getting to the ceremony – they should liaise with the bride's mother to ensure there are no problems with wedding transport. They need to make sure they turn up at the ceremony before you do, bearing in mind they may need to have photos taken before they leave for the ceremony.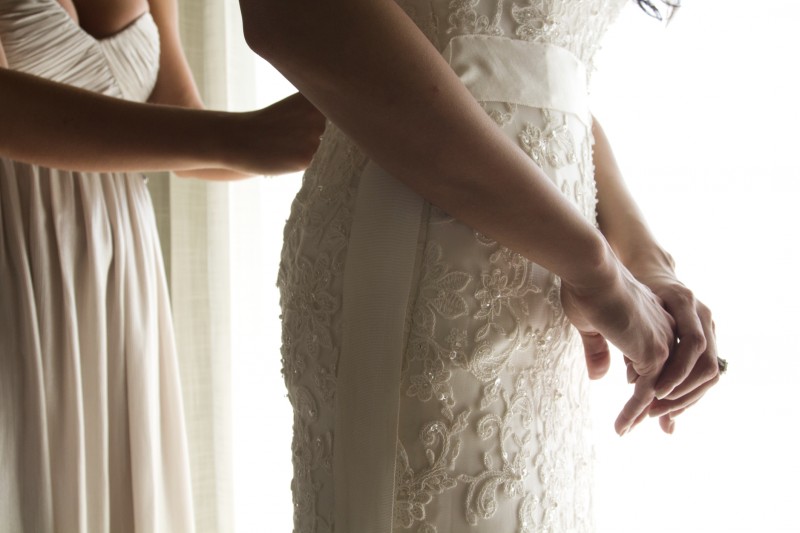 Bridesmaid duties during the ceremony
You can talk through your bridesmaids wedding ceremony duties at the wedding rehearsal. Your bridesmaids will either walk down the aisle before you, or follow you down the aisle, depending what style processional you're having. Historically, bridesmaids would carry the bride's train, but few modern bridal dresses have a long enough train to make this necessary. As an alternative the bridesmaids will often carry their own mini bouquet.
When the bridesmaids arrive have walked down the aisle, they will sit down in a reserved seat at the front of the ceremony. Their main responsibilities during the ceremony itself will be to look after items such as the bride's bouquet or gloves and possibly vow cards. The maid of honour will usually have to go and sign the marriage register.
Duties at the wedding reception
At the reception you might want to have your bridesmaids mingling amongst your guests, making introductions and checking that everybody knows where they should be going. Your bridesmaids may be asked to take part in the receiving line if you are having one, greeting your guests individually. Later on you could ask your bridesmaids to hand out wedding favours or pieces of wedding cake to your guests, and once the dancing starts it's almost compulsory for them to have a dance with the ushers.
Bridesmaid duties after the wedding
Your bridesmaids might think their work is done once you've made your exit, but there are a few tasks you could ask them to perform after the wedding, particularly if you are going off on honeymoon immediately. They may need to return items that were hired, have your bridal dress professionally cleaned and packed away, or have disposable camera photos developed.
Use Easy Weddings to connect with your dream wedding suppliers.
Browse the directory and start planning today!