Choosing the right style of dress for your bridesmaids is not an easy task. Just like the bride, the bridesmaids need to feel confident and comfortable in their frocks as they will be photographed a lot on the big day and it is important they do not feel self-conscious about how they look. Luckily there are plenty of different dress styles that are suitable for various shapes and sizes.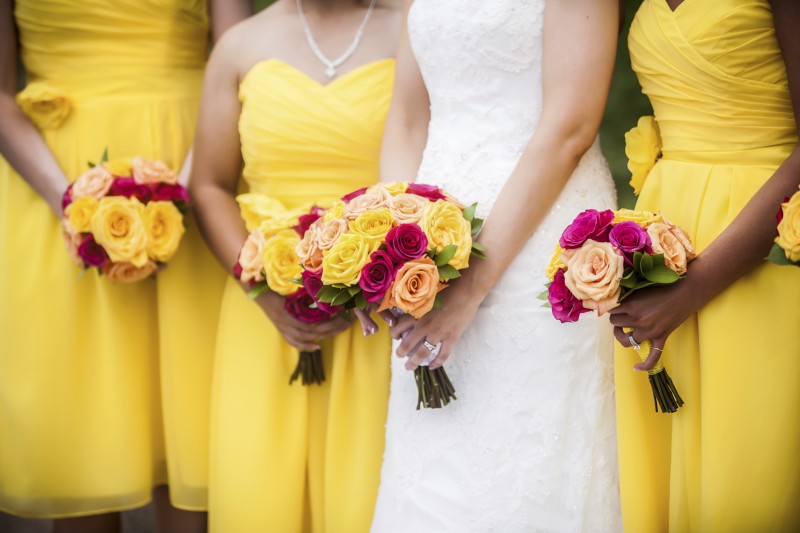 The shift dress
A fitted classic, ideal for flattering curves, the shift or sheath dress can be almost any length, although just around the knee is a good option for bridesmaids. For those that have the confidence, and the figure this style works well in strapless form but try to combine a strapless look with a longer skirt. A sheath dress tends to have a deep v shaped neckline, and is usually clingier than a shift. Those with a smaller bosom can get away with a high neck, while bustier ones will look better with a lower wider neckline.
The empire line gown
The ultimate style for bridesmaids' dresses, the empire line is very chic and feminine but also flatters just about any body shape. The waist is raised to just below the bust, and can be combined with a deep v shaped neckline, making it ideal for larger busted bridesmaids. For smaller busted ladies choose an empire line with a halter neck. The full length of the skirt gives the appearance of height, so it is a perfect choice for petite bridesmaids, or those with short legs. The skirt of the empire line gown skims the stomach, hips and thighs, flattering any lumps and bumps.
The baby doll dress
Cute and girly, the baby doll is a shorter version of the empire line gown, usually with a sweetheart, round, or scooped neckline instead of a v shape. This style of bridesmaid's dress is most appropriate for casual modern or beach weddings, or for younger bridesmaids. The short skirt requires long legs; shorter ladies will only look stumpy in a baby doll dress.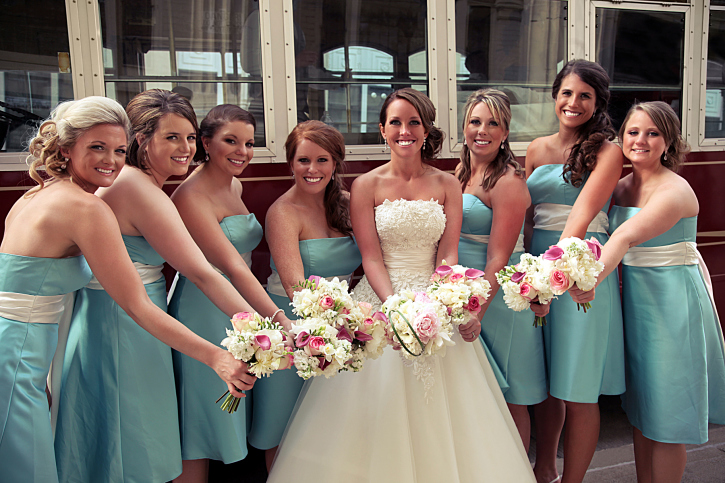 The wrap-over dress
This is an unusual option for a bridesmaid's gown, but for a daytime wedding a wrap dress can be an extremely flattering style. Well suited to curvy figures, the wrap over front draws attention down between the breasts, and then skims over the hips and stomach. Keep wrap style frocks fairly short, possibly knee length, to avoid the look of drowning in fabric. Wrap style dresses work well with sleeves for those that prefer not to expose their upper arms.
The tea-length dress
Your bridesmaids will feel like 1950s Hollywood starlets, when you choose tea length bridesmaids dresses which have full skirts with layers of underskirts, ending around mid calf. A defined waist means that they are only really suitable for slimmer ladies, but they can be something of a statement for a themed wedding.
The vintage flapper style dress
Sleeveless and high necked, with dropped waists; these dresses skim the body in a straight line so are not very flattering to curves. They look great teamed with a tousled up-do and a wide matching hair band. 1920's vintage fashion a great source of inspiration for wedding outfits, and flapper style bridesmaid dresses are understandably popular.
Use Easy Weddings to connect with your dream wedding suppliers.
Browse the directory and start planning today!