Bridal bouquets have evolved over the years from a posy of herbs and spices designed to ward off evil spirits into a beautiful display of gorgeous blooms designed to complement the wedding gown. If you're not sure what type of bouquet to go for, here are a few bridal bouquet trends to inspire you.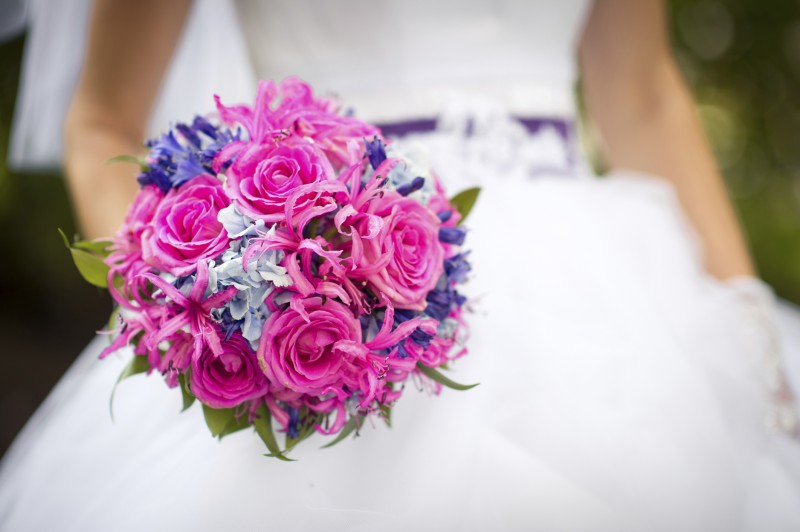 Trend 1: Pure white
All white weddings are very fashionable and a great choice for this type of wedding would be a simple hand tied bouquet with a single type of white flower. The alternative to the ever-popular white rose is something like a paperwhite; a charming choice with a fresh scent.
Trend 2: Shape and texture
Multi-textured bouquets are back in vogue and the more unusual the combination, the better. By combining astrantia, blackberries, peonies, hydrangeas and roses, for example you will encompass a wide variety of colours and forms. White antirrhinums sitting upon a base of green chrysanthemums would also provide the perfect contrast in bold shapes.
Trend 3: Hand-tied bouquets
These are one of the most popular styles of wedding bouquet with many brides aiming for a natural look on their big day rather than a very structured bouquet. Such posies can be tied with ribbon or tulle, or fastened with an antique brooch or button display. A more formal look can be achieved by wrapping the whole length of the stem in ribbon.
Trend 4: Bouquet bling
Adding sparkle to your bouquet with gems or jewels is a fabulous way to add a touch of glamour. Both crystal-headed pins and pearls on wires would allow the bouquet to shimmer as well as giving a sense of customisation and personality. Also consider wire birds or butterflies – gorgeous accessories for any bouquet.

Trend 5: Single flower bouquets
The key to selecting flowers to stand alone in a single-flower bouquet is to choose a deep colour; a red, hot pink, or deep purple to contrast with the white or ivory of your dress. Grand prix roses, freesias, lisianthus and sunflowers all work well in a hand-tied bouquet of your chosen flower.
Trend 6: Pastel shades
Pastel shades allow colour to subtly infuse your wedding without being too bright or garish. Try mixing pale pinks, lilacs, or creams with olive green foliage to create a stunning look for a vintage wedding theme.
Trend 7: Think beyond flowers
Who said bouquets only have to contain flowers? Additions such as berries, herbs, and fruits create an unforgettable, unique posy as well as heightening the scent given off by your flowers as you take to the aisle.
Use Easy Weddings to connect with your dream wedding suppliers.
Browse the directory and start planning today!