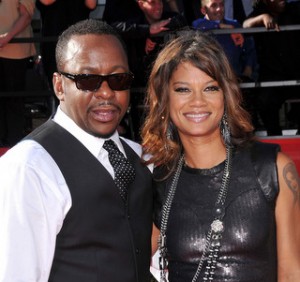 Whitney Houston's ex hubby, Bobby Brown, will marry fiancee Alicia Etheridge (above) next month in Hawaii, according to reports by celebrity gossip website TMZ.
The couple, who have a(n almost) three-year-old son, have been engaged for two years and their nuptials are expected to take place in Honolulu on the weekend of June 15 when Bobby and his band, New Edition, will be performing on the big island.
Way to turn a work trip into a holiday to remember, Bobby!
It is unknown whether his daughter, 19-year-old Bobbi Kristina, from his tumultuous 15-year marriage to Whitney Houston, will attend the wedding.
Despite being engaged for two years, Derrick Handspike, who penned Bobby's biography, claims that he and Whitney planned to remarry before her untimely death in a Beverly Hills hotel room in February this year.
"They were planning a small wedding, probably in Las Vegas with just the two of them and their daughter Krissi," recounts Derrick who adds, "After his [Bobby's] dad's funeral in Boston in December he flew to Atlanta. For the next week Bobby holed up at Whitney's home, where they rekindled their romance and their intimate relationship."
Neither camp have confirmed the rumours, but here's hoping that Bobby's marriage to Alicia will be a happy one!