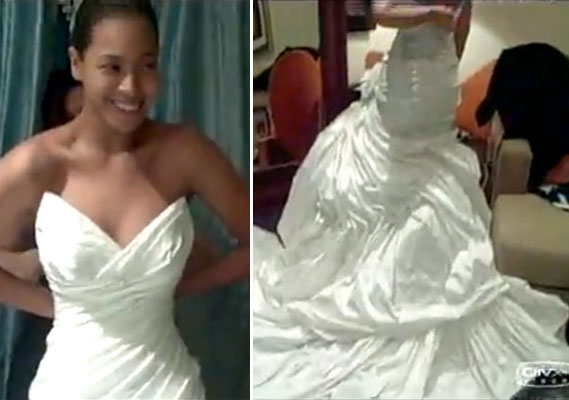 Way to keep a secret, B!
It's been three and a half years since Beyonce and hubby, rapper Jay-Z, walked down the aisle and we're finally seeing pics of her wedding gown.
In a day and age when pretty much nothing goes unfilmed, unTweeted or unFacebooked and someone, somewhere always manages to leak sneak pics of every big event online, it's astounding that it's taken this long for footage of B's big day to emerge.
In fact, the footage don't come courtesy of a long-lensed fan, but from the pregnant Grammy Award-winning crooner herself and, though it's brief (less than two seconds' worth), it's enough to get an idea of how gorgeous she must have looked on her big day.
You can see the blink-and-you'll-miss-it footage from her top secret wedding in her new music video for I Am Here – Live at Roseland (below at 3:36), which includes lots of unseen footage of her childhood, as well as highlights of her career, everything from winning talent competitions as a child to meeting Nelson Mandela and singing for US President Barack Obama's inauguration.
The gorgeous white dress features an extended sweetheart neckline, fitted bodice and very dramatic and complex looking train.
What do you think of Beyonce's wedding dress? Love it? Hate it? Perhaps you liked the ivory Wera Wang gown she wore in her Best Thing I Never Had video clip?