Sherlock hottie Benedict Cumberbatch is engaged to his theatre director girlfriend Sophie Hunter and they announced the good news in a most traditional way – via a newspaper.
Yep, Benedict's parents, London-based Wanda and Timothy Cumberbatch, placed the notice below in London's Times newspaper announcing the couple's engagement.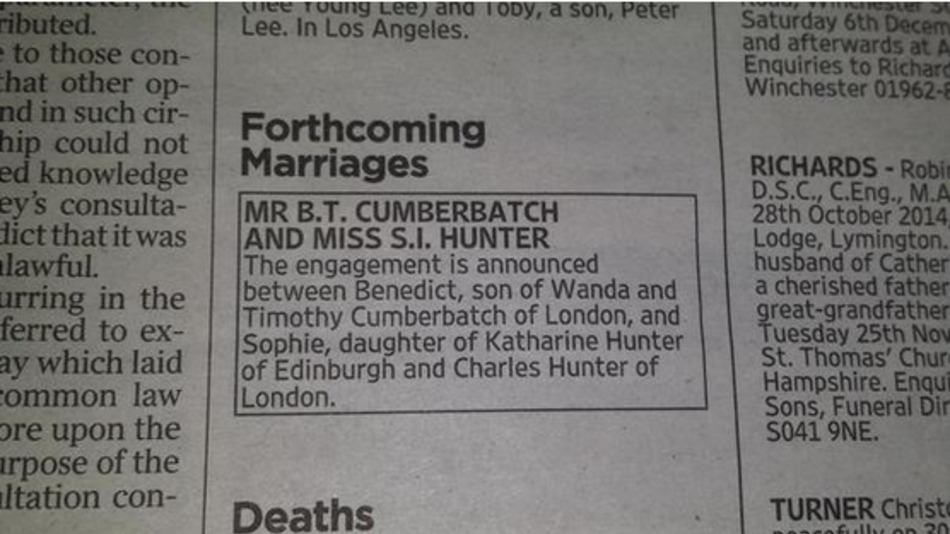 The move follows hundreds of years of wedding tradition, which dictated that couples should announce their engagements in their local newspaper to ensure as many people knew about the impending nuptials as possible.
Of course, with the advent of the Internet, fewer couples now take this 'old-school' approach, so what used to be the rule, is now the exception, and what a charming exception it is.
Either way, million of hearts across the globe have broken following the news that Benedict, 38, and his 36-year-old Oxford educated girlfriend, Sophie, a theatre director, are to wed.
The couple, reportedly, met in 2009 while they were filming Burlesque Fairytales and now, the game, it seems, is over!
Benedict recently explained his decision to announce his engagement in a newspaper on USA Today, saying, "It's what I would have done if I wasn't famous."
It's a normal thing to do in my country. It was a way of telling our friends who we hadn't been able to tell before [they saw] some grainy shot of a ring on her finger," he added.