In the UK, the most common wedding dates fall within spring and summer, with early autumn dates coming in after. It's no wonder why spring and summer are the most popular. They're the warmest seasons making for, hopefully, more reliable weather. However, autumn weddings should definitely not be discounted because there are a lot of pros to picking an autumn wedding date.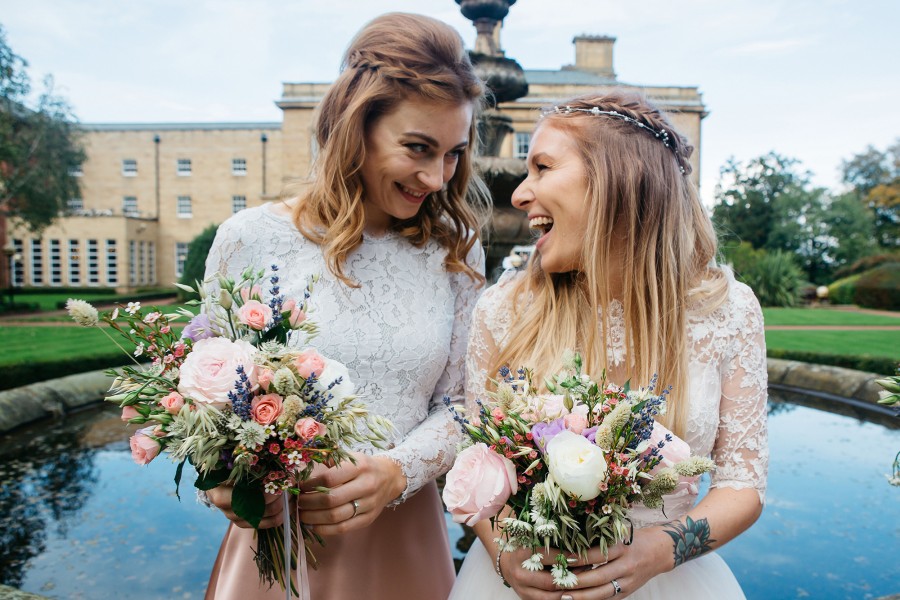 Reasons to consider an autumn wedding:
Colour! Everyone knows that the vibrant colours of autumn are truly spectacular. Imagine the vibrant golds, reds and oranges of the leaves in your wedding photography. The setting will look almost as beautiful as you will.

The weather isn't too harsh in autumn and it still has great light. This means your photographer will capture some great outdoor photos without being freezing cold or boiling hot.

Summer and winter can both be too intense, but autumn's moderate temperatures will leave you feeling comfortable. This makes autumn the perfect season for an outdoor wedding.

The seasonal produce of this season will present some fantastic options for your wedding feast.

Although it's unpleasant to think about, you'll sweat less in an autumn wedding. No one wants to be sweating too much on their wedding day and thanks to poufy wedding dresses and thick suits, you'll likely sweat if your wedding is on too warm a day, making autumn ideal for staying cool.

Autumn evenings are known to be cool so if you're having an outdoor wedding you could have a romantic fire going later in the night that you can drink hot chocolate in front of. Ah, bliss!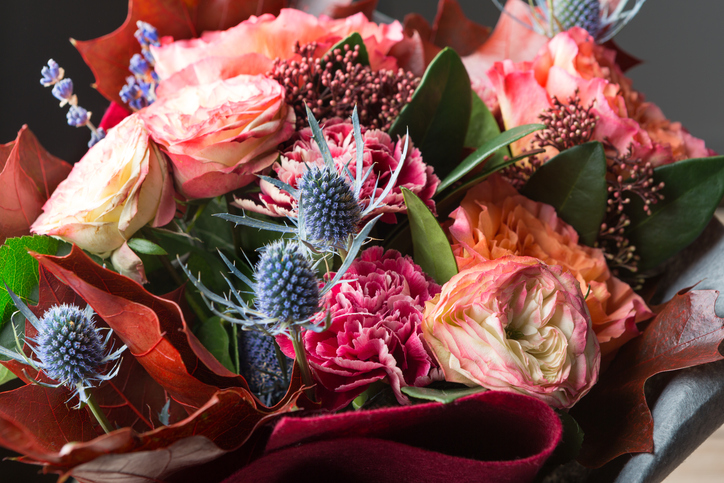 Now that you're convinced, here are some awesome ideas for your autumn wedding:
Themes and venues
Because of the colour palate of autumn, certain themes fit into the season better. Rustic, bohemian, vintage, glamping, country and vineyard weddings are all the perfect themes for our favourite leafy season.
If you're going for one of these themes, choose a venue that highlights the autumn colours so they're incorporated fully into your wedding. Pick somewhere with lots of trees like a forest, a national park, gardens or a vineyard.
If these aren't the themes for you, you can still have a luxe wedding in autumn that can be carried off beautifully. Incorporate autumnal colours into your wedding theme, focusing especially on gold and burgundy. You'll be able to take the earthiness of autumn to a new, upmarket level.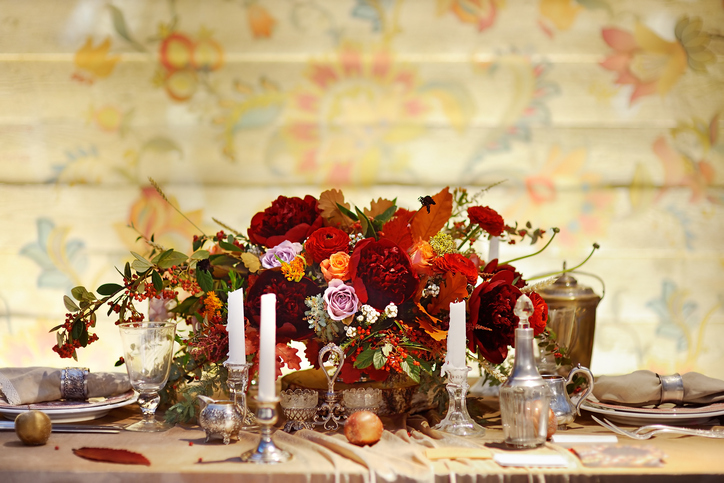 Invitations
Another way you can utilise autumn's colours is with your invitations. You could go for a very rich burgundy cardstock with gold lettering for that elegant look.
Or for something more rustic, you could opt for cream invites with orange or plum lettering with hand drawn leaf motifs. You can really get creative with your invites and let that autumn theme shine.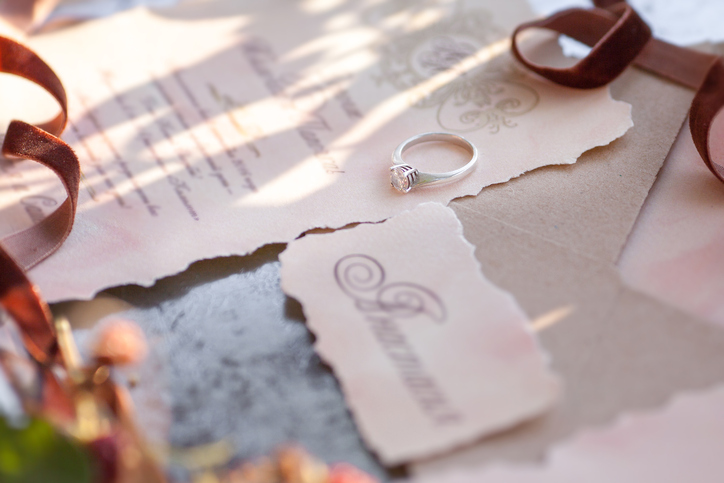 Dresses
Depending on your style, you can really have fun here. A simple place to start would be your bridesmaids' dresses. Putting your bridesmaids in deep plum or deep burgundy will accentuate your autumn theme. These colours tend to look good on most skin tones so they're the perfect dress colours.
For you, you may want to stick with tradition and go with something in ivory or cream as these colours are timeless and go with any theme. If you like a lot of colour though, you might be thinking of making your dress on the colourful side. Subtle colour options would be a rose gold or a pastel pink as they aren't steering too far away from tradition, yet they're unique. For something bolder, a rich orange or deep purple would look amazing against the autumn leaves.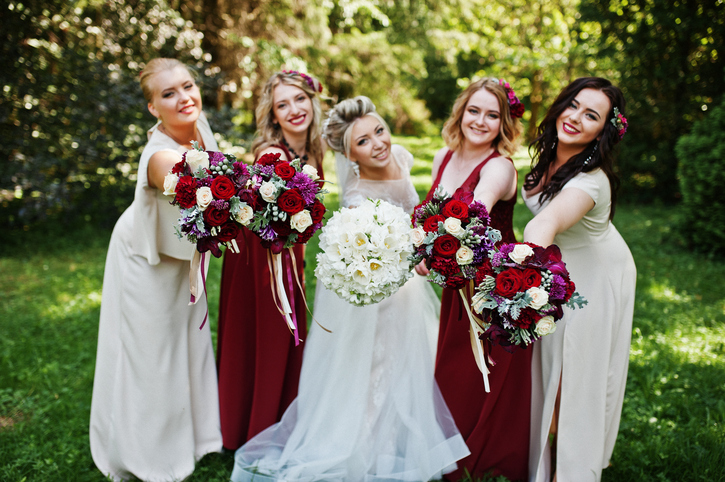 Food and wine
Autumn has some of the best produce and for your theme, you simply must showcase the season's best. Plan your feast around autumn's best offerings. Have items like:

Roasted butternut squash soup

Beetroot fritters

Sweet potato fries

Pork belly with apple

Apple and blackberry pie
Having a focus on the produce of autumn will bring the theme home and you'll also be eating the most delicious meal. For drinks, stick to classics like wine and beer but have some more autumn friendly varietals. Choose a heavier beer like a stout and choose Italian red wine over a crisp white. Seeing as it's the apple season, having some local apple ciders would also be ideal.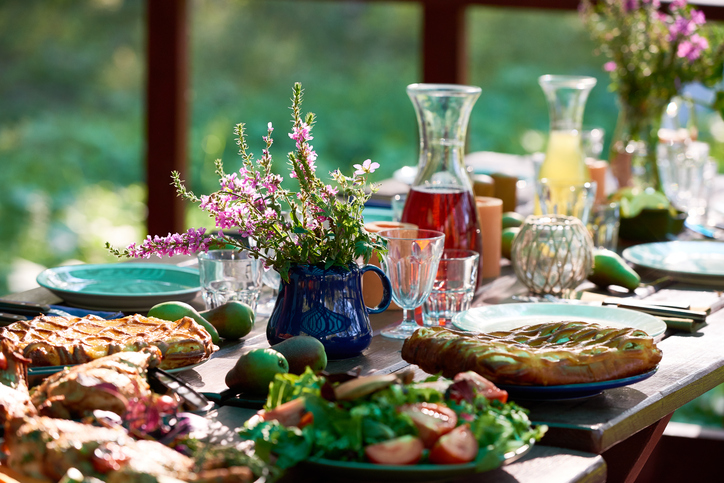 Flowers
If you like, you can incorporate autumn leaves into your arrangements to bring the outside in. In addition to this, choosing flowers in complementary colours is the perfect way to tie everything together. Wildflowers will enhance the nature element that having an autumn theme will always bring with it, so they're a lovely choice.

For something more luxe and elegant, roses or tulips in deep reds, burgundies and oranges will also be beautiful.
If you're having your autumn wedding at a vineyard, use some vines in your table settings to really make it all cohesive.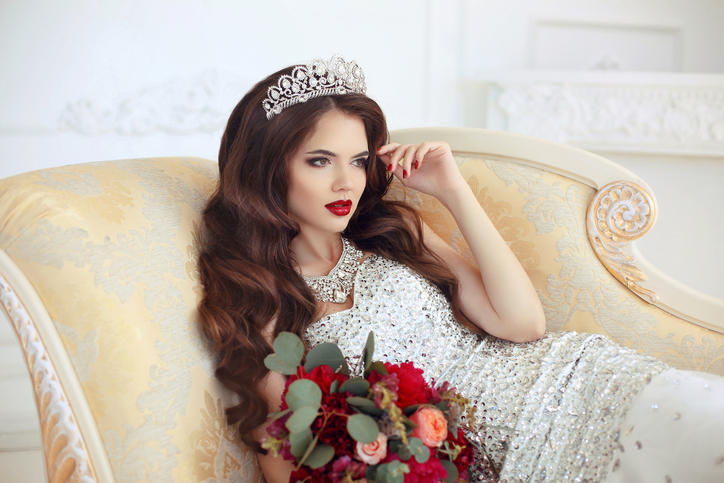 Decorations
If you're going for a bohemian/ woodland fairy type vibe for your autumn wedding, then adding fairy lights is a beautiful way to enhance these elements. Stringing lights in autumnal trees is also a beautiful thing to do. The lights play on the leaves in truly stunning ways and the colours are illuminated and changed in an ethereal way.
For general décor, try using leaves, vines, apples, cinnamon sticks and pinecones, alongside beautiful chai spiced candles that can be lit later in the evening. The colours and the scents of these items paired together will create a beautiful atmosphere that everyone will adore.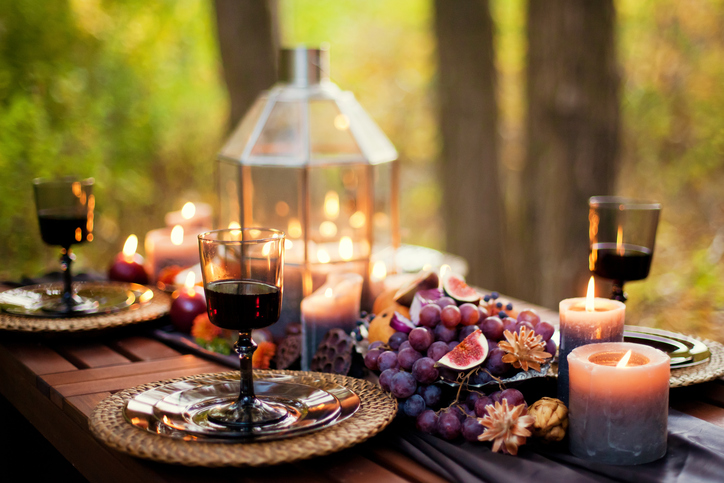 Entertainment
To keep those guests entertained, you can have a number of games or activities that will be on theme. Bobbing for apples is the definitive autumnal game and children love it.
Because autumn tends to scream 'carnival' you could hire a few carnival games or make some yourself along with having a photo booth complete with props.
For a more sophisticated vibe, organise a wine tasting for your guests while you're off getting photos taken. Drinking a fruity Italian red wine on a cool autumn afternoon is heavenly.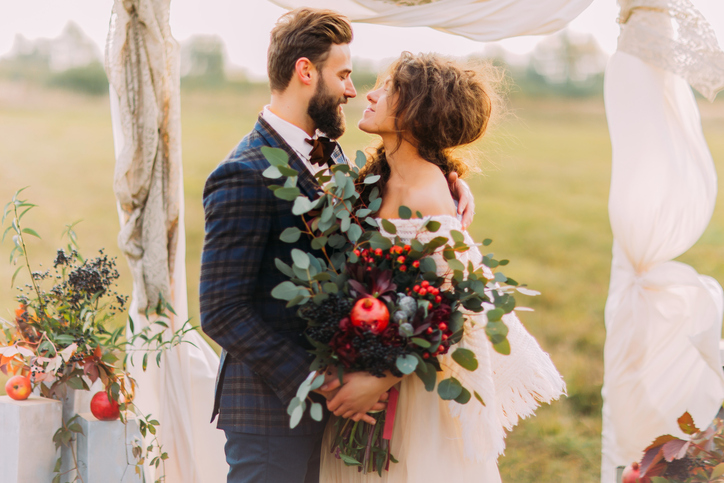 To find the wedding venue to host your perfect autumnal wedding,
click here.