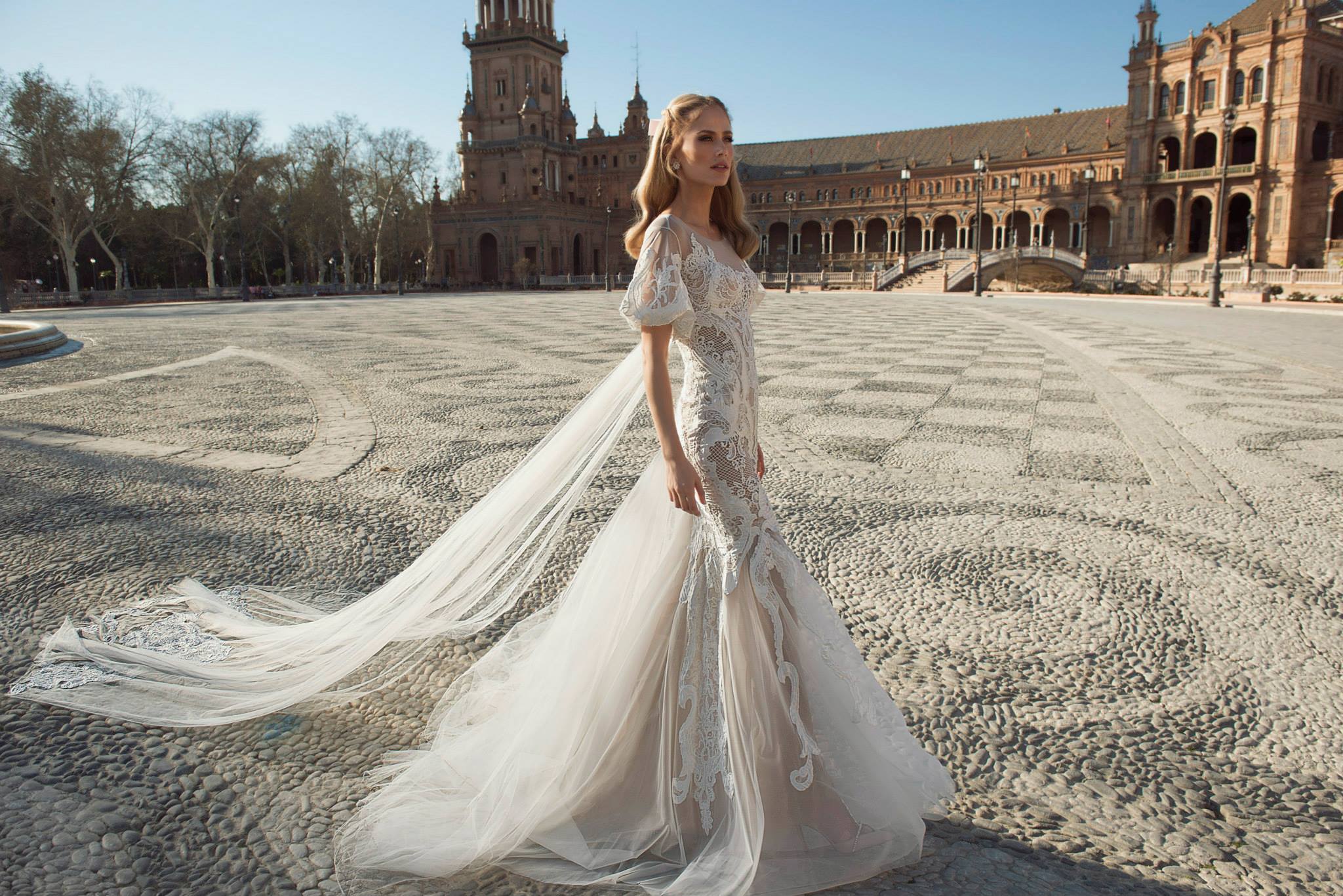 Bridal fashion in 2016 will see a cohesive theme of ethereal elegance being explored by many fashion houses. Designers are showcasing gowns which portray a whimsical theme with elements such as 3D appliqués, floral patterns, hand-beaded embellishments, and flowing layers of barely there tulle enhancing the ethereal trend and creating other-worldly drama. Here are some of the top trends that will be huge in 2016.
Sleeves take centre stage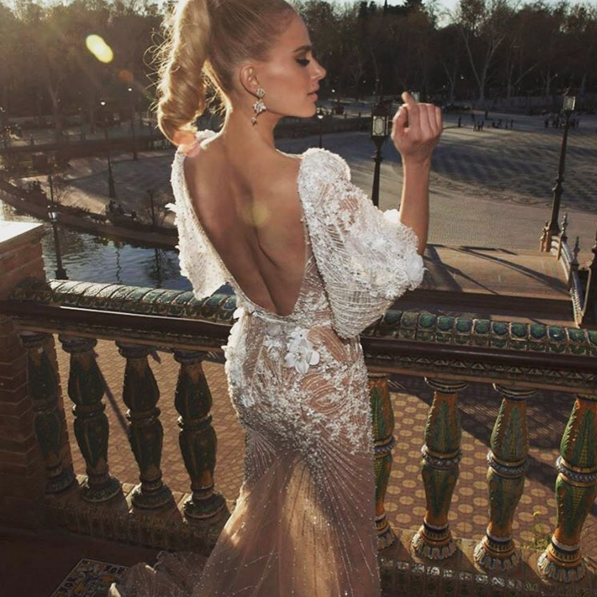 This year expect to see unique sleeves of various shapes and designs, as they will become very prominent in 2016 and be the focal point of many gowns. Heavily embellished puffed sleeves, medieval inspired sleeves, feather sleeves, cap sleeves, romantic off-the-shoulder sleeves, and flare sleeves will all make an appearance in the realm of bridal fashion, with many designers including Tal Kahlon embracing the trend.
Baroque inspired appliques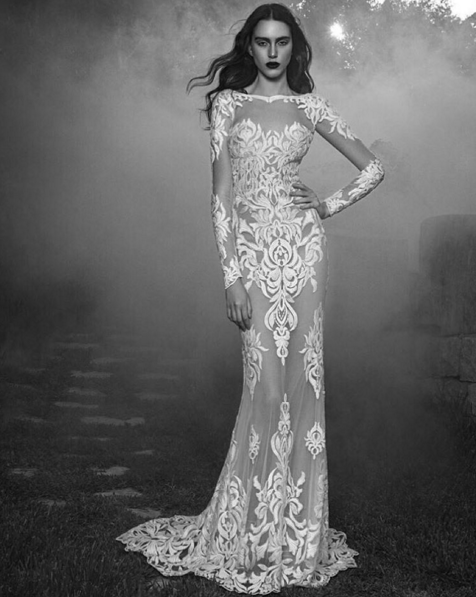 Baroque inspired fashion relates to the Baroque art movement which flourished in Europe in the 1700's. Fashion inspired from this movement features patterns reminiscent of motifs from the era and heavily gilded textured fabrics. Baroque inspired appliques will be more prominent in bridal fashion in 2016 as trends are headed towards more exaggerated embellishment and bodice detail. 2016 is not for the faint of heart, with many designers spearheading the trend, including Zuhair Murad who famously made Sofia Vergara's appliqué brocaded wedding gown.
Unique embellishment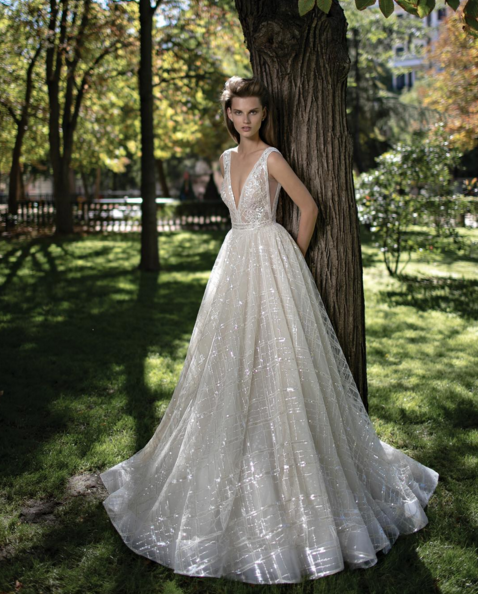 2016 will be the year in which bridal gowns will become a little more daring and different. As trends head towards new and innovative ways of embellishing gowns, designers like Berta Bridal have utilised unique fabrics and designs in their 2016 collection. The collection is characterized by exquisite and opulent beading, geometric shapes, and innovative embellishments such as spots and mesh-style patterns.
Capes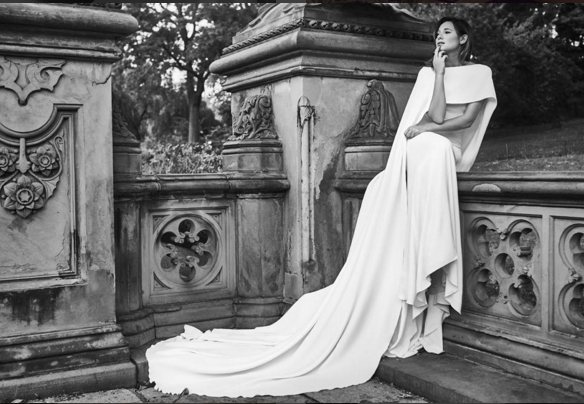 If Solange Knowles did it, then we must too! It's no wonder that after Beyonce's sister wore a cape on her wedding day, designers such as Pronovias have incorporated capes into their 2016 collection. The cape trend is reminiscent of the ethereal theme and adds a bit of regal drama to the bridal aesthetic. Expect to see capes galore in 2016!
Body veils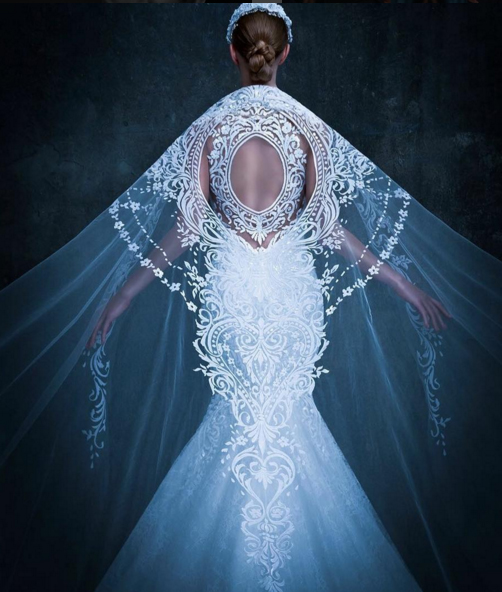 Unlike the traditional head veil, the 'body veil' is a veil which is attached from the shoulders or lower back. It is similar to a cape, but slightly different as it is a soft tuft of tulle rather than a heavy cloak. The body veil trend for 2016 has been pioneered by designers such as Michael Cinco, Ines Di Santo, and Badgley Mischka and Alon Livne.
Floral fancy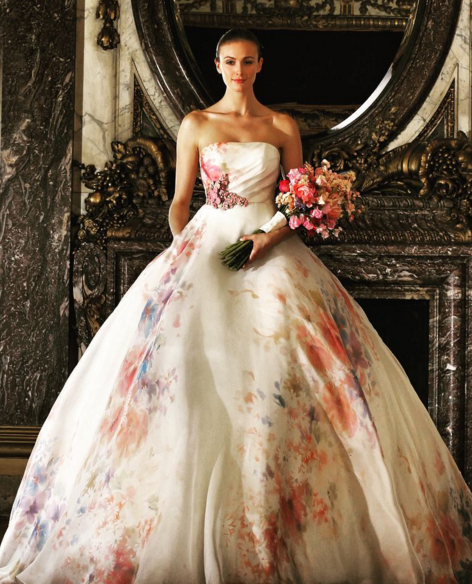 Romona Keveza's 2016 collection features a number of elegant floral patterned princess-style gowns. Other designers such as Lazaro have also indulged in some floral fancy too and have sported many floral patterned gowns on the runway for their 2016 collection. The floral wedding gown trend will grow in popularity in 2016 and be a favoured choice for spring-time and country weddings.
Ethereal elegance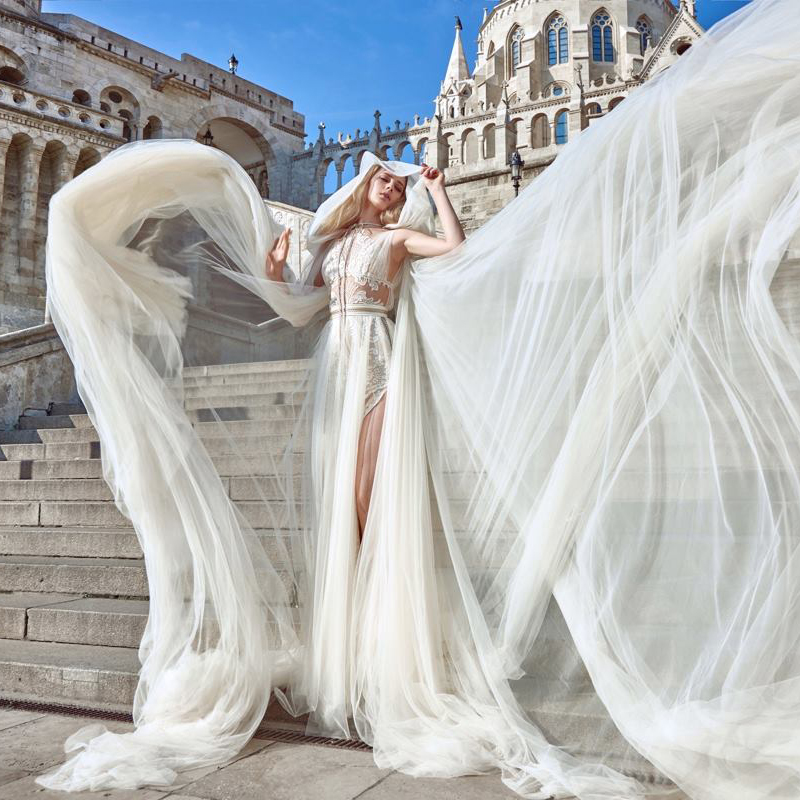 The overall bridal trend for 2016 is undoubtedly ethereal elegance with many fashion houses demonstrating this theme through their choice of fabrics, shapes and embellishment designs. Galia Lahav have expressed a whimsical theme in their 2016 collection with elements such as soft flowing tulle, intricate beading and romantic lace appliques placed against see-through tulle.
Princess obsessed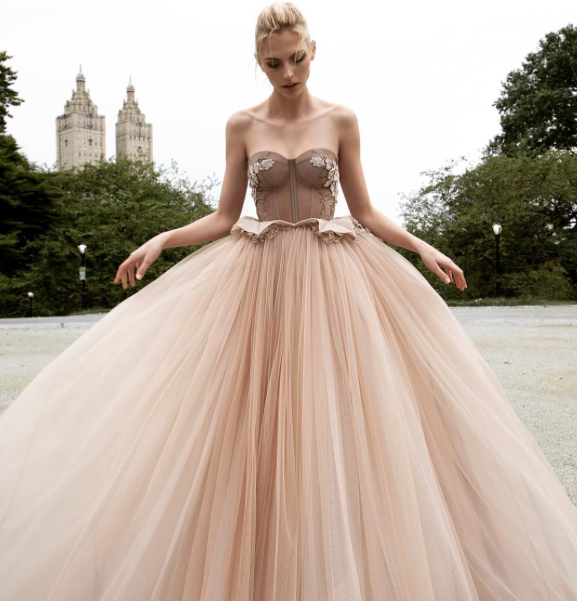 The princess gown will always remain a highly favoured silhouette in bridal fashion, however in 2016 expect to see the princess skirt slightly exaggerated. A much bigger and fuller skirt with a very fitted, waisted bodice is the trending shape for 2016. Designers such as Inbal Dror have featured the look in their 2016 collection, showcasing dramatic full tulle skirts fit for a princess-bride.
Seeing spots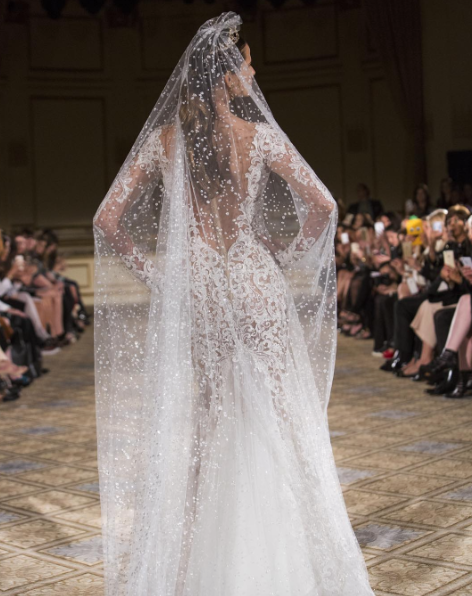 A number of designers including Berta Bridal have released 2016 collections which feature spots embellishing barely there tulle. This trend will be much more prevalent in veil designs, however it will also filter through into layers of tulle in skirts and even sleeves too.
Romantic traditional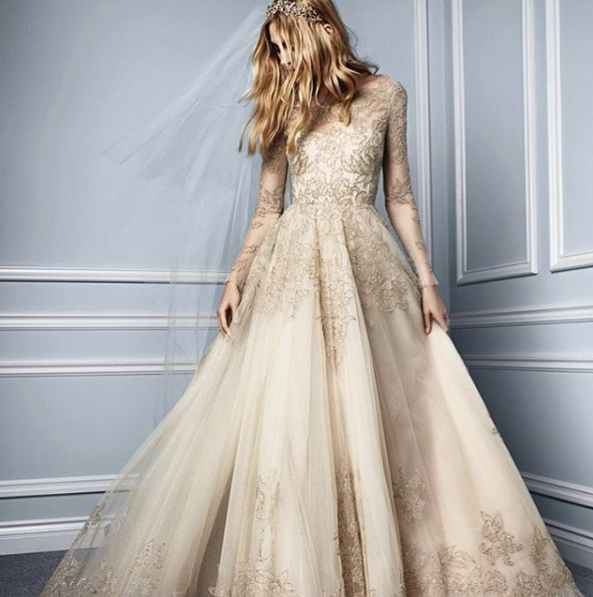 Expect to see a return of the traditional bridal look but with a modern, romantic twist. Full A-line skirts with delicately embroidered sleeves and scalloped lace veils will be prominent on the bridal couture catwalks, with many designers including Monique Lhuillier adding their own unique twist. Varied shades ivory and gold, and a smattering of intricate embellishments will bring this overtly romantic and traditional bridal look to a modern platform.
3D appliques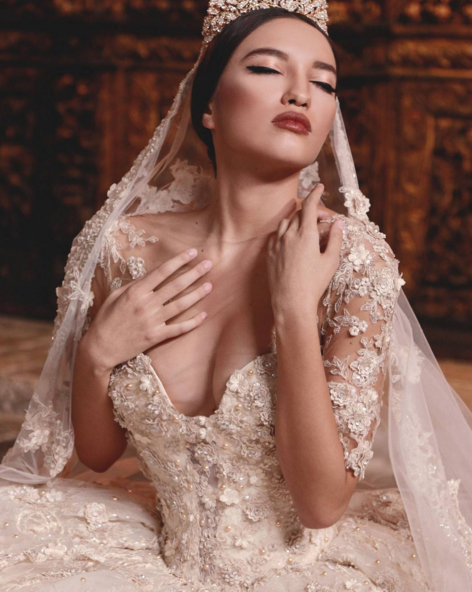 Three-dimensional embellishments and motifs will be huge in 2016 as designers become more daring with their designs. Flowers will be the most popular form of 3D embellishment, however expect to see unique shapes such as stars and other geometric patterns too.
Feathers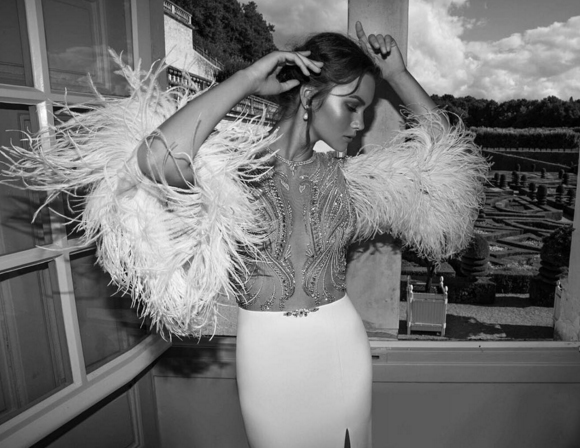 Feathers will make a come back in 2016 with many designers opting to add feathers to sleeves, skirts and trains on their gowns. Feathers add extra dimension to figure-hugging gowns, and the trend will be a favoured choice among brides who are eager to opt for a glamorous bridal look.
Two dresses in one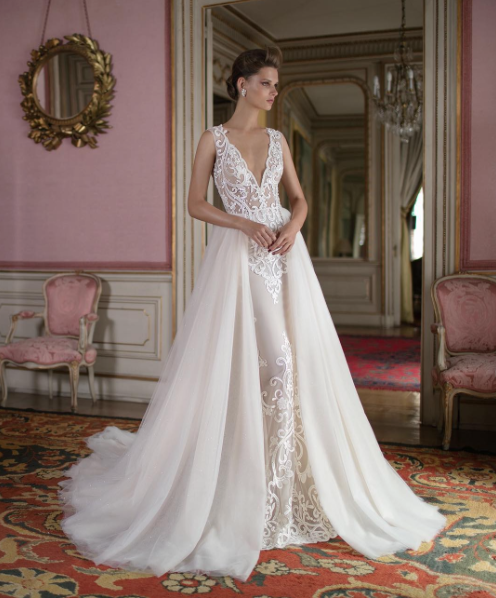 The 'two dresses in one' trend has been embraced by many designers as there is a real demand in the market for a transitional gown. Many brides wish to wear two dresses for their big day, one for their ceremony and one for their reception. The general consensus being a traditional look for the ceremony and a more modern and sexy look for the reception festivities. This trend is particularly suited to brides who can't choose between a princess gown or a sexy mermaid, and with a two in one gown they can simply remove the detachable outer skirt and enjoy the best of both worlds.
Asymmetrical hemlines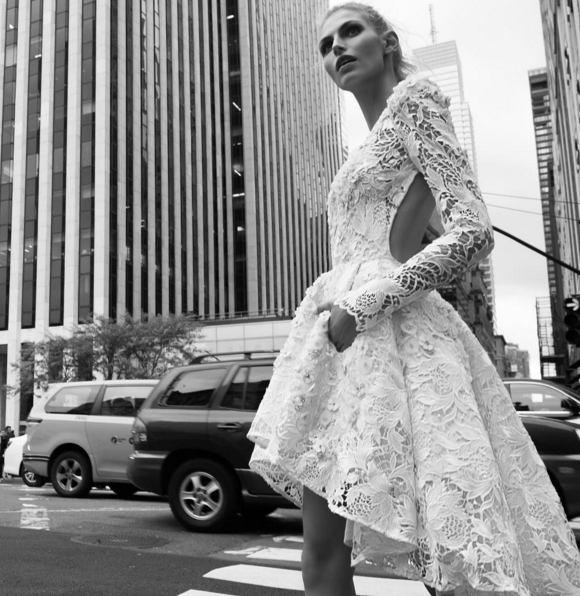 Asymmetrical hemlines will be popular in 2016, especially for brides who are getting married in summer and spring-time weddings. The contemporary look has been showcased by many designers including Inbal Dror, and is quickly gaining popularity among brides who prefer a less traditional approach to their big day.
Swapping skirts for pants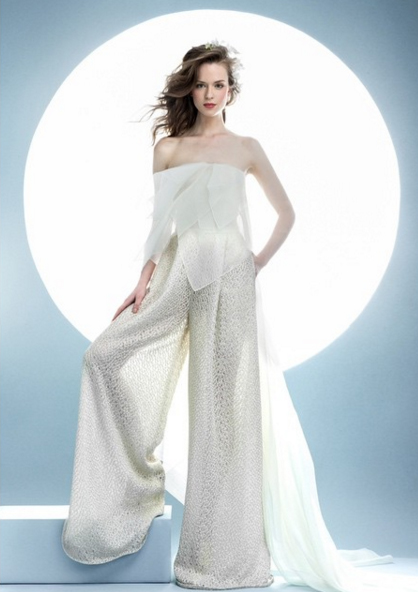 2016 is undoubtedly the year for bold brides to make a statement down the aisle. This year expect brides to opt for pants instead of the traditional wedding dress, with bridal garments such as tailored tuxedos, fitted lace jumpsuits with tulle capes and '70s boho-inspired wide-leg pants on offer in 2016.