Wedding & Event Stationery
Established 16 years ago, Ananya creates sophisticated wedding and event stationery for momentous celebrations rich in personality and culture.
As the name Ananya (which means 'without equal' in the ancient language of Sanskrit) signifies, Vaishali and her team are relentless in their pursuit of excellence and have garnered various awards for their stationery. Vaishali is passionate about creating stationery that truly reflects the unique culture, style and personality of a couple.
Using only the highest quality materials and with a dedicated focus on customer service, Ananya creates luxurious stationery marked by craftmanship, attention to detail, and a discerning taste for the extraordinary. It's this expertise, creative flair and professionalism that have earned Ananya glowing reviews from couples getting married, from 5-star hotels and Michelin star restaurants to marquees at country manors and palaces in India.
It has always been very important to Vaishali that her businesses be run in a way that is sustainable, ethical, and that give back to society. Philanthropy being one of the core values of her businesses, Vaishali has created a 'Plant Grow Sustain' initiative where for every wedding and event stationery order placed at Ananya, she has trees planted on behalf of her client, so together they can help to protect the planet.
Vaishali is regularly called upon for industry comment and featured in several global publications, blogs and media including BBC, Forbes, Huffington Post, Authority Magazine and The Sunday Times.
About
Vaishali strives to create a positive impact, both on her client's businesses and the wider world, and is an advisor for several charities. An avid follower of style and design and an unashamed love of life's finer things, Vaishali has a deep-rooted fondness for travel to exotic destinations. These passions come to life in the elegant Ananya stationery where cultures of every couple are represented exquisitely. When not working you will find Vaishali at a spa, art gallery or latest restaurant.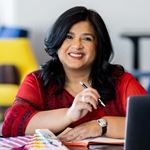 Ms Vaishali Shah
Founder Creative Director