Award Winning, experienced, warm and enthusiastic Bilingual Wedding Celebrant covering the UK and Europe.
Congratulations and I hope you are enjoying your Wedding Plans!  I would love to help, with a Ceremony that is totally authentic, special, and personal.  A Wedding is a truly amazing milestone. Committing to another person, and joining your life and heart with theirs.  You're marrying your best friend - your story is totally unique.  Using your ideas and my experience, we will create a wonderful day full of all the special moments that you and your guests will treasure.

I specialise in writing and conducting Weddings, Vow Renewals, Intimate Weddings and Elopements.  I can include religious/spiritual and other rituals in the ceremonies, making them truly meaningful, romantic, elegant and yet relaxing so you fully enjoy your wonderful day. Take a look at my website blog page which explains how these additional internal ceremonies can add so much more to your wedding and wow your guests


I conduct ceremonies in the UK and Germany, Austria, Switzerland and Italy and am happy to travel for my couples!  I am bilingual in English and German, which adds a truly special touch to make the ceremony inclusive.  I represent all couples, all lifestyles and would love to talk to you about what your dream wedding looks and feels like.  With over 300 happy weddings my experience is there to support and guide you.  This is really going to be a wonderful collaboration between us.  Please contact me and lets have an initial face to face meeting and get to know each other.  
About
I fell in love with Celebrancy when I met a Celebrant in Australia and a friend's wedding. The most magical location on the Mornington Peninsula, at the Red Hill Winery, at sunset. In 2003, nothing like that existed in England, and I sooooo wished it would as I totally believe couples should never have to compromise on how they celebrate life's milestones! In 2011 I trained with Terri Shanks, the founder of the UK College of Celebrancy, and 400 ceremonies later, I still love my role!!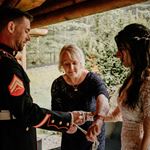 Yvonne Beck
owner since 2011