count: 0
final comp type:
latest ending comp date:
todays date: 2022-01-17 06:50:12
this is when the voting should NOT show
2022-01-17 06:50:12 -
When it comes to planning their wedding, brides have plenty to think about – for Robyn Marsh it was all about the geography.
Robyn, 30, and partner Kevin Smith, 32, both originally hail from South Africa and when choosing their wedding location thought about how far their guests would have to travel.
The couple, who now live on Queensland's Sunshine Coast, opted for beautiful Bali.
The rustic Balinese wedding was held at Villa Avalon, Cannggu, in front of 44 jetsetting friends and family.
"We married on the 8th of October, 2014 which happened to be a very special day in Balinese culture; the festive shrine ceremony. It is the day of the full moon and also, this year, a lunar eclipse, which happened to occur perfectly during our reception," Robyn says.
"The whole wedding was outdoors, from the ceremony in the late afternoon through to the reception under the stars. I was working towards a rustic theme with the villa garden flowers as the focus.  Picture lanterns in the trees, tea light candles in the pool and flowers everywhere."
With the villa rented for a week, guests had the chance to celebrate, relax and treat the experience like a holiday.
"That 44 of our friends and family would travel for up to 16 hours to be with us; words can't put that feeling into perspective," smiles Robyn.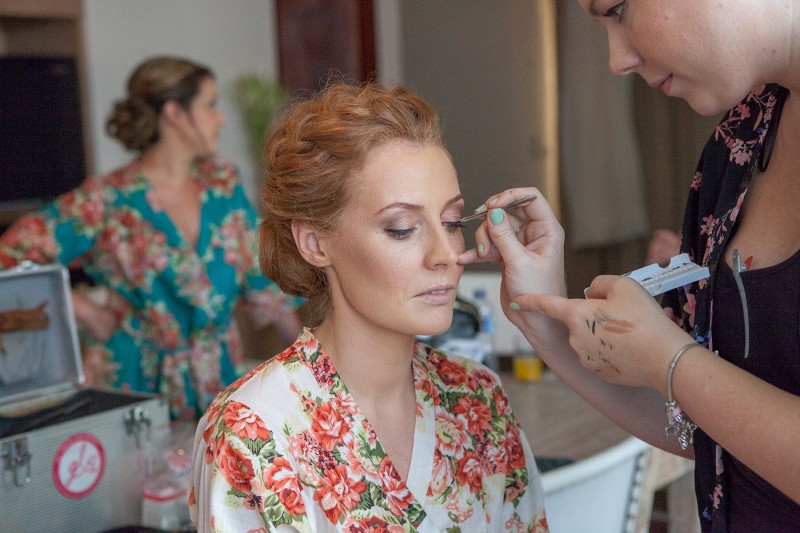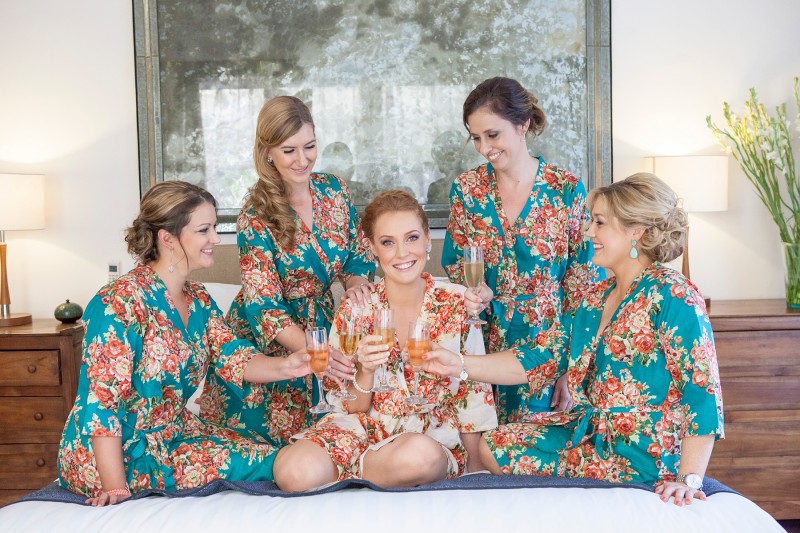 Robyn's bridesmaids came from South Africa and across Australia.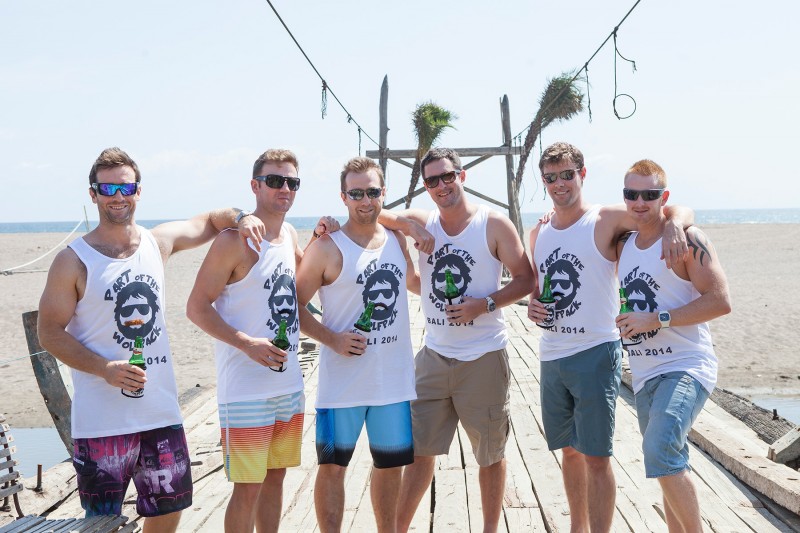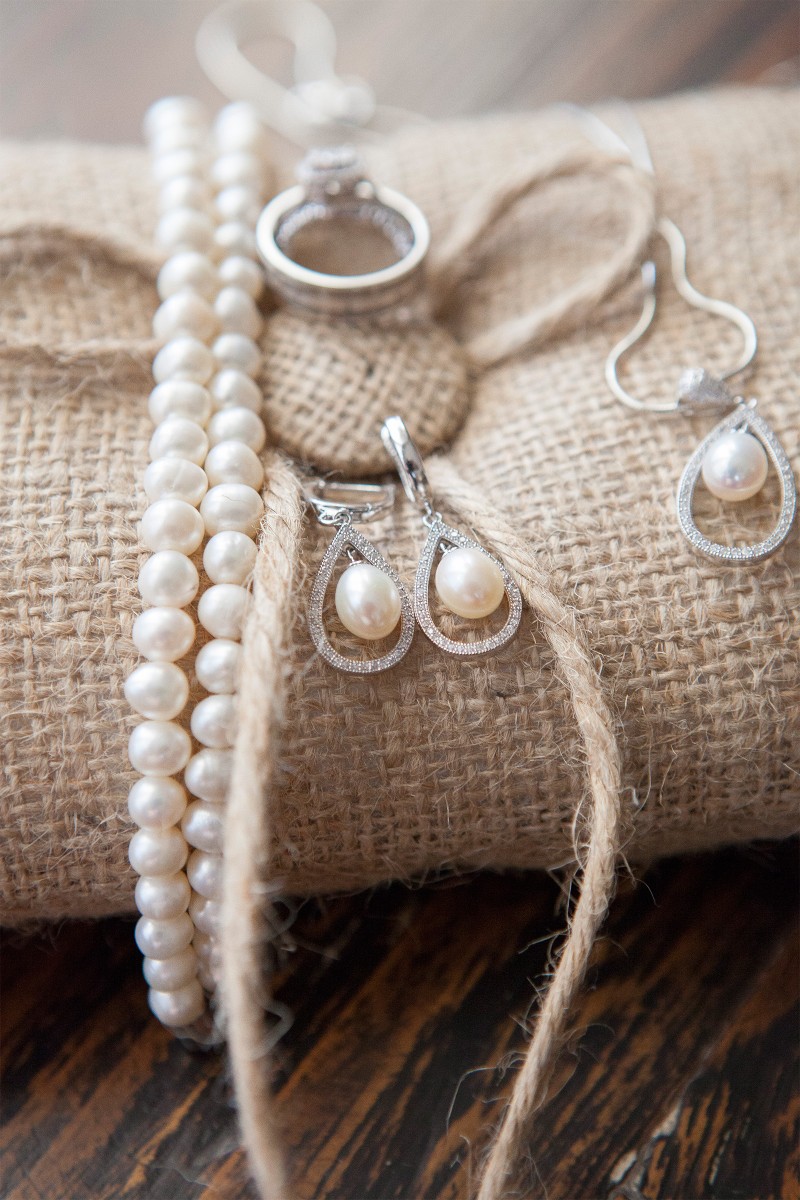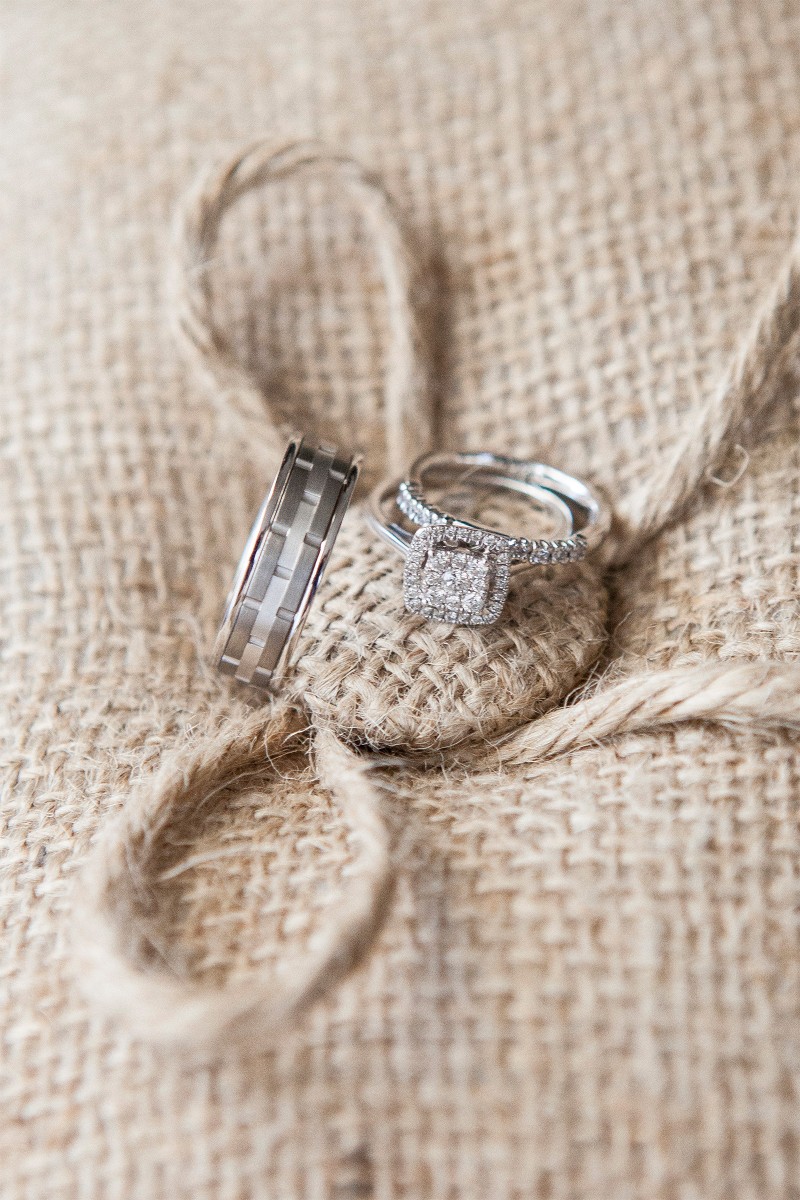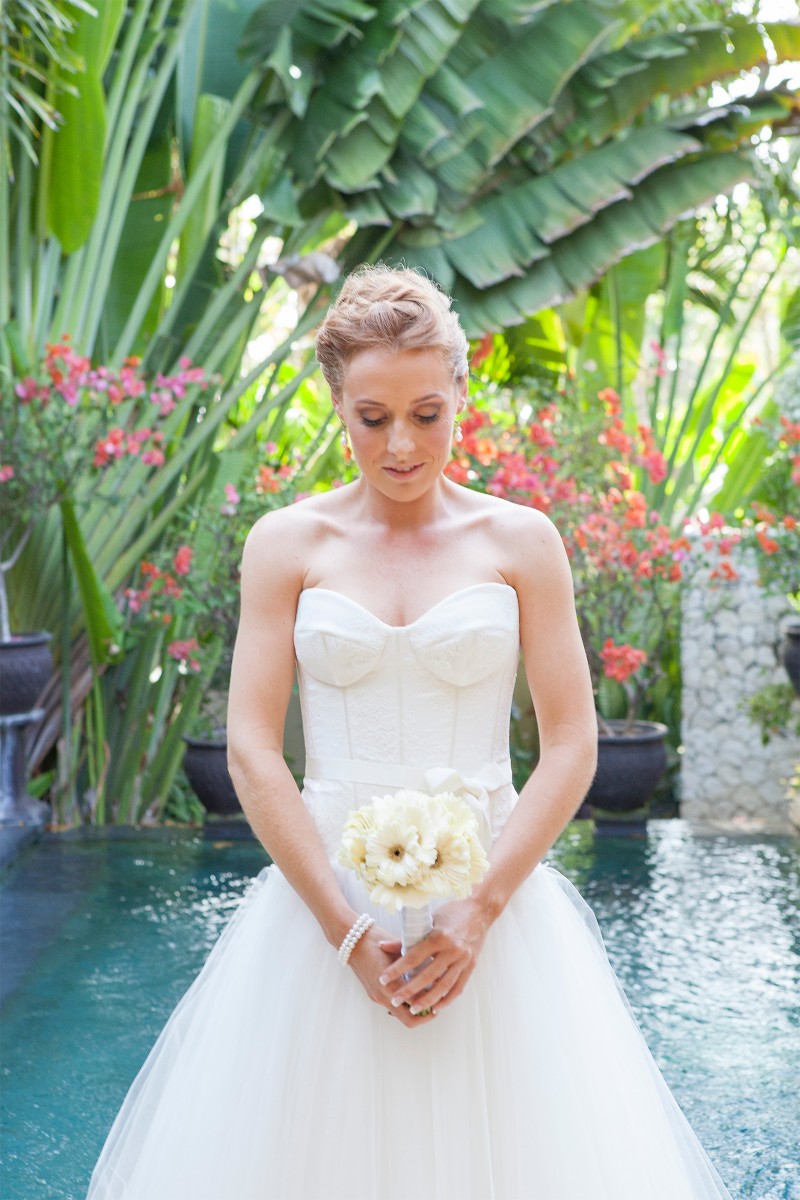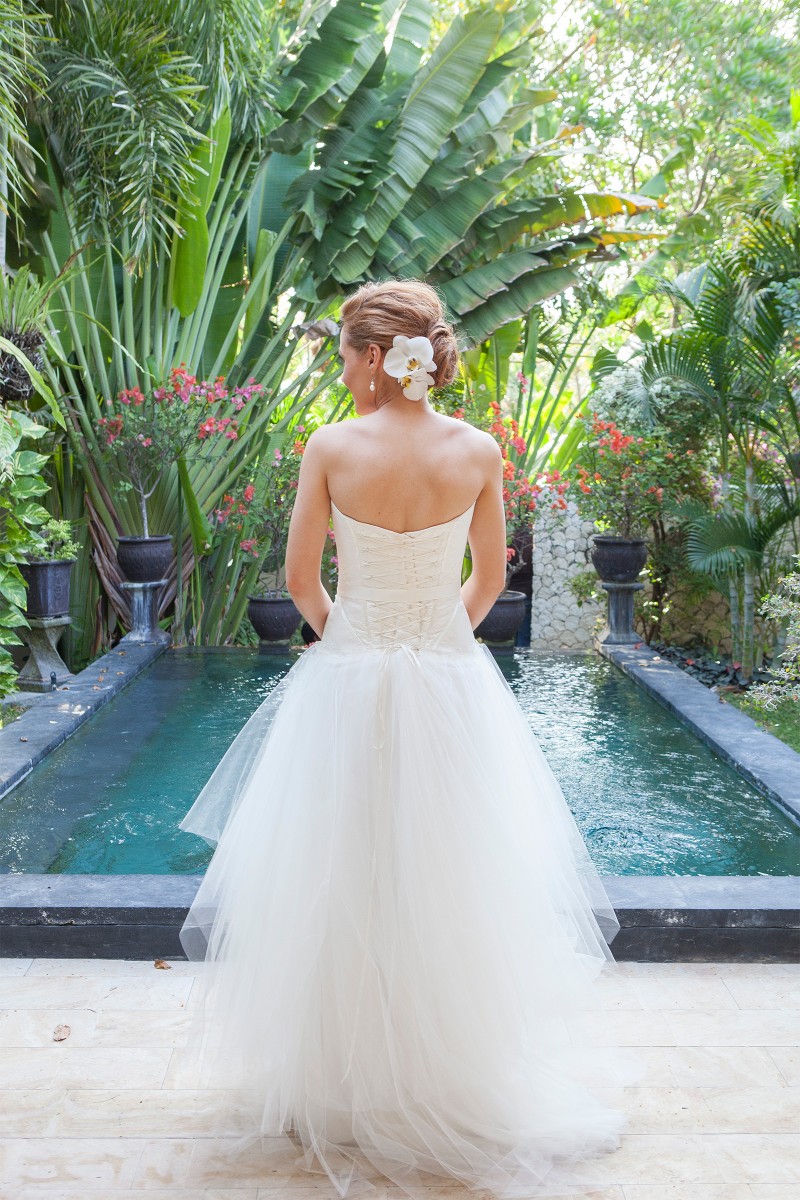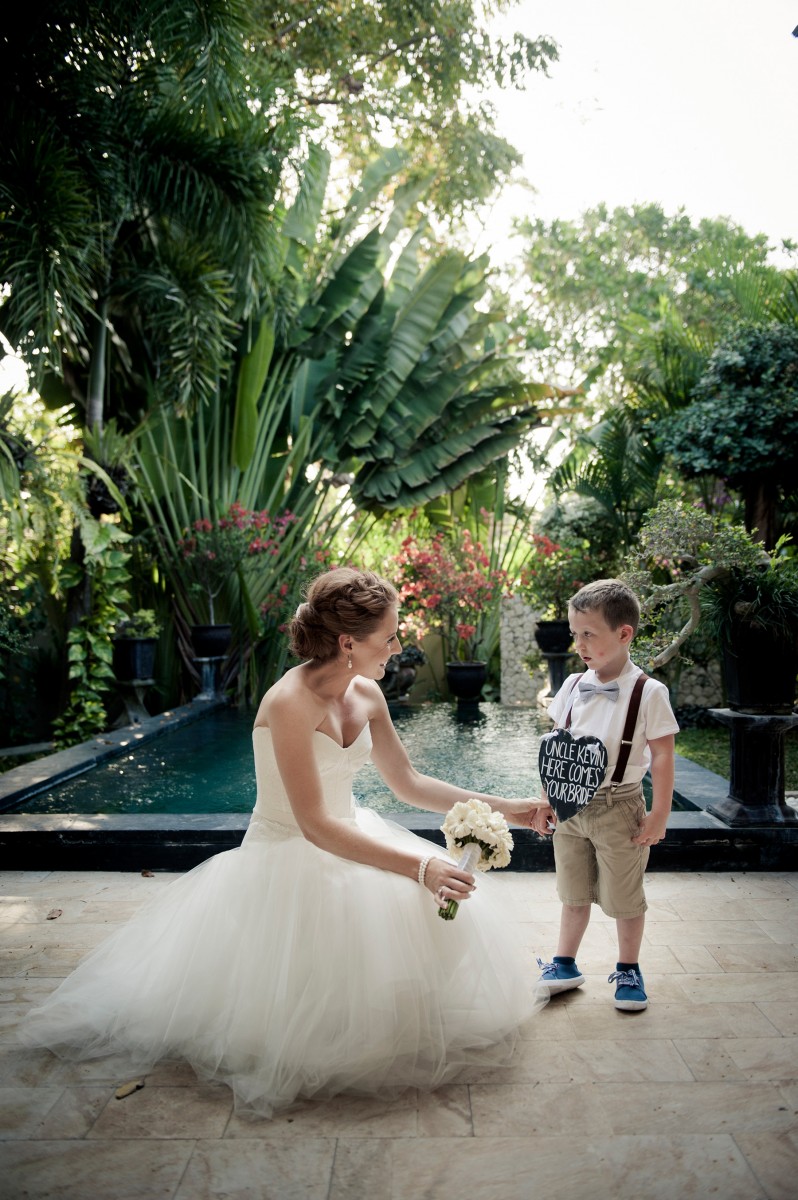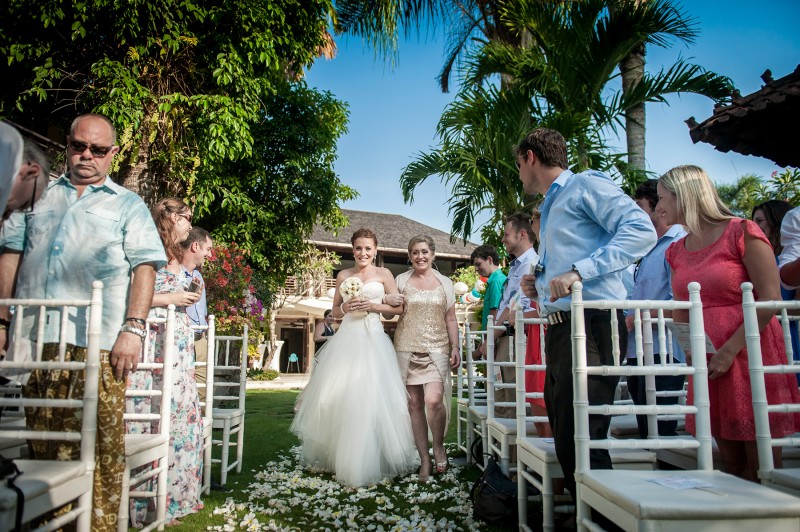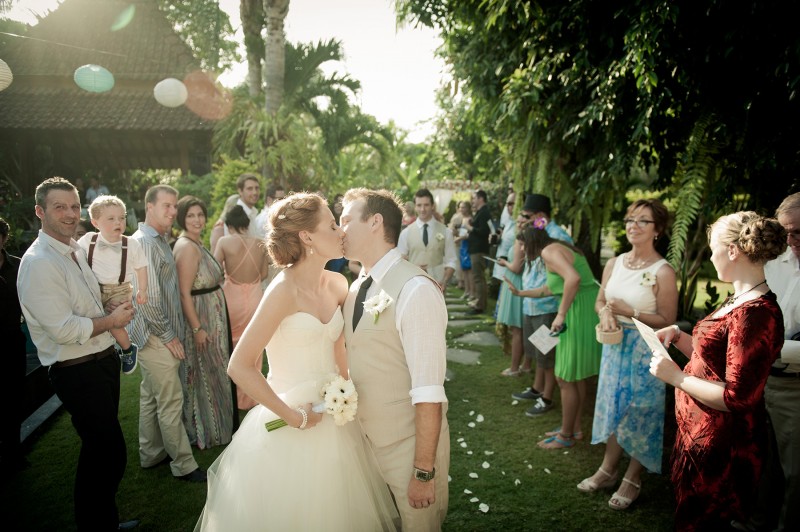 Robyn and Kevin were lucky to have the services of two photographers for their special day – a Balinese local and a close friend from South Africa.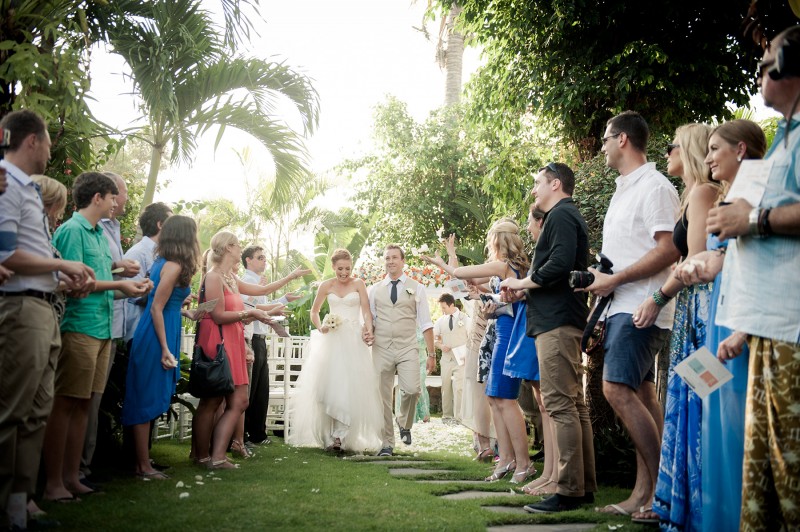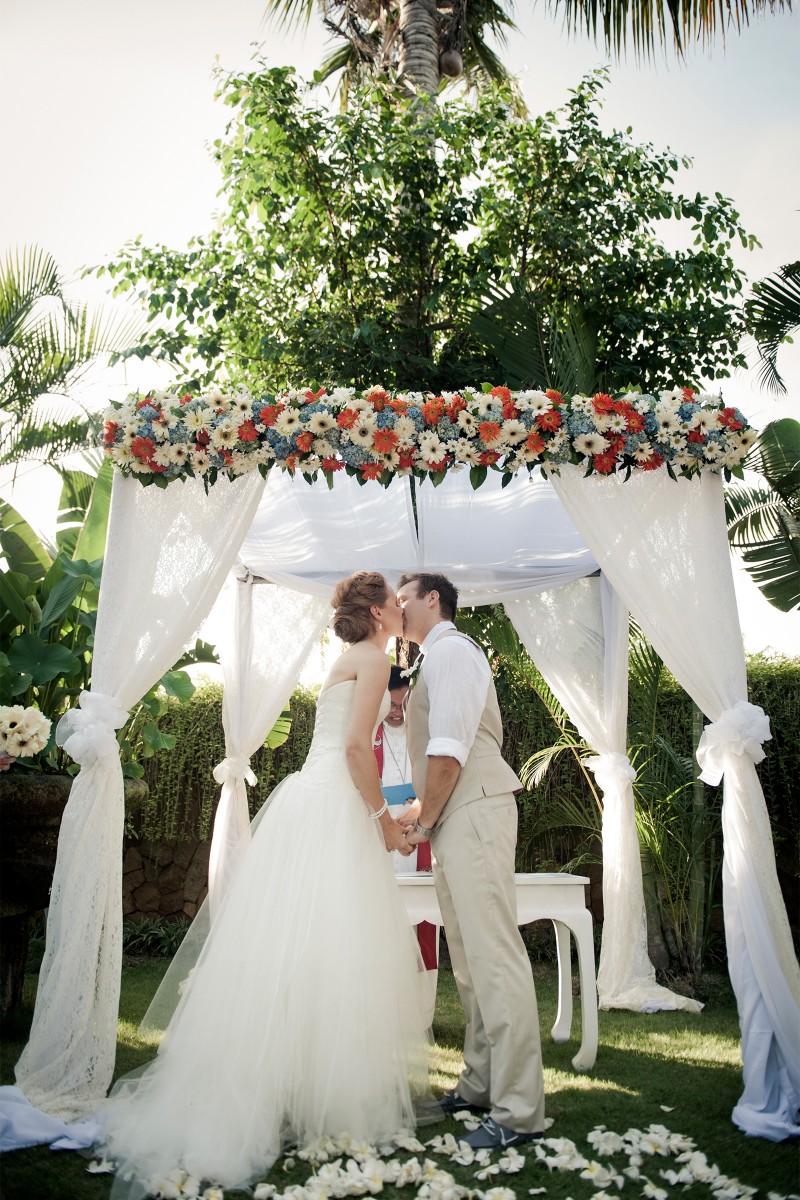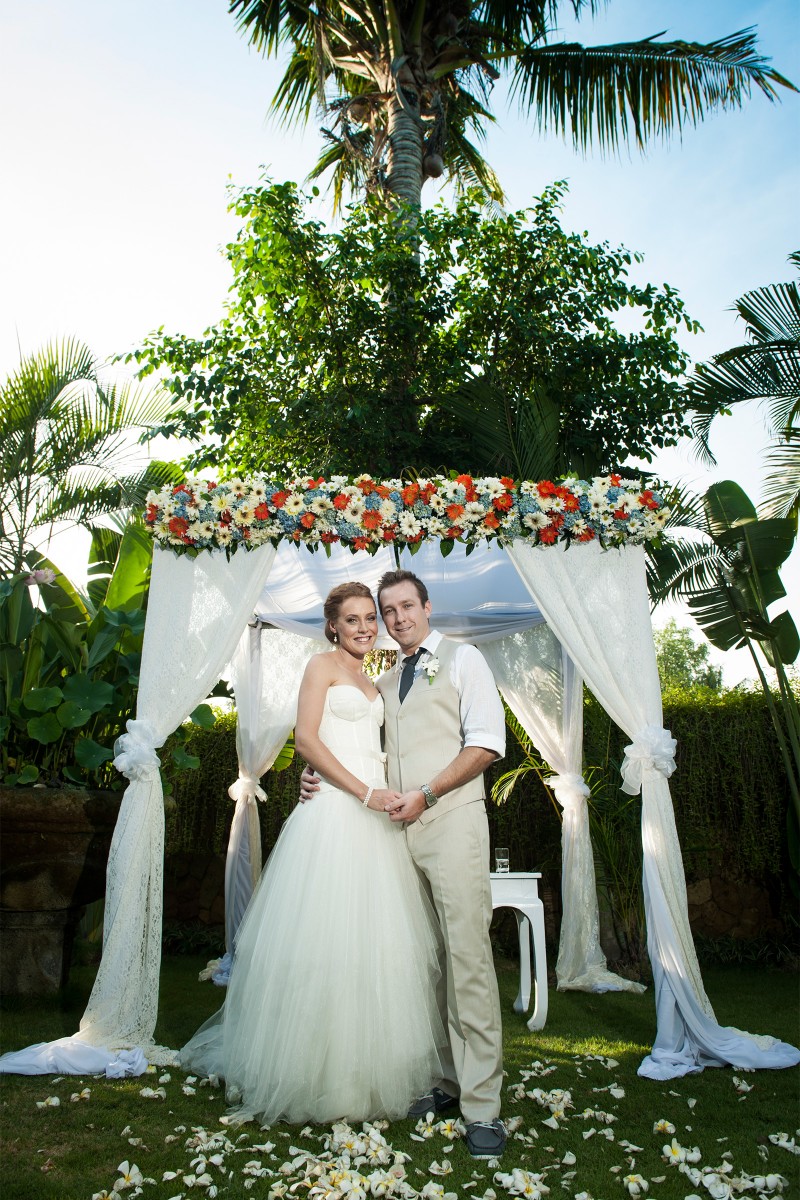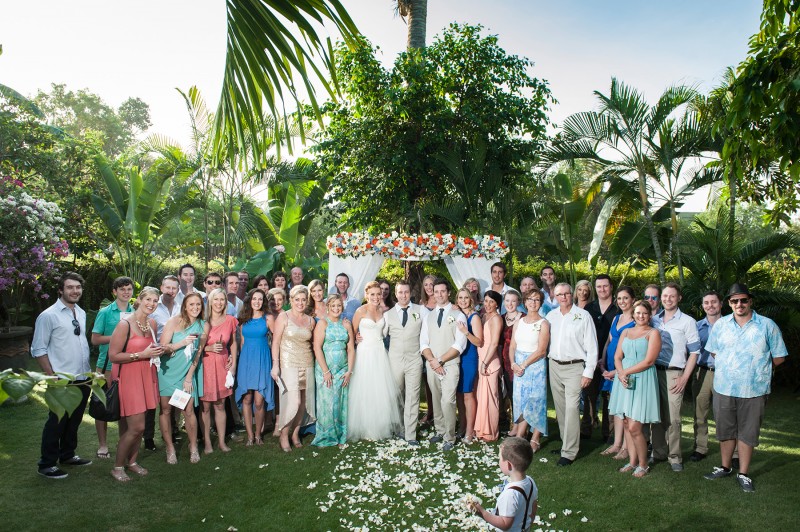 The couple were rapt so many of their friends and family could make the trek to Bali.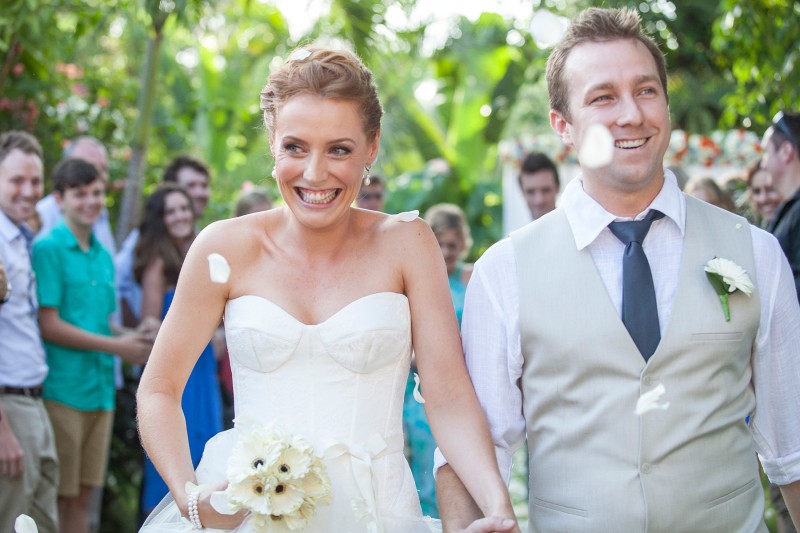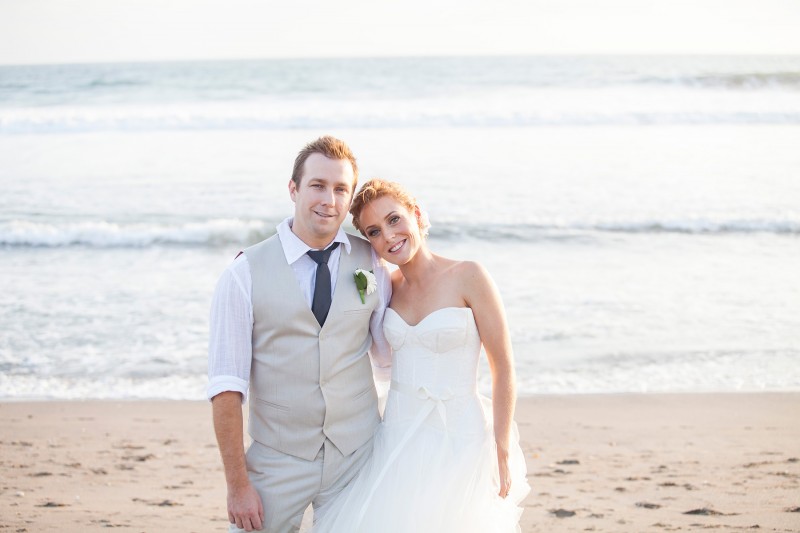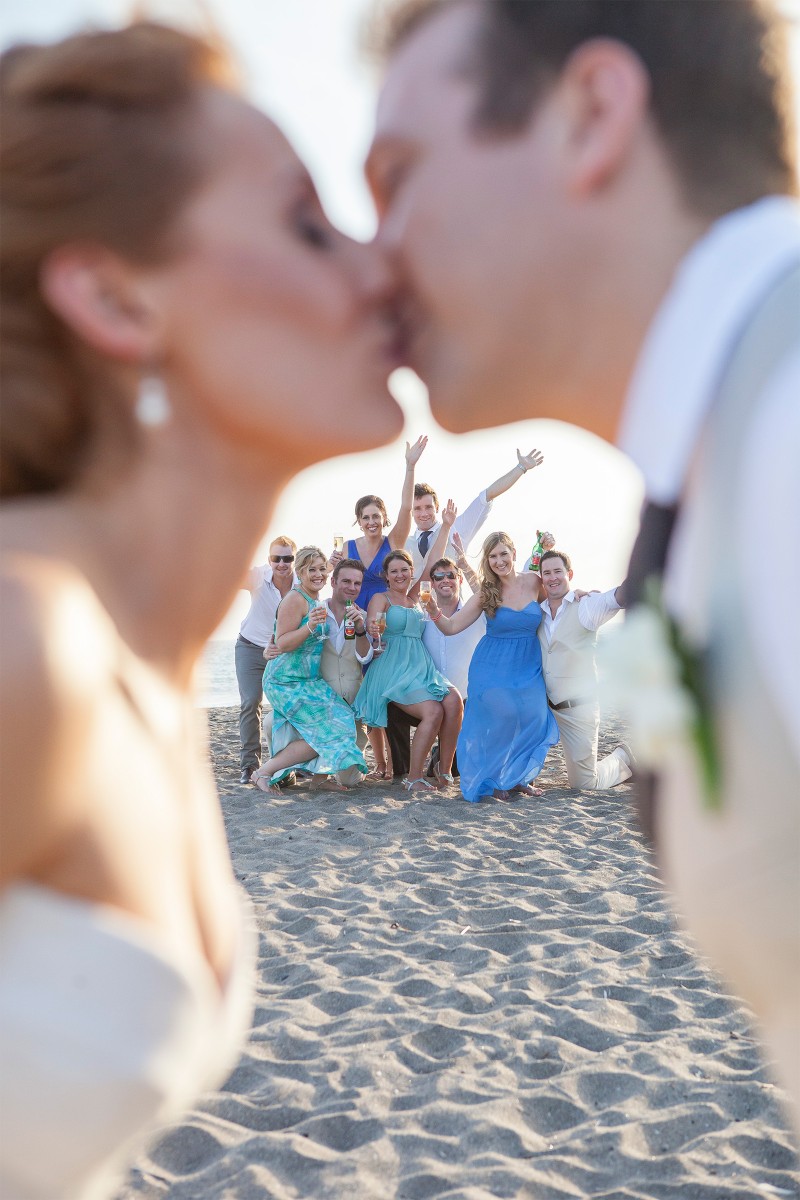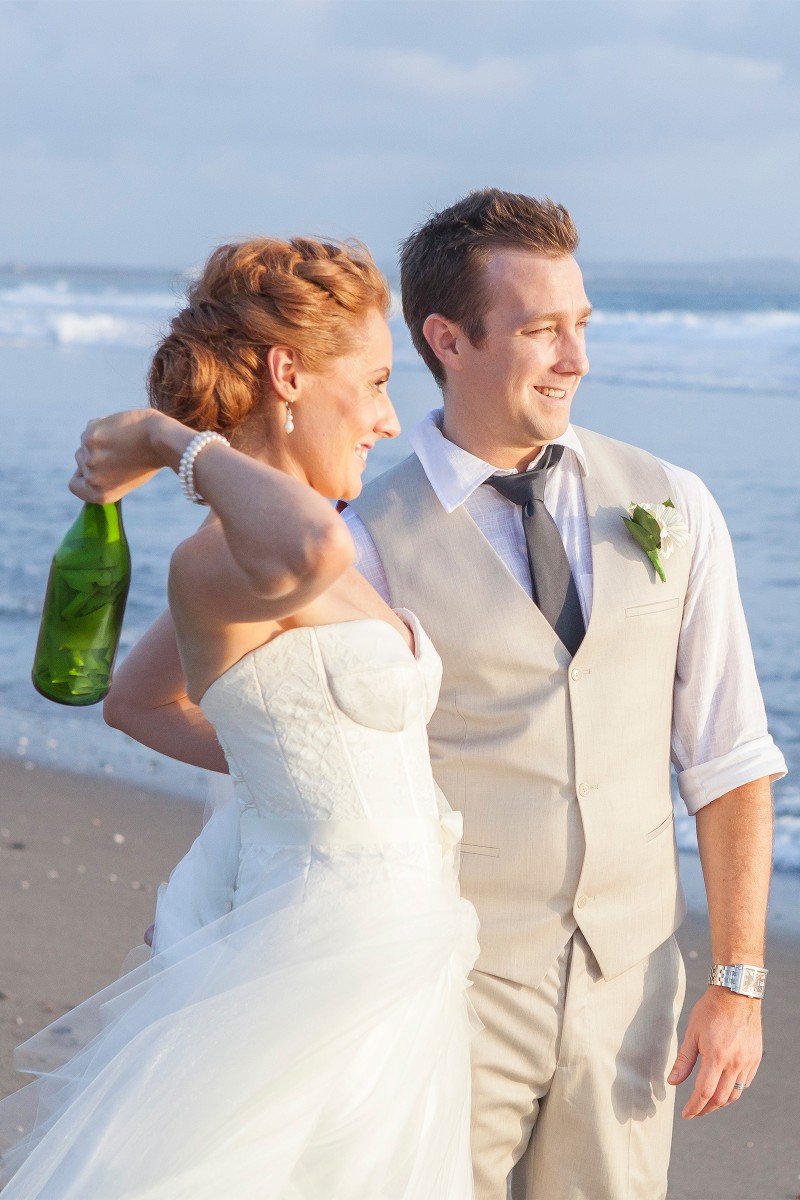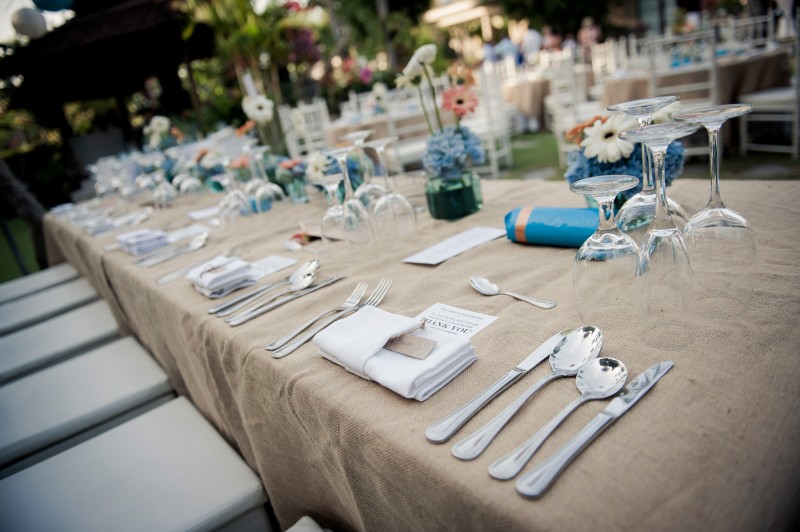 Planning a destination wedding brings plenty of challenges. "You couldn't meet suppliers or see the venue. Instead, I relied heavily on research," Robyn says.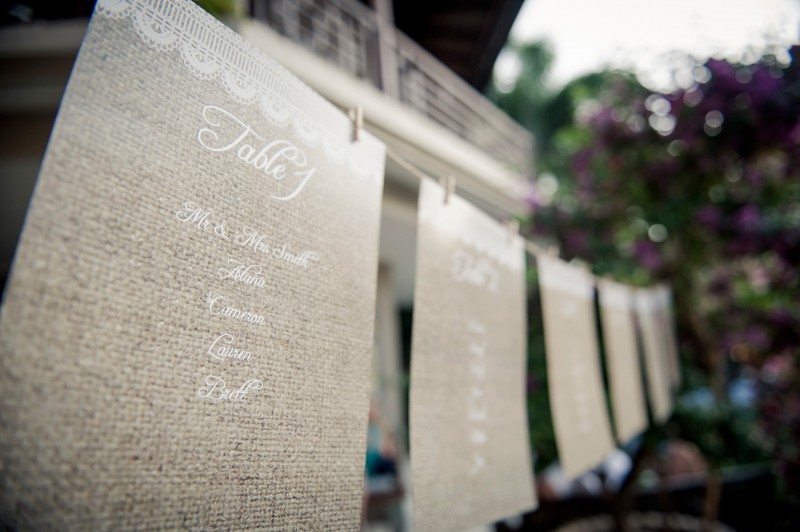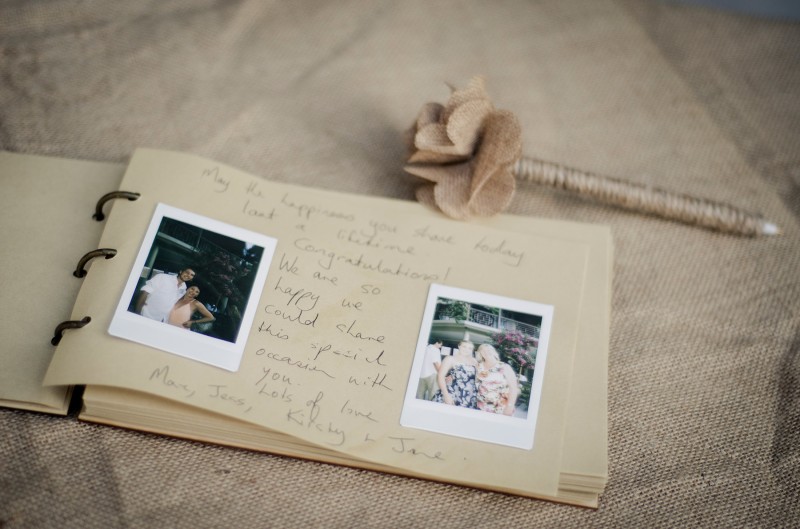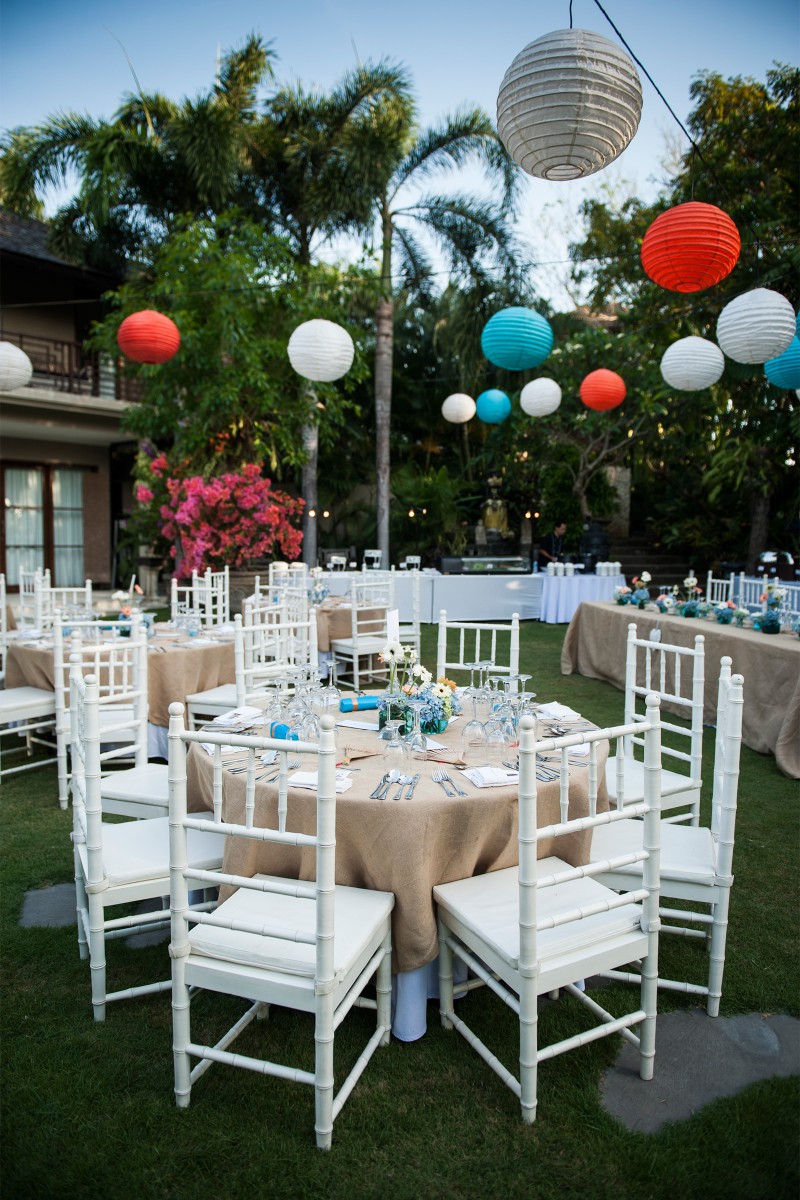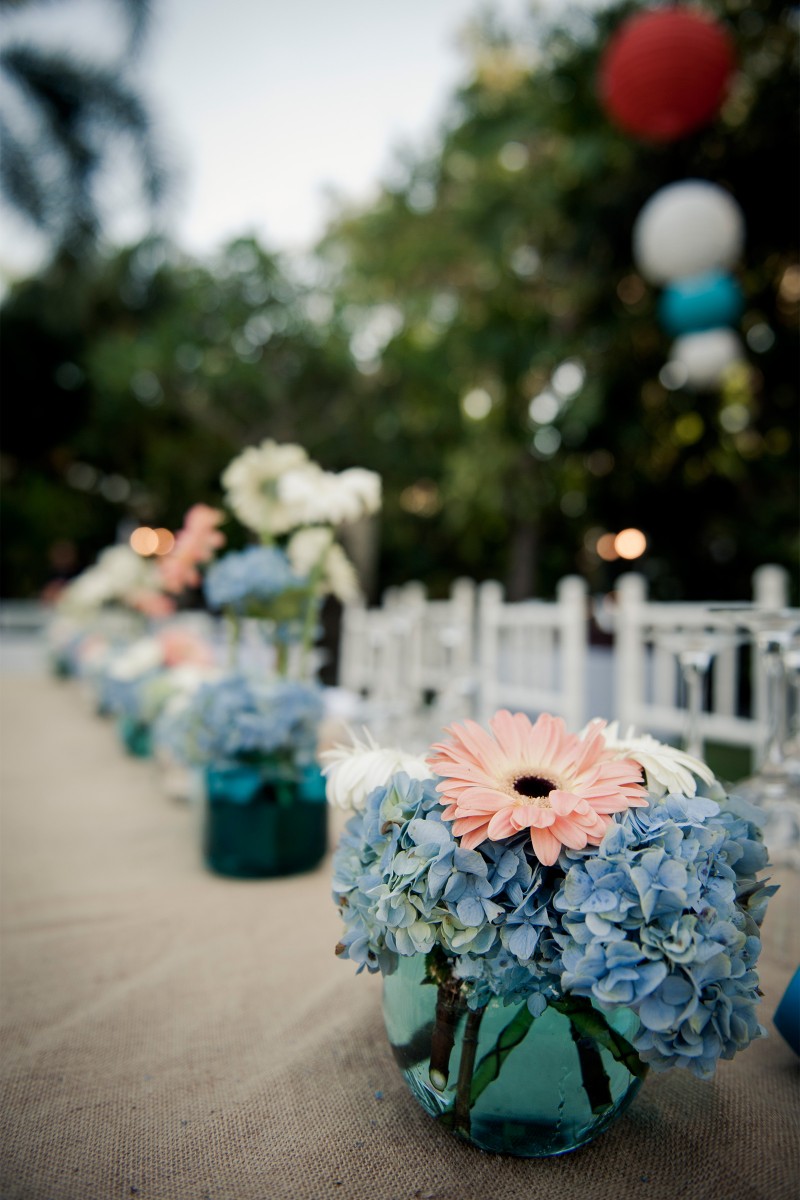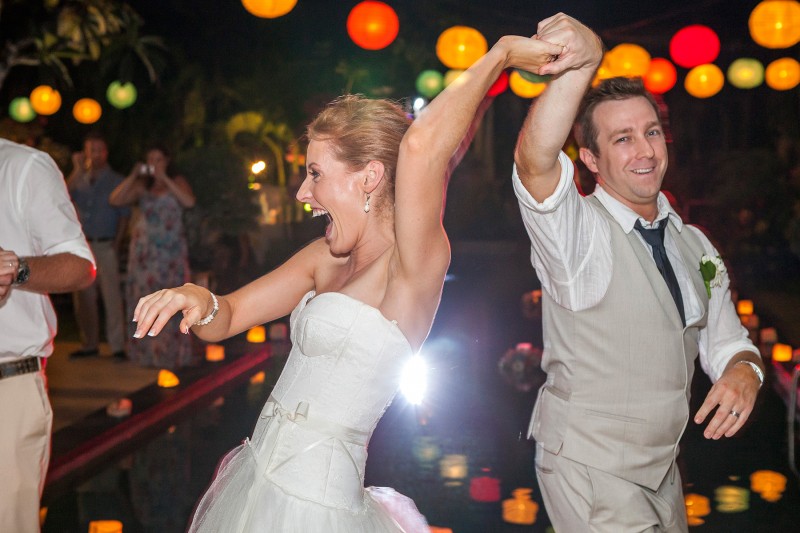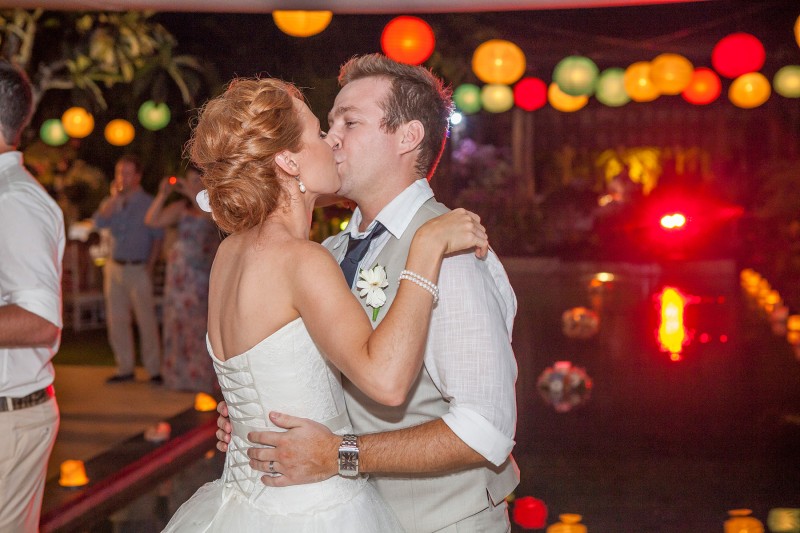 "If I could do it all again I would do exactly the same wedding – I honestly wouldn't change a thing!" Robyn says.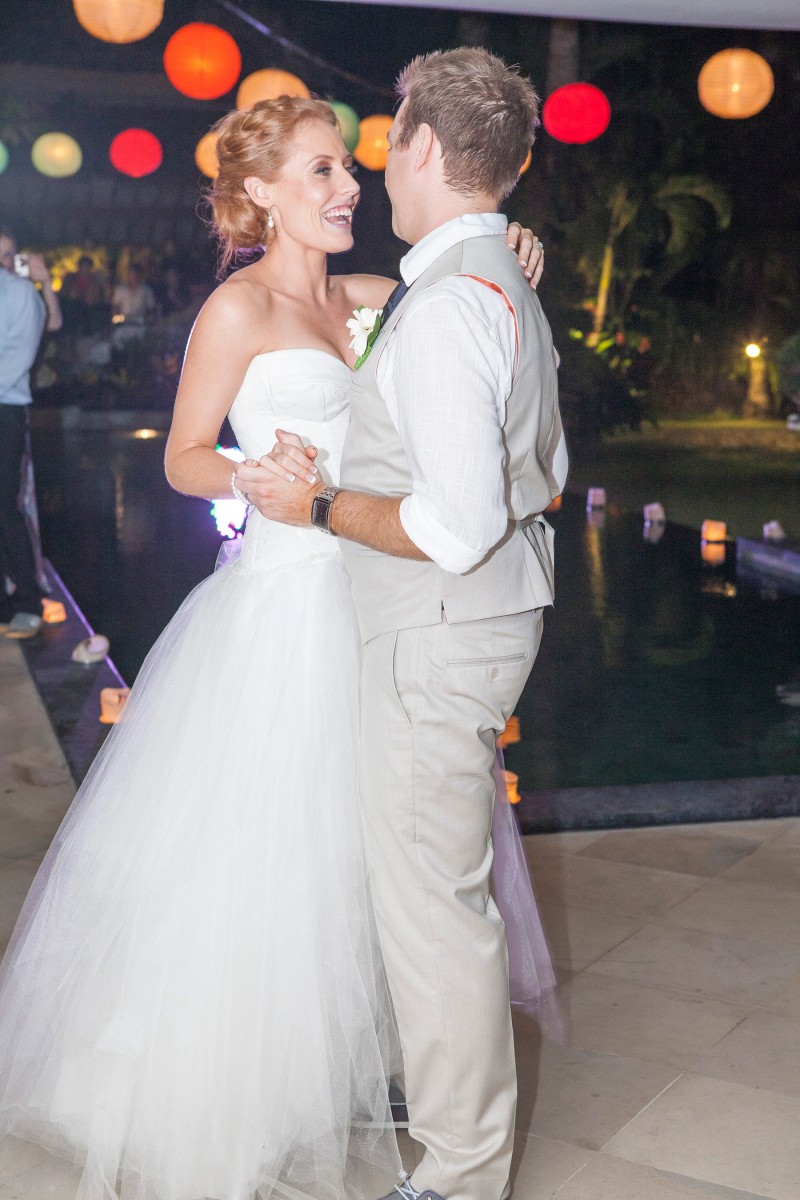 Photos by Kate van Onselen Photography and Aditi Niranjan Photography.
Featured Suppliers:
Brides Accessories: Friends / Brides Gown: Karen Willis Holmes Pty Ltd / Brides Shoes: Novo Shoes / Bridesmaid Shoes: Their own / Bridesmaids Accessories: Market / Bridesmaids Dresses: Wayne Cooper / Cake: Ixora cakes, Bali / Caterer: Amazing Bali Catering / Entertainment: Traditional Rindik music / Gift Registry: No gifts / Grooms Attire: Custom made / Grooms Shoes: Industrie / Groomsmen Attire: Their own / Hair: Glo Day Spa, Bali / Honeymoon: Ubud, Bali / Invitations: Tani du Toit, The Art Studio / Makeup: Glo Day Spa, Bali / Pageboy Attire: Pumpkin Patch / Photographer: Kate van Onselen Photography, Aditi Niranjan Photography / Rings: Stephen Dibb Jewellery / Venue: Villa Avalon, Bali / Wedding Night Venue: Villa Avalon, Bali / Wedding Planner: Bali Memorable