count: 0
final comp type:
latest ending comp date:
todays date: 2021-12-07 18:53:41
this is when the voting should NOT show
2021-12-07 18:53:41 -
It's a rare occasion we get to hear about a proposal from a groom's perspective.
But in this case USA-based Gabriel Nelson has taken the reins to share his story of popping the big question to Australia's own Sharon Marsden. "Despite the initial year of our relationship, when we were often geographically separated, we grew closer and happier," explains Gabriel. "After the first year, or two, or three, I would regularly get confused about how long we've been together as everyday with Sharon was new and fun and full of energy."
Then Sharon got real with some travel demands and suggested the couple go hiking in Alaska. "I went a little batty planning details of what was a pretty cruisy trip (if you need to know the caloric density of almonds or spirulina let me know)," laughs Gabriel. "The one part Sharon didn't know was that my planning involved inventing a jewellery catalogue browsing game called 'which one is your favourite', stealing her rings for sizing and clandestinely meeting with Ben, the jeweller with nice tats, to design her engagement ring."
One fumbled, awkward, wet and cold proposal later (where Sharon promptly checked Gabriel had sought her dad's permission before accepting), the two were engaged and later married on October 12, 2014 in Eumundi, Queensland. Their picnic garden wedding was celebrated with 60 guests.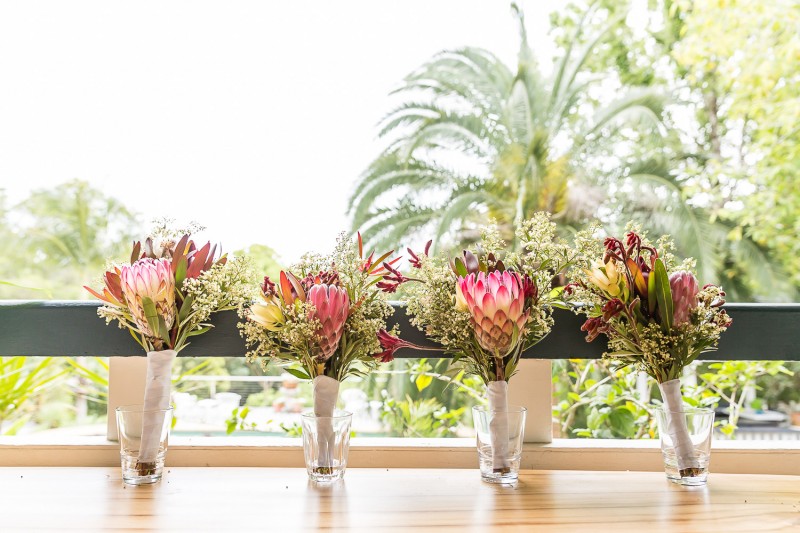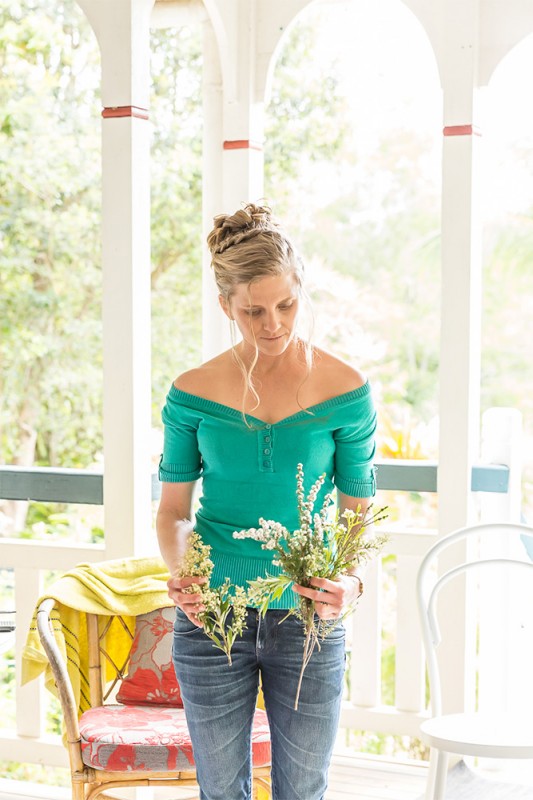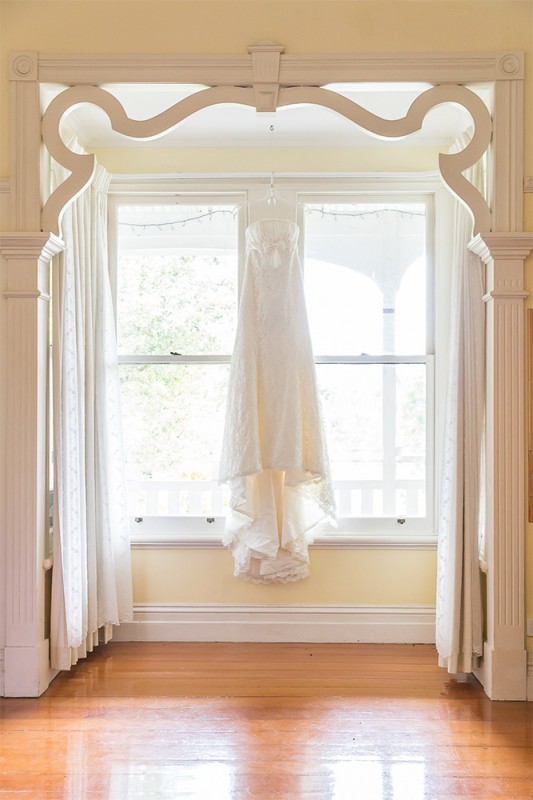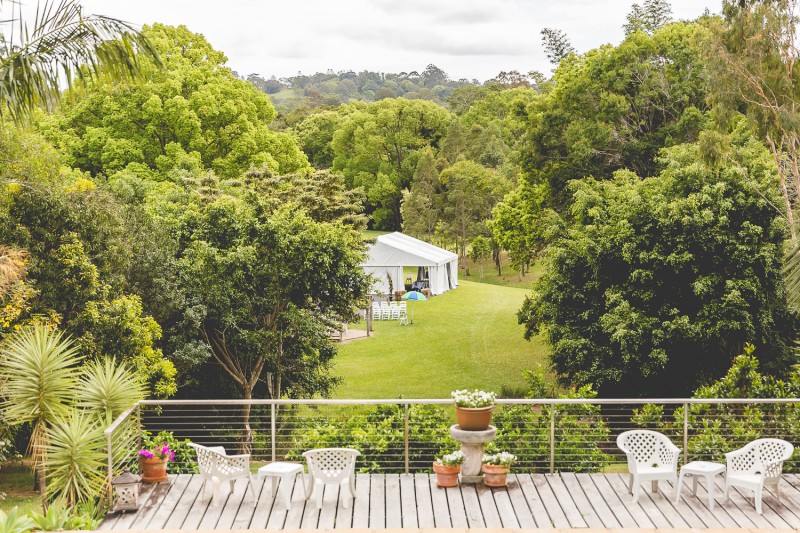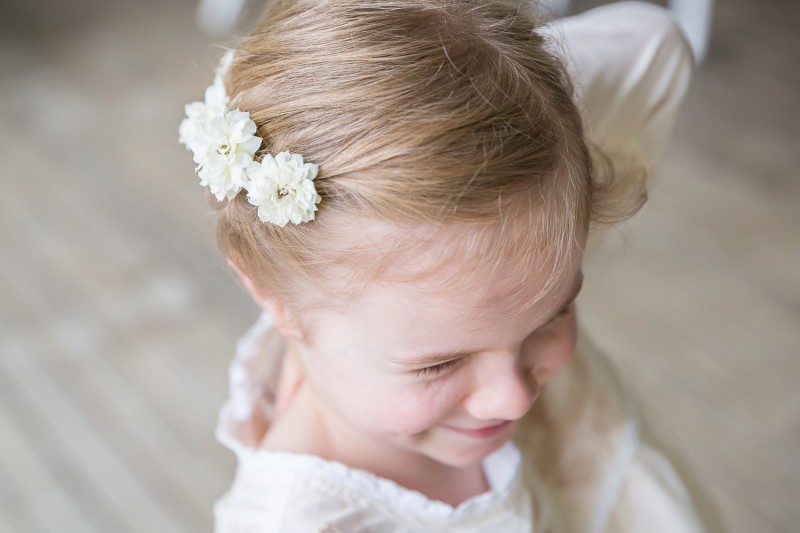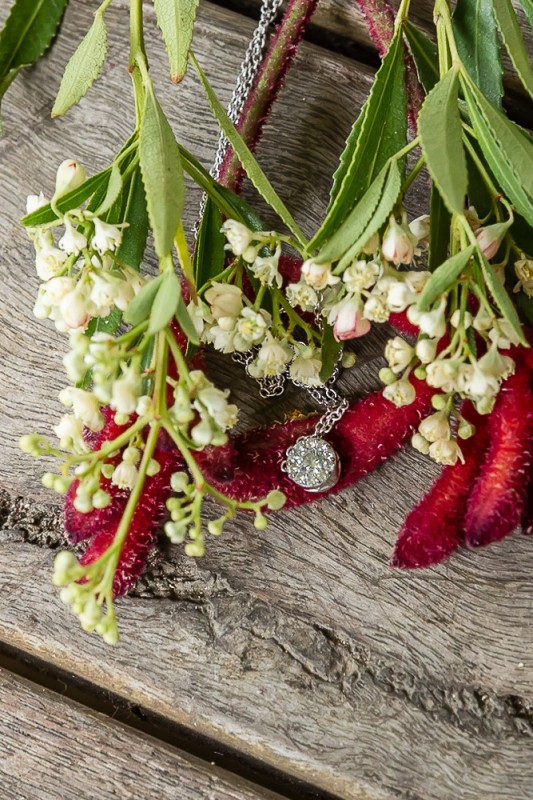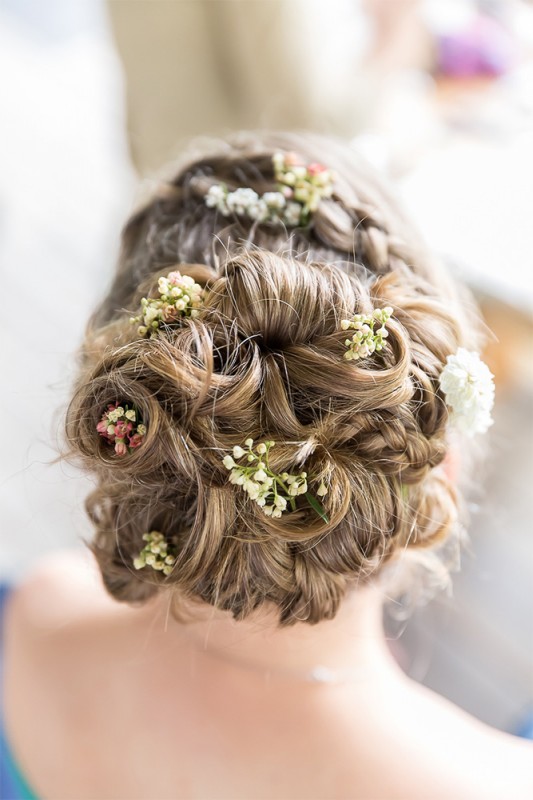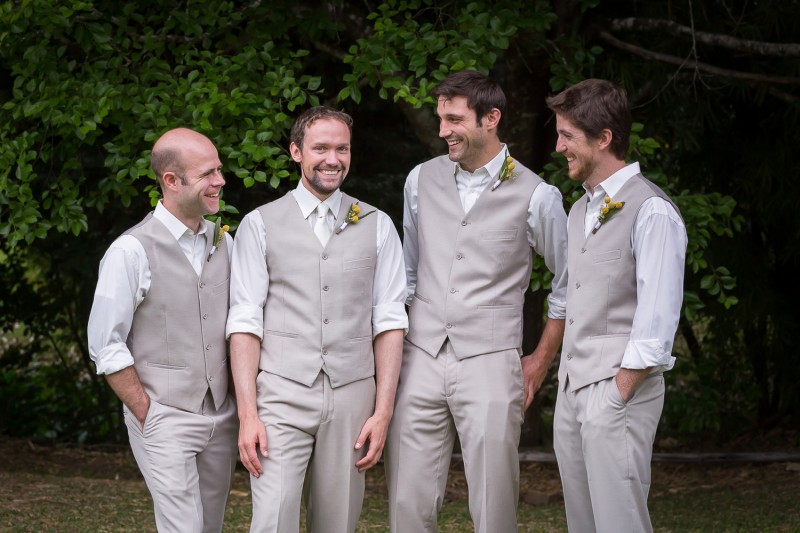 "We thought it was appropriate that Dan (our transpacific engagement ring bearer) also became our ceremony ring bearer," says Gabriel.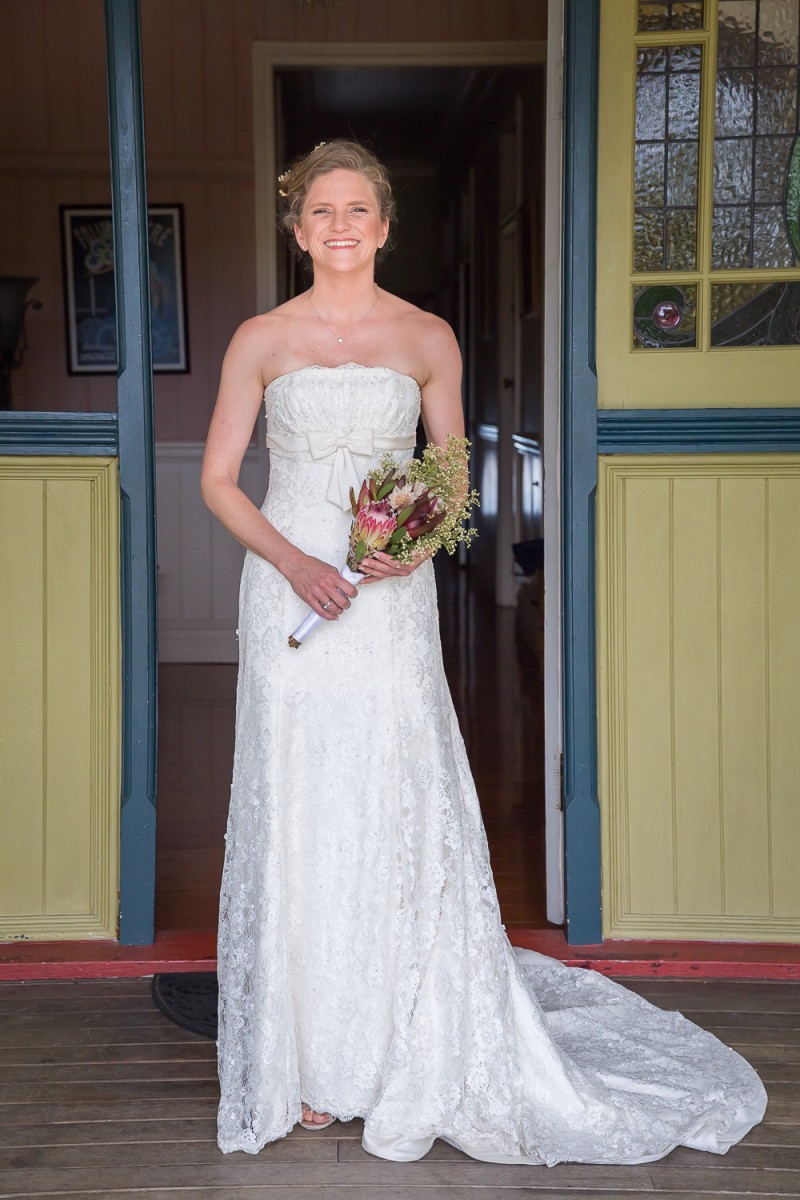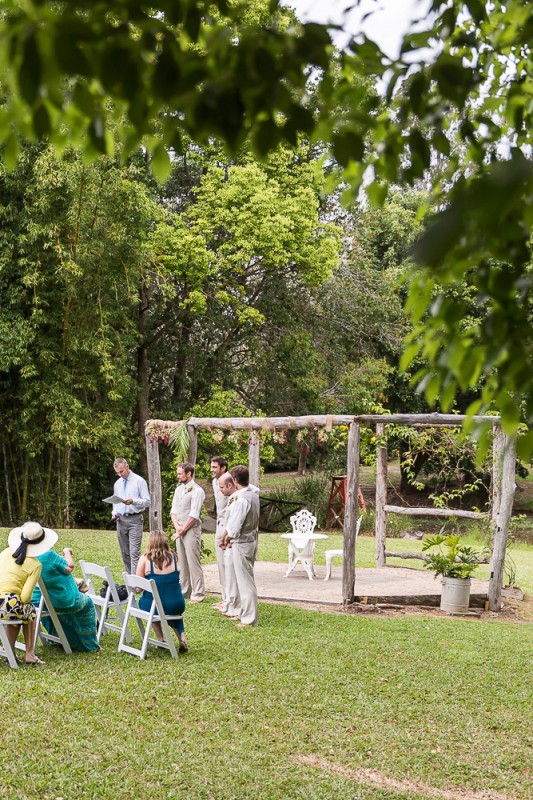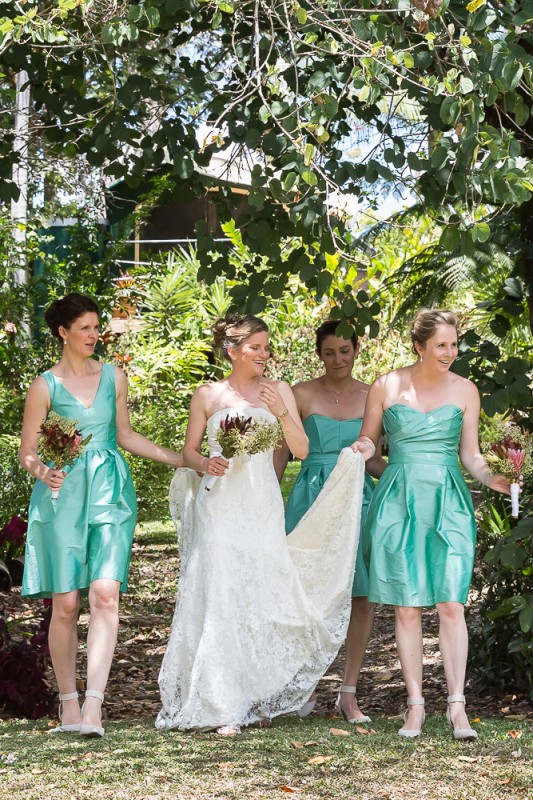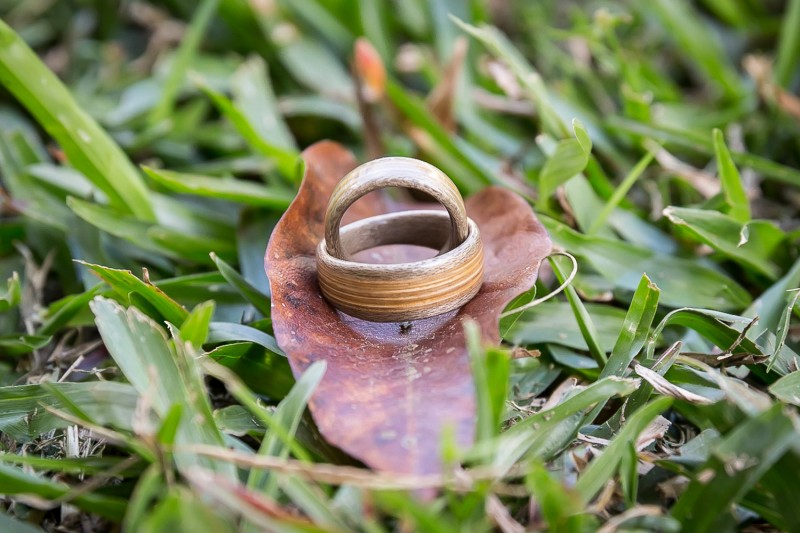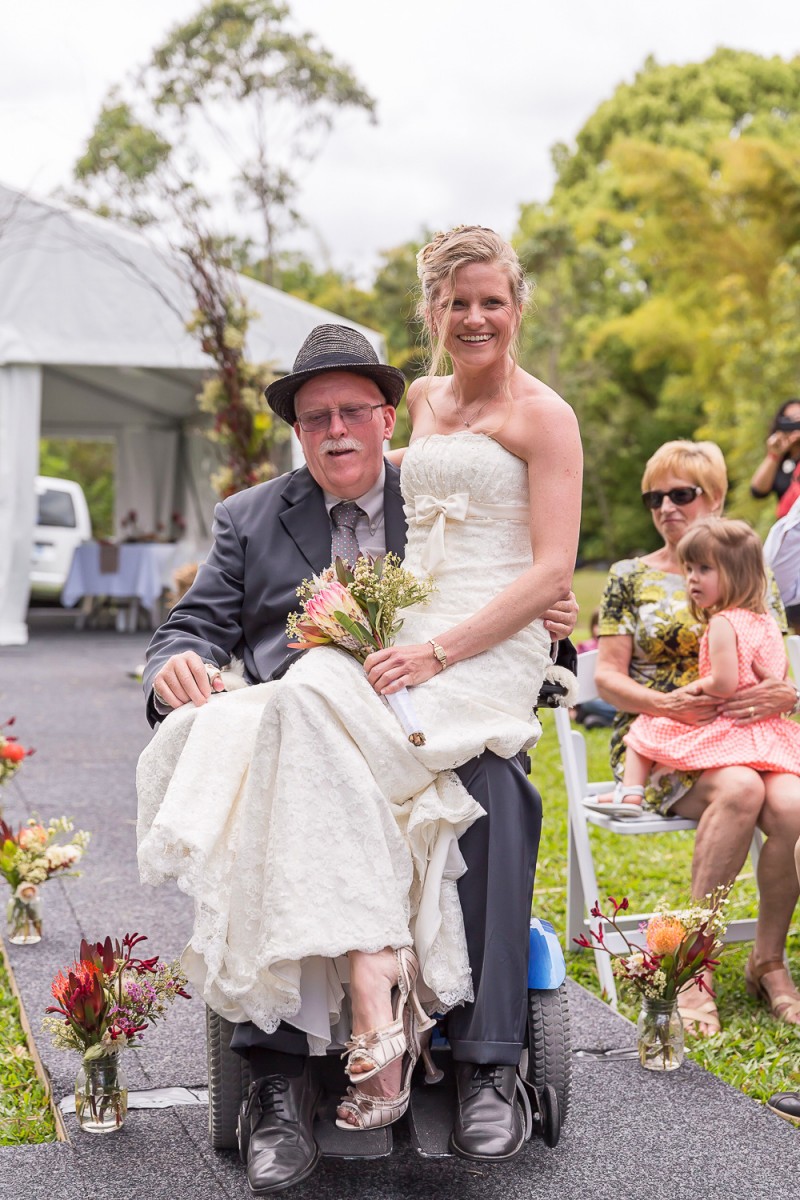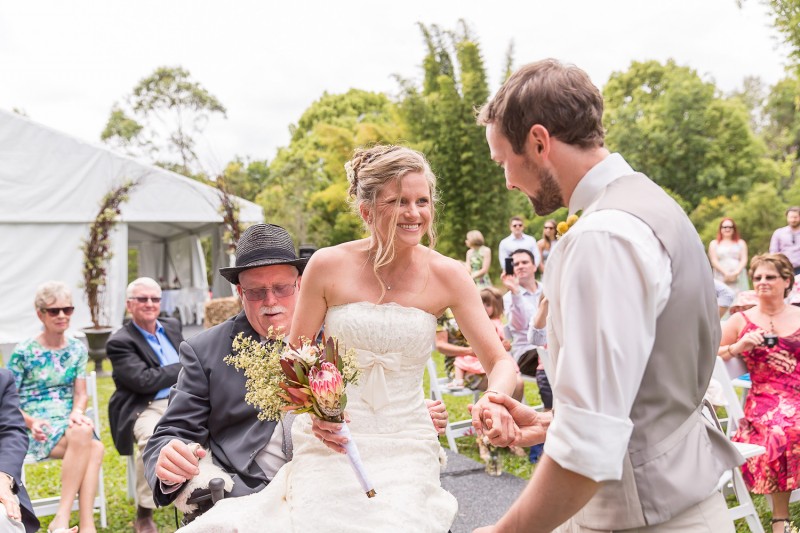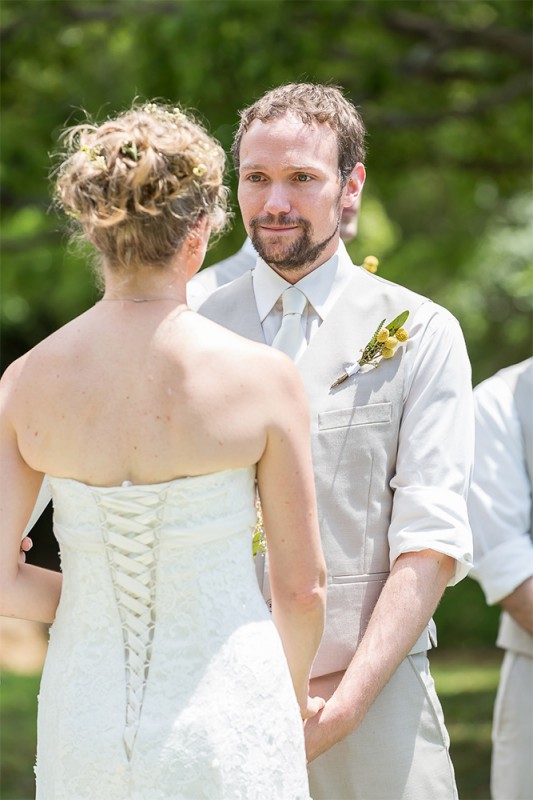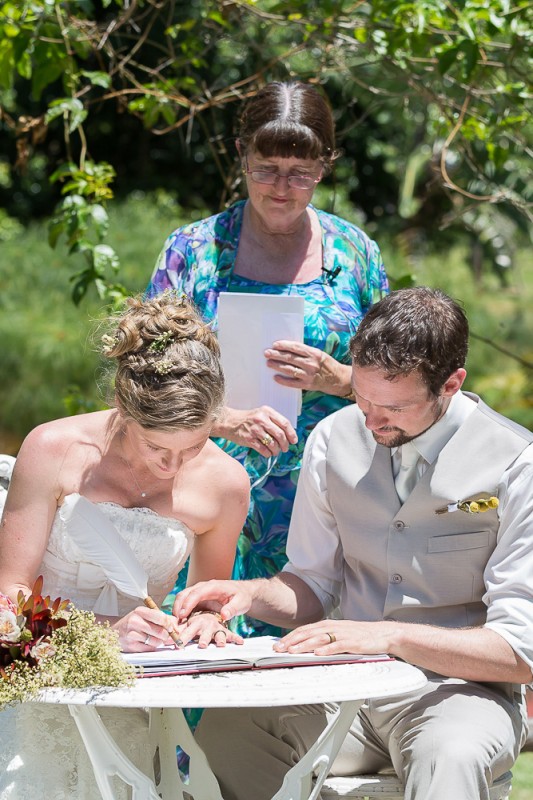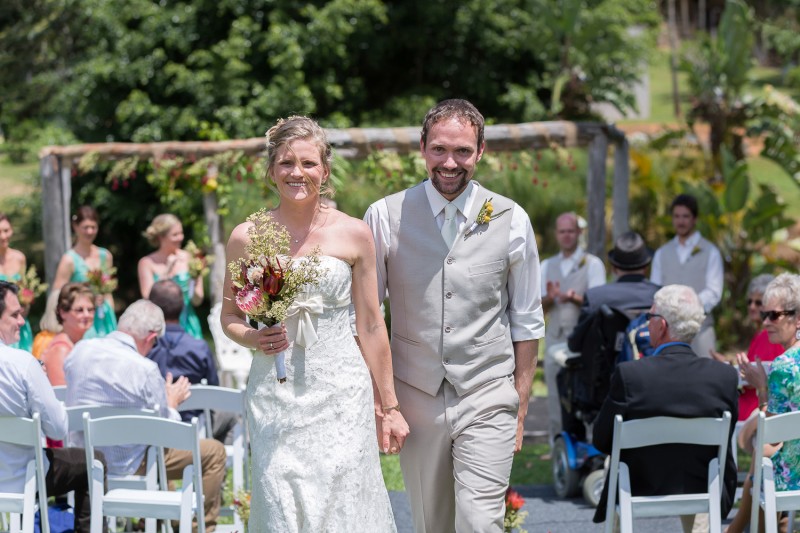 The couple's USA guests were late for the Saturday ceremony so the pair married a second time on the Sunday!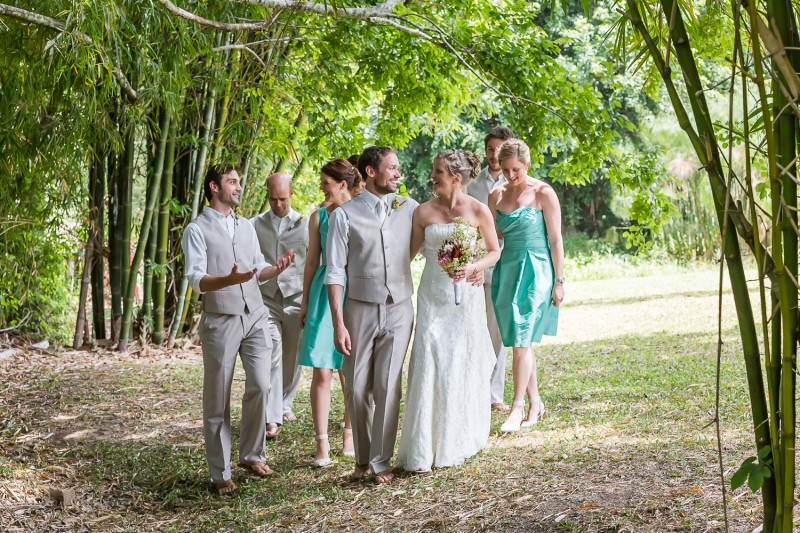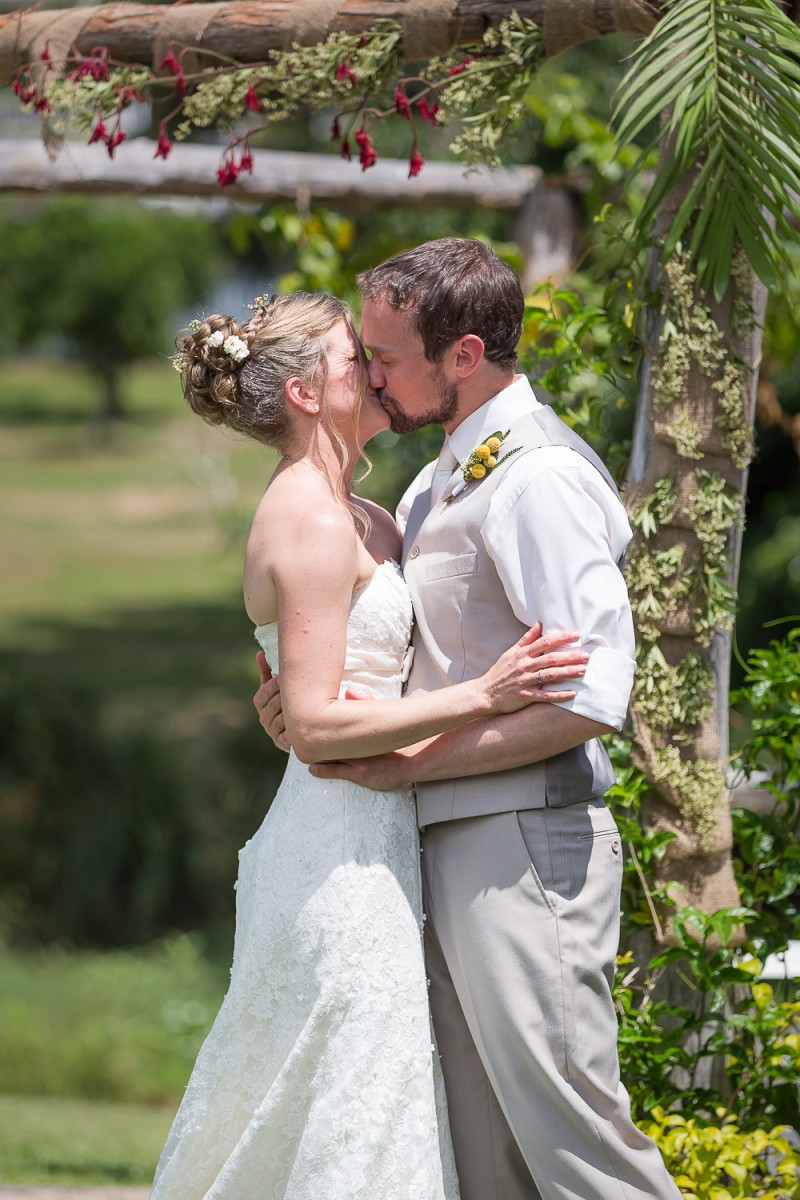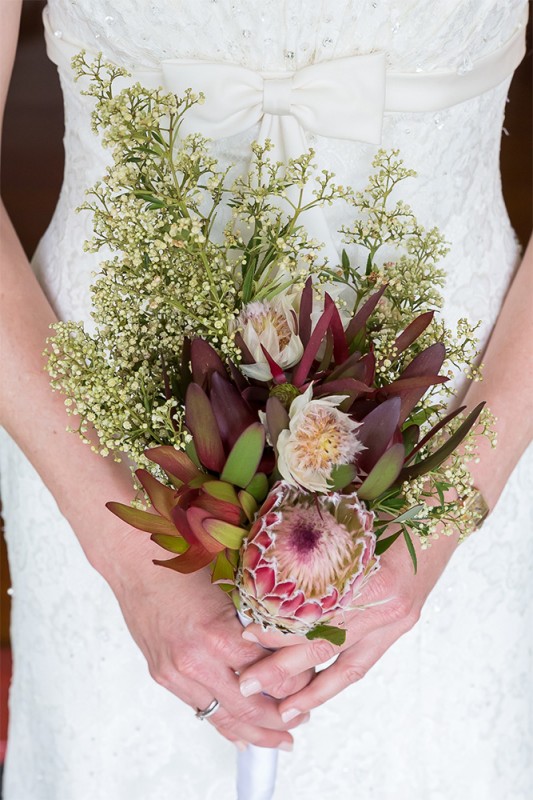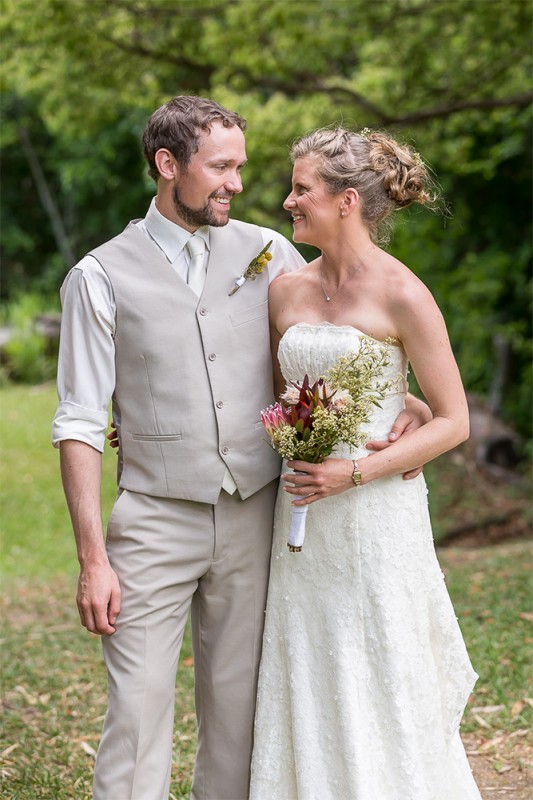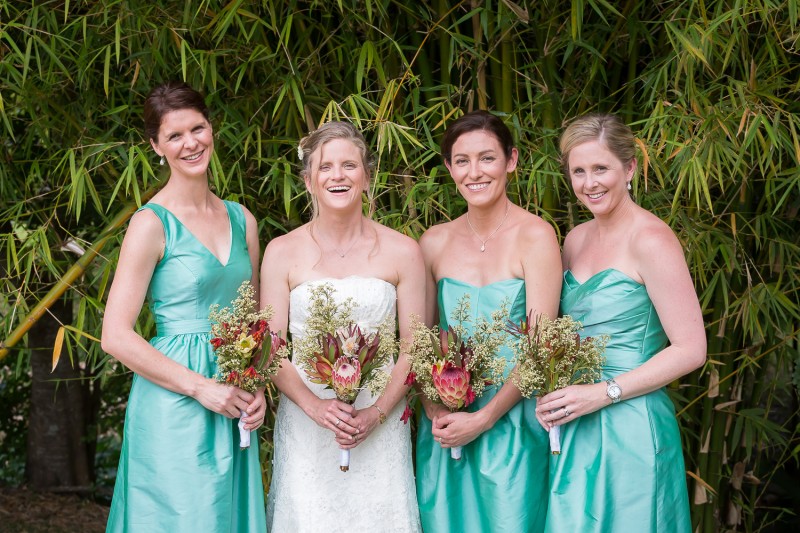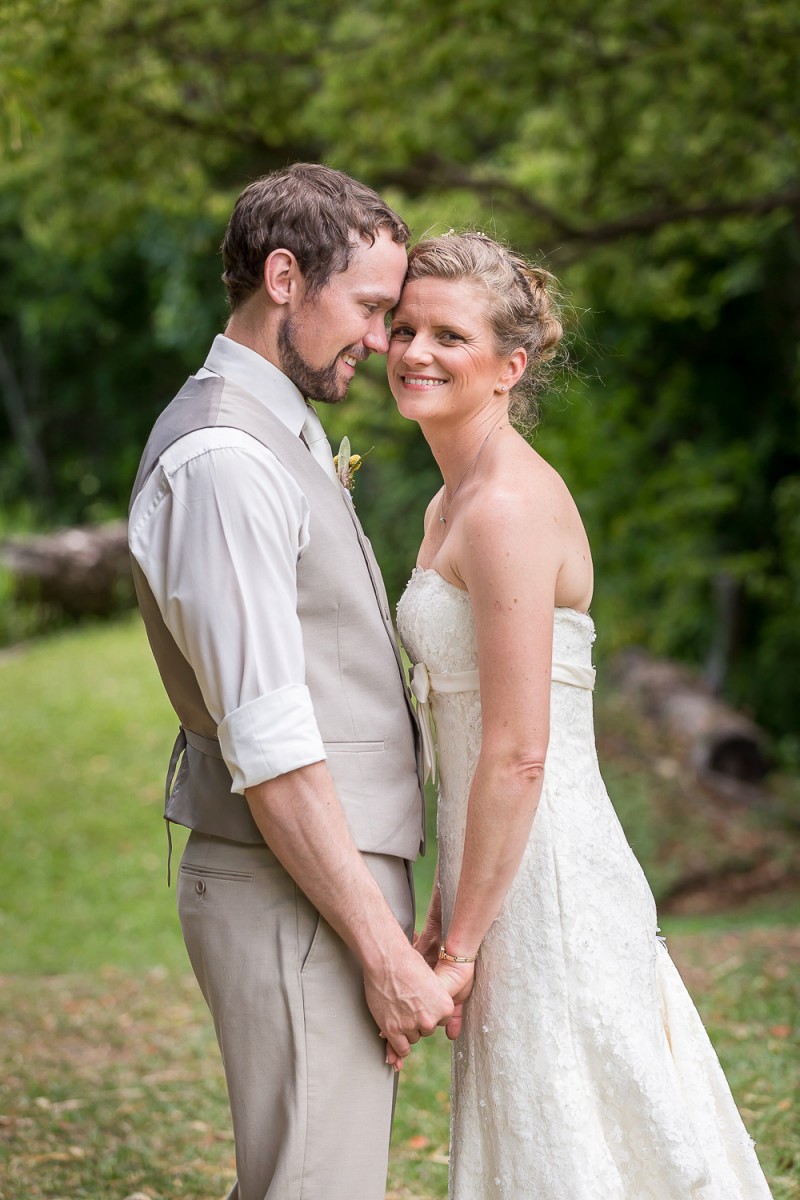 Although Sharon would have been just as happy with a handmade dress from a market, she found a beautiful gown from Spurling in Maroochydore with her mum.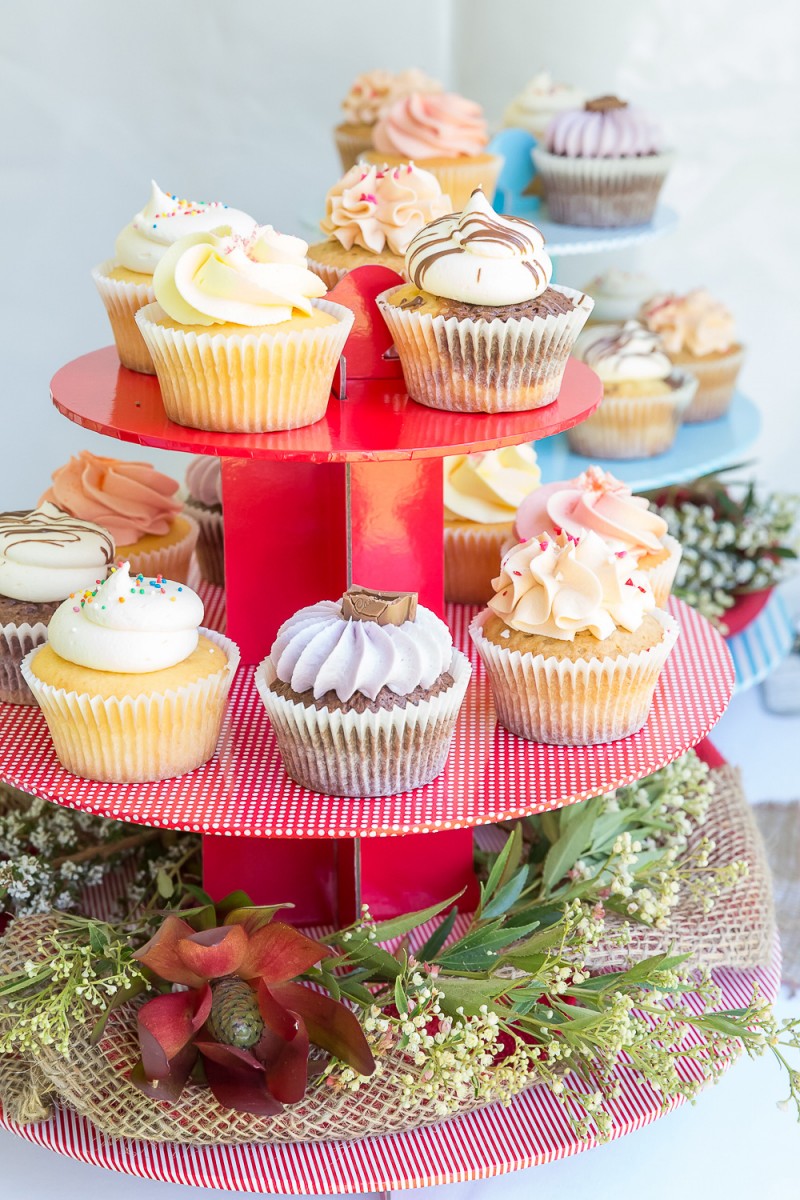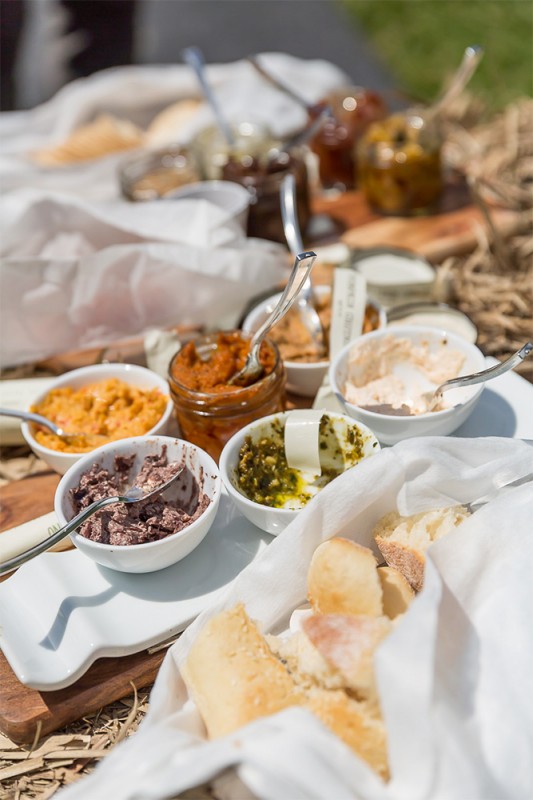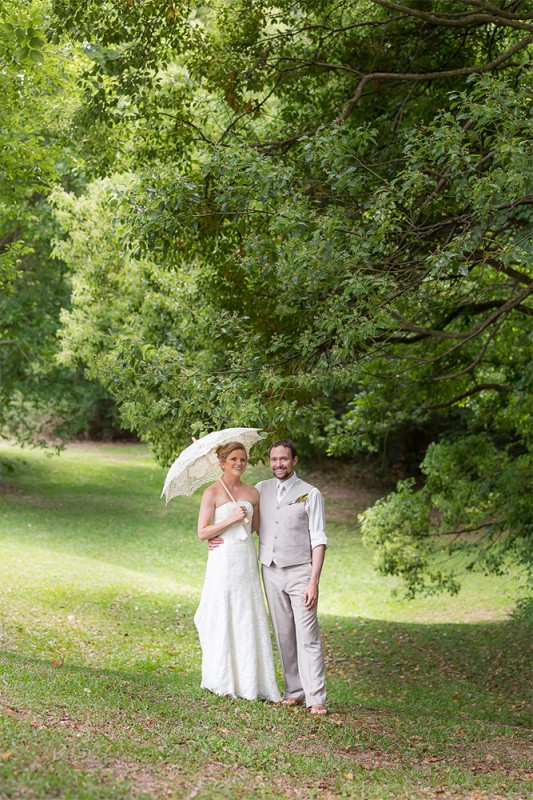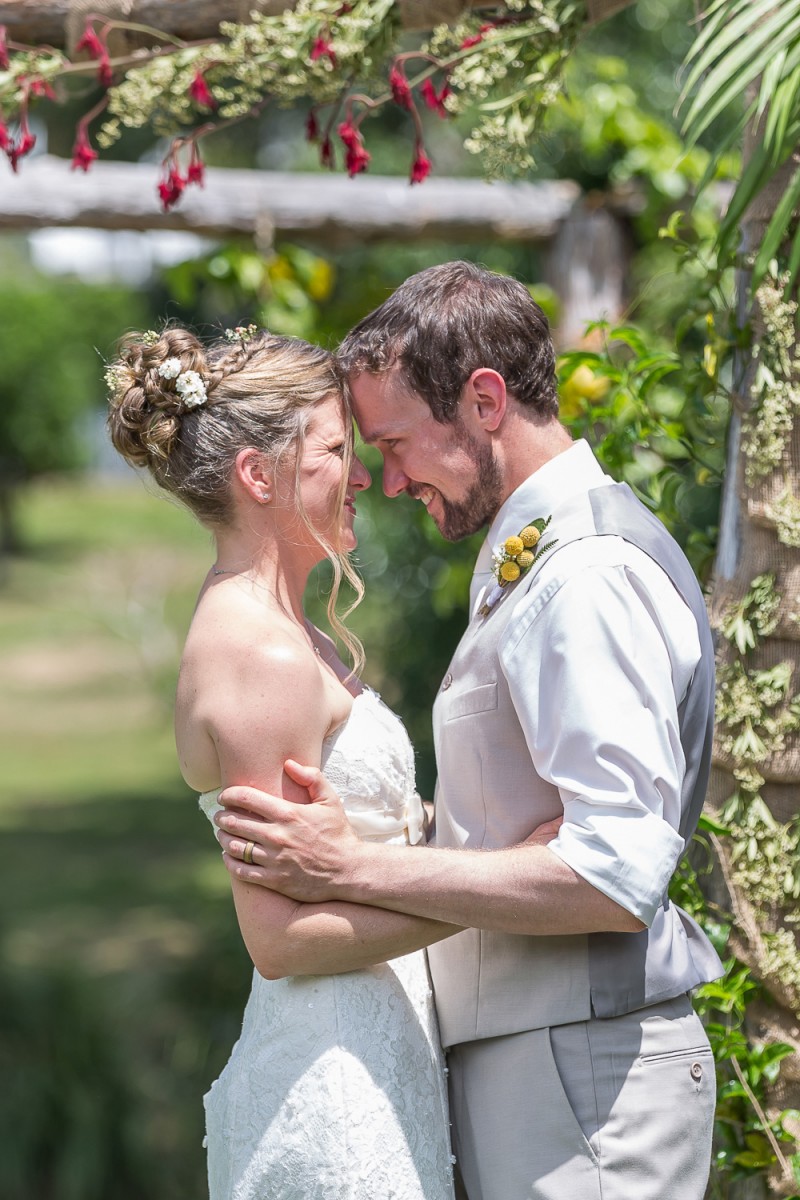 Photos by Iconic Photography.
Featured Suppliers:
Bomboniere: DIY soaps / Brides Accessories: Creations, Canberra / Brides Gown: Spurling / Brides Shoes: SUNA Shoes & Accessories / Bridesmaid Shoes: Miss Shop / Bridesmaids Accessories: Prouds / Bridesmaids Dresses: Alfred Angelo / Cake: A friend / Caterer: Love My Food / Celebrant: Stuart Mutzig, Marlene Churches / Ceremony Music: Own playlist / Entertainment: DIY / Flowers: Top Of The Range, Suncoast Flowers / Grooms Attire: Strictly Formal Brisbane Suit Hire / Grooms Shoes: Cobian / Groomsmen Attire: Strictly Formal Brisbane Suit Hire / Groomsmen Shoes: Cobian / Hair: Primp Hair & Makeup / Honeymoon: Love Cabins / Invitations: DIY / Lolly Buffet: Breezy's Cakes / Makeup: A friend / Pageboy Attire: Own attire / Photographer: Iconic Photography / Rings: For The Love of Wood Rings / Venue Decor: DIY / Wedding Night Venue: Eumundi's Hidden Valley
Additional Suppliers:  Perry's Hire (reception setup).