count: 0
final comp type:
latest ending comp date:
todays date: 2021-12-06 09:52:55
this is when the voting should NOT show
2021-12-06 09:52:55 -
British expats Selina Nicol and Lee Garnish brought a bit of their homeland to their beachside Perth wedding.
The Londoner colours of red, black and grey guided Selina's DIY styling and ensured that, despite the truly Australian setting, there was a little bit of home.
Selina, 26, and Lee, 28, met during high school and after getting engaged in Perth in 2011 they began planning their wedding with a special date in mind.
They planned their London-inspired wedding for March 15, 2014, the same date that Lee had arrived in Australia 15 years ago and Selina 10.
"We wanted to get married on the beach, which is something different to what our English families have ever seen," Selina says.
The pair married on Iluka Beach with a reception for their 110 friends and family following at The Breakwater restaurant at Hillarys Boat Harbour.
Selina says a big part of the preparations were ensuring her father in the UK, who has terminal brain cancer, was able to be a part of the day. A video link was set up so he could still fulfill his father-of-the-bride duties.
"We wanted to make it a family affair with brothers and sisters in the wedding party along with our best friends; we had a lot of involvement from friends and family along the way," Selina says.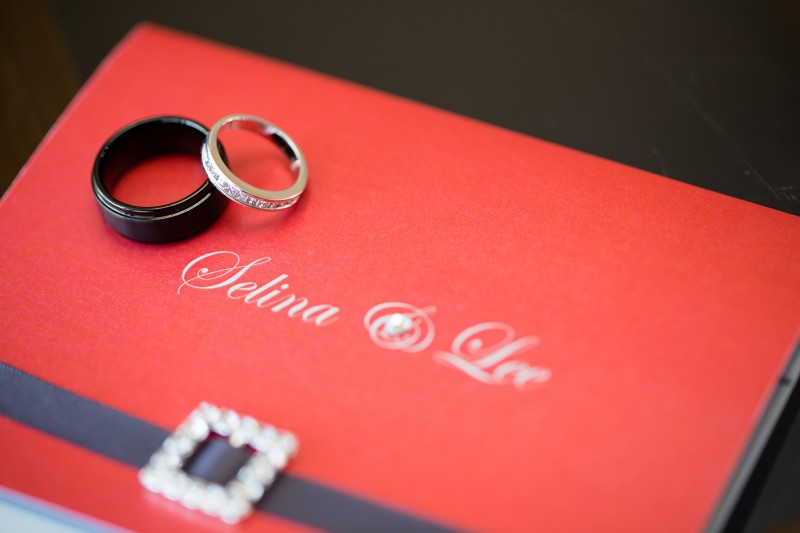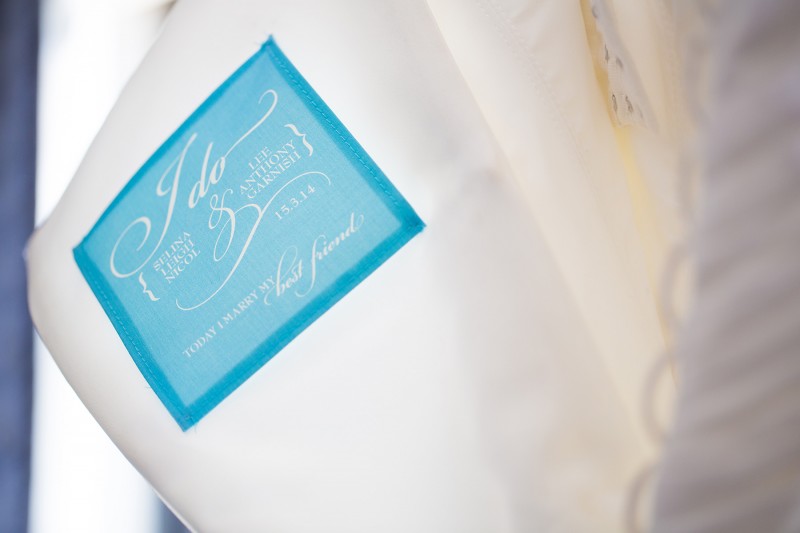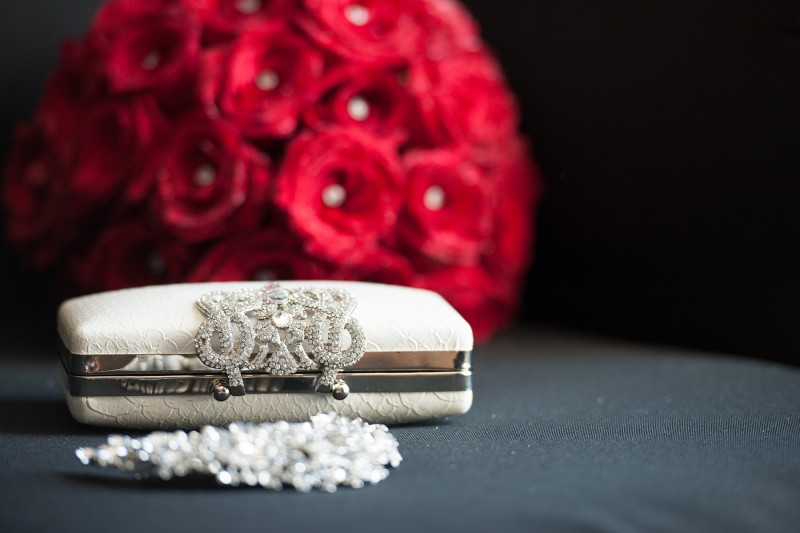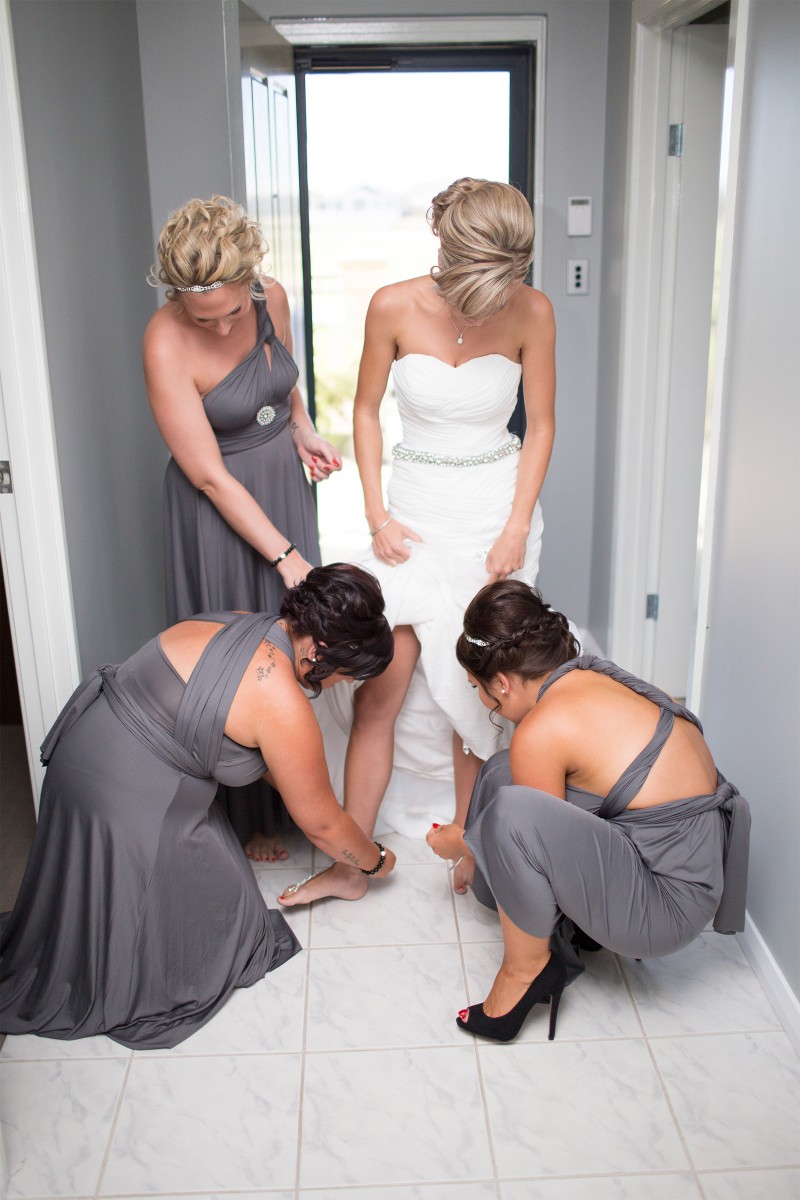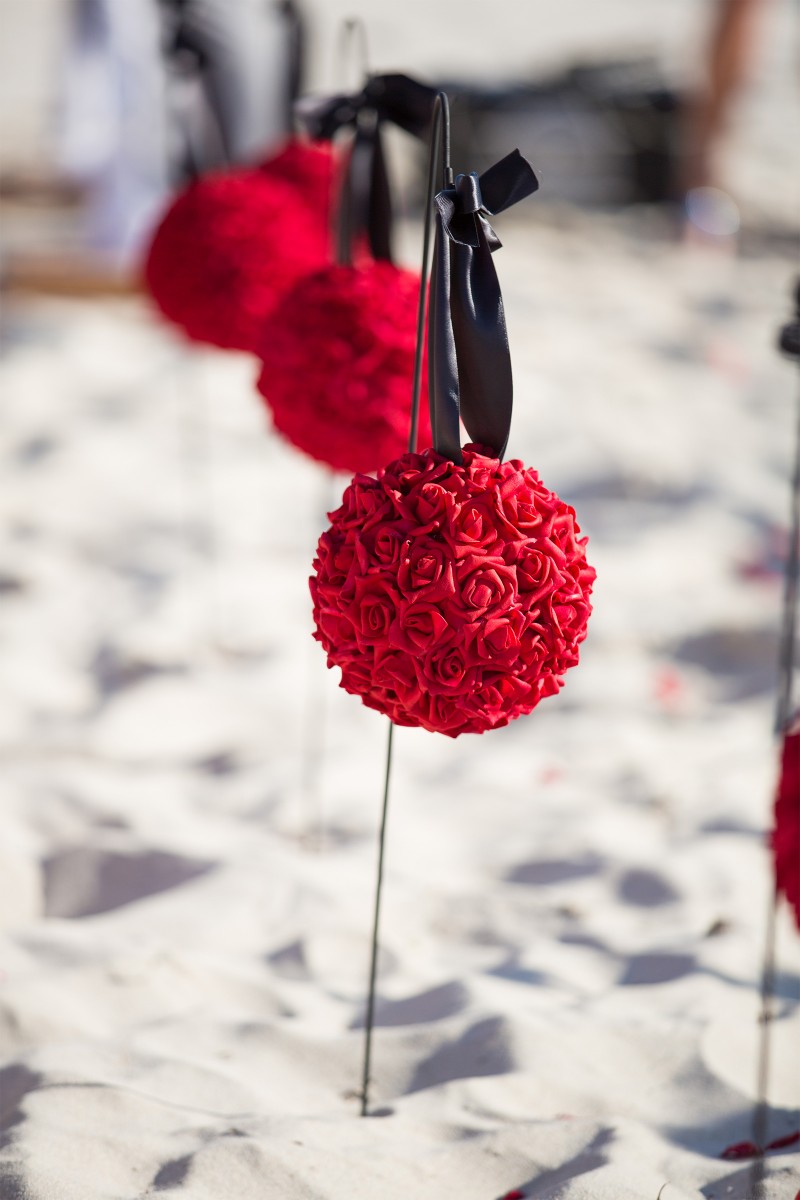 Bridesmaids dressed in grey, and classic red roses set off Selina's red, black and grey colour theme.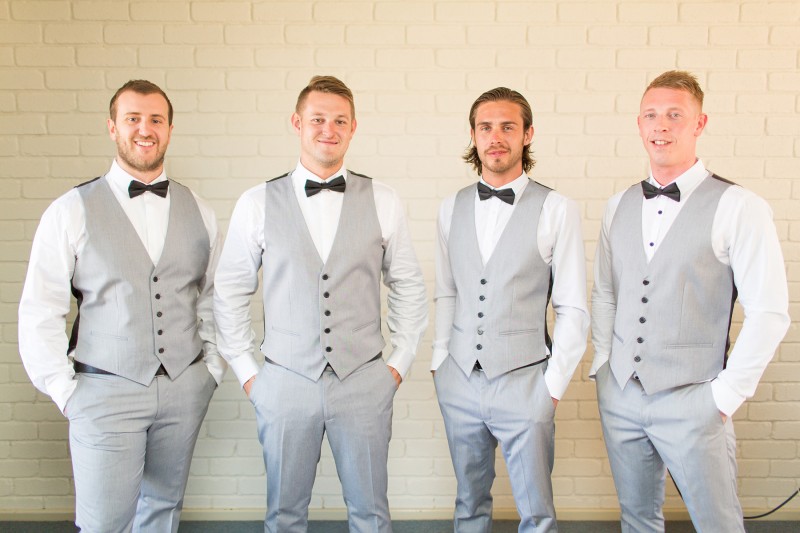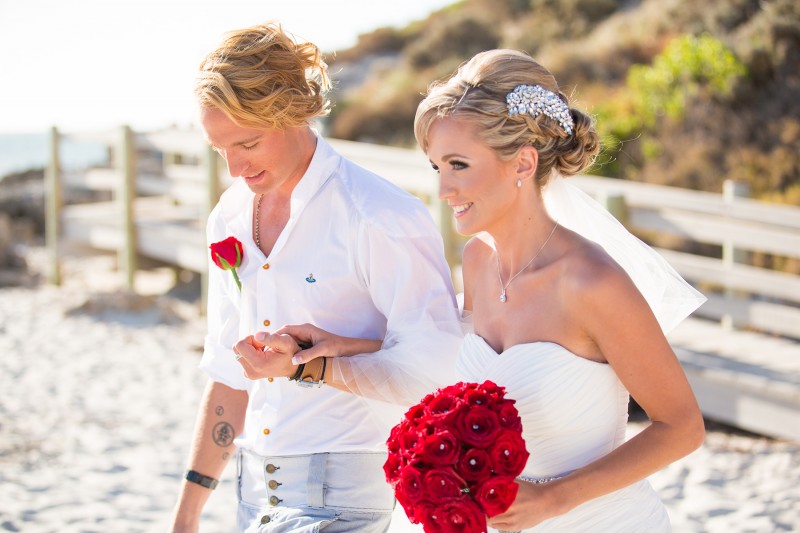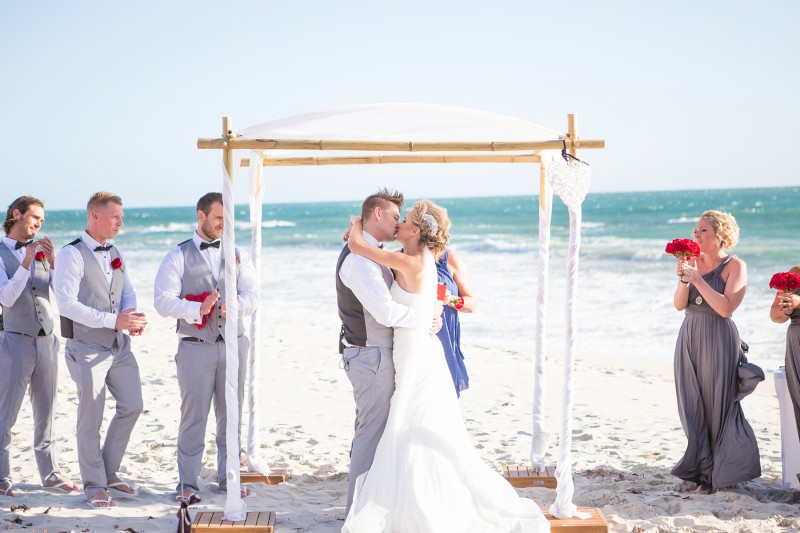 Selina wowed in an off-white mermaid chiffon lace-up dress which she found online.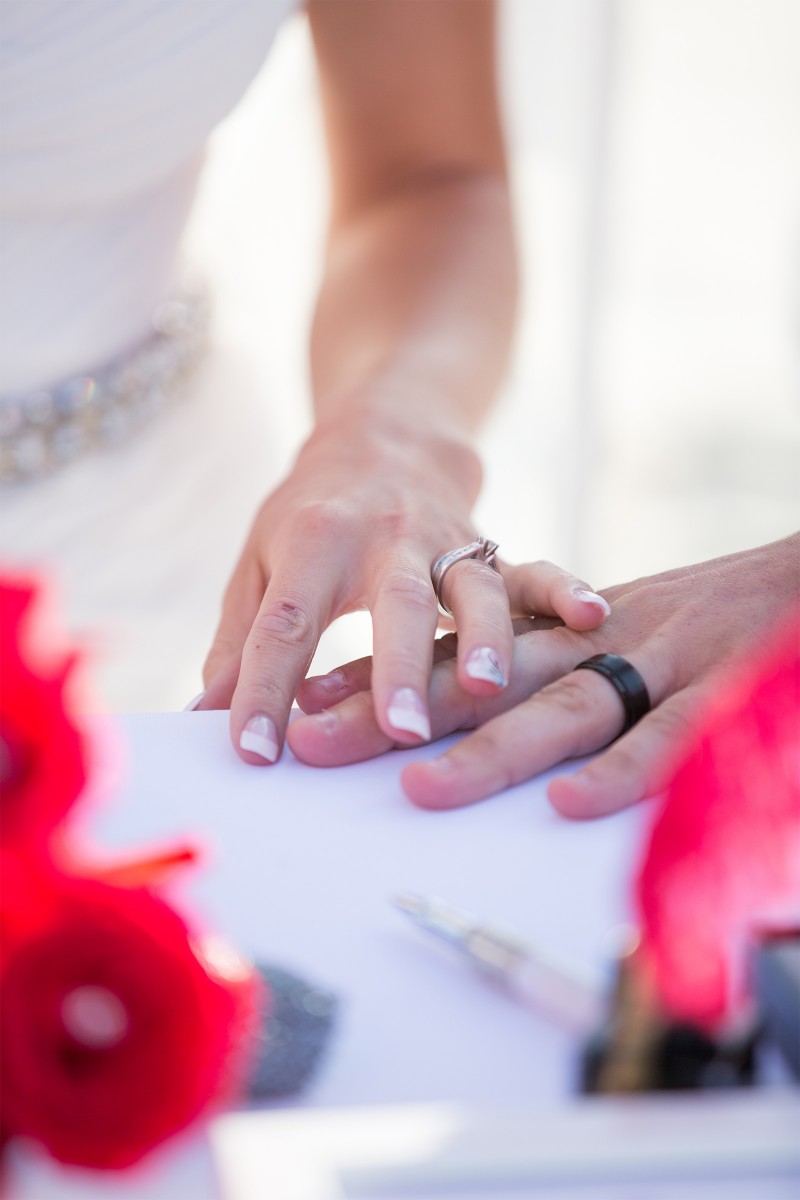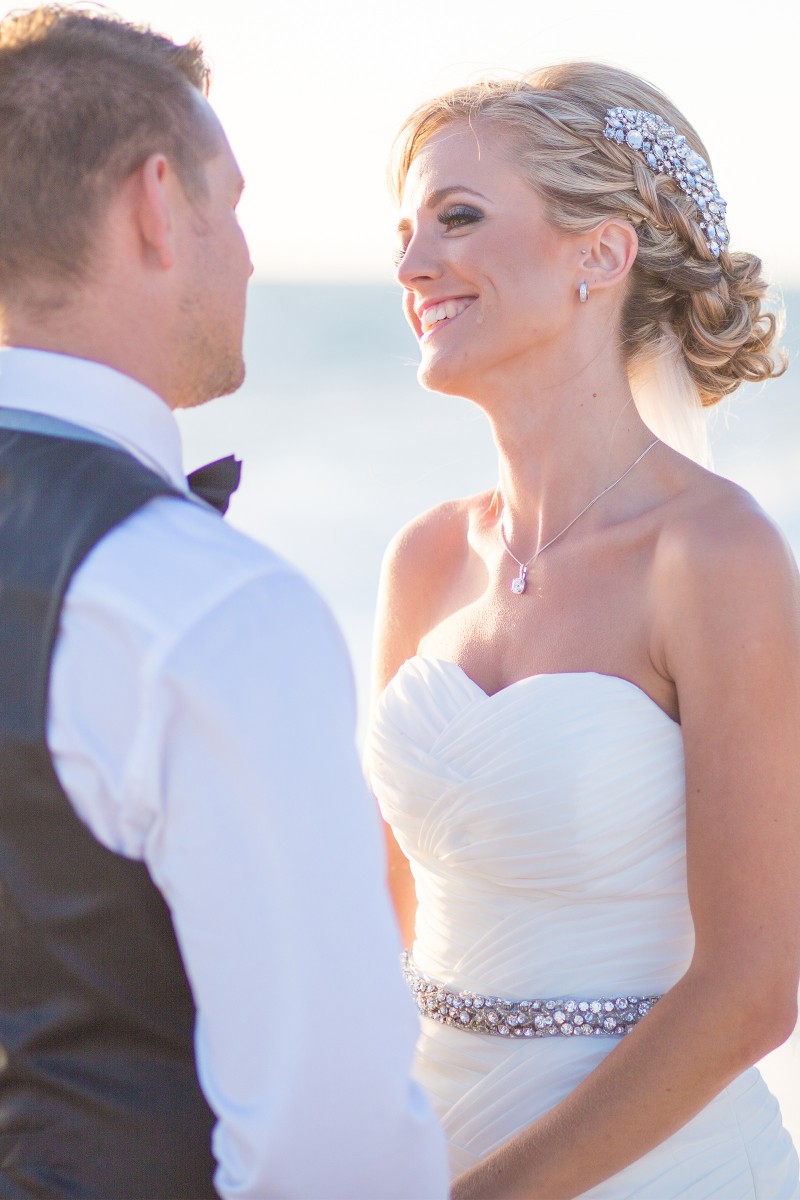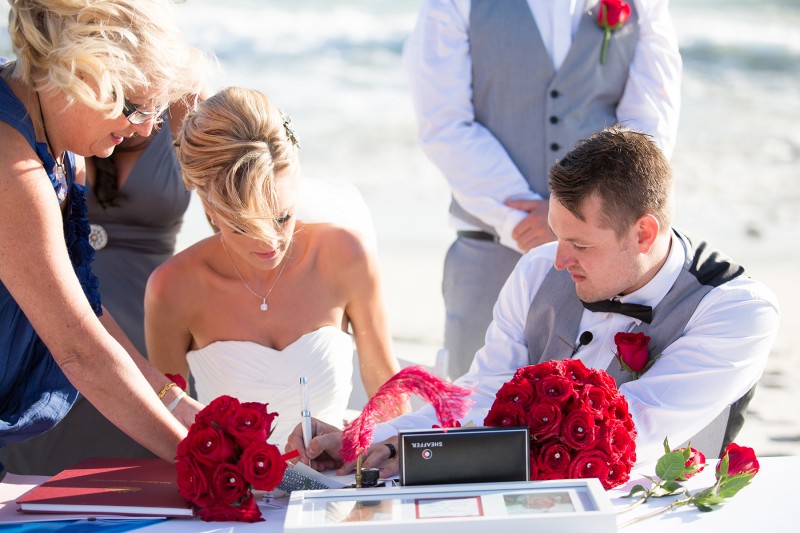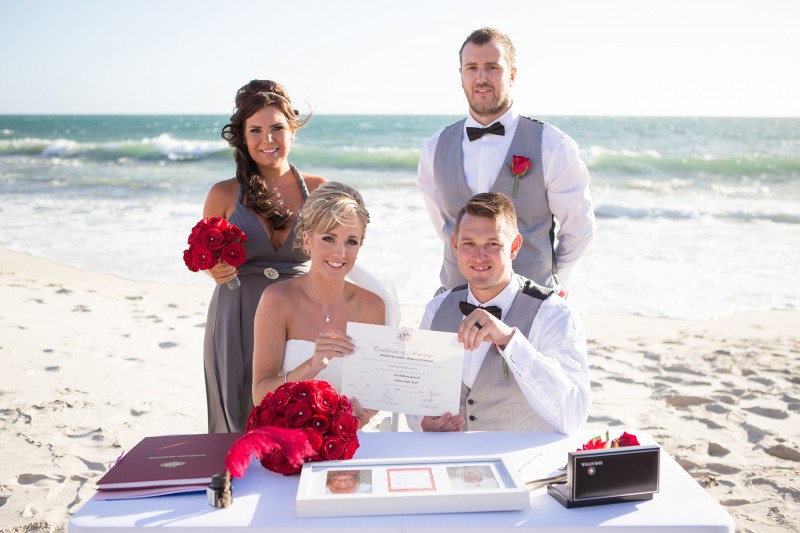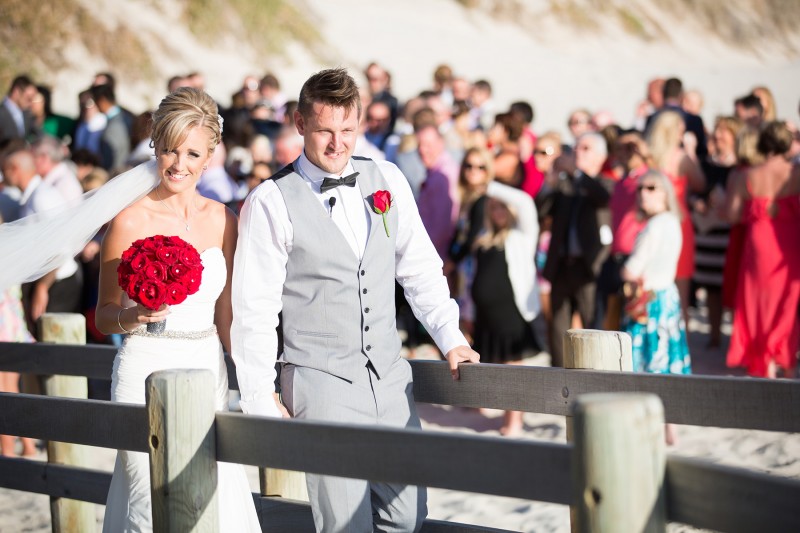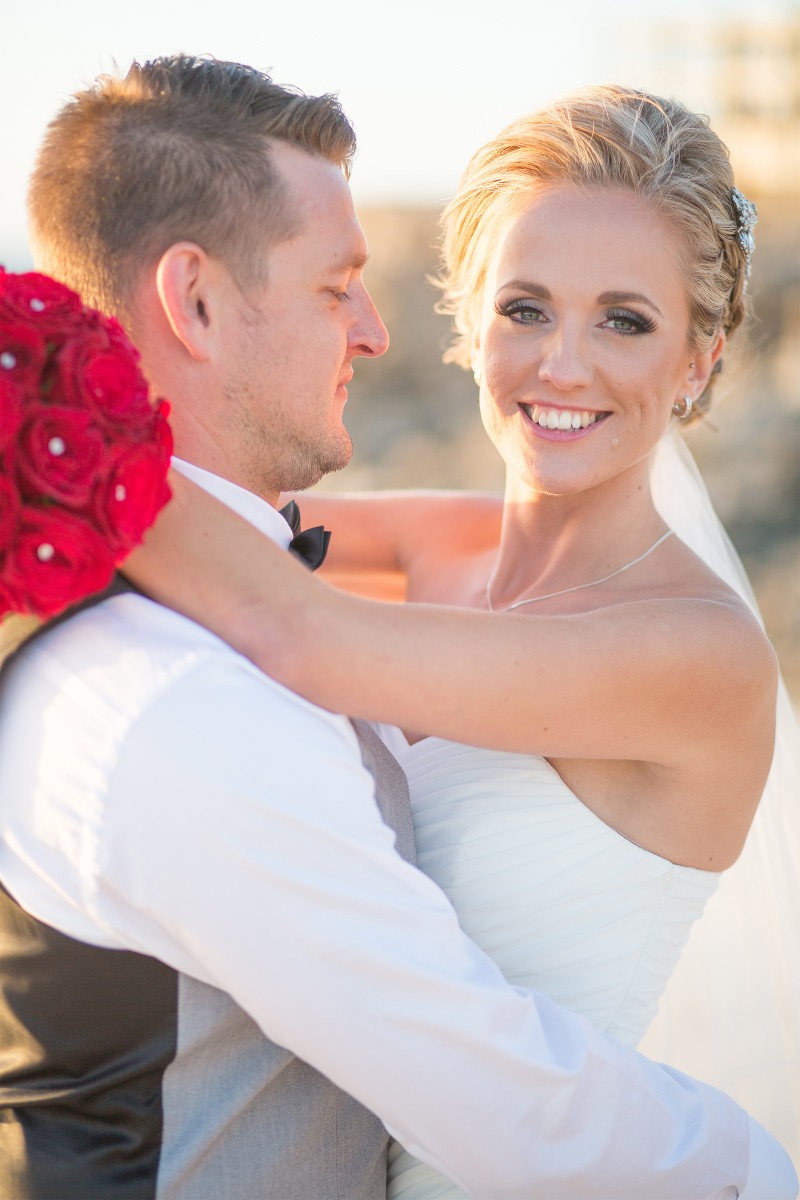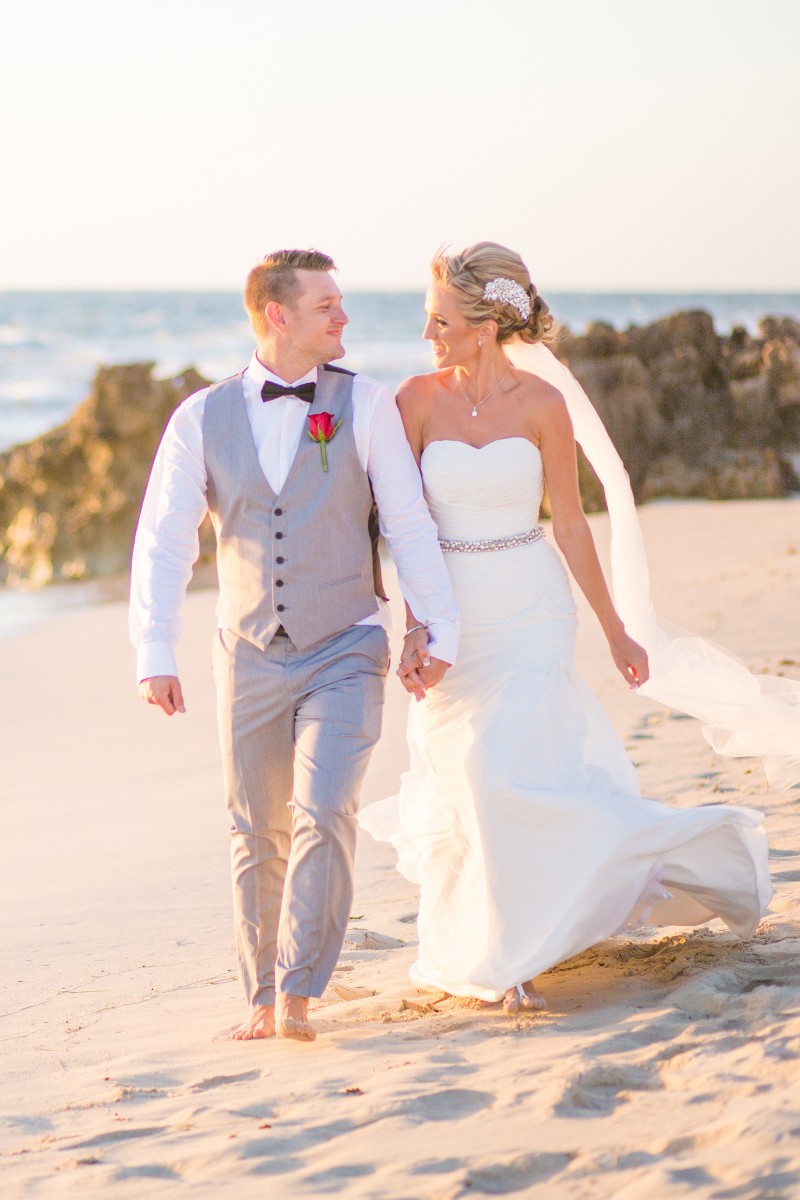 The couple's vows included the words "today I married my best friend, the one I laugh with, dream with and love forever".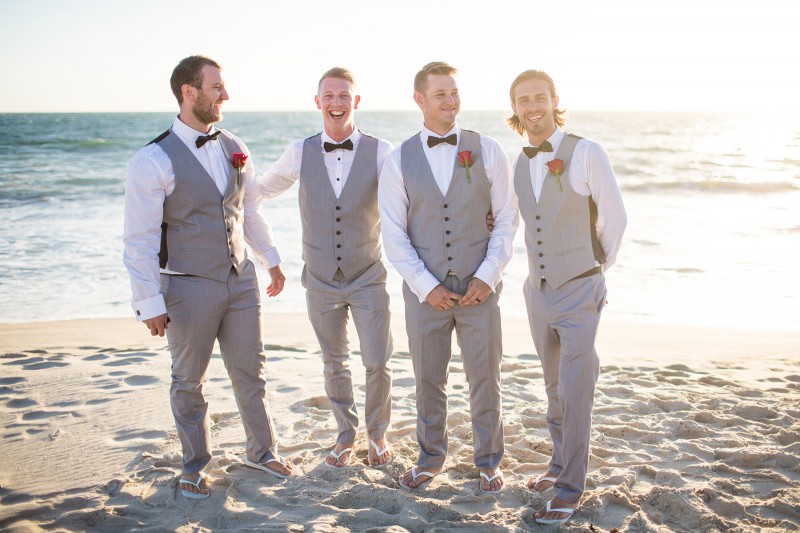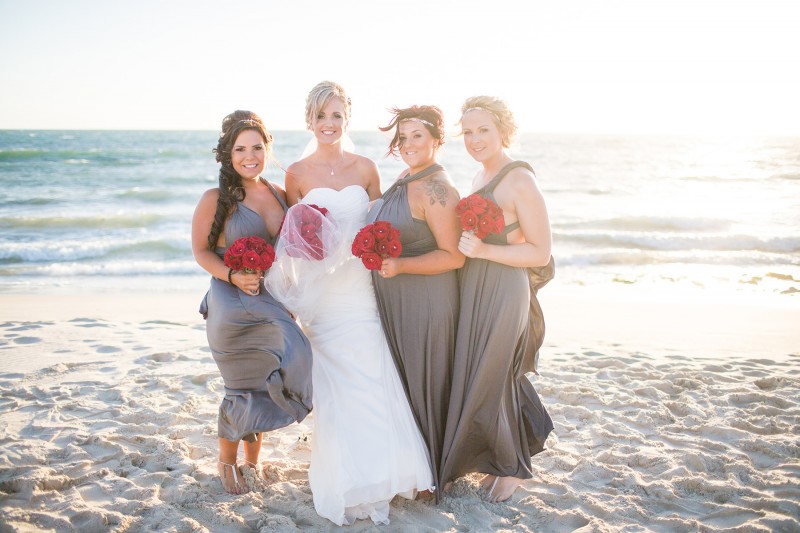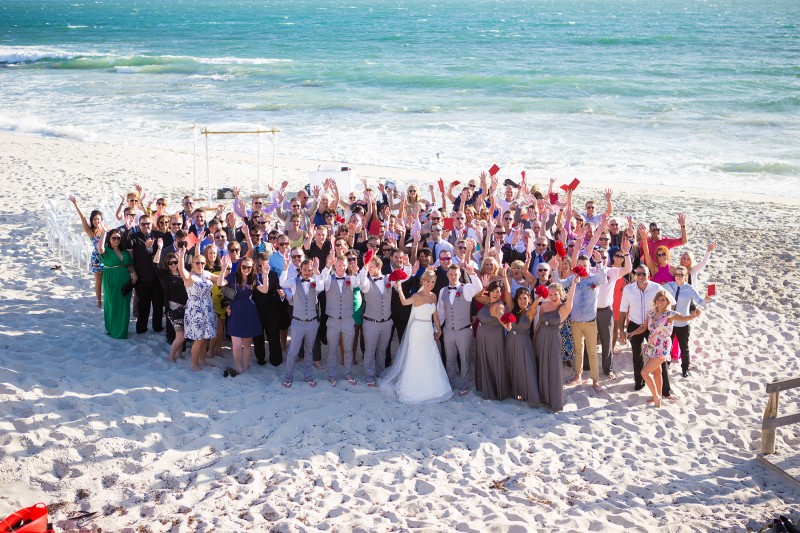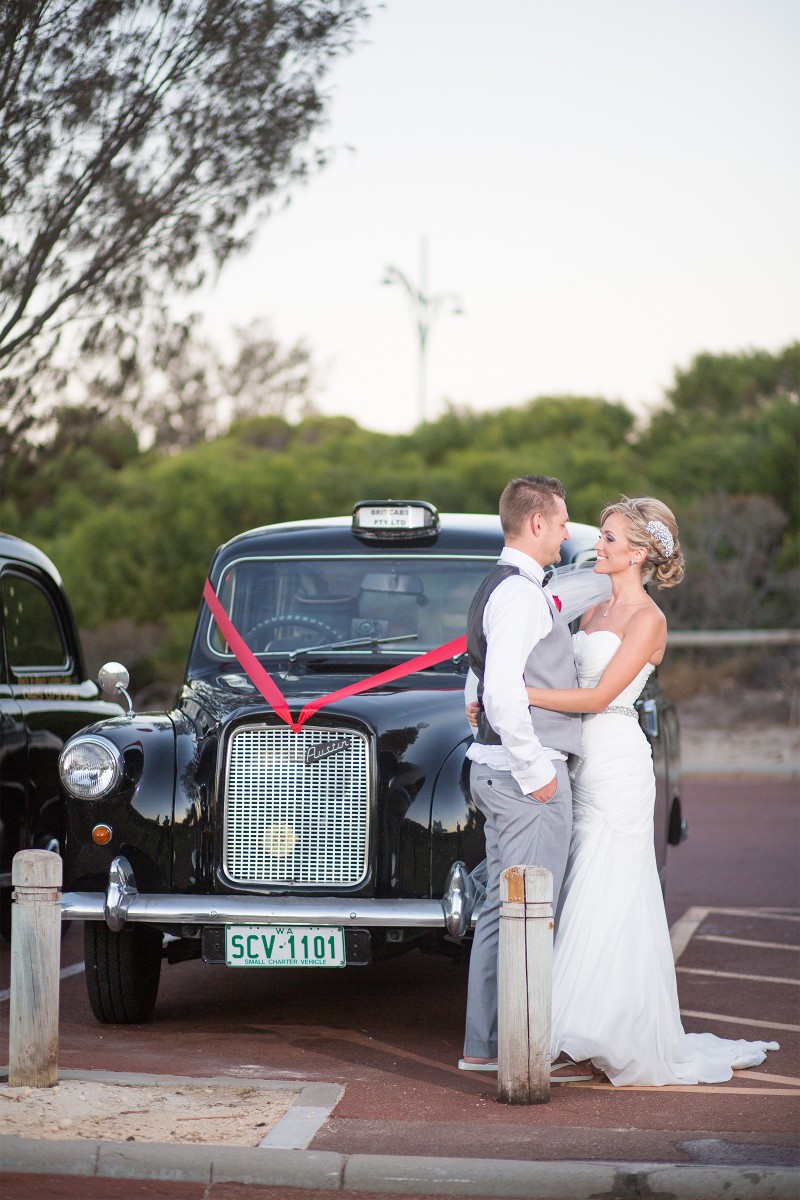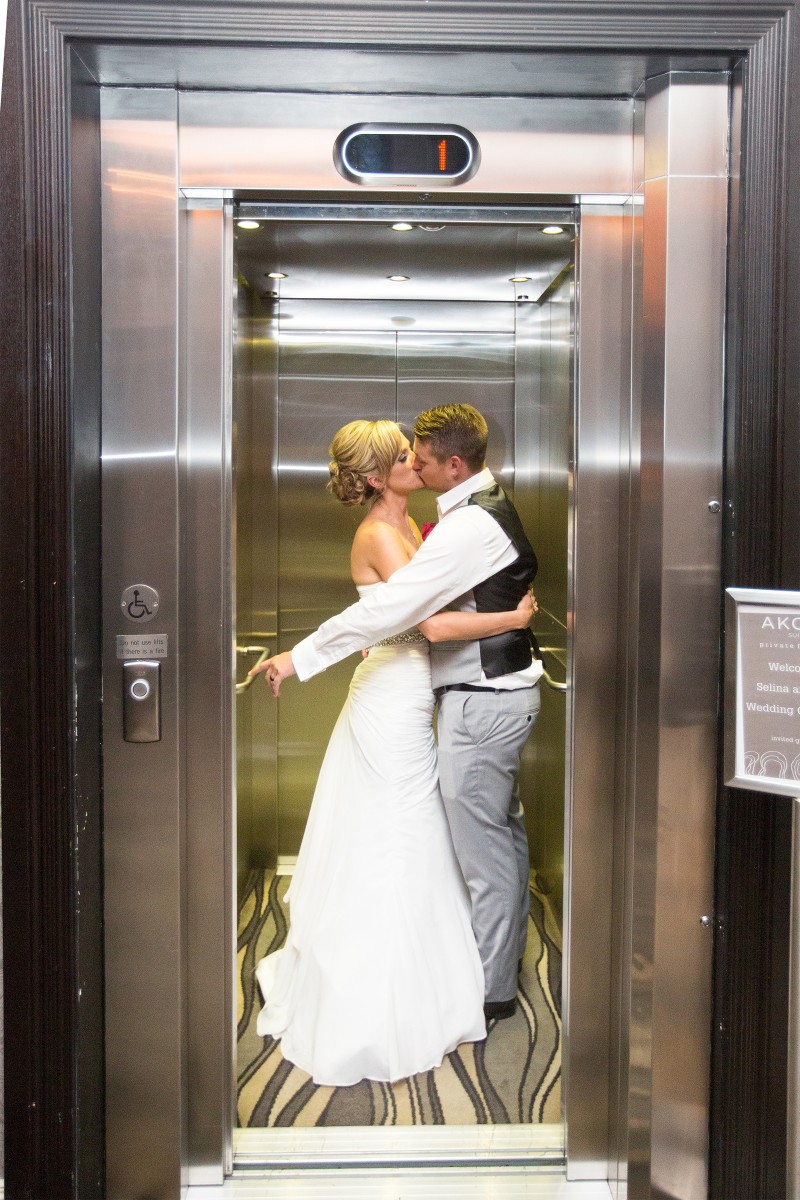 A black cab as wedding car kept with the couple's London theme.
Photos by Mustard Seed Photography.
Featured Suppliers:
Bomboniere: Bride's mum / Brides Accessories: Bride's grandmother, Etsy / Brides Gown: Online / Brides Shoes: Forever New / Bridesmaid Shoes: Forever New / Bridesmaids Dresses: Infinity wrap dresses / Cake: A friend / Celebrant: Michelle Jenkins / Ceremony Music: Own playlist / Ceremony Venue: Iluka Beach / Gift Registry: Wishing well / Honeymoon: Vanuatu , Sydney / Invitations: DreamDay Invitations / Makeup: A friend / Photobooth: Kiss and Tell Photobooth / Photographer: Mustard Seed Photography / Reception Venue: The Breakwater / Videographer: White Ribbon Films / Wedding Night Venue: The Breakwater