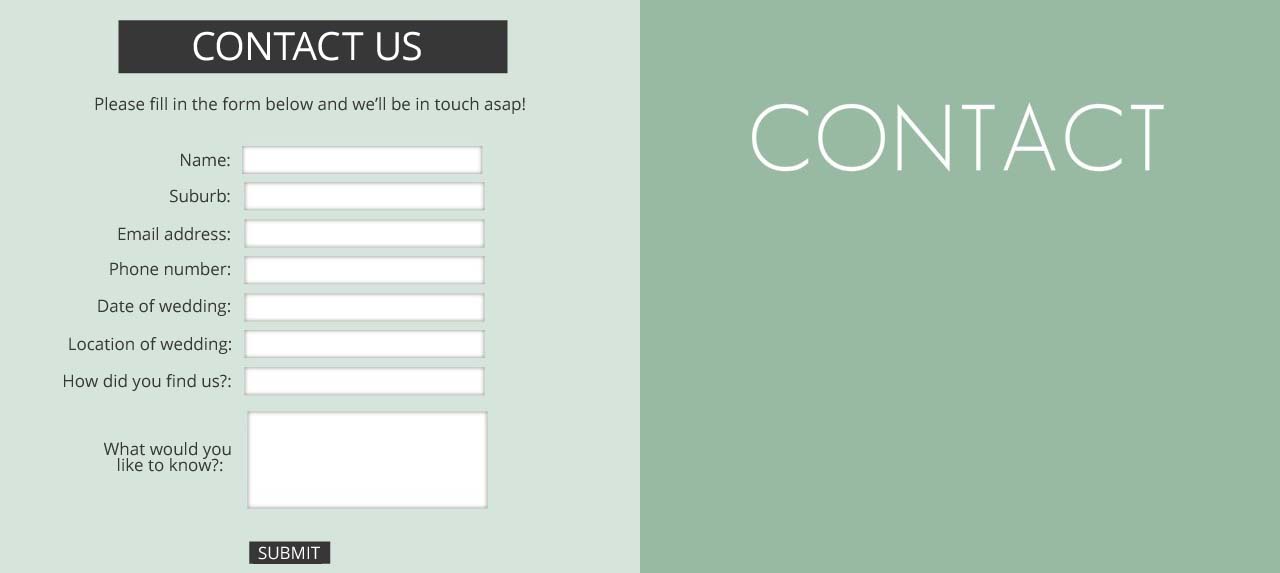 Doing business in a digital world means there are plenty of ways for customers (or potential customers) to get in touch with you, be it via email, Facebook or, perhaps, your online store. But the jewel in your digital marketing crown is your website and, by extension, the Contact form on it.
The problem is that many wedding supplier websites don't contain Contact forms. Instead, the majority of suppliers rely on email addresses of phone numbers.
There's nothing wrong about having a phone number and email address, but they should be included alongside a Contact form, which allows suppliers to control what information they receive – and also makes it easier for potential customers to contact you.
Contact forms have many benefits. Not only will be used by potential customers wanting to ask you questions, but they could be used by potential employees enquiring about vacancies, current customers needing help and, perhaps even, future business partners looking to do a deal or strike up a relationship.
Of course, the aim, certainly when it comes to new inquiries, is to convert as many of these contacts into customers.
So, it's crucial your Contact form works and that it's as clear and intuitive as possible and a little time invested in tweaking it could pay big dividends.
A standard bride's query via email generally looks like this:

Hi there. I would like to know if you are available to do my wedding on the 15/5/14, Thanks, Silvia.
OR
Hi. How much would it cost for you to marry me? Thanks, Sylvia.
While it's great to have a potential client emailing you, all you know about her is her name, email address and, possibly, her wedding date. That's not a lot to go on and you're at a disadvantage because you simply don't know enough about a potential client or what she needs.
By using a Contact form with the information below in it, you'll get more details and, consequently, be able to service the potential client better.
Name: Sylvia Peters
Suburb: St Kilda
Email address: sylvia.peters1398@yahoo.com
Phone: 03 8512 1900
Date of wedding: 15/5/14
Location of wedding: Botanic Gardens, Melbourne
How did you find us?: EasyWeddings.co.uk
What would you like to know?:
Hi. I would like to know if you are available to marry us. Please supply costs and info. Thank you.
You're already at a huge advantage because, even if your potential customer doesn't supply enough information or fill in all the fields, you can always pick up the phone and call her. You've also picked up extra information on where your leads are coming from (Easy Weddings, of course!) and you know her wedding date, which will help you confirm it in your schedule before replying, rather than having to reply asking for the wedding date – by which time she may have found another supplier.
Name: You would have received this via email, but it may just be a first name
Suburb: You now know if they are local and that they may be easier to sell to.
Email address: You would have received this information via the email.
Phone:  This is one of the most important fields to include. You greatly increase your chance to sell your service or to obtain an appointment by speaking with someone via the phone conversation than you do via an email reply.
Date of wedding: You would think it would be a standard inclusion in a bride's email but it isn't and this information is a crucial piece of information for wedding suppliers who can only do one job per day.
Location of wedding: Many service providers need to charge for travel and this answer field allows you to quote more accurately by allowing for such details. It also allows you to check if you are available to service that particular wedding date.
How did you find us?: This is important to track where your advertising comes from. Your Analytics program will help you check any online sources of advertising, but this questions gives you information on any offline advertising that may have brought the bride your way.
What would you like to know?: Hopefully, you'll have received a question you can easily understand and answer via an email / phone call.
Once you receive this enquiry, the next step is to call the bride. Don't just email them. Create a relationship. The aim of a Contact form is to start a conversation.

Rules to follow: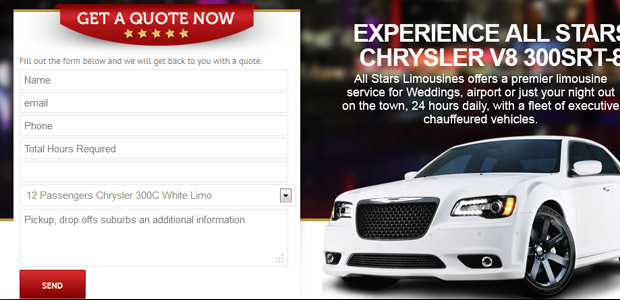 Keep it simple:
Don't include lots of words and too many fields asking unnecessary questions. Stick to the 7-8 questions above and you'll be covered for the basics that you need to know in order to get the most benefit out of the enquiry.
Make it effortless:
Make it as easy as possible for the user to contact you. You could insert helpful information and hints in the ghost text inside each field and, especially if your Contact form is longer and requires more information, such as phone numbers or usernames etc. So, be sure to offer tool tips that explain to the customer what needs doing in each field and, perhaps, a suggestion for filling in the field to reduce confusion
Increase your enquiries:
The typical number of enquiries you can expect to receive through your contact form will be equal to around 10% of the total visitors to your website. A great website may convert up to 20% of visitors, a poor website may only convert 3% of visitors. Your aim should be 10% or higher, keep an eye on Google Analytics – Conversions to measure these numbers.