For your perfect Buckinghamshire wedding, you're going to need that enchantingly perfect ride. Here are the best wedding car providers that service the area.

At Beetle Drive, you'll find a dedicated team where the service is all about giving you your most perfect wedding day. This team pride themselves on their quality both in their service and in their well-maintained vehicles. In their amazing vintage fleet, you'll find a fab collection of genuine Volkswagen campers and Beetles. If you're going for traditional, then this team have plenty of white VWs to choose from, or if you want something unique then their pink camper is a total show-stopper.

Aisle Classic Carriages are here to give couples the chance to ride to their weddings in the car of their dreams. With their professional and courteous service, you'll find it easy and fun to book your dream wedding car hire. Plus, on the day, the chauffeur will be nothing but friendly and professional so you will be able to sit back and relax. What's great about the fleet on offer here is that it's varied and interesting. Their 1953 Morris Minor is an adorable black car that is both elegant and unique. For something older, try their 1938 Lammas Graham. This crisp white car is an extremely rare, fully restored beauty that is definitely worth a look in. Find other amazing cars from the 1950s, 1960s, 1970s and 1990s, plus an amazing horse and carriage. So much choice and variety!

Jaguar Wedding Hire were established in 1990 and have been providing stylish and refined vehicles for weddings since. The fleet this team has collected over the years is remarkable and super cool. You'll see that their cars have been chosen by celebrities for promotional events previously, as well as being featured on television and in film. As their name suggests, this team have a very special collection of vintage Jaguars on offer, as well as a beautiful one-off, Armstrong Siddeley. Their cars are all either from the 1950s or 1960s, and are fabulously stylish. Check them out today. You won't be disappointed.

Everyone's looking for their perfect wedding transport. Do your wedding differently by letting the experienced team at First Choice Wedding Cars find the perfect car for you. This team have a wildly varied fleet that includes everything from American wedding cars to Volkswagen Campervans, and a whole lot of beauties in between.

At Home Counties Chauffeur, you'll find that this team is all about getting you to your wedding in perfect style. In saying that, this team are also highly dedicated to providing only the best service for your special day. The choice of cars in this fleet are modern luxury models from Audi and Mercedes. Whatever car you decide on, it'll be adorned with ribbons and flowers, you'll be treated to champagne, and you'll be in for the most comfortable and luxurious ride of your life.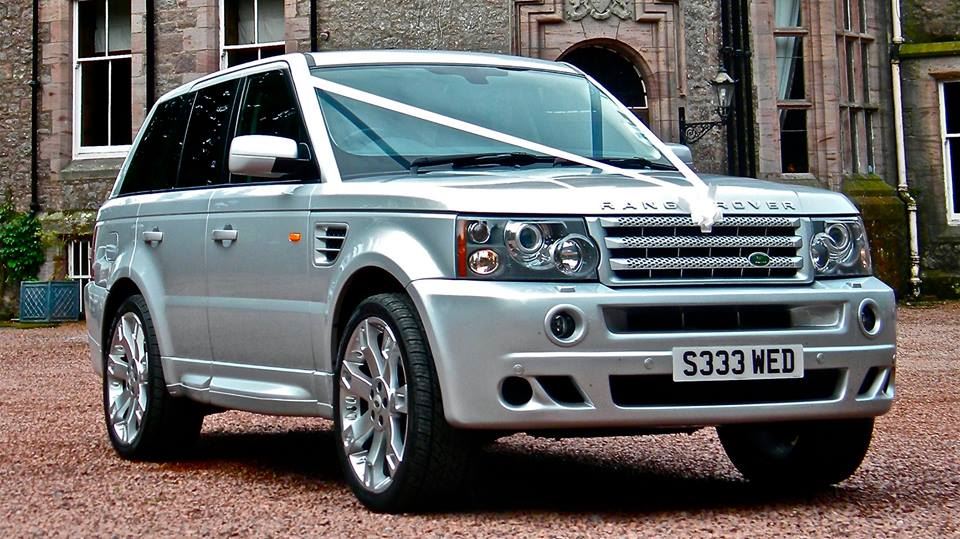 When it comes to weddings, 4×4 Vehicle Hire are all about giving their clients a chance to travel in style that is completely punctual so you arrive perfectly on time. The cars on offer here are from makes including Range Rover, Land Rover and Toyota. All are spacious and luxurious so that no bride's dress will be crinkled and every passenger will be comfortable and relaxed. This team are here to provide smooth and trouble-free service so that your wedding goes off without a hitch.

At Elegant Wedding Cars, you'll be able to hire a truly stunning car that will bring the wow factor to your wedding day transport. The car in question is a 1950 Bentley. This black and silver car comes with snazzy contrasting chrome accents, and luxurious burgundy leather interior. It is both spacious and elegant, and brings with it a beautiful vintage charm that many modern imitations just don't have. Go with this team if you're seeking truly professional service throughout the process, and that all-important unhurried service on the day.

At Special Day Cars, you'll find everything from traditional cars to modern super cars in their varied and unique fleet. This team are here to offer luxurious chauffeur-driven wedding car hire, no matter what car you end up choosing. Their impressive collection of modern super cars includes an Aston Martin V8 Vantage, a Ferrari F430 Spider and a Lamborghini Gallardo Spyder. In their traditional cars, see such beauties at their Rolls Royce Open Tourer which dates all the way back to 1936, plus many more. If you want something a little quirkier, their Volkswagen Beetle is an adorable icon of the 1970s that anyone who appreciates classic vehicles, will completely fall in love with. Find a huge variety in this fleet and get the dedicated service to match.

RDP Chauffeurs are a small family run company who are providing professional wedding car hire in the Buckinghamshire area. Their fleet is a big and varied one that includes a snazzy and stylish range of the best modern cars around. If riding to your wedding in something highly luxurious is what you've always dreamed of, then look no further, because RDP Chauffeurs are definitely worth considering.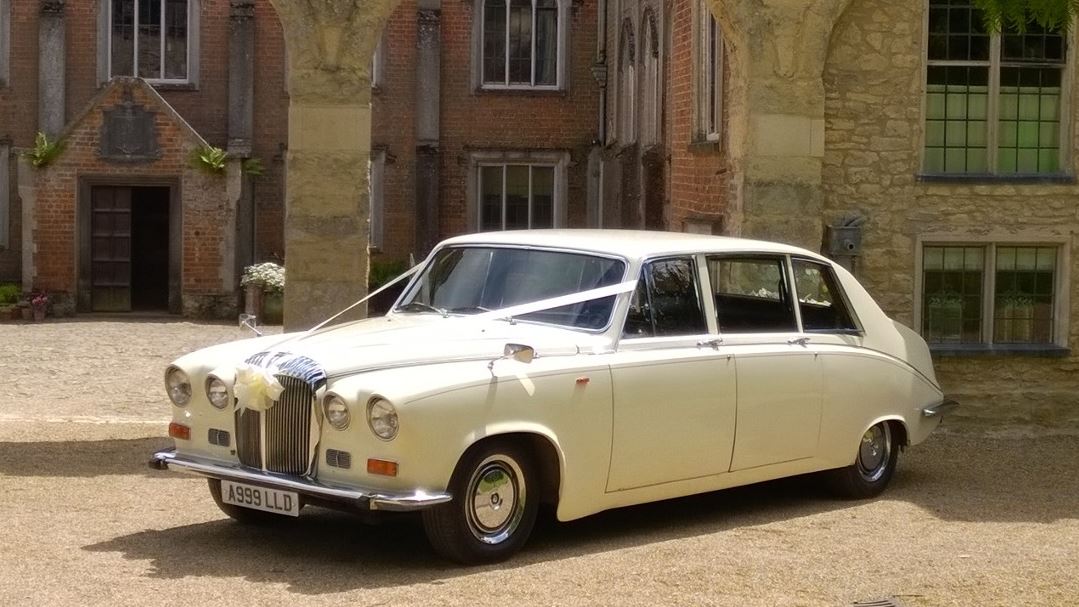 At Two Hearts Wedding Cars you'll receive a completely tailored package for your wedding car hire. During the booking and hiring process, you'll find that this team will give you their undivided attention, which only shows their commitment to their clientele. In their fleet you'll find the stylishly eccentric Lincoln Excalibur, a sleek and modern Chrysler 300c, and a regal Daimler DS420. All of these amazing cars have full leather upholstery, complimentary drinks, plus ribbons and bows of your choice for the car.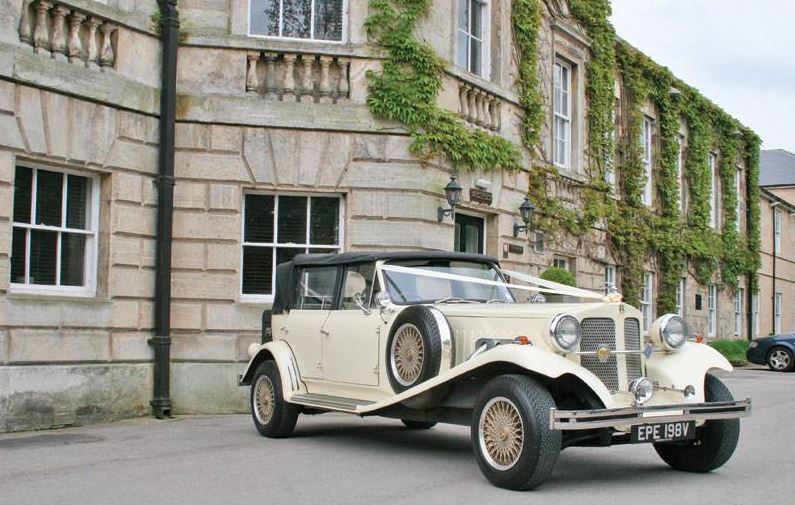 You'll be spoilt for choice when you choose Wedding Car Hire, one of the UK's biggest and fastest growing wedding car hire companies. A vast collection that can't be beat on choice or price, Wedding Car Hire has something for every type of occasion. Modern luxury and high end vehicles such as the Maserati Quattroporte, or the Aston Martin Rapide, go hand in hand with more classic, iconic vehicles, such as the Rolls Royce Silver Cloud, and the Bentley S. All come in a variety of colours, from a classic English white, to a luxurious, deep ruby red.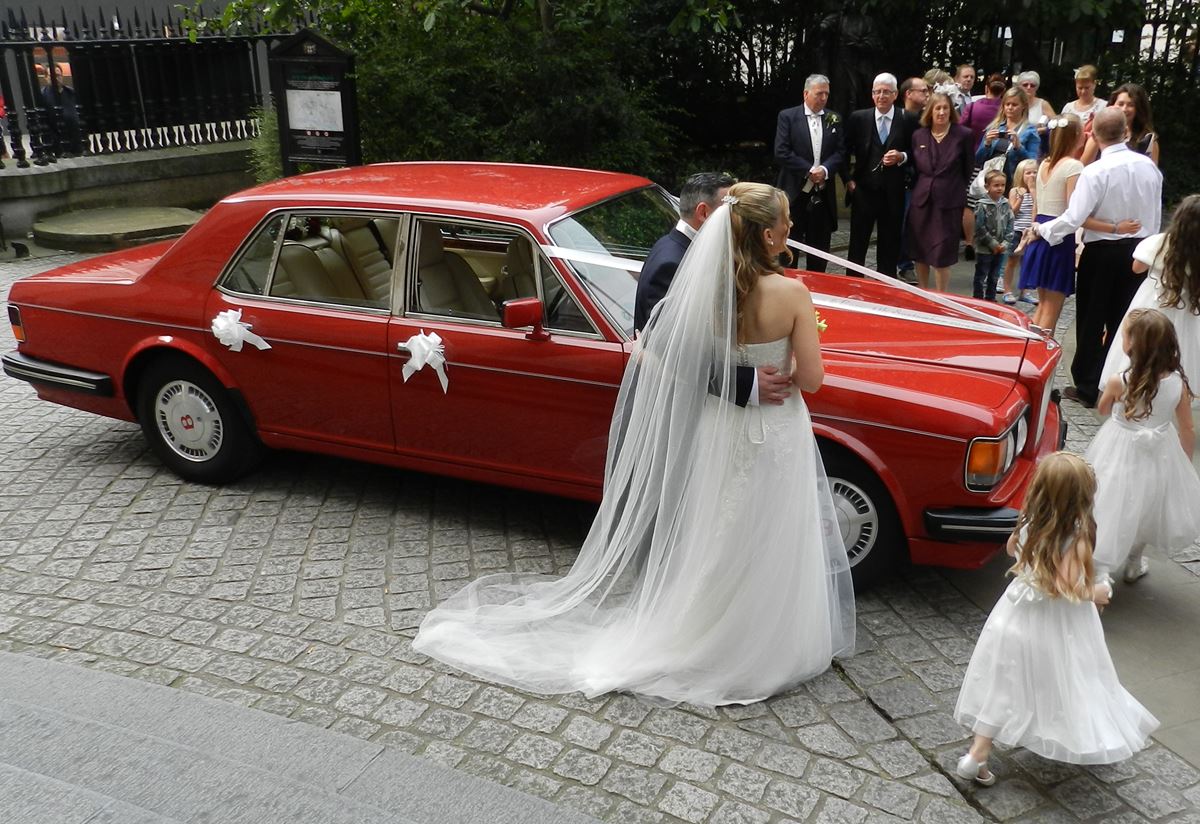 The team at Lady R Wedding and Chauffeur Hire know that every single element of your wedding day is important to get right. This includes your car hire. So how do Lady R Wedding and Chauffeur Hire have you covered? They provide a luxurious selection of modern and classic vehicles so that your wedding is utterly perfect. Choose from a beautiful white Rolls Royce and a jazzy red Bentley from this team's fleet and arrive at your wedding in chauffeured bliss.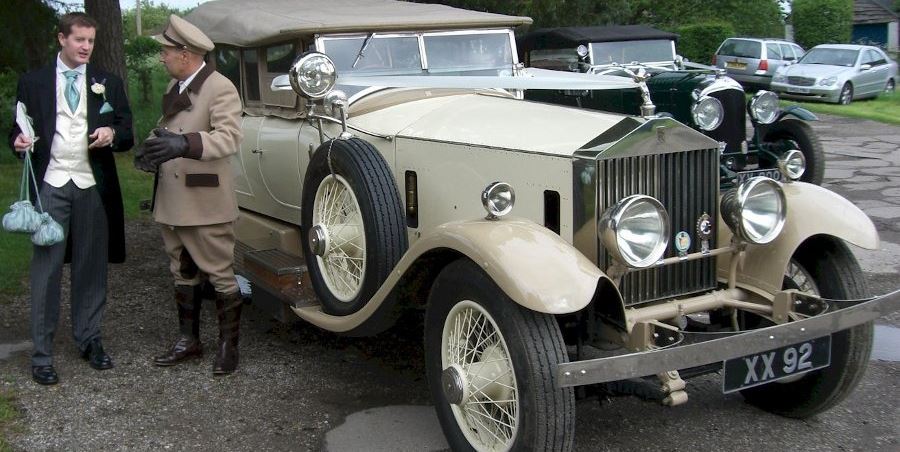 30 years ago the people at Allied Wedding Cars decided as a family unit to start a wedding car business, and after all this time their commitment to customer service and providing a huge range that can accommodate to anyone has never faltered. Every year they add a new car to their range, and should this massive list somehow not sate your interests, they also have partnerships with other providers that stock such exotic names as Ferrari, Lotus and Maserati.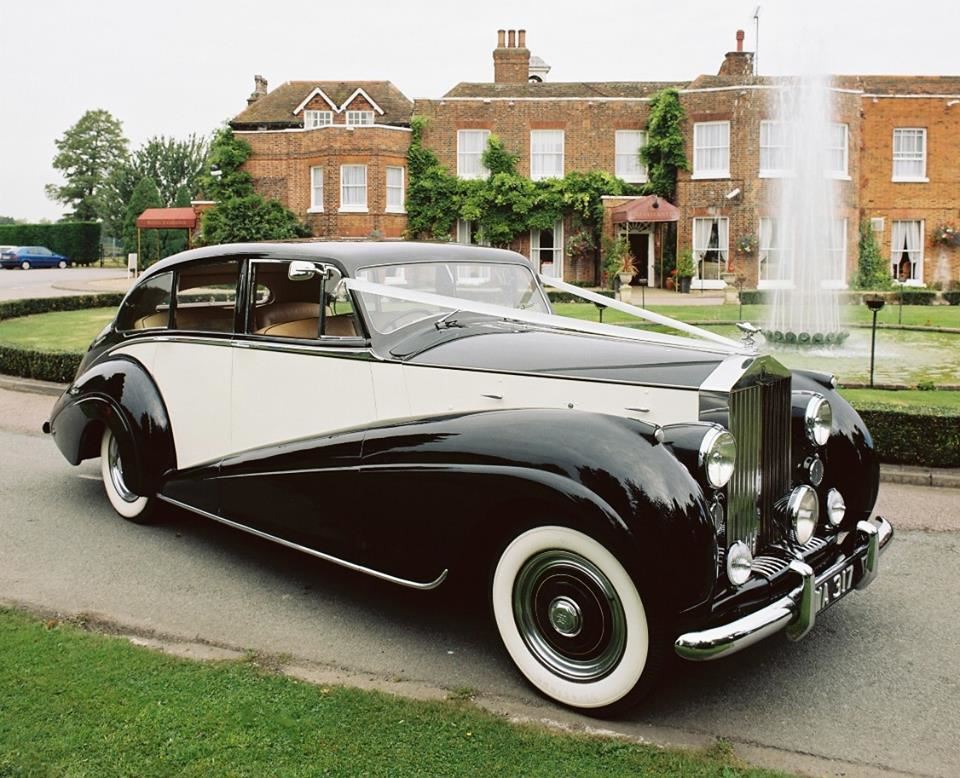 The team at London Legend Wedding Cars treat every wedding as the unique experience it is. No two couples are the same and therefore no two weddings are the same either, which is why you'll find that this team will tailor-make a package to suit your exact needs and requirements for your wedding. In their fleet, you'll find an extensive range of beautiful cars so that whatever your style is, you'll be covered. Find classic, vintage, quirky and modern cars, with even some London Routemaster buses. Find your ideal wedding car here.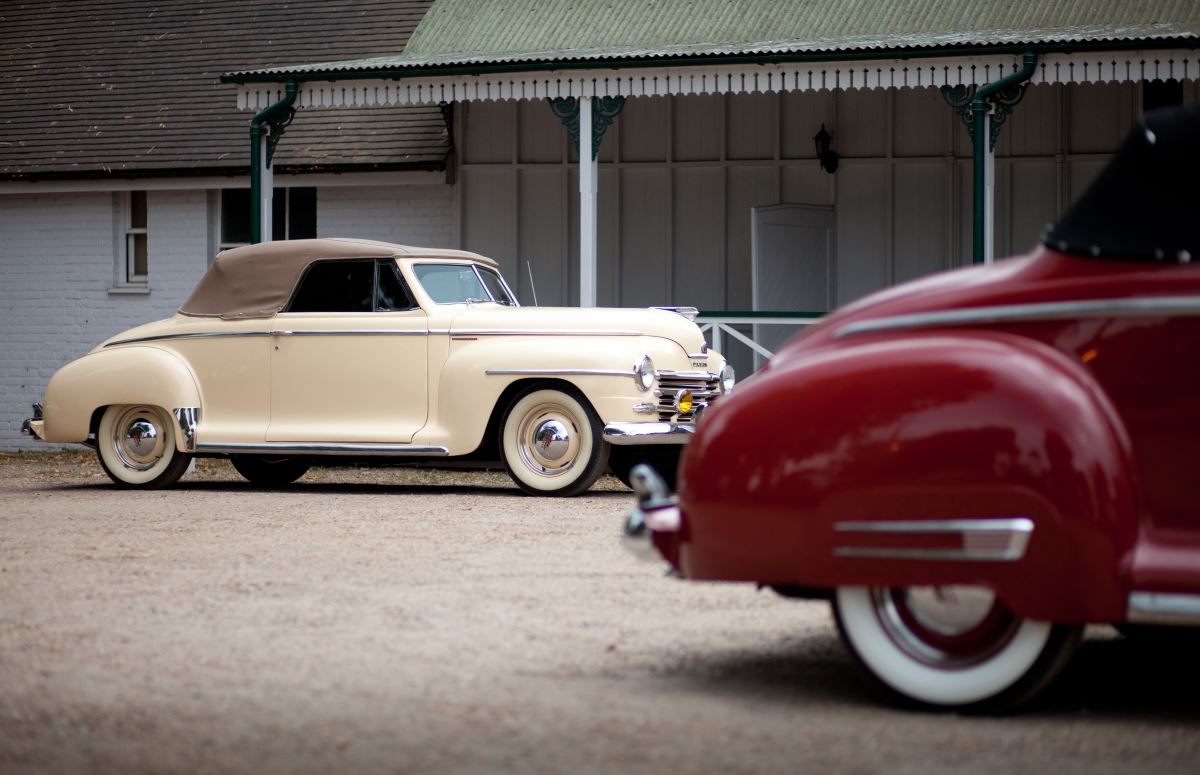 A twist on the usual wedding car provider, Deluxe Classics focus on American classic vehicles primarily, and boy is this collection something. Three incredibly maintained Plymouths dating back to the mid 40s, two in cherry red, but my personal favourite 1946 Convertible with Ivory exterior and red and cream interior. You won't find another car like this anywhere in the UK. If you're looking for a twist on the classics, from a brand that's a little bit rarer, Deluxe Classics have what you need. Fabulous.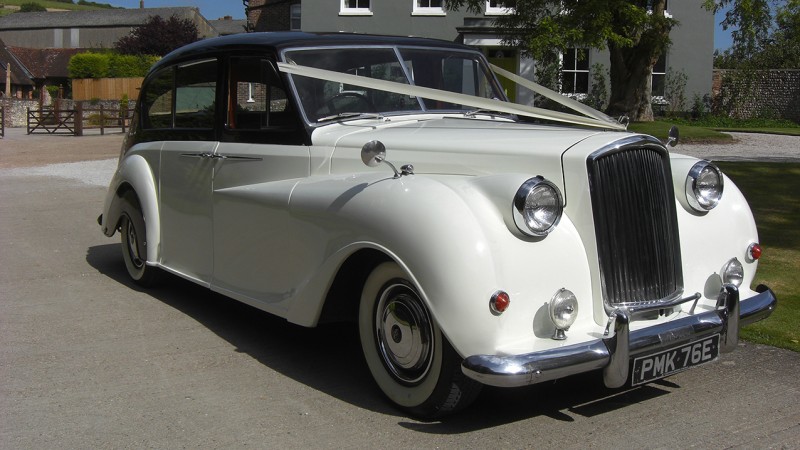 You'll be hard pressed to find a bigger collection of cars than what Premier Carriage have available. A staggering range of over 700 options, there is not just something for everyone here, there's several somethings for everyone. Classic options such as Daimler, Austin, Rolls Royce, Jaguar, Beauford and Mercedes come in near endless options. Less common options include (among an untold amount of others) the 1963 AEC Regent V Bus, a 1955 Buick Century, and a horse-drawn, Cinderella glass carriage.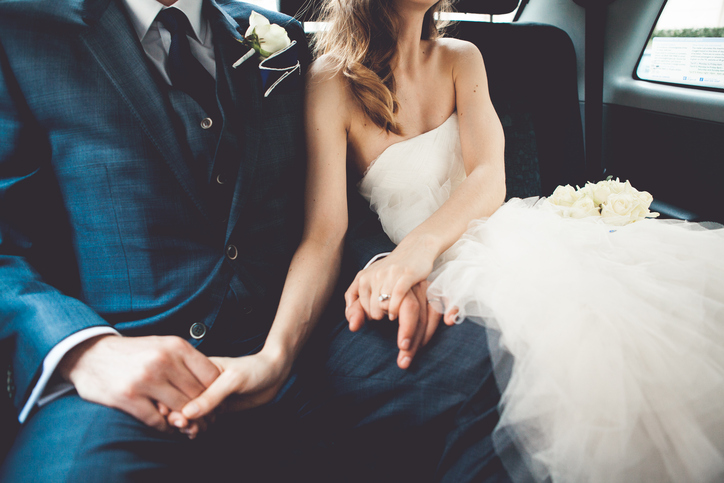 A charming niche option for those craving a classic look coupled with simplicity of choice. Clementine Vintage Cars offer a rare 1930s manufacturer and model known as the Roesch Talbot. Originally designed and crafted in London by George Roesch, who hoped to rival the dominance of Rolls Royce at the time. The Talbots come in the option of a vintage limousine style saloon, or a Drophead Coupe. The Drophead is particularly fantastic for those special photo opportunities. A rare delight.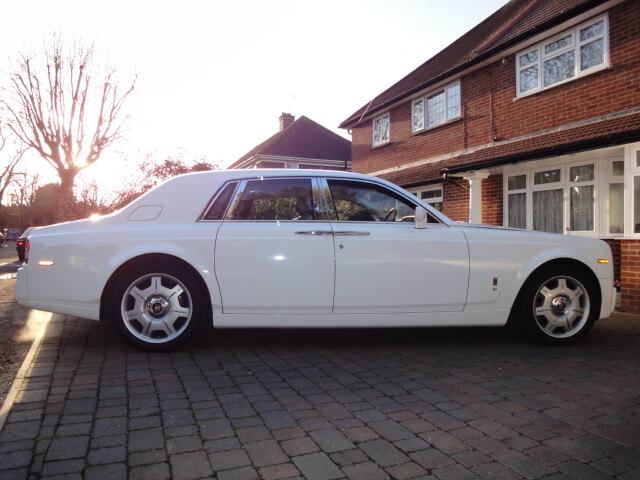 A more traditional option with a modern focus, JD Prestige Cars encapsulate their namesake perfectly, offering prestigious options for anyone looking for popular, iconic options. Rolls Royce Phantom 1 & 2 Models, the Rolls Royce Ghost, a pair of Bentley Mulsannes, a pair of Bentley Flying Spurs in silver and white, Some classic Jaguars and Rolls Royces, A Mercedes S Class, American Limo options, JD Prestige Cars has it all. They also have a rarely seen Ferrari California, in iconic Ferrari Red.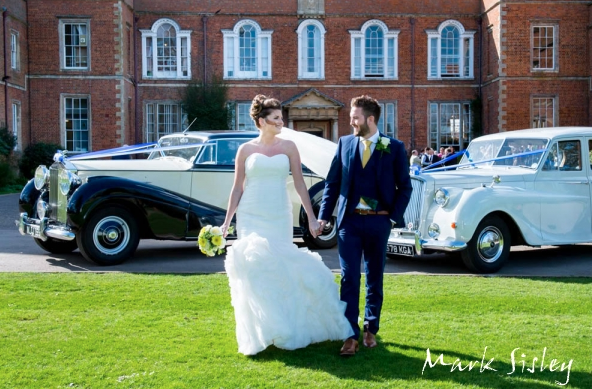 This is one for the true vintage lovers. Regency Carriages offer an incredible range of options, as long as the option you want is authentically old. And while they're all very old – the most modern car here is from 1966 – they're immaculately maintained and lovingly restored. You'll feel like royalty in the aptly named 1957 Austin Princess DS7 Saloon with Cream exterior, or any of the several Austin Princesses on offer, from the Cream option, to English White, to a classy two-tone Black and White. Perhaps the most striking option available here is the 1951Rolls Royce Silver Wraith, perhaps the quintessential wedding car, with Cream and Black exterior.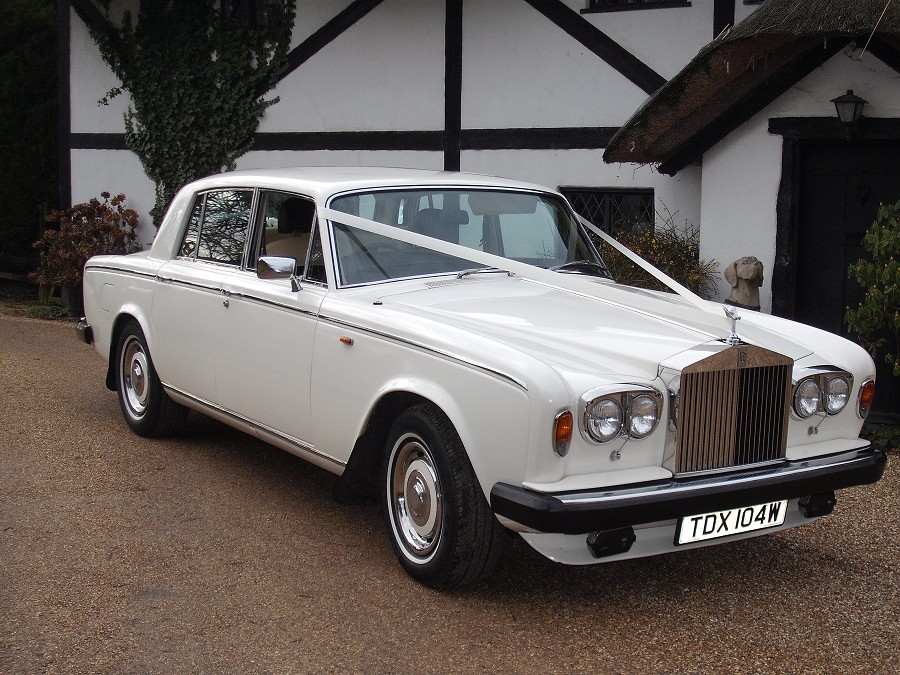 Now this is a special collection. At Elegant Lady Wedding Cars, Elegance is the ground floor. The namesake comes from their first vehicle, the flagship Rolls Royce Silver Shadow II, with magnolia and chestnut leather interior, walnut woodwork and lambswool carpeting. The pearl white exterior is the cherry on top here, a truly unique and beautiful vehicle. Want something a little different? Look no further than the 'Caribbean Queen', a silver blue Series 3 Bentley from 1963, a stunningly beautiful alternative.