If you're choosing to say 'I do' in Beverley, the market town in Yorkshire, here are the top wedding car providers that service the area.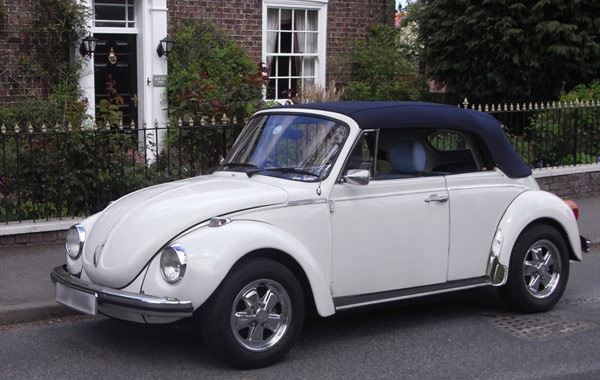 Cherry Classics are a Yorkshire-based family business who specialise in vintage wedding car hire. This team offer one beautiful vintage chauffeur-driven car in their fleet: a Volkswagen Beetle. This 1972 Lovebug is a fabulous convertible that comes in the perfect wedding colour: white. For a bit of interest, this car comes with powder blue interior and a rich blue mohair roof. This little dream boat has all of the elegance of a classic wedding car with a twist so it's ideal for those who are after something unique.

Silver Lane Wedding Cars have been hiring out their beautiful fleet for over six years. You'll find that within this time, they've managed to forge professional relationships with some of Yorkshire's most premier wedding venues, which only goes to show the kind of quality you'll be getting if you book with them. In their fleet which hosts a range of vintage and modern cars, you'll find a collection of silver and white vehicles for you to consider. Find cars from the 50s, 60s and 70s, alongside the best modern delights.

At Virto Limos, you'll find service that is efficient and punctual, so you won't have to worry about the timing at all on your big day. This team offer a range of wedding packages that are suited to your individual needs so you will truly feel like you're getting the best possible service. Ride in one of the well-maintained Virto Limos and arrive at your wedding in complete style, luxury and comfort.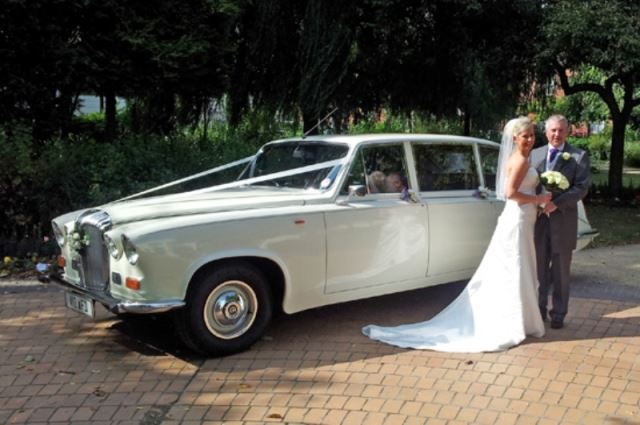 The team at The Classic Way believe that your wedding car hire should be a reliable and hassle free experience. Of course, everyone wants this so that all they need to focus on is enjoying their special day. But not everyone gets this treatment. You can though! The Classic Way are dedicated to give you both the high quality service and vehicles you would expect from a wedding car supplier. Hire a classic, luxurious beauty from this team and get the service to match.

Hull Wedding Cars is a small family-run business that specialise in luxury wedding car hire. This team are proud to have helped hundreds of happy couples get their perfect wedding day transport. This team are definitely out to please. In their fleet, you'll find two beautiful cars to choose from. If you love vintage style cars, then their Bramwith Barnsdale is certainly one to consider. This variety of car are specially built for the wedding industry so spouses-to-be are able to enjoy all of the vintage charm with modern mechanics. This adorable black and white car is a totally vintage dream. If you love a modern style car, then this team's Chrysler 300C Baby Bentley is a great choice. This car comes in white, so it's perfect for weddings, plus it's completely luxurious and stylish.

The Alternative Wedding Car Company aim to provide a range of beautiful and unique cars for wedding hire. They are completely dedicated to providing high quality service that everyone deserves for their wedding. This team will do everything they can to meet your expectations. In terms of their fleet, you'll find three beautifully stylish cars. Their first option is a Volkswagen Camper Van, which is perfect for those who love those beachy 70s vibes. Next is a luxurious Beauford, which is the wedding car of the moment. Last, is their stunning Austin York which is a vintage charmer that you'll completely fall for. All of these cars are perfect for your wedding. All you need to do is choose!

Stott Wedding Cars have been in the business for over 20 years, which tells you how experienced they are in hiring out wedding cars. Dedicated to providing great service and beautiful cars, Stott have just the fleet for you. In their collection you'll find two perfect vintage Bentleys. They're both in soft creamy white and have fab contrasting chrome accents. Fall in love with these two today.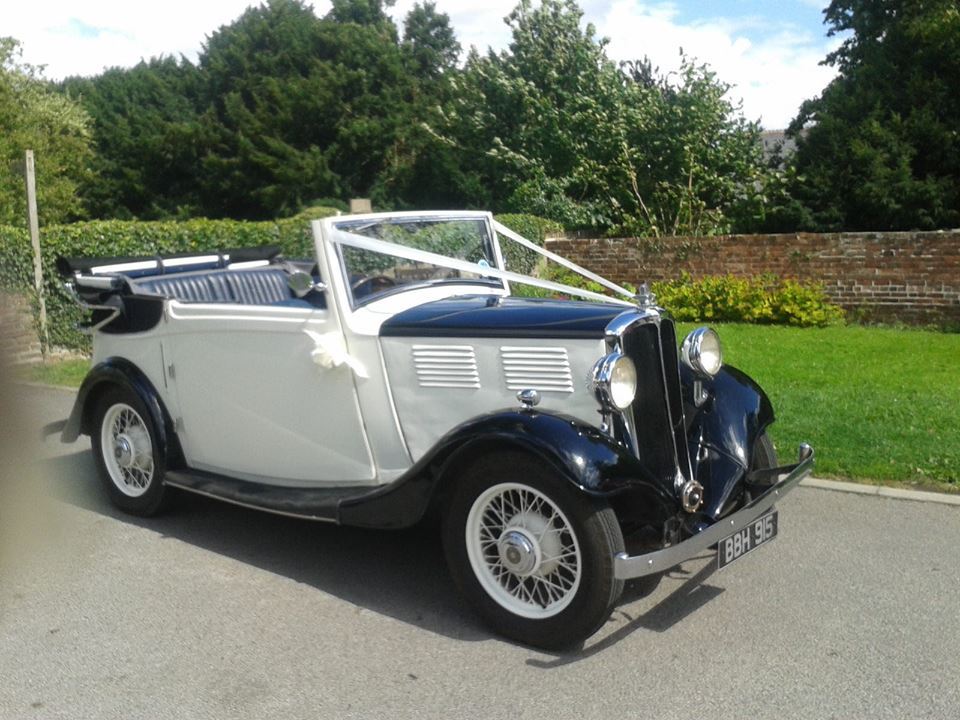 At East Riding Vintage you'll be treated to friendly, personal service with simple, tailored pricing. What more can you ask for from your wedding car provider? Oh yeah, cars! Boy, do this team have some great ones. You'll find a rare collection of authentic vintage vehicles in this team's fleet. Their 1938 Austin Windsor Limousine is a curvaceous black and white charmer, as is their 1952 burgundy and cream Daimler Consort. For something truly different for those who aren't looking for traditional car hire, hire their Indonesian Rickshaw for a fun and unique ride to your wedding that makes for great photos!

Superior Motor Cars are here to take you to those upcoming perfect moments that your wedding day is sure to have. This team specialise in providing immaculate cars that you will love to ride in as well as admire in your wedding photos for years to come. Their exceptional vintage fleet hosts a remarkable collection of cars from the 1930s, 1940s, 1950s, 1960s, 1970s and 1990s. Every vintage car of your dreams is right here. Superior Motor Cars are the experienced and professional team to help you get everything you're looking for from your wedding car hire.

Grimsby Weddings are here to offer professional service, alongside classic vintage car and limousine hire for weddings. In their fleet you'll be delighted by the range. You'll find everything from 1930s style Beaufords, a Mercedes S Class and a white Lincoln limousine, with many other vintage style vehicles in between. All you need to do is decide on which car you love best.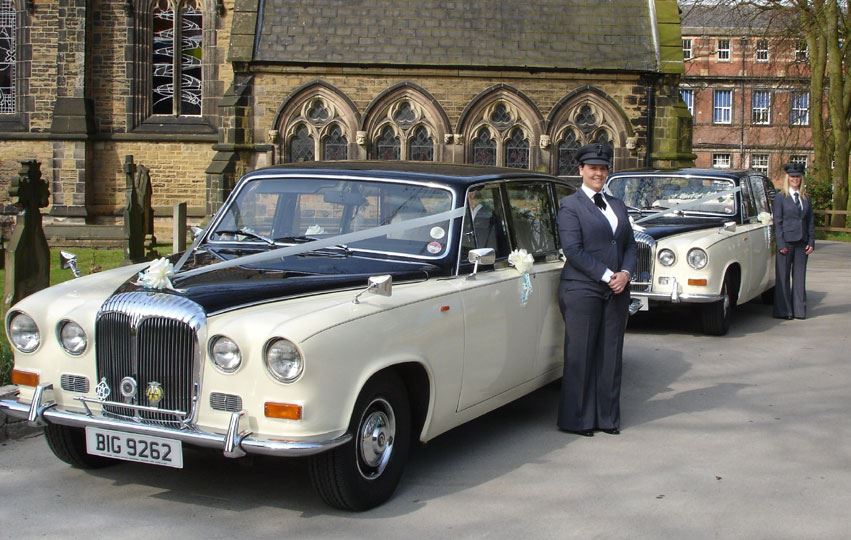 A service that provides an impressive choice, exclusively within the range of vintage and classic limousines. Not your modern day stretch limo, these are authentic, original designs, dating as far back as 1926 with the beautiful Austin Mayfair, an unparalleled icon of it's class that never fails to impress. As well as the Austin, Laura's Vintage Limousines also offer a famous pair of Daimler DS420 7 Seater models, available with Landaulette (convertible back top) or without. All cars are noted to have incredibly spacious interiors, and are immaculately cared for.

A family run business with a classy edge, Silver Star Wedding Cars provide a wide range of stunning, vintage-style wedding cars, all pristinely maintained in understated silver and grey-white colour variants. You'll feel like you've been sent back in time just for your wedding day in these authentic and charming cars, some with open-top convertible options. These vehicles have the perfect style for turning your wedding photos from memorable to breath-taking. It's your wedding, can you settle for less than breath-taking?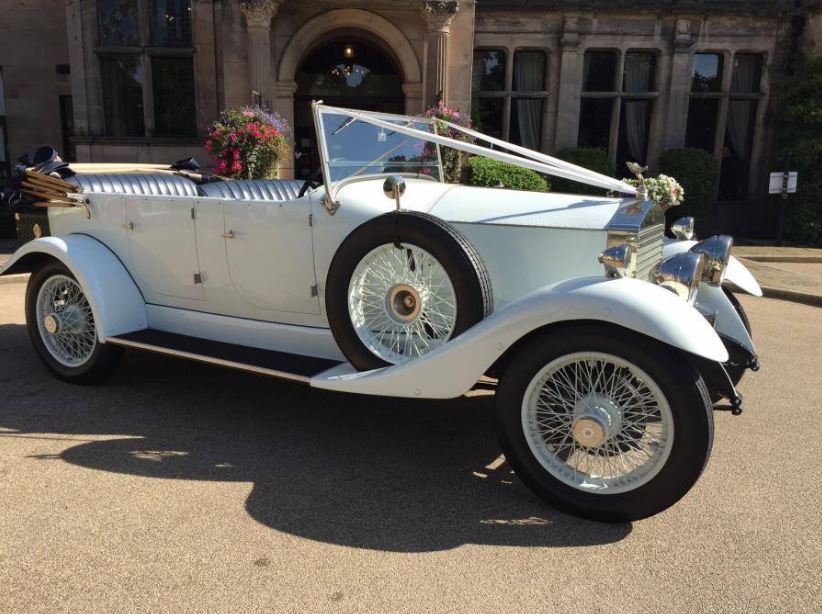 You'll be spoilt for choice when you choose Wedding Car Hire, one of the UK's biggest and fastest growing wedding car hire companies. A vast collection that can't be beat on choice or price, Wedding Car Hire has something for every type of occasion. Modern luxury and high end vehicles such as the Maserati Quattroporte, or the Aston Martin Rapide, go hand in hand with more classic, iconic vehicles, such as the Rolls Royce Silver Cloud, and the Bentley S. All come in a variety of colours, from a classic English white, to a luxurious, deep ruby red.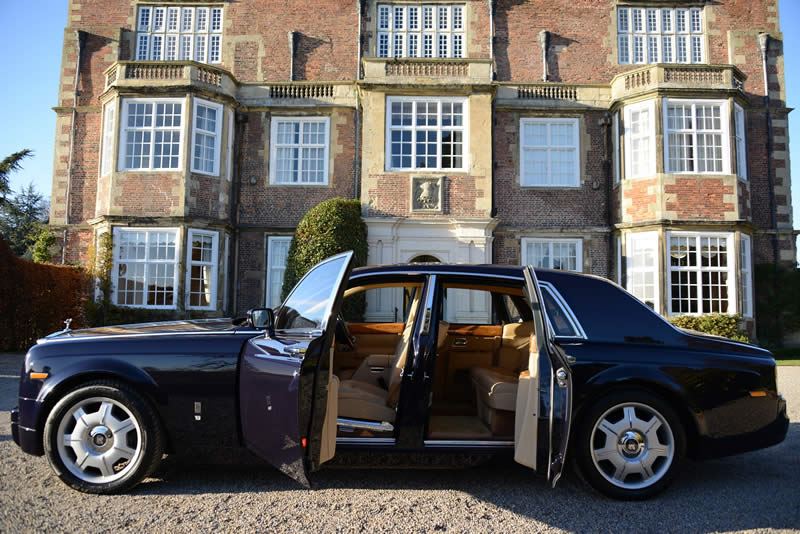 The motto at Yorkshire Wedding Cars is 'When only the best will do'. This says a lot about the level of service and the quality of the fleet this team provide. When it comes to service, this team have it mastered. Their vehicles are only hired out for one wedding a day, meaning there'll be no rushing or making you feel like you're just another pay check. This team will make their time with you special. Your chosen car will be decorated with ribbons and flowers and every car hire comes with a complimentary bottle of champagne to celebrate your newlywed status after the ceremony. In terms of cars, you'll be stunned by this luxurious modern collection of Rolls Royce, Mercedes, Range Rover and Porsche models.
If you're after a bespoke level of service for your wedding day car hire, then Dovecote Wedding Cars are here for you. This team is friendly and enthusiastic, with an aim to give you the best experience of your life. Their beautiful vintage fleet is full of classic wedding brands, the big icons, like Rolls Royce, Bentley and Daimler. You'll love what's on offer in this snazzy fleet, we guarantee it.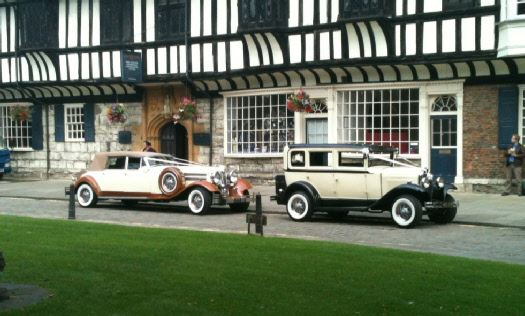 For experience, professional service and a truly stunning pair of cars, Eternity Wedding Cars are the ideal provider for you. This team have been providing that special service for the past 10 years and they have been left with a myriad of grateful and happy customers. Now that you know the service is great, let's move onto the cars. On offer in this collection are two vintage gems. The first is a 1930 style Barnsdale which is an elegant and romantic choice. Second is their Virage De Ville. This beautiful and exclusive car comes in tan and ivory and is a real showstopper. Wow your guests with either of these beauties and be treated to excellent service along the way.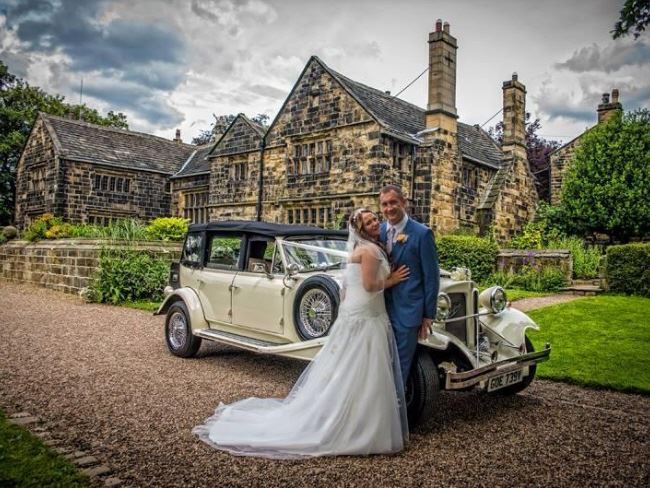 The team at BB Wedding Car Hire don't have the biggest fleet available, however it is delightful and it's full of quite a lot of variety considering. Find groovy Volkswagen campers that are too hard to resist. Marvel at the vintage quality of the 1930s style Beaufords. Find a luxurious companion with their modern Chrysler 300C vehicle, which has every mod con you could ask for. And to top this fleet off, everyone's favourite, a Rolls Royce Silver Shadow II. Because what's a wedding car fleet without a Rolls Royce?

At Kings Wedding Cars, you'll feel like a king – or queen – arriving and leaving the ceremony in such a luxury vehicle as one of these. In a choice of stunning silver, striking white and classic black, they offer two kinds of Rolls Royce, the vintage minded Silver Dawn and the sleek, modernistic Phantom. With matching leather interior, bespoke ribbon and floral arrangements, and uniformed chauffeurs, this is one service that exudes sophistication.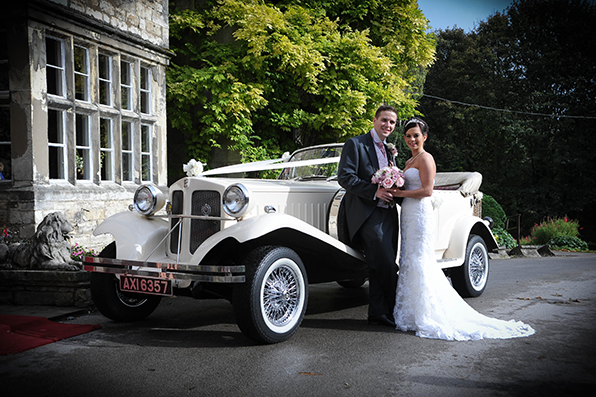 Romantic Classics Wedding Cars offer a pair of unique vehicles, one a vintage style option, and one a more modern style 7 seater limousine, both rendered in a crisp English White exterior. 'Daisy', a beautiful Beauford 2-seater tourer, with burgundy interior and mahogany trim, has all the quaint charm of a vintage classic. Daisy's counterpart is a rare Quest 7-seater limousine, cutely named 'Amy', with plenty of space for a full party and/or large dress.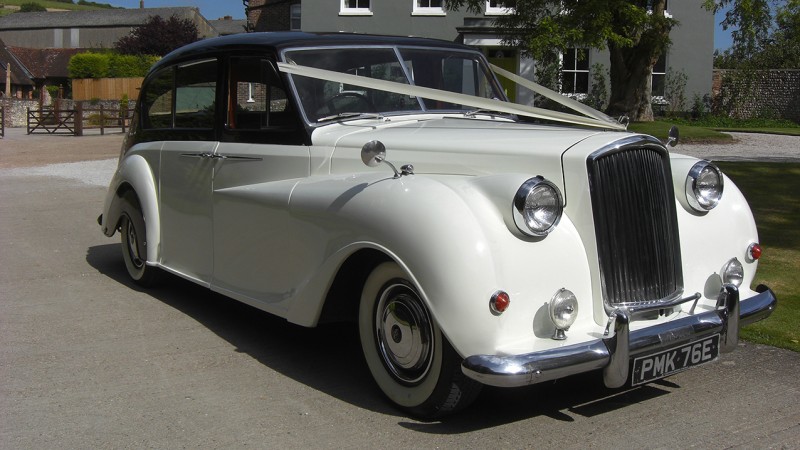 You'll be hard pressed to find a bigger collection of cars than what Premier Carriage have available. A staggering range of over 700 options, there is not just something for everyone here, there's several somethings for everyone. Classic options such as Daimler, Austin, Rolls Royce, Jaguar, Beauford and Mercedes come in near endless options. Less common options include (among an untold amount of others) the 1963 AEC Regent V Bus, a 1955 Buick Century, and a horse-drawn, Cinderella glass carriage.