To make your special day as perfect as can be, you'll need the ideal car to get you to your wedding on time and in style. Here are Suffolk's top wedding car providers for you to consider for your wedding transport.
The team at WeddingCarHire.co.uk are here to bring you a range of fantastic cars for you to consider for your wedding day car hire. This UK-wide company are all about bringing their clients the best cars they could ask for, and this is why they have such an extensive fleet that encompasses every style of car you may want for your wedding. In their fleet, you'll find cars that date back to the 1920s and ones that are so modern and new that they still have that new car scent. This team even offer some self-drive options as well as chauffeur-driven ones.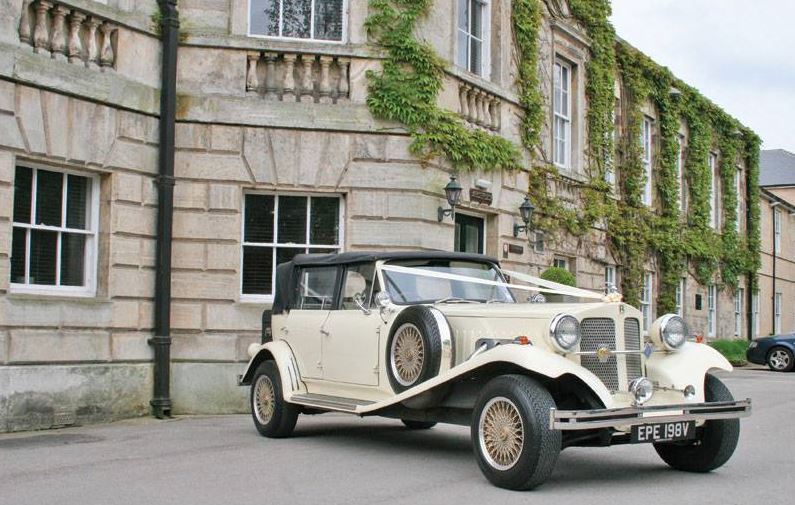 The team at Lady R Wedding and Chauffeur Hire are all about transporting happy couples to their wedding days in total comfort and perfect style. This team offer two amazing vintage cars for your upcoming wedding. In their fleet you'll find a classic Rolls Royce Silver Spirit II. This crisp white car is elegant and stylish. It is perfect for weddings due to its vintage charm and classic colouring. If you're looking for a jazzier choice, consider this team's Bentley Turbo R. This red number is completely stunning and has got all of that classic vintage charm, but with a louder exterior. Prices start at £150.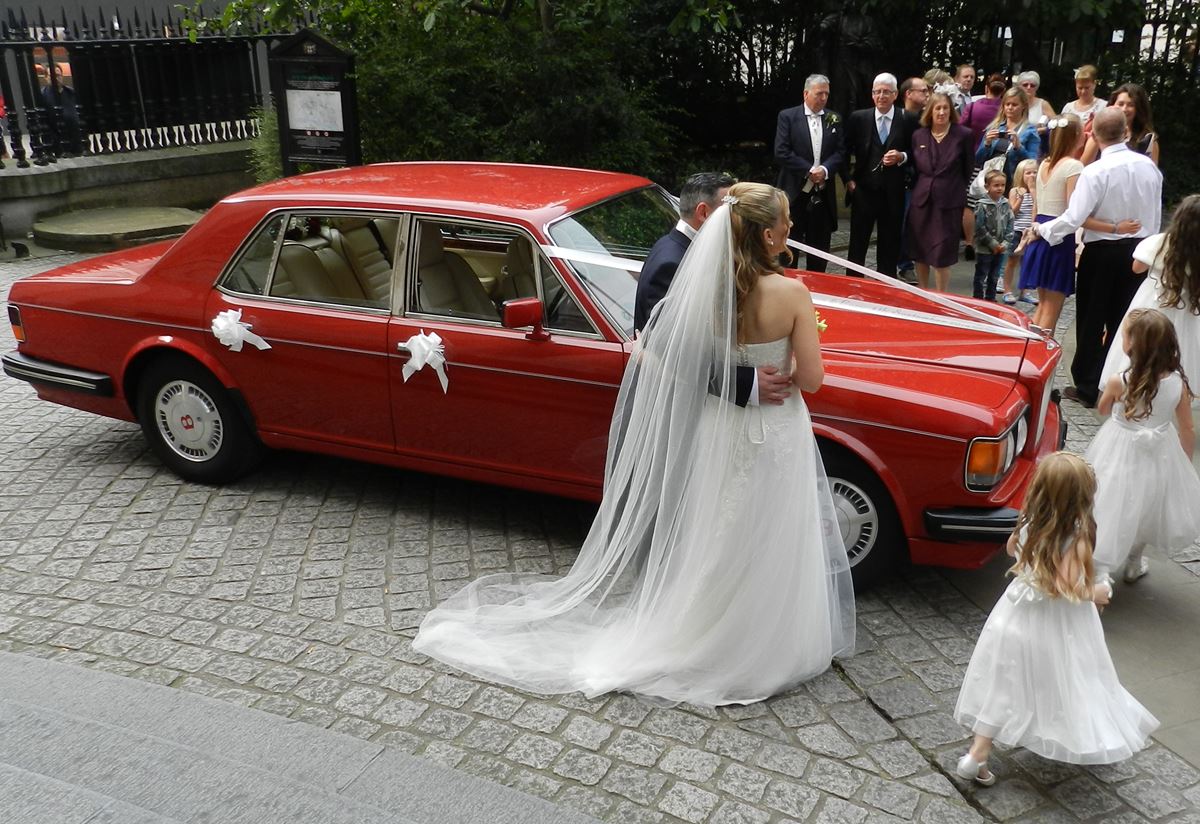 Classic Clara is the ideal car provider for those who love true vintage vehicles. This team have two gorgeous cars available to hire for weddings and they're both delightful. Their first car and their namesake, Clara is a 1964 Rover P4, finished in beautiful cream. Clara a total beauty and is the sweetest car for wedding transport. She's stylish, yet understated and looks great in wedding photos. Also on offer is Willow who is a 1968 Daimler V8 250. As the name suggests, this little doll is willow green and is just as adorable as Clara. Either of these cars will help you make the perfect entrance to your wedding.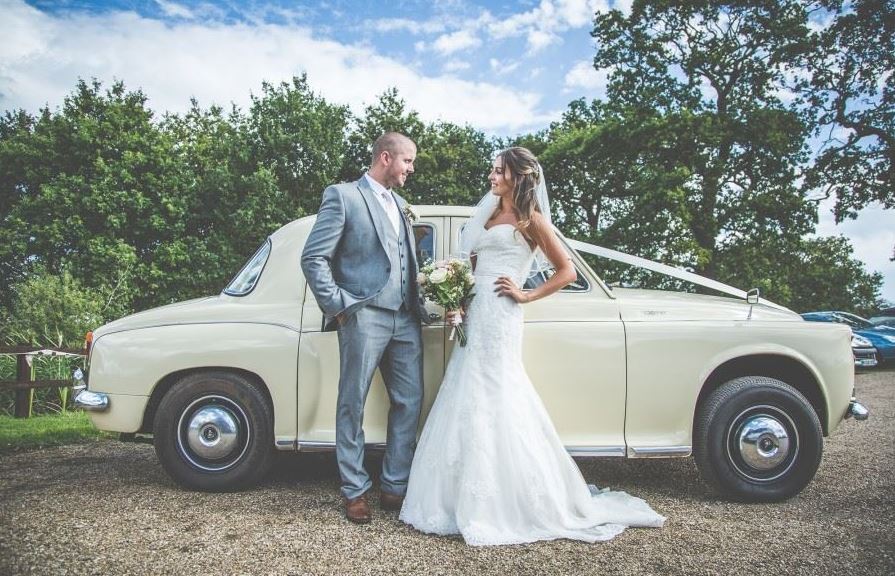 Even though Whites Executive Cars are a small family run business, this team manages to have perfectly maintained vehicles and high-end luxury vehicles. For your wedding, you can choose from two Mercedes models or a Ford Mustang 2016 GT, which comes in fire engine red. These vehicles are all made for a luxurious ride so you can sit back and relax as you cruise along to say 'I do'.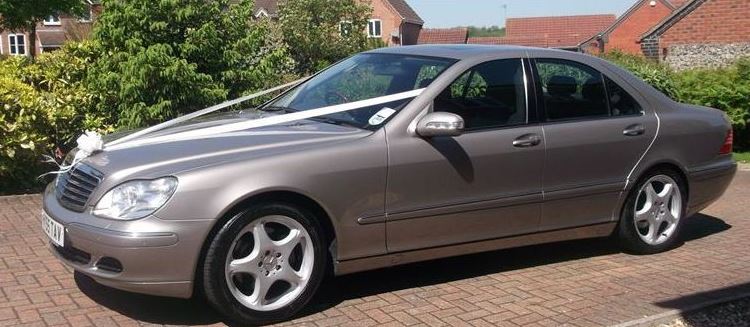 If you're looking for some true classic vintage numbers to pick from for your wedding, then you've come to right place. Brooks Vintage Car Hire specialises in hiring out cars pre-dating 1940. If you love cars from the 20s and 30s, then you'll be enamoured by what's on offer here. Their 1934 Rolls Royce 20/25 Limousine is elegant in shape and quirky in its yellow colouring. The 1928 Austin 12/4 Landaulette is truly spectacular with its shiny bright red exterior and fold-down back hood. Every car in this collection is a dream and would be perfect to take you to your wedding.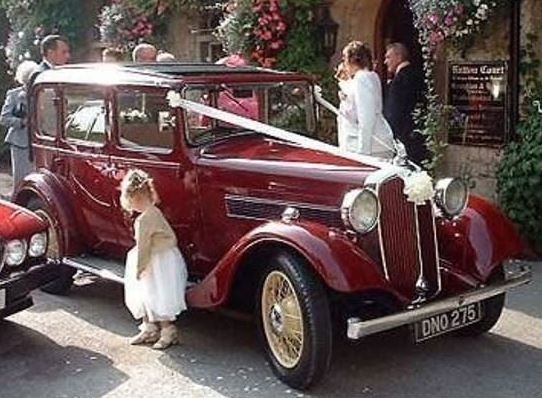 The team at Aye Deneaux like the unique. This is why they've got one quirky car available to hire. They've steered clear of the traditional Rolls Royce and Daimler vehicles that are very popular with British weddings and decided on something different. They have a Humber Pullman Cabriolet wedding car on offer to take you to your wedding. With its fold-down roof and lustrous finish, this car is idyllic for your spring or summer wedding.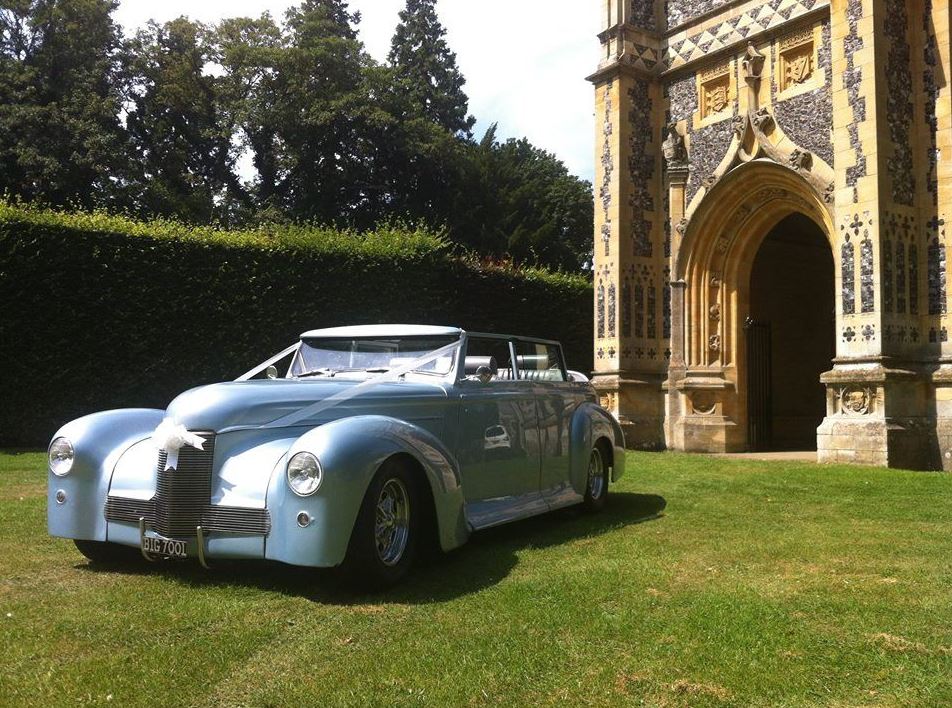 Aristoclassics Wedding Cars have got everything you'd want in a car company. With wedding classics like a Daimler limo and a Rolls Royce Silver Cloud, alongside unique vintage numbers like the Ford Charabanc and the 1934 Hupmobile, you'll fall in love with this fleet. This team even offer a 1961 convertible Morris Minor which comes in cream with a burgundy roof. This little car is a darling and is ideal for couples who love vintage cars, but don't want to go "too vintage".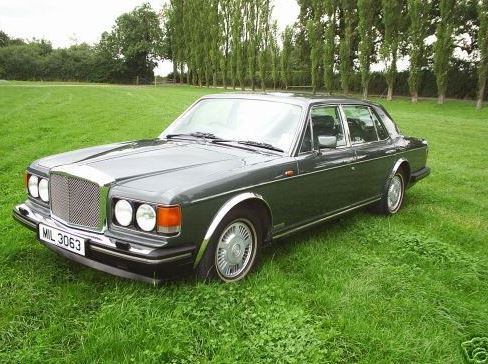 If you're looking for the best in limousines, then you're definitely barking up the right tree with Bkp Limousines. This team have everything you could want in a limo to get you to the most important day of your life. They've got a Hummer H3 Stretch, a Chrysler 300 Stretch and a fabulous Lincoln Krystal in pink! Whatever limo style you favour this team will have what you want. This team even offer some smaller vehicles including their Bentley Arnarge 6 and a vintage style Beauford Tourer Series 3. It's all here just waiting for you!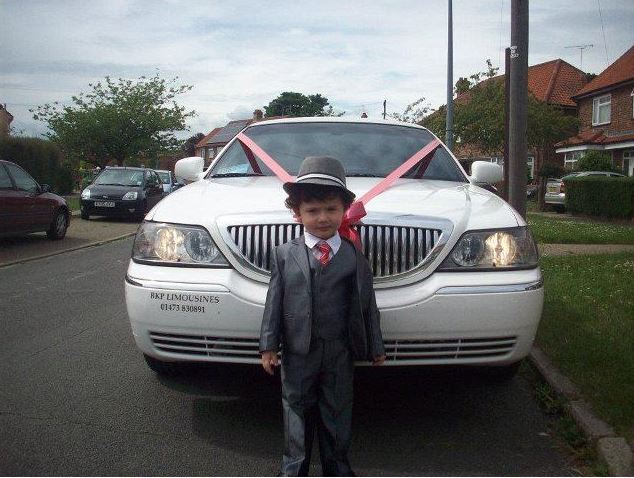 Have you always wanted to arrive at your wedding in a truly unique red convertible? How does a car that is the only one of its kind in the UK sound to you? If this is getting you excited, then just wait for you to see the Delta 88 Royal on offer from DNG Cars. This baby is a bright red convertible that oozes vintage style, making it ideal to escort you to your summer wedding. With beautiful modern cars to complement the Delta including the best Mercedes makes, you'll definitely want to book with DNG Cars.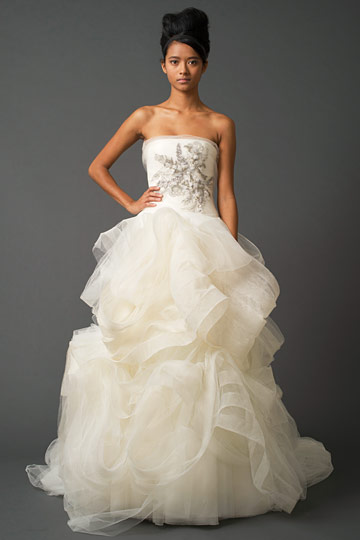 If you're after the best Bentley and Mercedes makes to choose from for your wedding, then be sure to check out Lister Chauffeur Driven Luxury Cars. This team not only offer the best executive cars, but they also pride themselves on their reliability and affordable prices. So if you're on a budget, make sure to check this team out before you hop the bus in your wedding gear.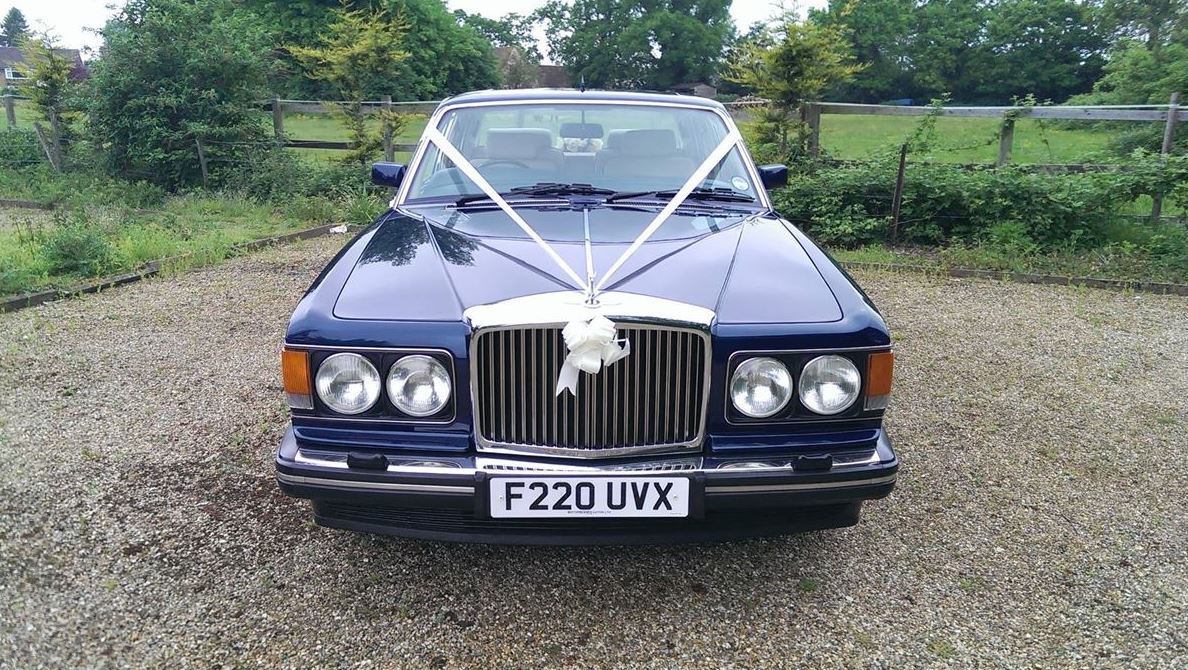 For lovers of the trustworthy Volkswagen, you'll love what the team at SBI Wedding Cars has for you. This team have an adorable 1972 white VW Beetle Karmann Ghia convertible for hire. This little car was purchased in 1973 in Naples, Italy giving it some true Italian spirit. After being brought back to the UK, the car's interiors were reupholstered in white leather and refitted with bridal red carpet. With the luxurious fit out and the supremely adorable style of this sweet Volkswagen, you'll be in heaven in this car. Their bridal package starts from £250 which includes the car, a uniformed chauffeur, two trips (one with the bride to the ceremony and one with the newlyweds to the reception), decorative car ribbons and a bottle of locally-sourced sparkling wine.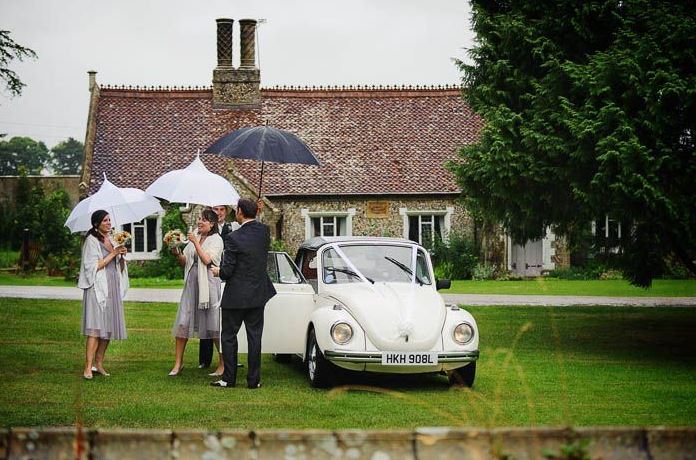 If you don't want to stray from tradition, then you'll like what's in store at Autoclassic Wedding Cars. This team offer a Daimler limousine which is a classic wedding car from British weddings. It has 7-8 seats, making it ideal for not just the bride and groom but a few members of the bridal party or your parents too. With their Daimler Saloon alongside a vintage Wolseley Tourer, you'll have all the classic choices you could ask for with this team.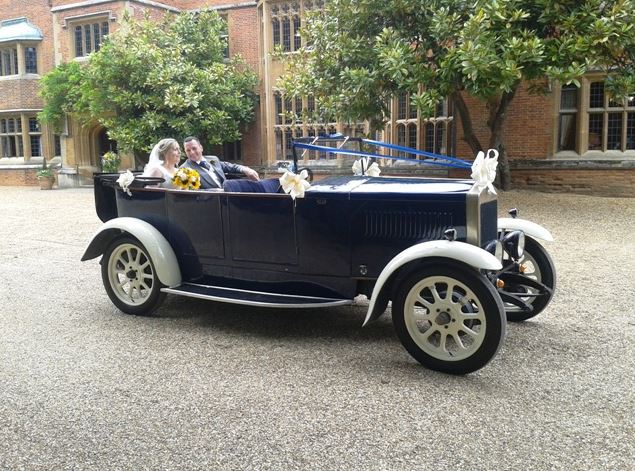 The team at Beautiful Day Wedding Cars specialise in the hire of their vintage style wedding car. This car is an Imperial Landaulette which looks exactly like something straight out of the 1930s, yet it's completely modern. They've dubbed this beautiful number 'Tilly' and would love to share her perfect vintage style with you. You'll love this Landaulette's luxurious interior where you'll find yourself totally at ease.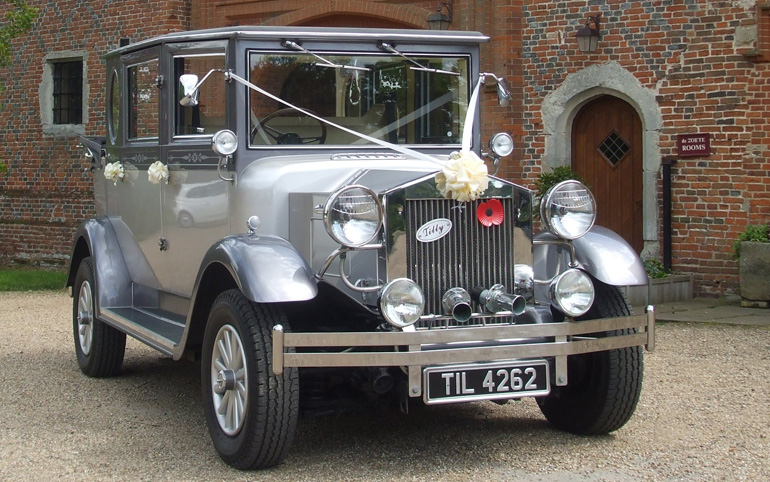 At Prestige Travel Suffolk, you'll find various luxury travel options for your upcoming wedding day. This team offer chauffeur-driven car hire at competitive prices so that you can arrive to your wedding in style, without breaking the budget. In their fleet, you'll find luxurious modern cars including a stylish limousine, a Range Rover and a Jaguar S Type. These cars are all perfect for those couples who want something reliable, comfortable and stylish. With prices starting at just £179, Prestige Travel are a great option to check out.

At Cupid Cars, you'll find a team that specialise in chauffeur-driven wedding car hire. This team pride themselves on their personal and professional service, which is exactly what you want for your upcoming wedding. In their fleet, you'll find both vintage and modern cars which is perfect for those who want a lot of choice. You'll find limousines in their fleet, which includes an amazing old English white Daimler Limousine. This beauty from 1983 is a classic for weddings. It has wonderful features like plush grey leather seats and walnut woodwork. There are plenty more to be seen in this fab fleet.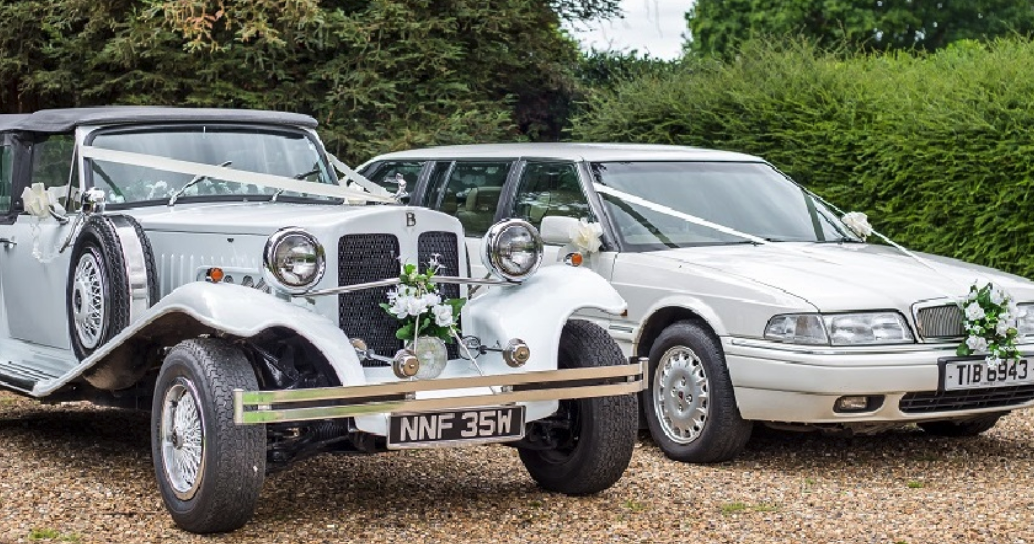 The team at Excelan are here to give you a gift. The gift they want to share with you is to completely remove the stress you have about your wedding car hire. They're able to do this by providing immaculate cars that arrive earlier than your intended appointment time on your big day. You'll be completely reassured that you'll be leaving in the perfect car for you and that your trip will be relaxed and comfortable. You can choose between vintage and modern in this snazzy fleet. Their BMW and their Audi hold the reigns for luxurious modern makes, and their Jaguar MK9 and Jaguar 1.5 Litre are the fabulous vintage delights of your dreams.

If you're all about classic vintage cars, then you're definitely in the right place with FT Classic Hire. This team not only have a fabulous fleet which we'll come back to in a moment, but they also have some great and flexible hire options. Most wedding car providers offer chauffeur-driven car hire only, but this team offer both chauffeur-driven as well as self-drive options. This means that you can drive yourself to your wedding in your dream car. Now, time to get back to the fleet. This team's amazing fleet includes a 1963 Austin, a 1966 Jaguar, a 1950 MG and even a 1948 Routemaster bus. Plenty of amazing vintage cars, as well as some modern ones too. Check this fleet out – you won't be disappointed!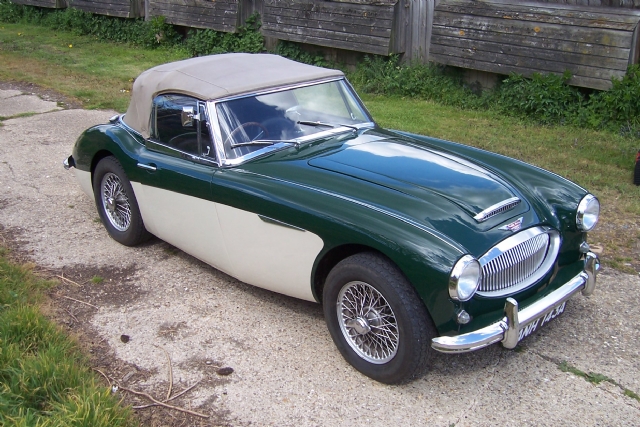 Are you searching for wedding car hire that is a bit unique? Do you want something memorable that has an exotic charm? If you're answering 'yes' for all of these questions, then Big Sky Classic Car Hire are the right providers for you. This professional team have all the expertise and know how to give you the perfect car hire. Find unique cars like the 1996 Morgan or the 1991 Figaro. Plenty of beautiful cars to be seen here.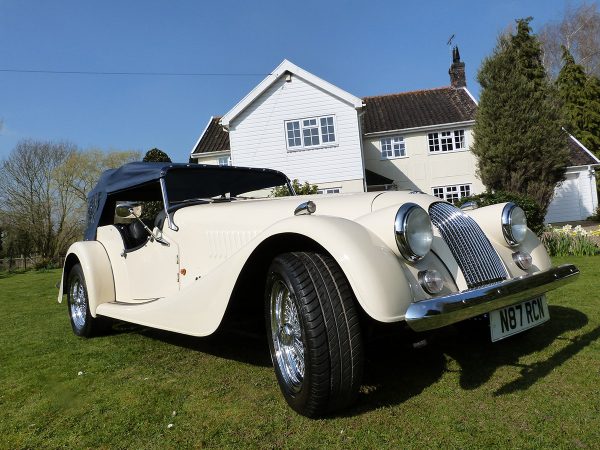 The team at Vintage Occasions Wedding Cars specialise in the hire of vintage Rolls Royce cars for weddings. This team always hire their cars out chauffeur-driven, which means you won't need to worry about a thing on how to get to your wedding. All you need to do is sit back, relax and let the professionals handle everything. This team's amazing fleet of vintage Rolls Royce cars is not to be missed. You'll find makes that date back all the way to the 1930s up to the 1960s.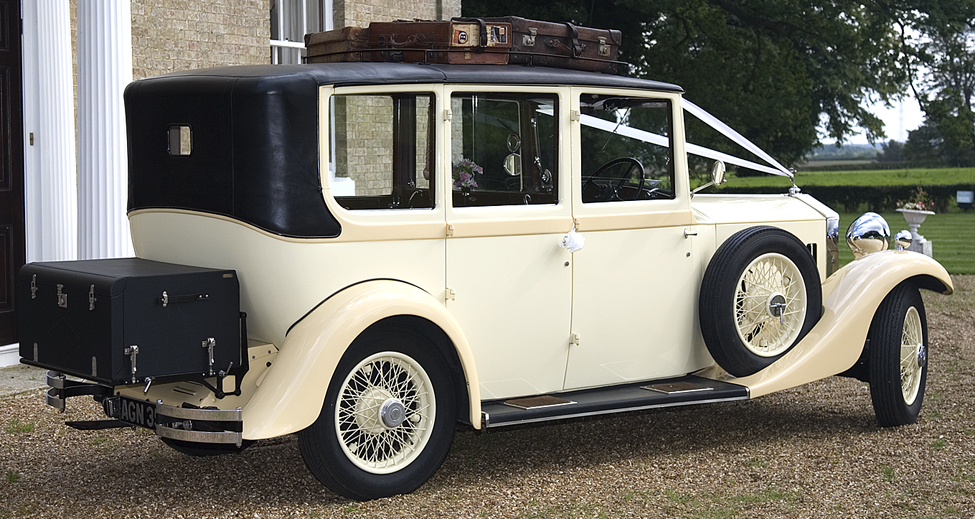 At Premier Carriage, you'll find an extensive fleet of beautiful and prestigious wedding cars for you to consider for your big day. In this fleet, you'll find modern luxury makes as well as vintage classics dating back to the 1950s and 1960s. With over 12,000 weddings under their belt, this team are definitely worth considering for your wedding car hire.