The drive to your wedding is arguably the most important trip you'll ever take. Let's make it as special as can be with these top-notch wedding car providers in Salisbury.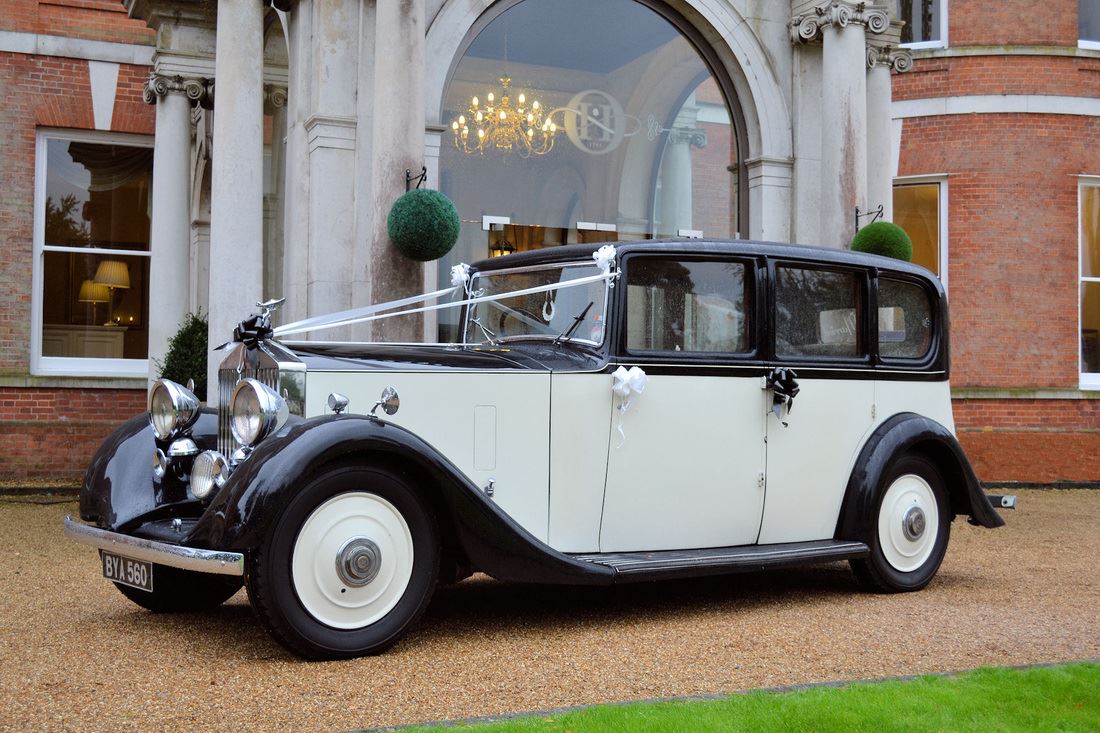 Brian and Liz are the owners of the multi award winning Cathedral Cars. This family run business love to give the best possible service, which is what any couple is after for their wedding. Attention to detail and personal treatment are second nature to this team so you know you'll be in good hands. When it comes to their fleet, you'll find some beauties. Their 1935 Rolls Royce is a classy and elegant car that really shines in photos. If you like that stately look, this team offer two white Daimler's, one being a convertible. Any of the lovely cars in this fleet are the perfect for your wedding.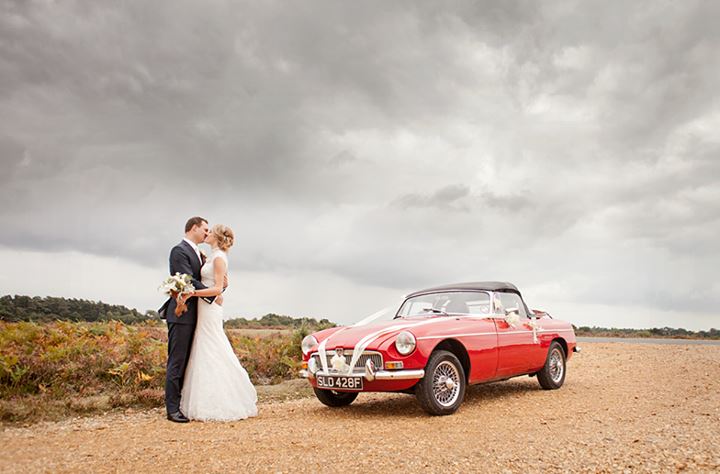 For that great and quirky range of wedding cars, consider Nostalgic Car Hire. Their Triumph Stag in bright blue is perfect for brides who like punchy cars or for grooms who want to be driven to the wedding in style too. For something more classical, the Riley Mentone 19 and Austin Mulliner are vintage delights. Feel like old school 1920s socialites in either of these cars. For something really quirky, choose one of the team's vintage Range Rovers which are a fun twist on the standard vintage wedding car. And for that completely adorable charm, their Ford Zephyr from 1959 is the sweet little ivory wedding car of your dreams.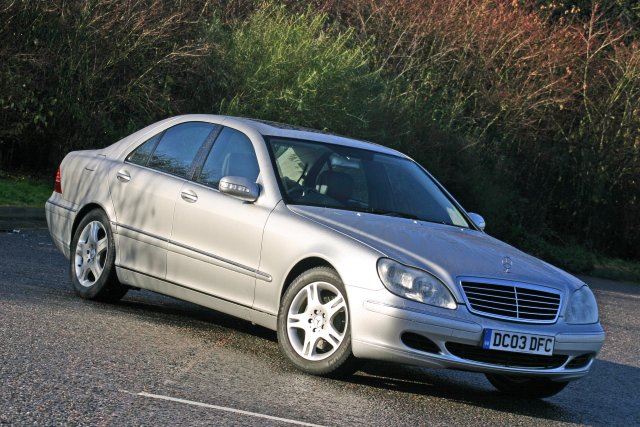 Let Distinguished Carriages take care of everything so you can focus on the more important things. This team are all about providing that easy service that is impossible to pass up. As you get closer to your wedding, you'll realise that you need more and more things. Little things that you didn't think of when you first started. Have one of those things be taken care of for you. Luxury wedding cars are just moments away.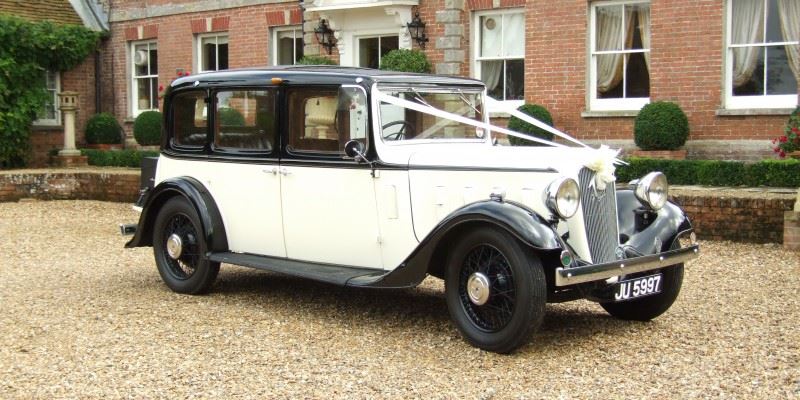 If you're after an immaculate wedding car from a flexible team, then Austin-Beauford Wedding Cars are the providers for you. This team have a beautiful range of vintage and vintage style cars for you to consider. You'll find makes including Jaguar, Austin, Morris, Vanden Plas and Beauford in this unique fleet. These cars are in beautiful condition, making this team a supreme choice for your wedding. This team won't make you feel rushed or under pressure to get things underway at a particular time. No, they'll only book your wedding on the day meaning time limits are a non-issue here. Prices start at a the hugely affordable price of £225, so if you love a bit of vintage class and great service, then look no further.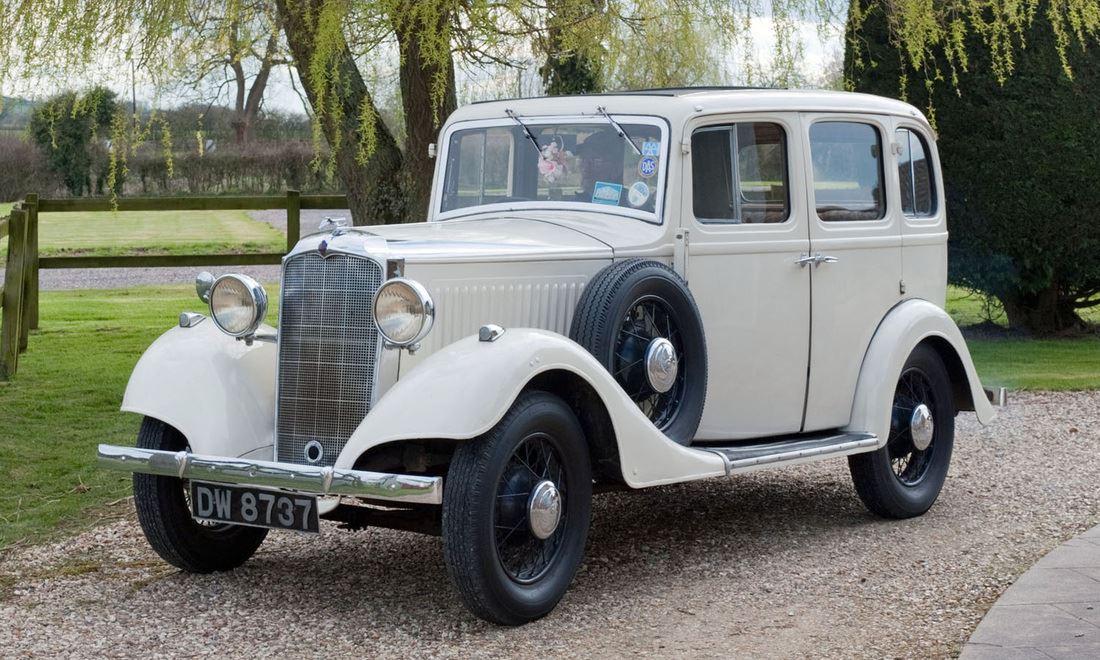 Despite the name suggesting that this team is a museum one-trick pony, you'll be delighted to discover that they actually hire out many of their cars for weddings. How cool is that? With cars ranging in vintage from 1920s to 1970s, you'll be spoilt for choice as their fleet is hugely substantial. Prices with this very cool museum start at £240.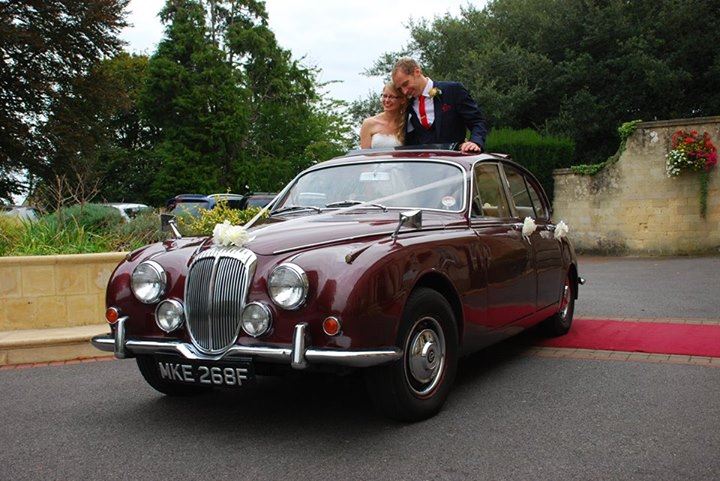 The team at Simply Memorable Wedding Car Hire is all about providing high quality and friendly service. You can choose from a vintage classic or a modern executive car. It all just depends on your style. For their vintage offering, you'll find a stunningly beautiful 1967 Daimler V8 250. This burgundy beauty is the curvaceous vintage dream you've been searching for. If modern is more your thing, then the Jaguar XJ8 is a sleek and elegant silver number, perfect for weddings. Whatever your style, this team have got you covered.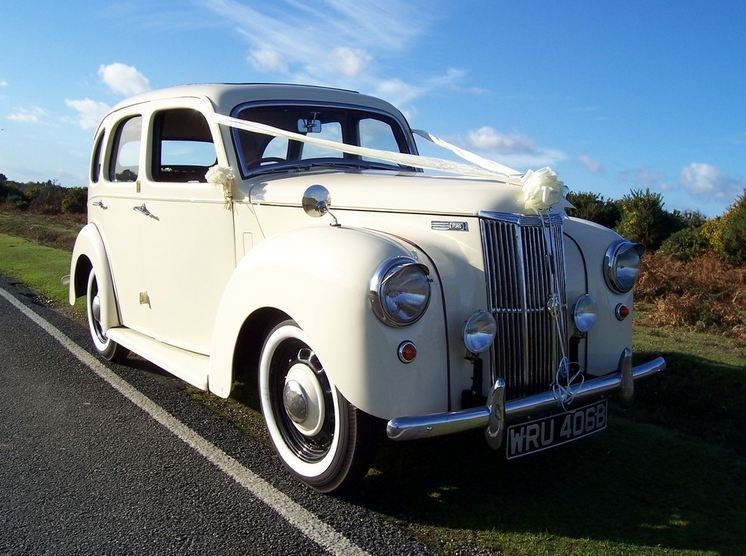 For prompt and reliable service, Exbury Classics are here. This team love to hire out beautiful classic wedding cars for affordable prices. Which is sounding pretty amazing to us! The chauffeur you'll have will be dedicated to providing you with a smooth and easy ride and of course, they'll be as courteous as can be. For that VIP treatment, stunning vintage cars and rates starting at £225, this team are a great choice.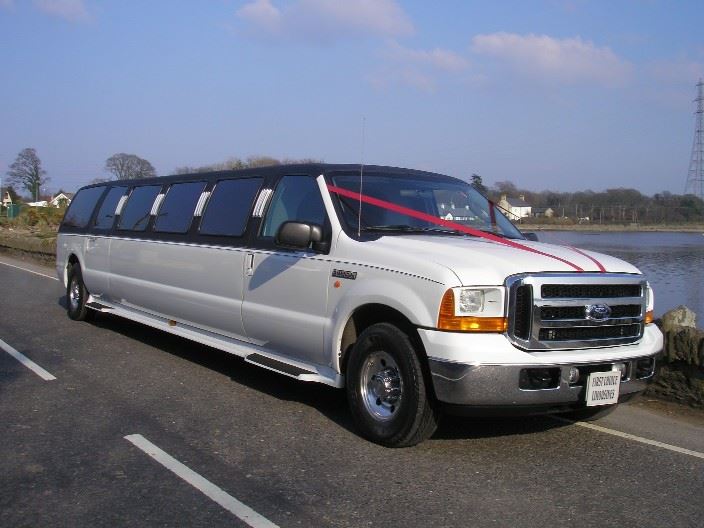 Focusing on providing that top quality transportation, 1st Choice Limousines are a great team to consider for your wedding. This team are here to make the journey to your wedding completely unforgettable. With executive modern cars on offer alongside classics, you'll be able to choose whatever car speaks to you. Bentley, Mercedes, Jaguar, Cadillac, Rolls Royce and some seriously snazzy stretch limousines all feature in this delightful fleet. Check them out today.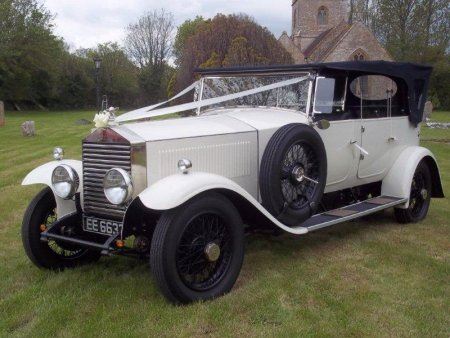 With nearly 40 years of experience, the team at Superwed Cars are here to provide that amazing service that you're looking for. Being friendly and helpful is this team's focus, so you'll be feeling comfortable and at ease throughout the whole process. The fleet on offer here is huge. Literally every style of car is covered so don't fret if you've got no idea what you're looking for. Find genuine 1920s and 1930s Rolls Royce and Austin makes, which are the perfect wedding cars due to their distinctive elegant style. Curvier makes include 1940s and 1950s Morris Minor, Bentley and Jaguar cars, which all epitomise the eras completely. For a splash of colour, see their 1959 pink Cadillacs and their sky blue 1956 Chevrolet. VW Campers, vintage buses, a New York cab and a Tesla all feature in this incredibly varied fleet. We haven't even begun to scratch the surface of what is on offer here. If you're intrigued, then make sure you check them out. You'll love what you see.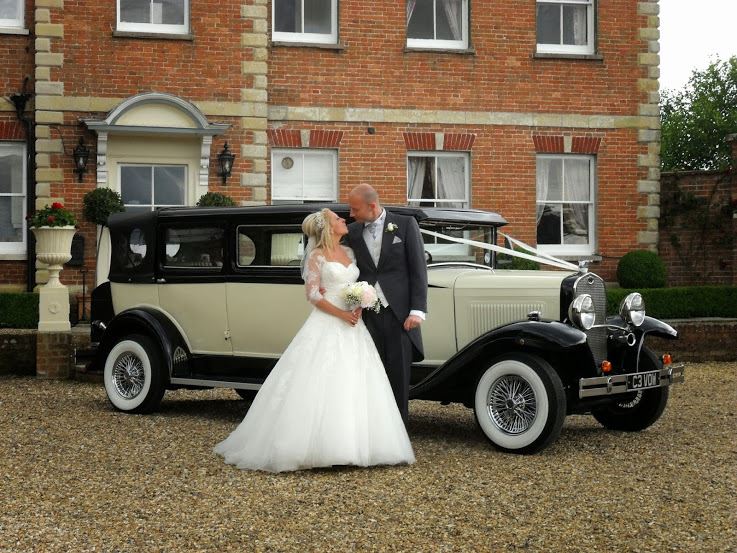 The family run, Christchurch Wedding Cars have a diverse fleet on offer. Choose from modern luxury cars including Mercedes makes. Or if you love a bit of vintage charm, VW Campervans, a 1952 Morris Minor convertible and 1959 Routemaster bus are all stars of this collection. Don't hesitate to look at this fleet.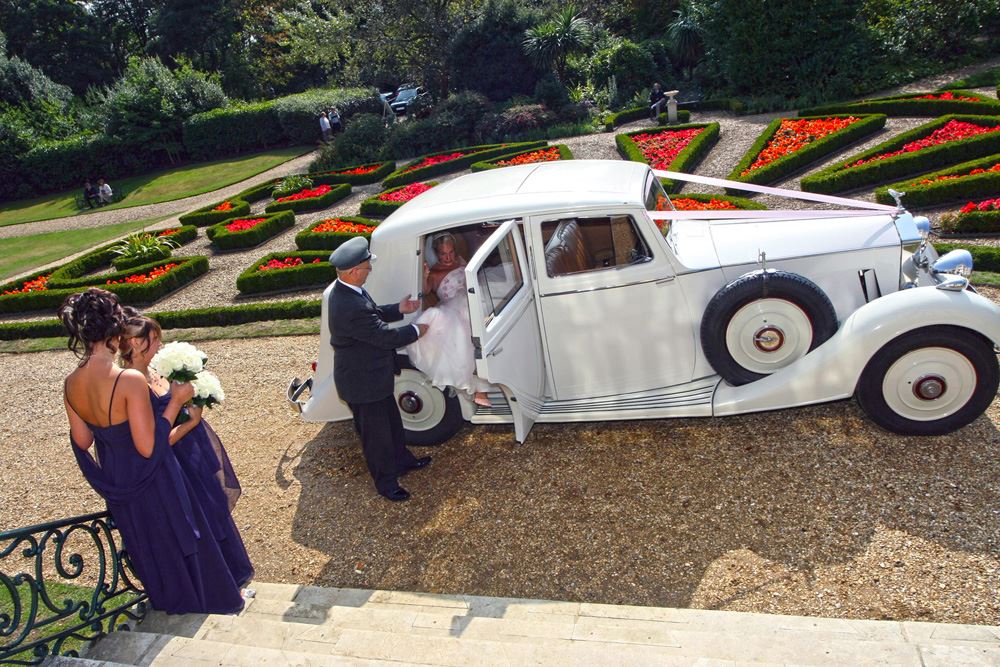 At Prestige Wedding Cars, you'll be on the receiving end of this dedicated team's professional and friendly service. This team are all about helping you have the most memorable and special wedding, which is why they are so keen to make your day a success. With their help, you could be arriving at your wedding in a vintage Rolls Royce or Austin make, both of which would be the perfect car for your upcoming wedding. Make sure you check out this team today to make your wedding day transport amazing.
At Blue Orchid Limousines, expect the very best. That is what this team is all about. They know that your wedding is a once in a lifetime kind of experience where everything should be as perfect as can be. To make that day even better, this team are here to offer their select fleet of vintage and classic cars for you to choose from. The cars in this fleet are completely immaculate so you'll be getting a completely luxurious ride, no matter which car you decide to choose. If you want to arrive at your wedding in style, comfort and safety, then choose Blue Orchid Limousines.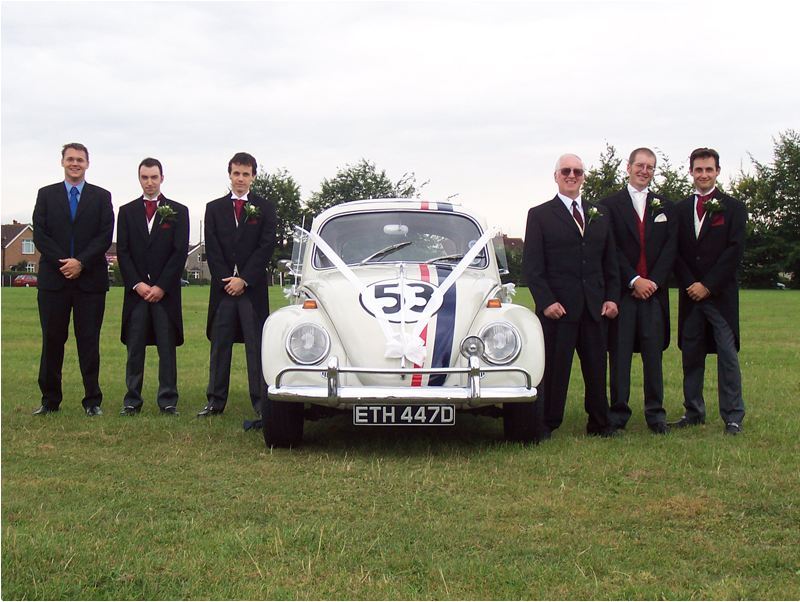 Are you a Disney fan? Have you always loved the Herbie movies? Do you love a vintage Volkswagen? If you said yes, then you're definitely in the right place. At Hire Herbie, you can hire a genuine vintage Herbie replica. This beautiful Volkswagen is from 1966 and was commissioned by Disney to become a Herbie replica in the 1970s to promote the movie 'Herbie Rides Again'. Arrive at your wedding in unique and quirky style when you book with Hire Herbie.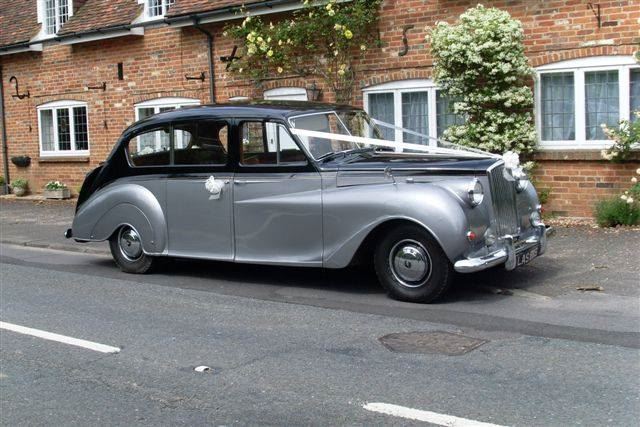 If you're looking for beautiful, chauffeur-driven wedding car hire for your wedding, then look no further than Hampshire Bridal Cars. This family run team are here to offer reliable service and high quality cars, all at a reasonable and affordable cost. This team only book out their cars for one wedding per day, which means you'll be able relax into the day knowing that your chauffeur will in no way try to rush you.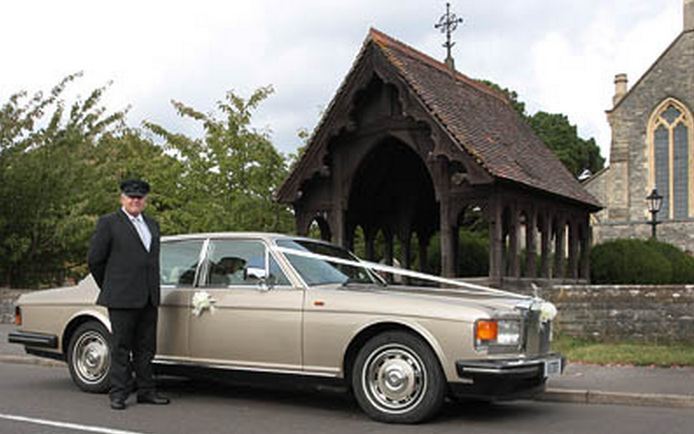 Wedding Cars in Hampshire consists of a beautiful Rolls Royce and a single owner who will most definitely be the chauffeur on your wedding day as well as handle the booking. This service is very personal and perfect for those couples who just want a simple and easy wedding car hire that you can rely on. Book Wedding Cars in Hampshire today.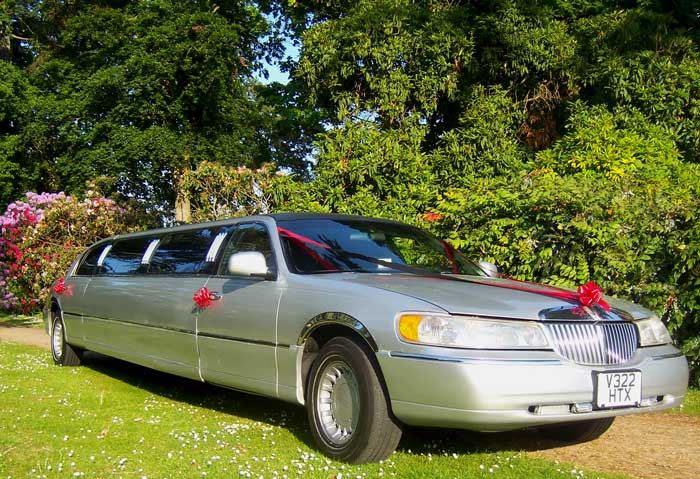 Are you after the perfect limousine for you wedding? If you said yes, then you're onto a winner with TMDlimos. This team have a fabulous Lincoln USA Stretched 'Tuxedo' Limousine on offer. This lustrous silver beauty seats 8 people and has all the mod cons you could expect when hiring a modern limousine for your wedding. Sit back and relax in the dark grey leather seating as you're whisked off to your wedding.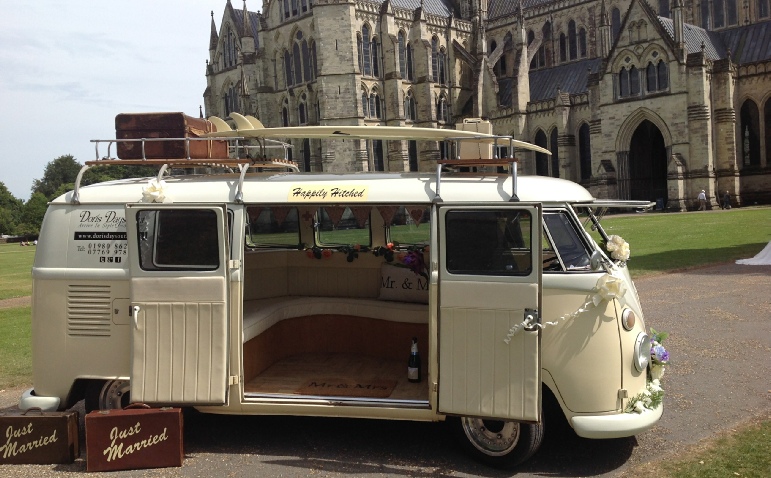 If you're looking for quirky vintage car hire for your wedding, then Doris Days Out have the exact thing for you. This team offer an adorable Volkswagen Campervan for you to consider. This cream coloured beauty is completely divine. She's from 1964 and if you book her, she'll make your wedding day unforgettable.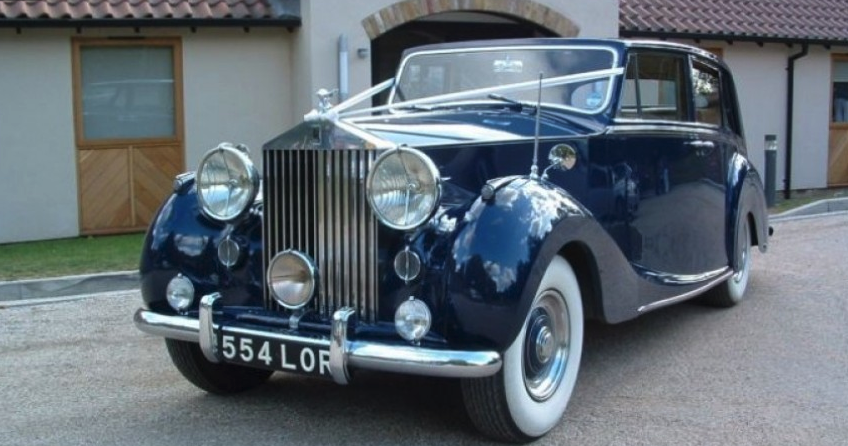 At Cars for Stars, you'll be delighted to find a range of wedding cars from modern supercars to elegant vintage ones. All the cars in this fleet are chauffeur-driven, so you needn't worry about a thing on your wedding day. All you need to do is sit back, relax and let Cars for Stars handle everything. They'll even give you a glass of complimentary champagne!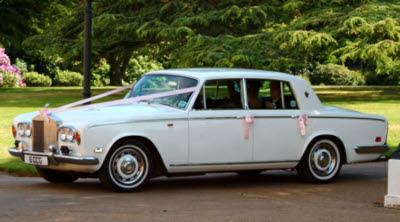 At Wight Wedding Cars, you'll have your pick of classic wedding cars that you'll easily fall for. Choose from a Rolls Royce, Bentley or Mercedes for the perfect ride to your upcoming wedding. This team only offer the best. Their vehicles are maintained to the highest standard and their service is friendly and professional. Choose Wight Wedding Cars and have everything taken care of.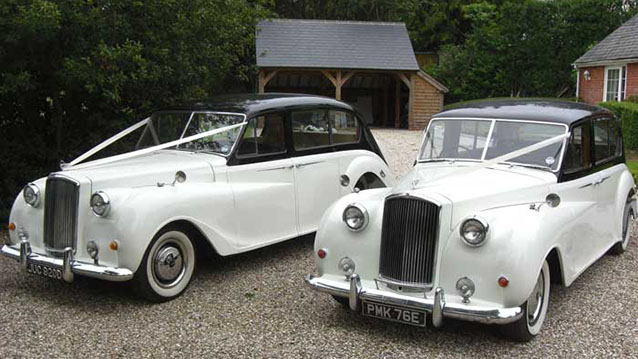 At Premier Carriage Wedding Transport, you'll be amazed at the extensive fleet and the professional and dedicated service from this experienced team. This team offer amazing cars from luxurious modern makes to vintage 1950s and 1960s classics. What is your choice going to be? Have your pick now, when you book through Premier Carriage.
For more of the best in Salisbury, click here.