Getting married is a hugely exciting time that you only want to make as perfect as can be. Here are our top picks for wedding car providers so that your Portslade-by-Sea wedding is just that: perfect.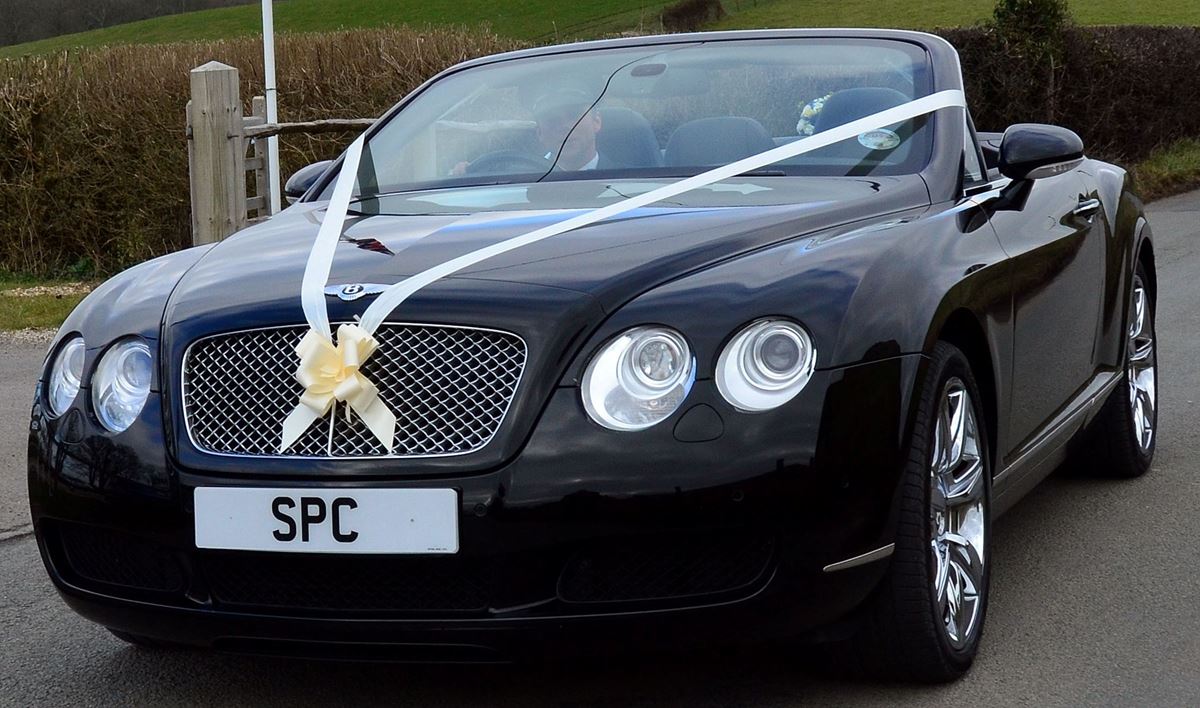 If you're after that professional, yet still tailor-made service for your wedding car hire, then Sussex Prestige Cars are definitely worth considering. This team with their snazzy fleet and their high levels of customer service, still manage to provide a personal touch that so often comes with a family run business. Find many modern luxury cars in their fleet from Mercedes makes to modern Jaguars and Mustangs.
Professional and reliable service awaits you at Vintage Rolls Royce. This team are here to provide not only great service, but a wonderful collection of vintage vehicles, all available chauffeur-driven for ease and comfort on your wedding day. The two cars in this team's fleet are remarkable genuine vintage vehicles. The first is a 1931 Rolls Royce. This Saloon car has a cream finish with brown trim and roof. It is positively divine and perfect for any wedding, especially Gatsby or vintage-themed ones seeing as it's straight out of the era. Their second car is a 1927 Rolls Royce. This burgundy and black beauty is another elegant choice from times gone by. Feel like you've gone back in time when you hire either of these well-maintained vintage delights for your wedding.
If you're after experience in your wedding car provider, then AG Classic Wedding Cars are the perfect option for you. The owner and driver at this company is Anthony Gilsenan. During his time in the business, Anthony has hired cars out for over 300 weddings. This makes him a sure expert on how to ensure your wedding day will run smoothly. If you're impressed with this, then stick around as you won't be disappointed by the car on offer. In Anthony's fleet you'll find just one exceptional car. On offer is a 1959 Jaguar 3.8 Sports Saloon which would make anyone swoon. This shiny black car is curvaceous and cool, with chrome accents and soft red leather upholstery. It's a total beauty that you'll fall in love with.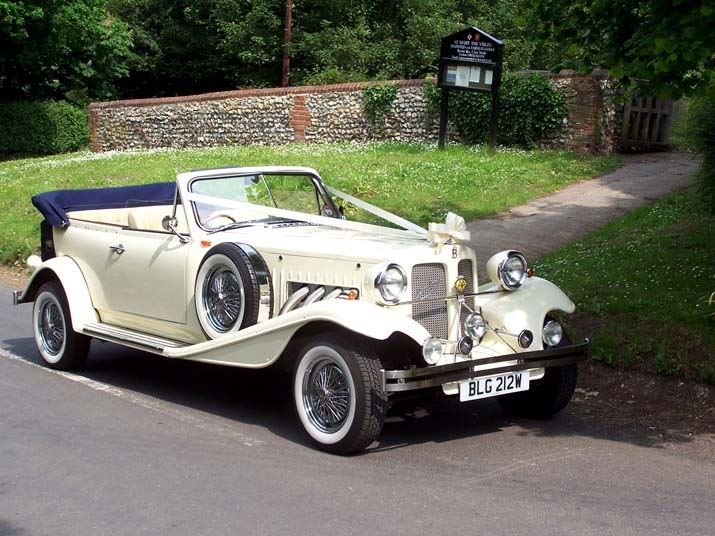 At Chariots, you'll find that this team knows that the rides to your wedding and reception are two of the most important journeys you'll make in your lifetime. This is why this team is so dedicated to making the car journeys on your wedding day as perfect as can be. Everything will be included in your hire, from car decorations to complimentary champagne. Hire either vintage beauties like their 1960 Mk2 Jaguar in racing green or modern luxury cars like their 2016 BMW Saloon.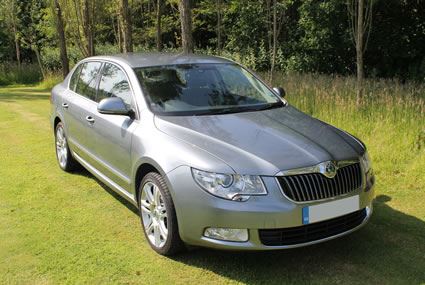 Sometimes modern will only do and if this sounds like what you're after for your wedding car hire, then Beaver Cars are where you should be looking. This team offer wedding packages that can be tailored to suit your individual needs, with prices starting from only £75. In their modern fleet, you'll find a luxurious collection of contemporary BMW makes for you to consider.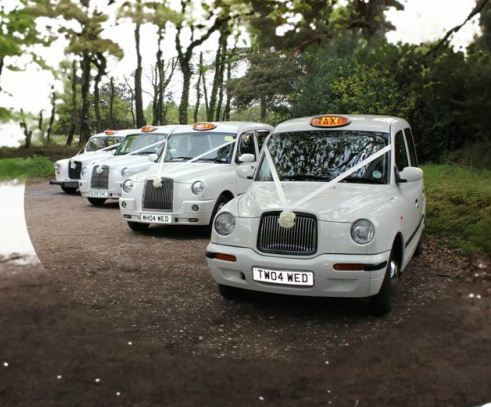 When it comes to your wedding, you want something unique. You don't want the same car that everyone else is bound to hire for their wedding. You want something quirky and different. This is where White London Taxis comes in. This team offer a beautiful selection of genuine London taxis that have been restored so they look pretty as a picture. Hire a London icon for your wedding car hire from as little as £235.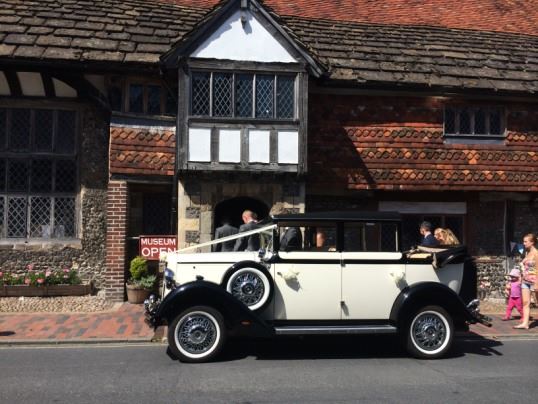 When you book a car for your wedding from Finest Wedding Cars, you'll be guaranteed top end service. With every booking, you'll get your immaculate wedding car of choice decorated with ribbons and bows, a uniformed chauffeur to escort you to your wedding and iced champagne. Plus, you'll get plenty of time for photographs with your vehicle of choice. In terms of the cars, this team have a selection of vintage, vintage style and modern vehicles on offer. Their black and white 1930s style Beauford is a total showstopper, and their 1963 white Morris Minor convertible is as sweet as can be. Find your ideal wedding car here.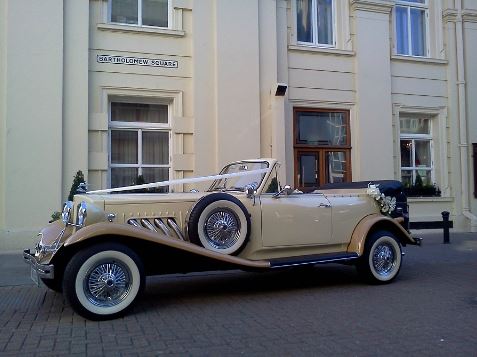 If you're after that fabulous vintage style but with modern mechanics, then Beauford Classic Wedding Car Hire have got the car for you. This team offer a delightful 1930s style Beauford Open Tourer that is a purposely-built car for weddings. This caramel and cream coloured beauty is flawless. You'll feel like a vintage movie star arriving at your wedding in this car. To arrive in fabulous style and hire from a team that are dedicated to making your wedding day as special as can be, then go with Beauford Classic Wedding Car Hire.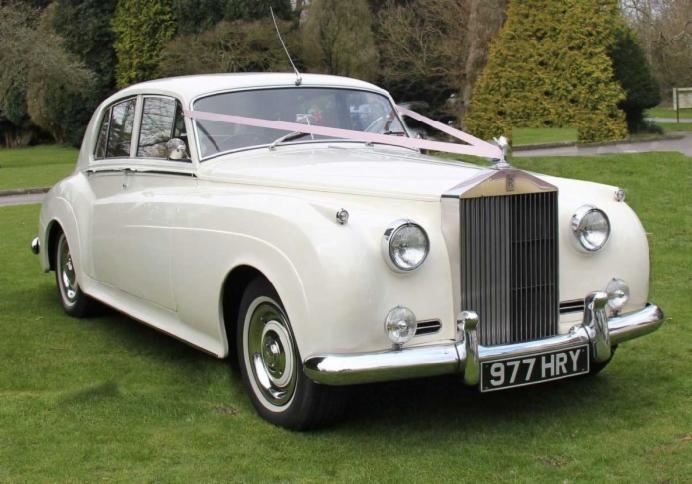 Family run and owned is the long-established business, D S Wedding Cars. This team specialises in hiring out vintage and classic cars for your very special wedding day. This team are dedicated to providing professional and hassle-free service that is hard to resist. I know, a hassle-free wedding supplier seems impossible but it does exist right here. In their fleet you'll find simply gorgeous cars from the 1950s, 1970s and onwards that you'll adore. Check this team out today.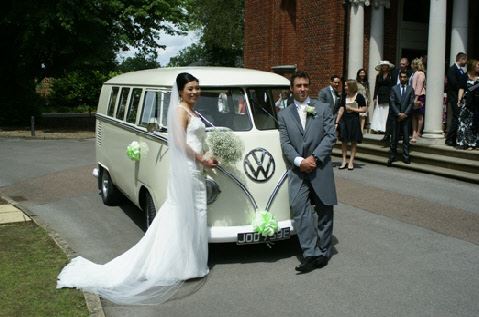 If you love the style of Volkswagen vehicles, then you're definitely in the right place. Bridal Bug Weddings offer two fabulous vintage VWs for wedding car hire so you can arrive in your favourite car make. On offer is their 1967 Karmann Cabriolet Beetle and their 1967 Split-screen Campervan. Both of these are fab. Both come in classic white, so they'll look the part in your wedding photos.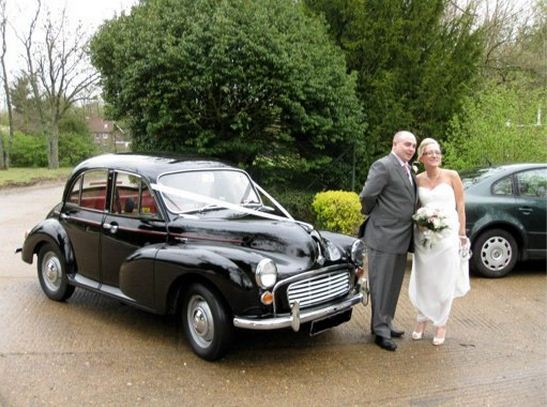 For the Morris Minor fans out there – and we know there's plenty of them – Alfred's Wedding Cars offer a distinctly loveable pair of Morris Minor convertibles. Both cars are maintained and owned by the eponymous Alfred, a long time collector and admirer of the model. Built in 1961, the stunning two-door English white Morris with maroon leather top is a recent addition to Alfred's Minors, but the alternative option, the black four-door built in 1968, was actually bought brand new by Alfred in 1969. Talk about authentic!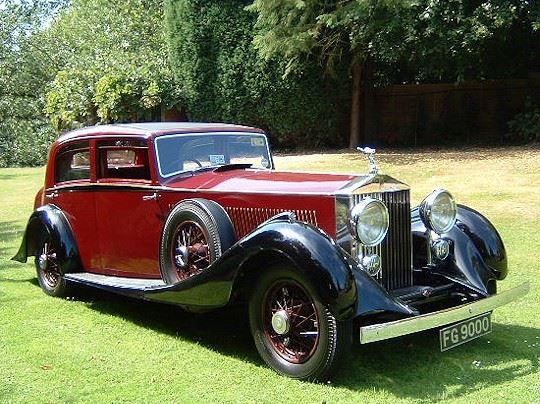 There really is no way to describe this service other than a collection. While they provide chauffeur-driven vehicles and full wedding packages like all their competitors, this collection of cars is so impressive that it would stand on its own merit. Each car will be driven by its respective owner, giving them and you a unique opportunity to know about the history of the vehicle you're travelling in. The range of classic cars here is simply stunning. To name but a few, the more modern vehicles in the collection are still as old as the early to mid-seventies, with the 1974 Rolls Royce Silver Shadow, an absolute classic in Wedding Cars, and the far more unusual 1973 Citroen VDS21 Super 5, a must see, one of a kind car. If those cars aren't vintage enough for you, why not roll back the clock to the turn of the century in the Panhard from 1903, or the Eugene Brillie Open Drive Limousine from 1905.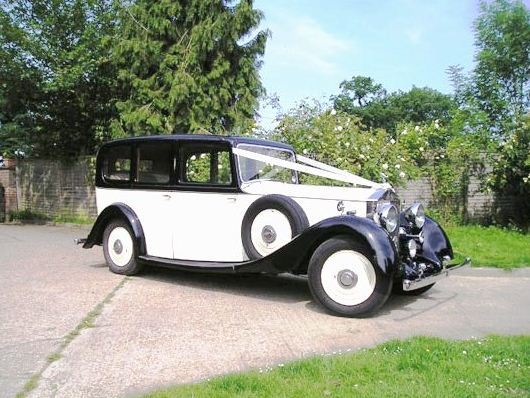 Premier Wedding Cars offer a diverse range of classic vehicles. Despite their individually rich histories, they all look like they were tailor-made for you to step out of in front of a church on your wedding day. Ride in such wedding party classics as the 7 seat Daimler Limousine, in closed top and landaulet varieties, both in classic white. The rear folding top on the landaulet is particularly perfect for a photo opportunity. Looking for something with a more vintage shape? You can't go past the popular Beauford Tourer, or the slightly rarer Morris Princess, also a whopping 7 seater.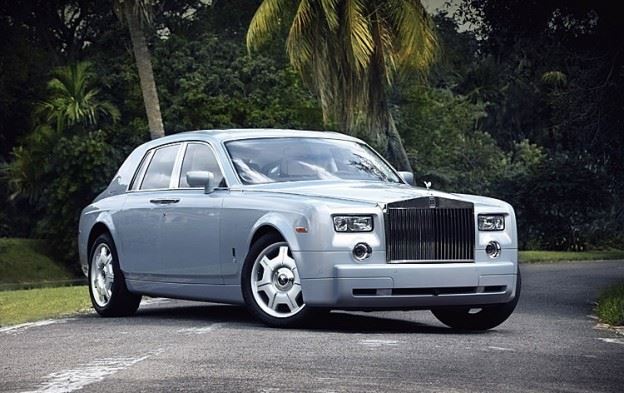 A service that is focused around the benefit of a Chauffeur, rather than specifically wedding packages, they do however offer very impressive wedding deals, and a handful of modern classics for you to choose from. Ride in absolute comfort in the back of a Mercedes S-Class, E-Class, or for the bigger parties, the V-Class. For those wanting something distinctly wedding car like, you can't go past the Rolls-Royce Phantom in English white.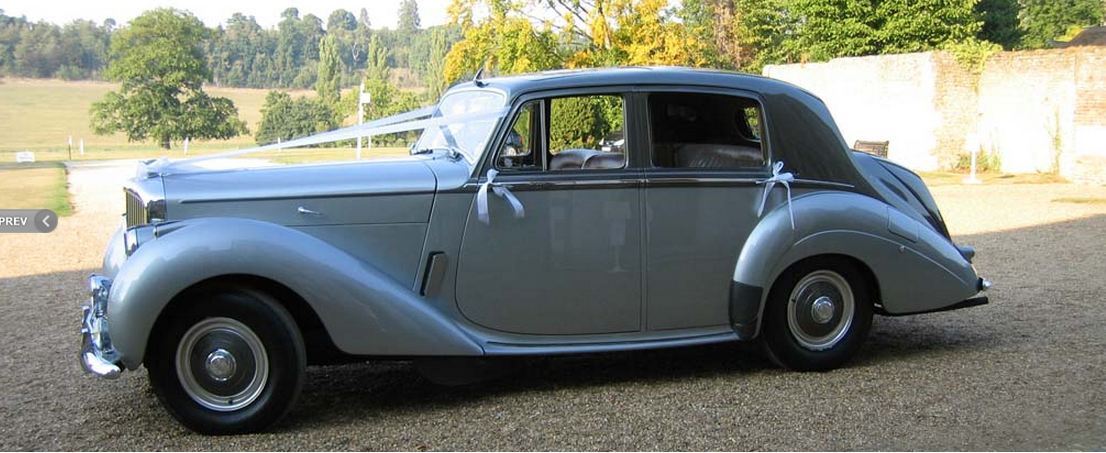 Harvey's Chauffeur Cars boast a stunning collection of Bentleys, all in variations of the iconic silver, synonymous with Bentley. The many eras of Bentley shapes and design are all represented here in this gorgeous collection, so for the Bentley lovers there'll be plenty of room to pick your absolute favourite. As the name suggests, each Bentley comes with it its own personalised Chauffeur driver.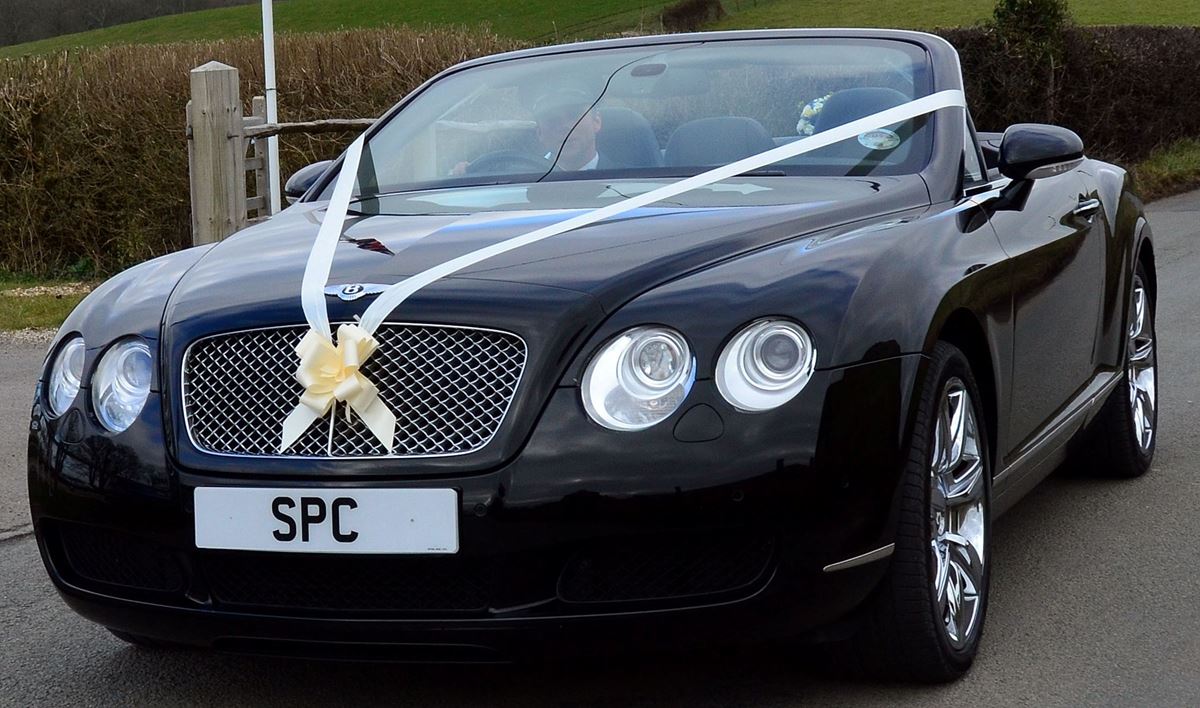 Sussex Prestige Car are a fabulous service based out of Sussex with a nice twist on the usual collection. Here are your classic wedding car brands – Mercedes, Rolls Royce – but the car models themselves are a little different to the norm, making it that extra bit special. They also have a super modern, stunning Mustang GT V8 Convertible, in a striking 'Grabber Blue'. If that doesn't tickle your fancy, they also have one of the best looking Volkswagen Campervans we've ever seen, and it's award-winning!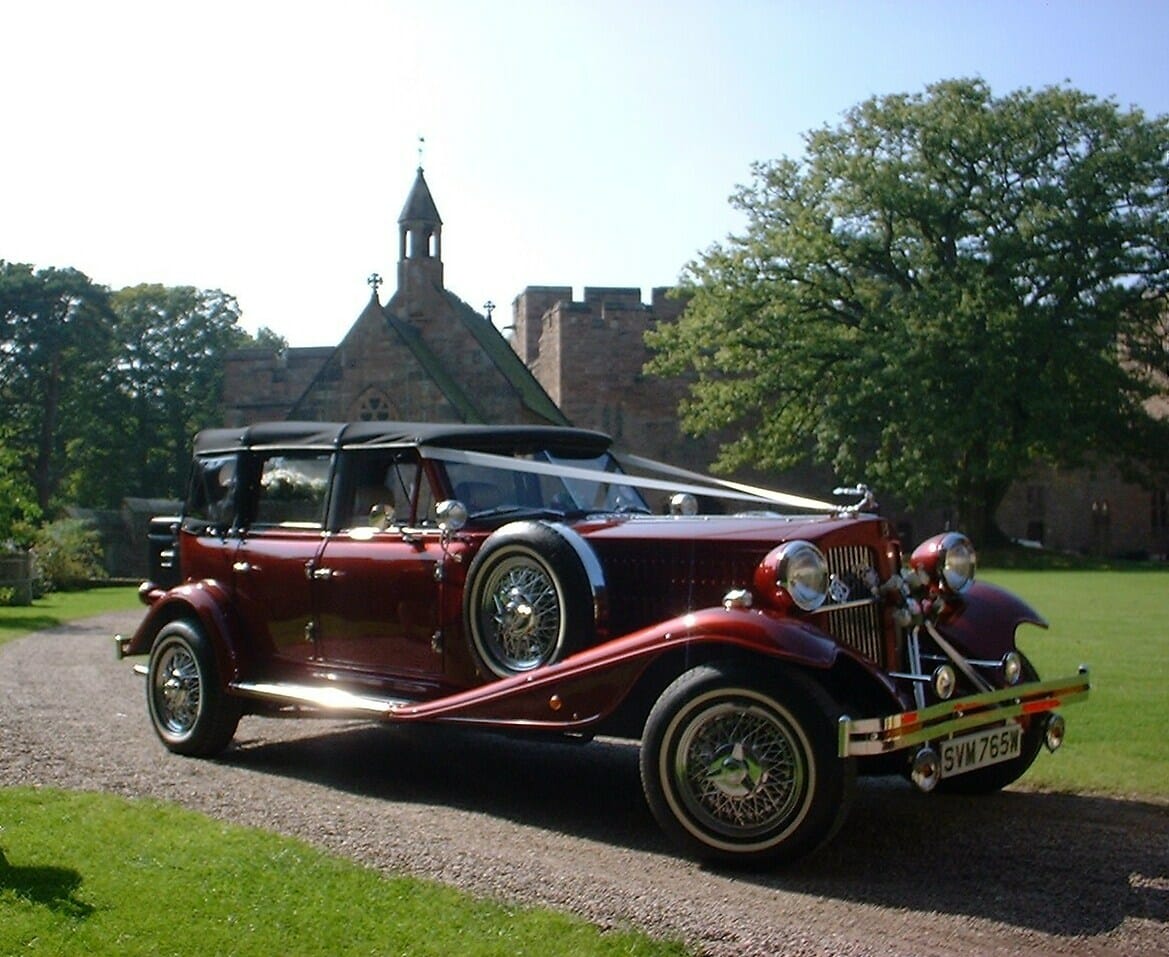 As a lovely, extra personal touch to their offerings, the opening statement on the website for Falcon Wedding Cars is a personal thank you written by the owner Peter. The first thing you'll notice is that they won the title of 'best wedding car service provider' at the National Wedding Industry Awards' two years in a row. The second thing you notice are the cars. 3 Stunning models, colour matched to complement each other in a fleet, each one distinct and beautiful. The burgundy Beauford, which they've affectionately named Betty, is an immaculate example of its class. If you prefer a two-tone option, they also have 'Beatrice', another Beauford landaulet in classic limousine style, this time rendered in an eye catching burgundy and cream.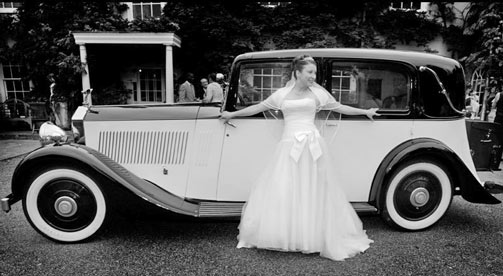 Another wedding service based around one amazing vehicle, with an equally fascinating history. The Rolls Royce 20/25 Saloon Car, an icon on it's own, the particular model owned by Vintage Wedding Cars is special for a number of extra reasons. They have it's original build sheets, and the full documentation for it's history. It was originally produced as a custom work for Lt. Colonel A.O. Boyd of the British Army in 1935, for an extravagant amount of money by the day's standards. He had bought it from the Jack Barclays Rolls Royce showroom, and had custom coachwork done by Barker Coachwork. A number of iconic owners since then, Vintage Wedding Car Sussex even tease that maybe this was the model that belonged to Al Capone. An exciting concept, and a car you won't find anywhere else.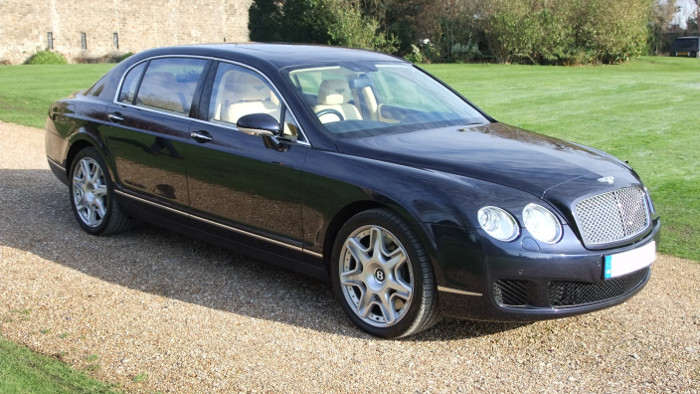 Another service based around one iconic vehicle, this time with a modern twist. Sussex Bentley Hire's service is centred around one car, the Bentley Continental Flying Spur. The Flying Spur is a flagship among Bentleys, which means if Bentleys are known for their luxury and comfort, this one must be extra luxuriousness, and it really doesn't disappoint. Extravagantly soft magnolia leather interior, with imperial blue leather trims to complement the beautiful dark sapphire paint job exterior. Little extra touches, like heated massage seats, and self-adjusting air suspension, mean you won't ever want to get out of this car.

A wedding service built around luxury, and executive style sophistication, Platinum Cars know that for your special day, nothing can be left up to chance. Every Mercedes S-Class they provide will be chauffeur-driven in full uniform, and every chauffeur will have done a dry run through the area to check routes and the venue. Unique options in their packages are a lovely bonus as well, such as the option to have a chilled champagne twenty-minute countryside drive on leaving the service, giving you a wonderful opportunity to have a quiet, congratulatory moment to yourselves on a day where you rarely get the chance.
For more providers that service Portslade-by-Sea, click here.