Manchester is a lively city full of amazing food and culture. To get to your Manchester wedding, you're hardly going to take the bus are you? So here are the best wedding car providers that Manchester has to offer.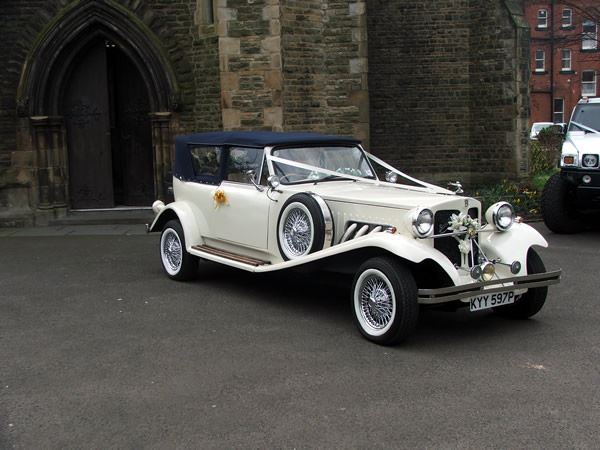 If you're after a range of beautiful vintage style wedding cars, then Limo-Scene & Wedding Cars have got the perfect fleet for you. This team offer a fabulous selection of vintage style vehicles that are made for wedding hire. Their pink and cream Regal Landaulette wedding car is a lovely choice that is classic in style but unique in colouring. For something more understated, their Beauford convertible is one to consider. It's cream in colour and had a convertible navy blue roof which is a very elegant combination of colours that matches the elegance of this car perfectly. If you want a true vintage number, this team offer a Van Dam Plas Princess from the 1960s. This cream coloured car is sweet, classy and perfect for your wedding.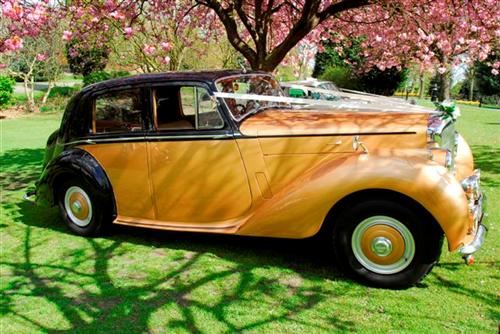 Carols Wedding Cars and Limousines are a family run business who have been in business for over 12 years. Their fleet is full of some true beauties that would love to be your ride to your wedding. Their Daimler D.S. 420 State Limousine is a stately and elegant choice that always goes well with a wedding. Most of these cars are cream and black, yet this one is a unique silver and black. It can seat a whopping 7 guests so it's perfect if you're looking for a classy people mover. For that wow factor, this team offer a 1952 Bentley MK-6 that comes in gold. That's right, gold! This car is a knockout. It's curvy and cool and it's colouring is as special as it gets. This car is stunning in photos so if you love punchy colours, you'll have to consider this beautiful vehicle.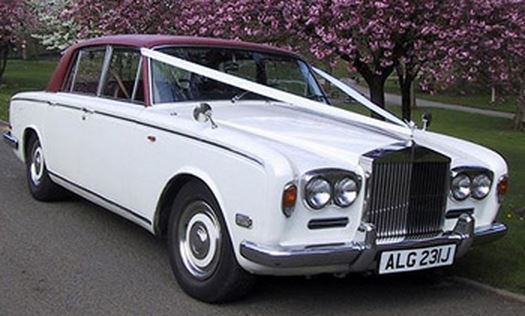 At Celebration of Manchester, you won't need to worry about the cars clashing with your colour scheme. This team offer a fleet of perfect ivory vehicles in a range of amazing styles for you to consider for your wedding. Their Austin Princess is curvy, quirky and cute. With its classic 1940s shape, vintage lovers will swoon for this little beauty. Alongside this beautiful car, you'll find a Rolls Royce Silver Shadow and two lovely Beauford wedding cars. This is just the beginning though, this team have a whole range of new and old ivory cars for your idyllic wedding.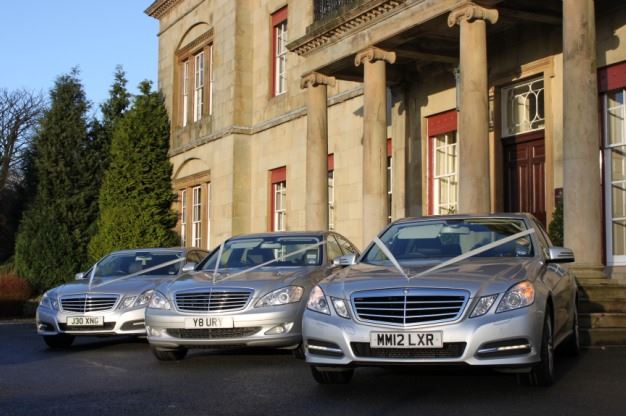 For some couples, you just want a modern classic that you know will run smoothly. If this sounds like you, then MD Executive Cars is your ideal provider. This team love their immaculate modern fleet. You can choose from Mercedes or Bentley models for something with modern styling, or choose their Beauford or Imperial for modern engineering with vintage style. With professional service and prices starting at £99, how could you go wrong?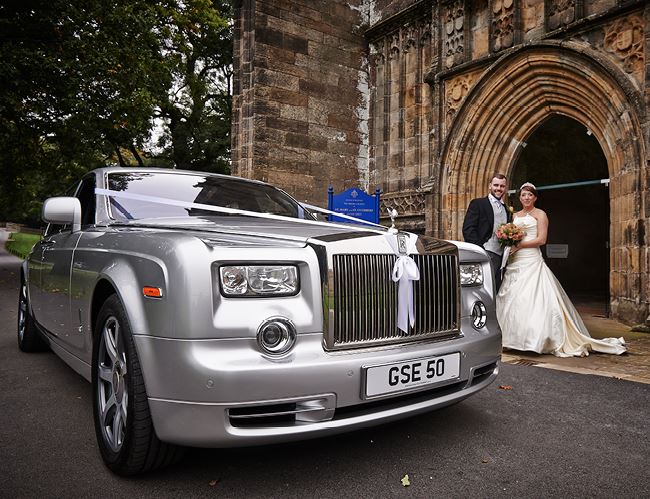 If you already know that you want a classic Rolls Royce Phantom for your wedding, then make sure to check out Complete Wedding Cars. This car comes in a lustrous silver finish and is the luxury car of your wedding dreams. With fully professional chauffeured service and this beautiful Rolls Royce on offer, you'll have to consider Complete Wedding Cars.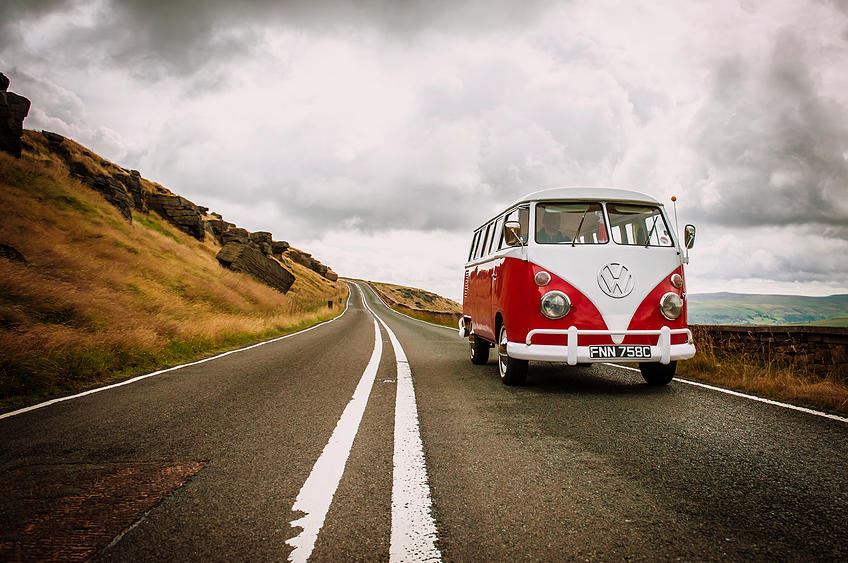 For those free spirits, a Volkswagen Campervan is the only choice for wedding car hire. Manchester Camper Hire Wedding have got exactly the camper for you. Their 1965 split screen campervan is named Finley and he's a beauty. Finley is stunning both in style and colour. He's a bright red and white camper, making him a jazzy and exciting choice for your wedding. Don't hesitate to book this groovy car for your wedding.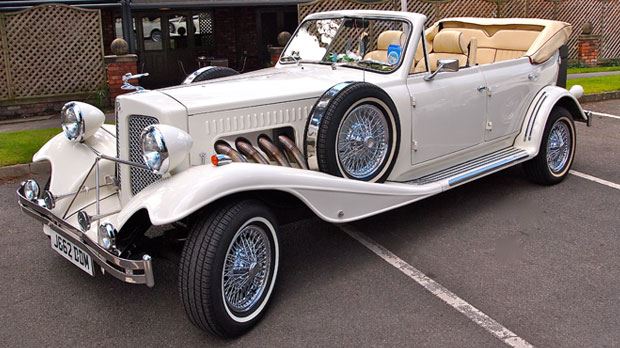 If you're looking for good variety in your wedding car provider, then Rollers Wedding Cars Manchester may be the provider for you. This team offer modern cars like the best Mercedes makes including a limousine. They offer vintage style wedding cars like the Imperial Open Top Tourer and the Bramwith. For true vintage fans, they've got a fabulous ivory Bentley, and for those who want the ultimate flair of romance, this team even have a horse drawn carriage on offer. Their range is varied yet not excessively large making them ideal for your wedding transport.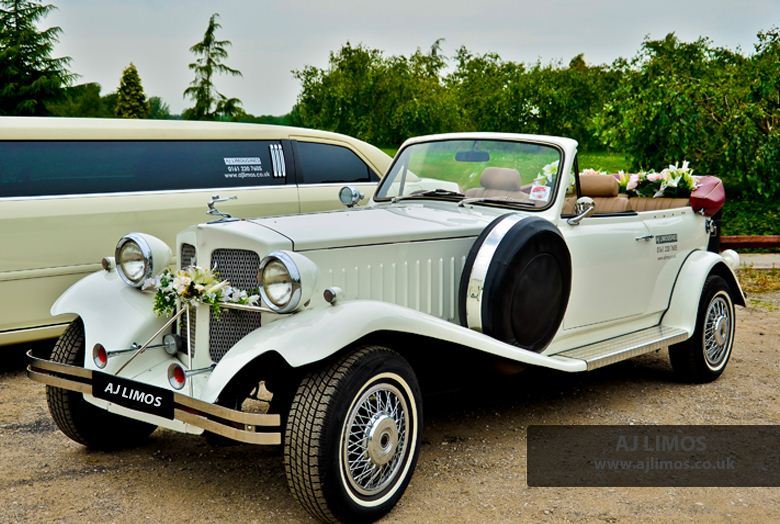 The team at AJ Limousines focus on providing immaculately cared for cars that are as perfect on the outside as they are on the inside. They offer modern delights like their Baby Bentley Chrysler Limo and Bentley Flying Spur. Also consider their vintage style vehicles like their 1920s style Beauford and their Bramwith Landaulette Royal. A great range, personalised packages and high standard of services are all found with AJ Limousines.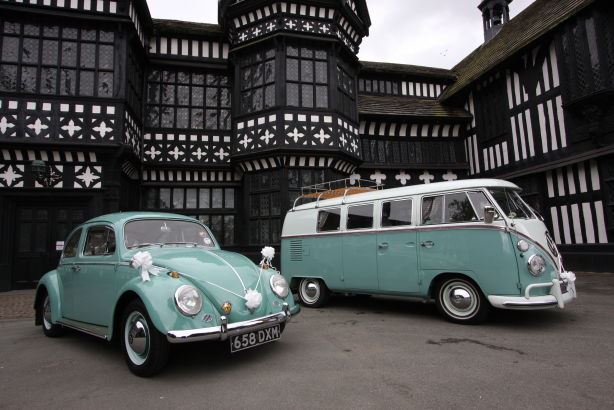 For fans of Volkswagen cars, the team at Lovely Wheels have got everyone you could possibly want. This team offer three vintage VW beauties that you'll want to consider for your wedding. Their 1961 VW Beetle Deluxe is the cutest little car. It comes in a glorious Turquoise which is absolute perfection. It's the perfect quirky vintage wedding car. If vans are more your style, this team offer two 1960s campers. One comes in turquoise and cream and matches perfectly with the Beetle, and the other comes in bright red and cream. These cars are all vintage dreams that would be perfect for any wedding. Make sure to take a look!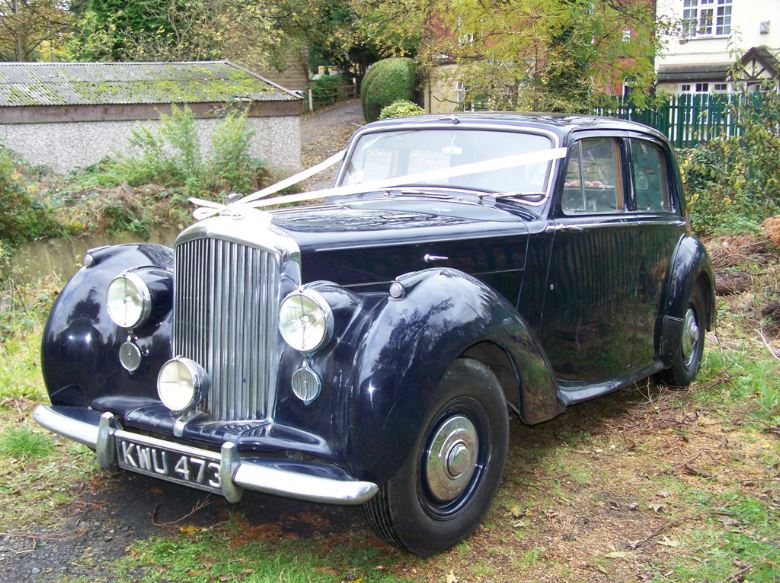 The team at BML Beautiful Wedding Cars offer a delightful range of vintage and classic wedding cars. Consider their fleet and see makes like Rolls Royce, Daimler, Buick and Bentley and be treated to a luxurious ride. This team value the history that each of their cars brings so you can certainly tell how much they love their vehicles. With varying sizes and styles waiting for you to choose from, this team are definitely worth a look in.
For more wedding car providers in Manchester, click here.