Lincolnshire is a beautiful green county in England's east midlands. To get to your idyllic wedding in this stunning county you're going to need the idyllic car. Here are Lincolnshire's best.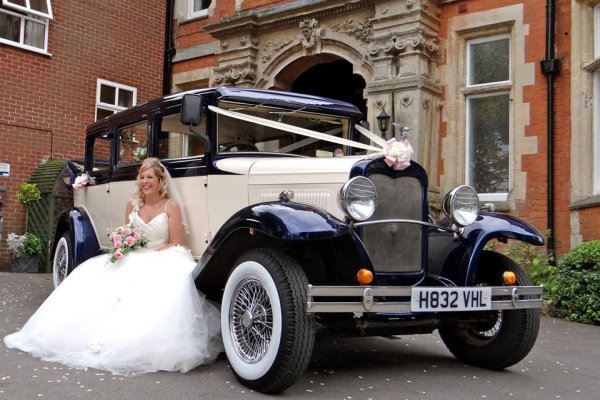 If you're after a beautiful car for your wedding, then Grimsby Weddings may be your ideal match. This team love their vintage style vehicles, which are all the rage for weddings these days. Their 1920s and 1930s style cars are perfection. They are elegant, classy as well as quirky. Alongside these vintage beauties, this team offer modern stretch limousines and an E Class Mercedes. You may consider a vintage or modern car on its own, or even a combination of the two. Whatever you're on the hunt for, you'll be sure to find it here.

For many couples, wedding car transport is the perfect way to express themselves. While some don't know what style they're interested in, others know exactly what they're after. If you're a couple who know that they want a Volkswagen Combi campervan, then you are definitely in the right place. The team at Big Day Buses have three fabulous VW vans for you to choose from and you'll love all three. First they have Flossy which is their white 1965 camper originally hailing from Texas. Next is Buster, their champagne-coloured 1967 camper from Baltimore. Thirdly, they have Freda. She's a 1967 white camper who comes from Devon. These three beauties are completely immaculate and make the perfect companions for your wedding day. If you love the 60s and you're a pair of free spirits, then Big Day Buses should definitely be on your radar.

1st Lincs Limo offer a great range of wedding cars in their fleet. As their name suggests, this team love their limos. They offer a Lincoln Town-car Millennium Wave Limousine which is a classic white stretch limo that really never goes out of style. Alongside their love of limos, sits some stunning, less lengthy cars. Check out their Rolls Royce Silver Shadow I and their London Taxi, both in classic white making them ideal for your wedding day. For all their pricing and package enquires, give them a call today.

Ivory Vintage Wedding Car Hire are all about that personal service that you've been searching for. This team offer to you their vintage wedding Rover, Audrey. This little car is a dream. With a creamy white chassis that contrasts perfectly with the blue wheel arches and matching blue leather interior, you'll fall head over heels for this car. This team lovingly care for Audrey, so she's maintained with the greatest care.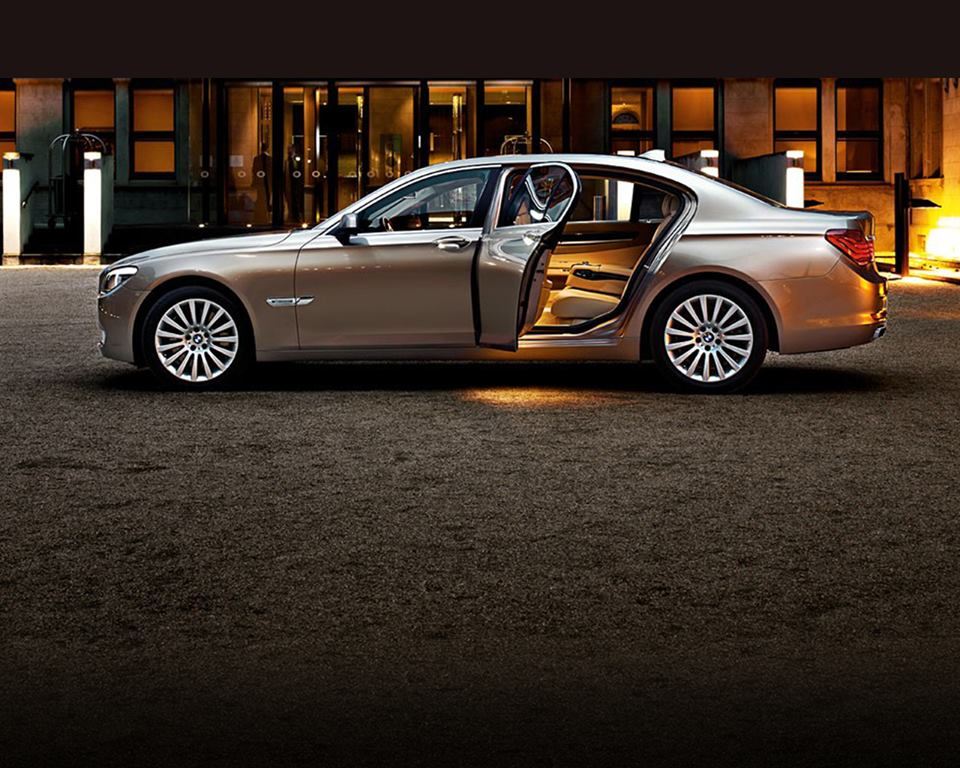 If you're on the hunt for a highly professional team, then Style-Arrival are perfect for you. This team offer a fabulous fleet of modern and vintage wedding cars for you to choose from. Your chosen car will be decorated in both ribbons and bows in your choice of colour, so you can tie it into your colour scheme or have them in white to match your dress. With a range of packages that are not to be missed, make sure to check them out.
Lincolnshire Wedding Cars are a family run business that have been in the wedding transport business for 12 years. They have a truly stunning fleet that you'll want to take a look at. Their 1935 style Auburn Boat Tail Speedster is the coolest choice of car for your wedding. This number is finished in a lustrous grey and if the weather is kind, it even has a convertible soft top making it perfect for summer weddings. For that classic wedding look, this team offer a 1930s style Beauford which has become a very popular car for weddings. It's no wonder why as this car oozes class and elegance. Anyone would feel like royalty riding around it one of these.

Limos 4U offer a delightful range of cars for your wedding hire. They have high-end limos like their Baby Bentley Lamborghini Edition and Range Rover Limousine for you to consider. Their smaller cars include an Aston Martin Rapide in white so it looks the part, a Beauford Tourer Classic and the perfect chauffeuring car, the Mercedes S Class. This fleet is not to be missed.

All Occasion Cars offer a charming selection of wedding cars for hire. What is lovely about this fleet is the variety. It's not the most extensive fleet but it is varied and interesting, making it a real frontrunner. They offer a 1972 Volkswagen Beetle, which comes in white making it a quirky yet classy choice. Contrasted with this, is their 1974 Daimler Limousine which is sleek, stately and perfect for a country manor house wedding. For a bit more quirk, their 1974 Volkswagen Campervan is a total gem and for an enchanting vintage delight, meet their 1929 Morris Oxford Empire. Alongside these beauties are their modern Mercedes makes, which are ideal for lovers of the newest and the best machinery. Prices with All Occasion Cars start at just £200 depending on your choice of vehicle, so if you like what they've got on offer, make sure to give them a buzz.
The team at Lincoln Luxury Cars offer perfect vehicles for your wedding day. Their Rolls Royce Spirit II or their Bentley Flying Spur are both ideal rides for your wedding day. With your choice of music and glass of champagne to keep you company, you can't go wrong. Prices start from £180 for a single car, but two car packages are also available. For more details on pricing, check them out today.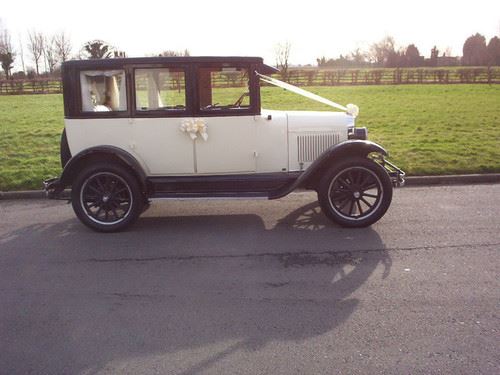 The team at Mr Limo offer a delightful fleet for you to consider for your wedding car hire. With beautiful vintage wedding cars and modern numbers like their limousine, you'll love what's on offer. All cars at Mr Limo are chauffeured by suited professionals who go that extra mile to make sure your experience is the best it can be. With high standards in their service and car maintenance, Mr Limo are not to be missed.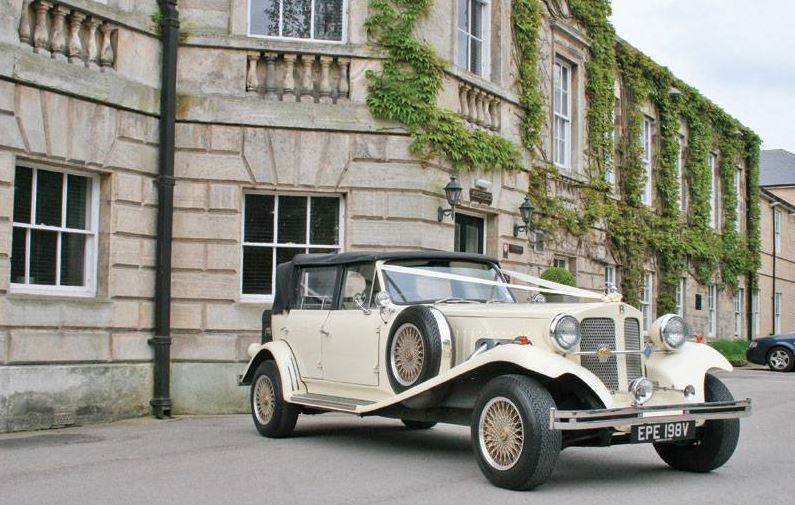 You can't beat a classic. This is why WeddingCarHire.co.uk are a great choice of wedding car provider for your upcoming wedding, because they know their classic cars and have a brilliant range of them for you to choose from. If you feel like a classic can be beaten, then that's fine too because this team offer a range of modern and luxurious vehicles as well. Feel completely spoilt for choice from this team's fleet as you search for your ideal wedding car.
The family run business Silver Spirit Wedding Cars started out in 2003 with their white Rolls Royce Silver Spirit. This beautiful and elegant car was the thing that started it all. It was the owners Graham and Jo who had wanted to own a Rolls Royce and so starting a business with it seemed like a great solution to offset their extravagant purchase. Plus, it meant they got to share their beautiful car with happy couples about to walk down the aisle. Due to the size of their business, Graham and Jo are able to provide personal service. They love being about the tailor service to suit their clients' needs. Due to the high demand for their beautiful Rolls Royce, these two ended up adding their 1929 Morris Oxford to their collection which is a regal and elegant choice for any wedding. Go with this team and you won't be disappointed by the service or the cars.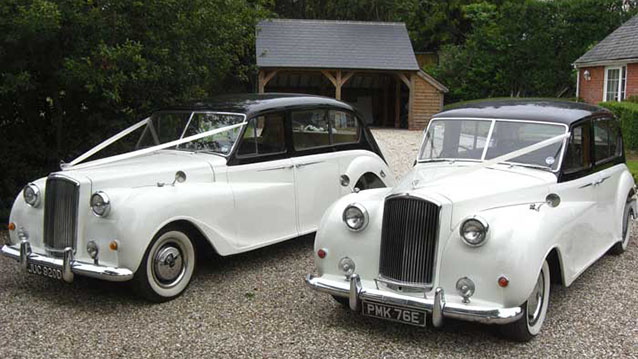 Marrying in beautiful Lincolnshire is a complete treat. There are many wonderful historical sites and extensive beautiful countryside that is completely irresistible. Of course, you already know this seeing as this is where your wedding is taking place. The team at Premier Carriage know this too but they want to enhance your experience as best they can. This is why they're here to offer premium car hire with their collection of cars from varying eras, of different makes and in a range of colours. Find your perfect modern, vintage or vintage style car right here.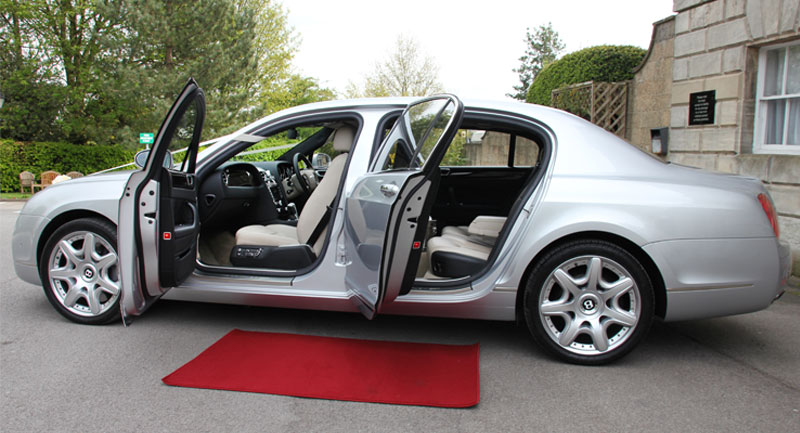 Cupid Carriages are here to offer you a huge selection of classic, modern and vintage wedding cars for your upcoming wedding day car hire. This team are all about that personal service. This is why they take the time to give their clients tailored service that can't be beaten. So if you've got a few ideas or specifications in mind, then let this team work their magic and pull it off for you. Dreamy cars including a Rolls Royce Silver Wraith, a champagne coloured Bramwith and an Aston Martin Rapide all await you in this collection.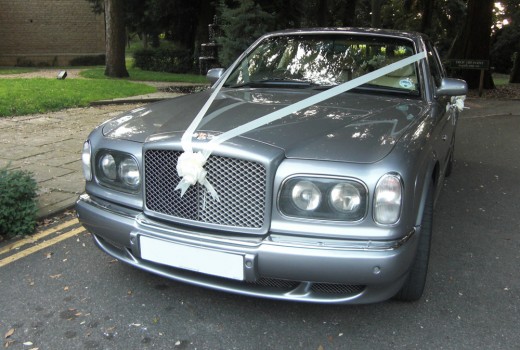 The team at Prestige and Classic Wedding Cars have a wonderful range of modern and classic wedding cars on offer for your big day. This team specialise in chauffeur-driven vehicle hire that they tailor to suit your personal requirements. They never fail to offer immaculate vehicles, which you'll discover for yourself if you book with them. In their fleet you'll find limousines like their Lincoln Town Car, prestige cars including their BMW 7 Series and classic cars including a Rolls Royce Silver Wraith and a 1946 Bentley MK VI. This team even have a horse and carriage on offer so literally every style is catered for in this versatile and interesting fleet. Make sure to check them out.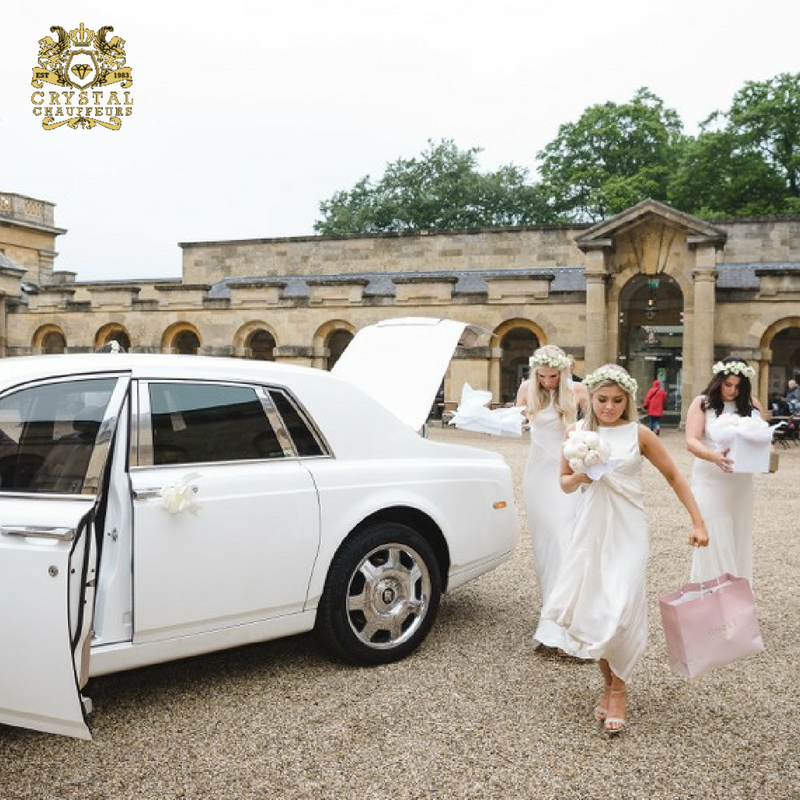 Crystal Chauffeurs offer a large fleet of limousines, executive, sports and classic cars to suit all of your wedding day requirements. This team specialise in luxurious chauffeur-driven service, which means you don't need to worry about a thing when your wedding day rolls around. Their beautiful fleet awaits.

If you're after quirky yet luxurious wedding car hire, then you're definitely in the right place with Premier Novelty Vehicles. This team offer classics like a Chrysler 300c and a vintage Beauford alongside more unique cars including a Volkswagen Camper and a Scooby Doo Mystery Machine replica. Enjoy fabulous and fun cars with this dedicated, professional and friendly team.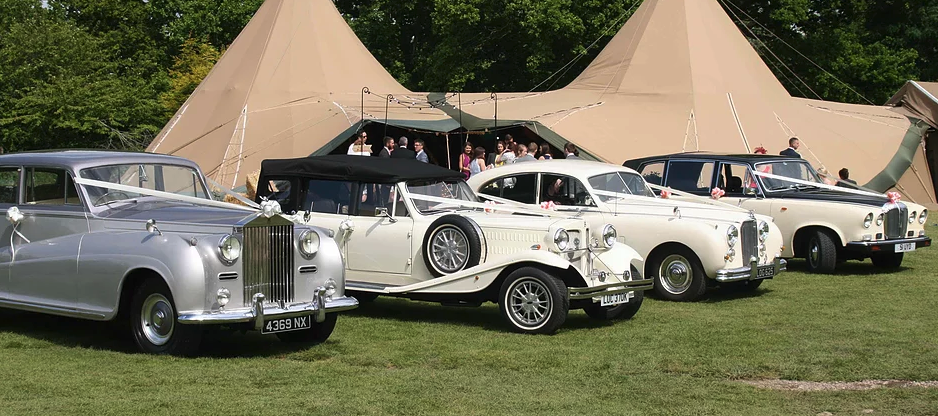 At Lincoln Wedding Cars, you'll find a range of beautiful classics that you'll definitely want to ride in to your wedding. The only hard part here is having to choose which car is the right one for you. On offer is a 1956 Rolls Royce Silver Wraith, a 1930s style Beauford, a stunning Daimler Limousine Landaulete and a truly delightful Jaguar MK VII. Fall in love with this fleet and find your ideal classic car right here.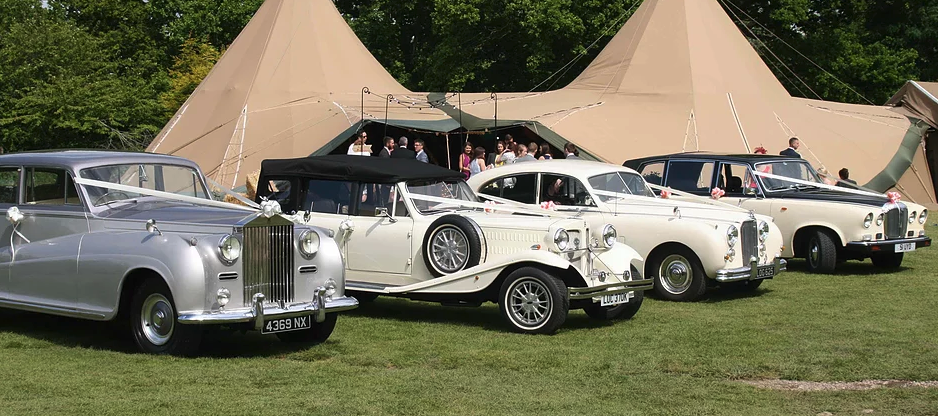 Select Limos are located in North East Lincolnshire and are here to offer their professional wedding car hire services. This team provide limousines plus classic, vintage and modern vehicles for you to consider for your wedding. They offer a range of vintage style cars which are sure to please any couple with their vintage charm and their modern features and comfort. Find wonderfully stylish cars in this lovely fleet.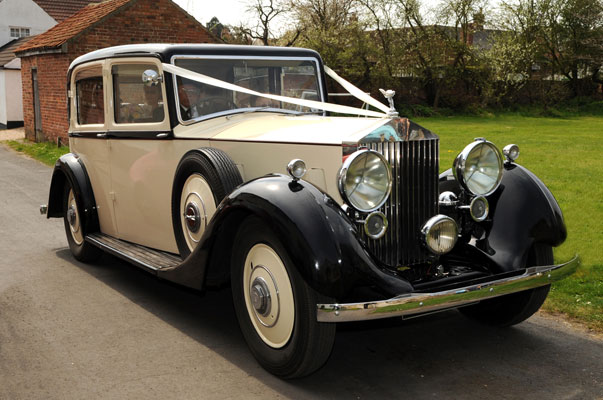 Laura's Limos are the team who aim to give their customers everything that they need. They do this by tailoring every part of the service to suit you and will always work their hardest to give you everything that you ask for. With friendly and professional service, this team long to make your wedding day even more memorable by helping you find your perfect car. In their fleet you'll find cars that date all the way back to the 1930s. Find a vintage Rolls Royce, a Sadancia de Ville and a H J Mullener. Be amazed at these vintage beauties.