Nestled in the beautiful Lancashire countryside, you'll find the bustling university town of Lancaster. Couples choosing to marry in this lovely town or county will certainly need a way to arrive. Here are our top picks for wedding car providers in Lancaster.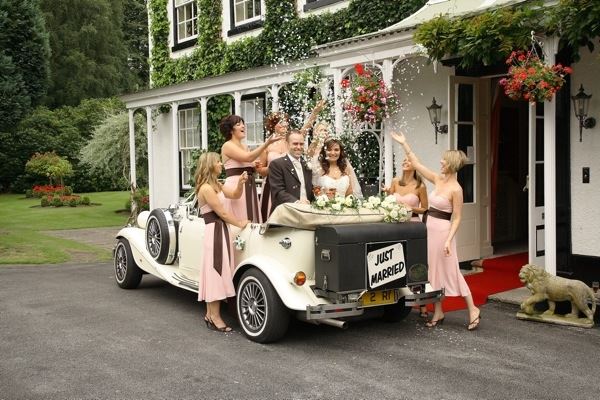 The team at Horgan's specialise in providing award-winning vintage style vehicles for weddings, all so you can feel like you stepped back in time. This team has won the Best Wedding Transport Supplier Award for the Northwest for 6 years running, so they're definitely a great choice for you. With their beautiful vintage style vehicles including the navy and ivory Royale Windsor and the ivory Beauford Tourer, you'll be swooning before you make it down the aisle.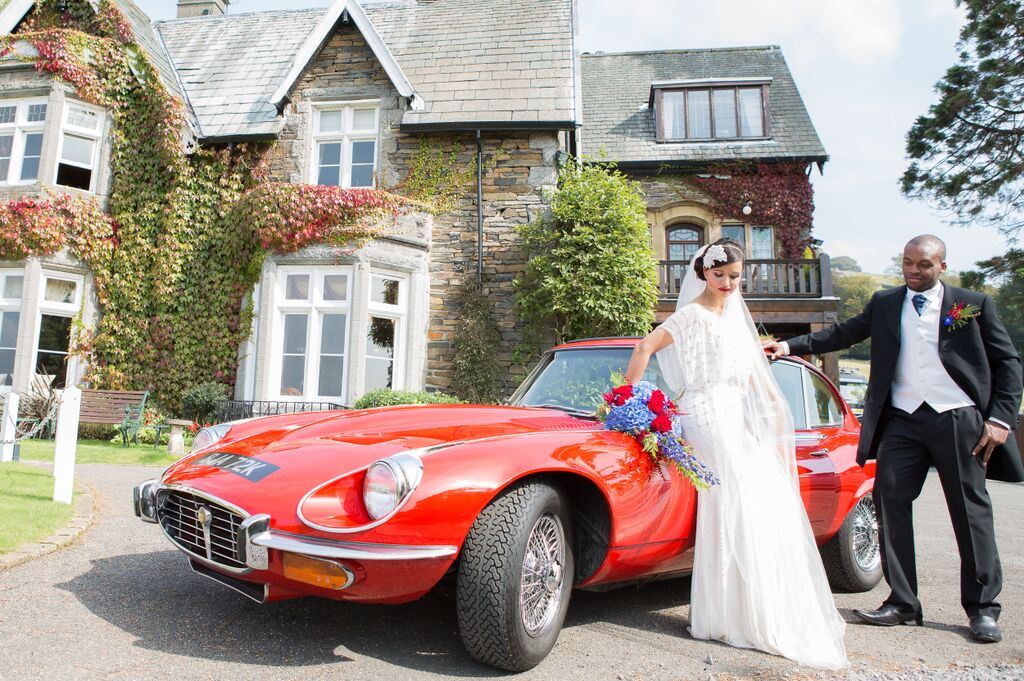 High standards of customer service is what the team at Luxury Classic Jaguar Hire focuses on. So not only will you be receiving a very sleek collection of Jaguars, but you'll also be treated to that high end service that everyone wants for their wedding. This team offer chauffeur-driven and self-drive options with their wedding car hire so flexibility is certainly valued within this team.
Proving truly unique and beautiful wedding transport is what Vintage VWs 4 Hire specialise in. As their name suggests, choose from a selection of delectable Volkswagen cars from their sweet little fleet. Their Karmann Ghia Cabriolet is the vintage convertible you've been on the hunt for. This little red car is both sleek and fabulously curvy. If red isn't your colour, then you might want to consider their VW Karmann Beetle Cabriolet which is a while convertible with a contrasting black hood. For those who love those Californian beach vibes, then make sure to check out their two VW campers. Your perfect Volkswagen awaits you with this team that offer professional service and have a great reputation.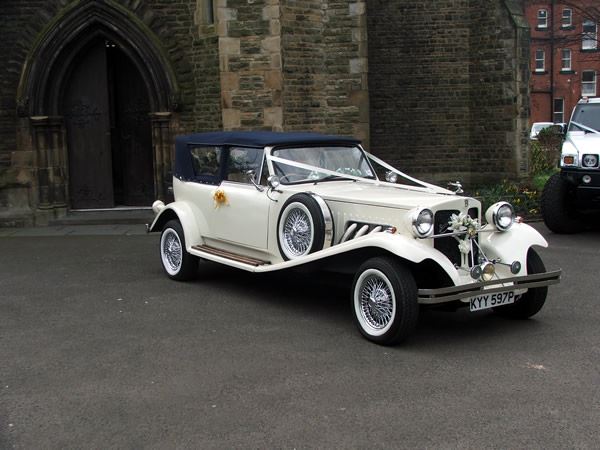 If you love a good limo, then Limo-Scene and Wedding Cars may be your perfect providers. However, if limos are not your bag and you were planning on skipping over them, think again as this team offer much more than their extensive collection of limos. Within this fleet, find a Rolls Royce Phantom and a Regent Convertible. Their three Beaufords are exceptionally charming as are their collection of Regal Landaulettes. If you want something with true vintage charm, then you really can't go past their 1960s Van Dam Plas Princess. This white number is a traditional vintage wedding car that is to die for. Whatever your style, you'll find something here.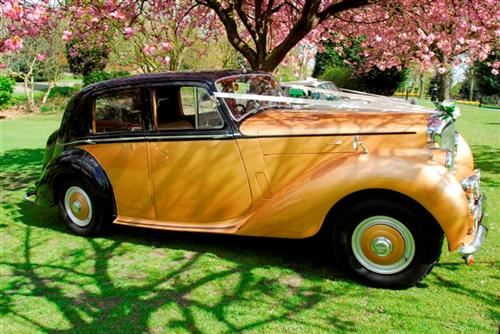 Carol's Wedding Cars and Limousines are the family run wedding car providers to help give you that personal and friendly service that every couple longs for when it comes to their wedding. With over 12 years of experience, this team have got the goods and know-how to get your wedding off to a roaring start. The fleet on offer at Carol's ranges from a 1952 gold coloured Bentley MK-6 to an American Lincoln stretch limousine. There are some real classics in this collection and some quirkier numbers to. Be enchanted with this team.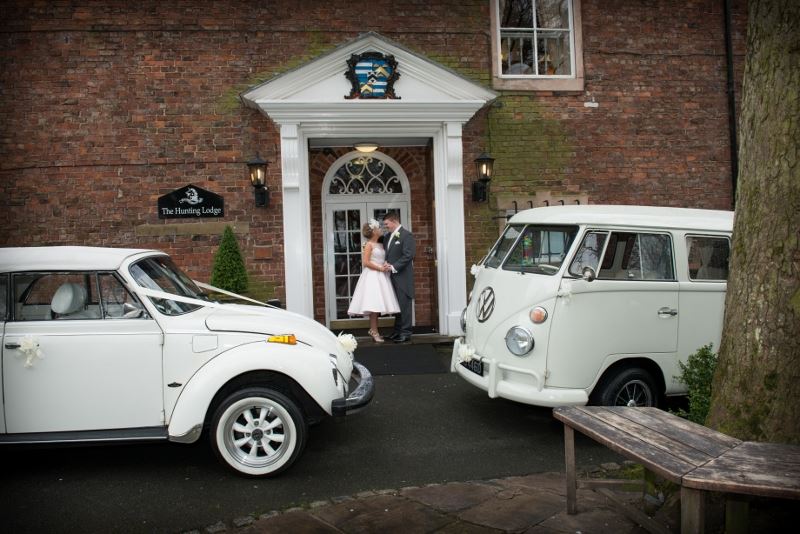 The team at Little Limos believe that the journey is as important as the arrival. Look at this literally and consider them to be wonderful car providers for your wedding. Or think of them as the sentimental wordsmiths who realise that a lot has led to your wedding and that day is just one part of the beautiful life you'll share with your partner. Either way, this team are clearly legends. With their fabulous Volkswagen Campers and their Cabriolet Beetles on offer, you really can't go wrong.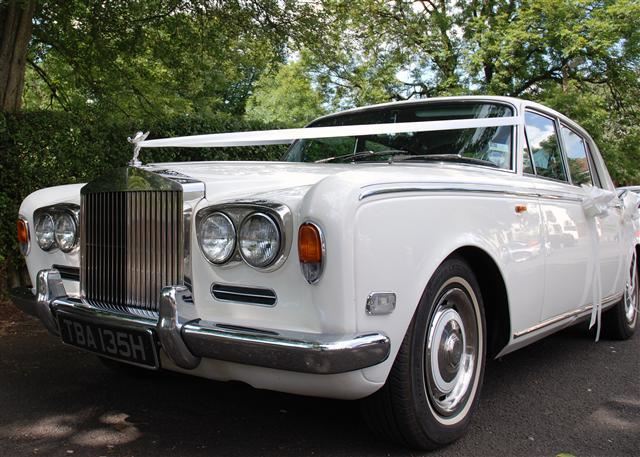 Striving to give you the wedding day transport that you desire is Shaw's of Rochdale. Always providing that high quality service is this friendly team of professionals. Every car hired for weddings comes with ribbons and flowers included so you needn't worry about hidden extra costs. Beautiful Rolls Royce wedding cars are just moments away with this customer service driven team.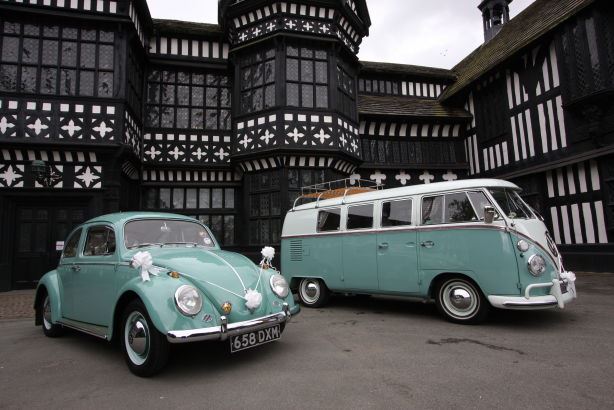 The team at Lovely Wheels are here to for one simple reason. That is to make your day as unique and special as possible. This is why they focus on personal service so you feel like the individuals you are and not just another payment coming their way. On the day, a suited chauffeur will provide professional yet friendly service to you. As a part of each wedding car hire, you'll find complimentary bubbly and your car decorated in ribbons and flowers that team with your colour scheme. With all of this great service, find a beautiful collection of well-loved vintage Volkswagens from the turquoise Beetle to the bright red Camper. All of your VW requirements are right here.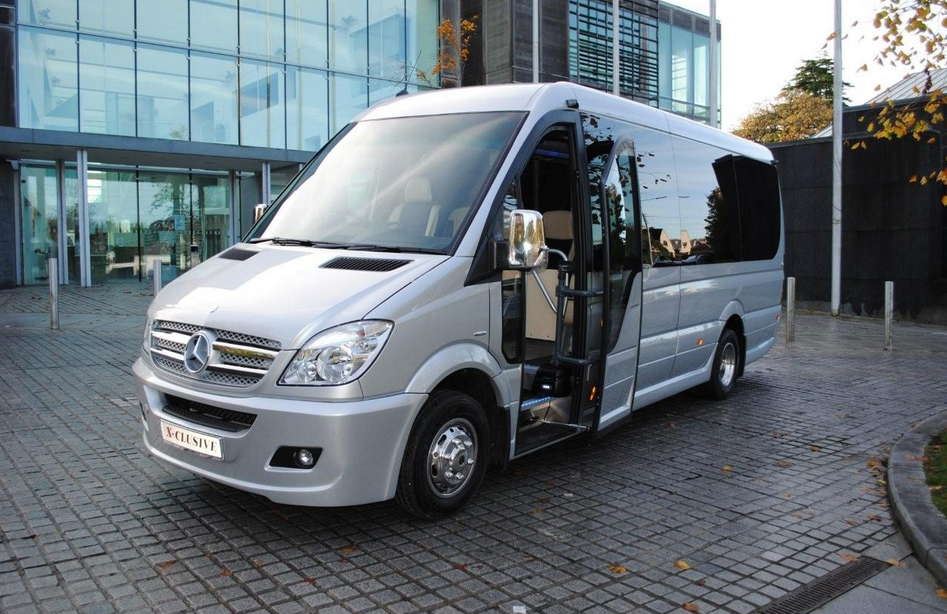 Wedding Car Hire doesn't have to mean vintage. Any beautiful and high quality car is perfect for wedding day hire. Find luxury modern cars at Bon Voyage which are ideal for those who love to feel a little bit fancy. In this fleet find modern Mercedes and Chrysler makes that have every mod con you could wish for. Your car of choice will be decorated with the classic wedding car ribbons and flowers too. For the entire modern wedding car package, go with Bon Voyage.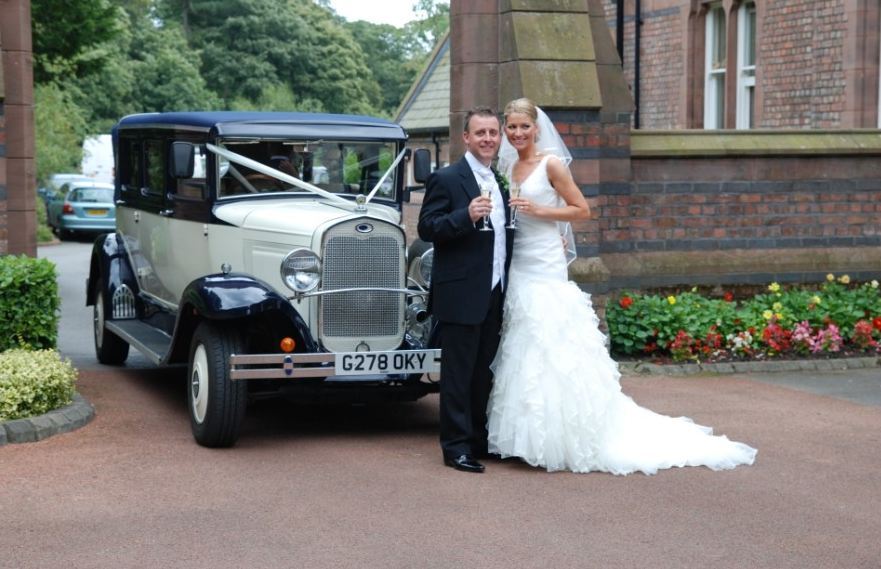 Classic vintage style wedding cars are here with Heritage Motors. This 2002-established team have the experience to give you the wedding day car hire that you truly deserve. We all work hard to plan and execute our perfect weddings and this team only wants to help. Their range of vehicles includes a range of Landaulettes and Bramwiths and other delightful numbers in between. The range of seats available in this fleet starts at 3 and goes up to 8, so whatever size party you're looking at transporting, you'll be sure to find something stylish that suits you here.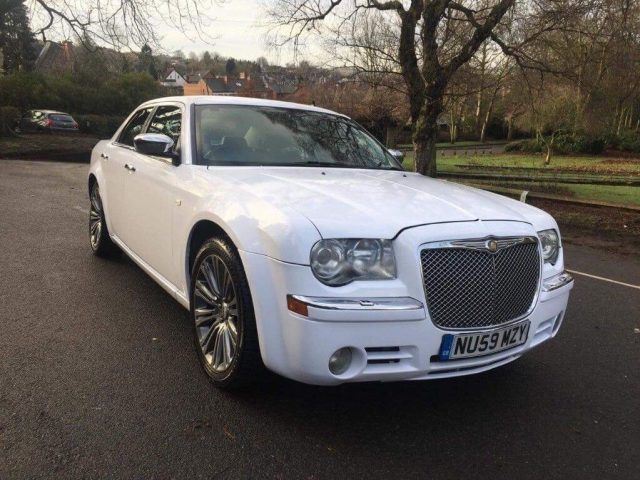 At White Wedding Cars, you'll be treated to an amazing selection of luxurious wedding cars. This team are the ultimate local team. They have expert local knowledge and amazing customer service to make your wedding day as special as can be. With their top of the line wedding cars, the team at White Wedding Cars certainly won't disappoint even with the fussiest of couples. Find immaculate cars and the service to match.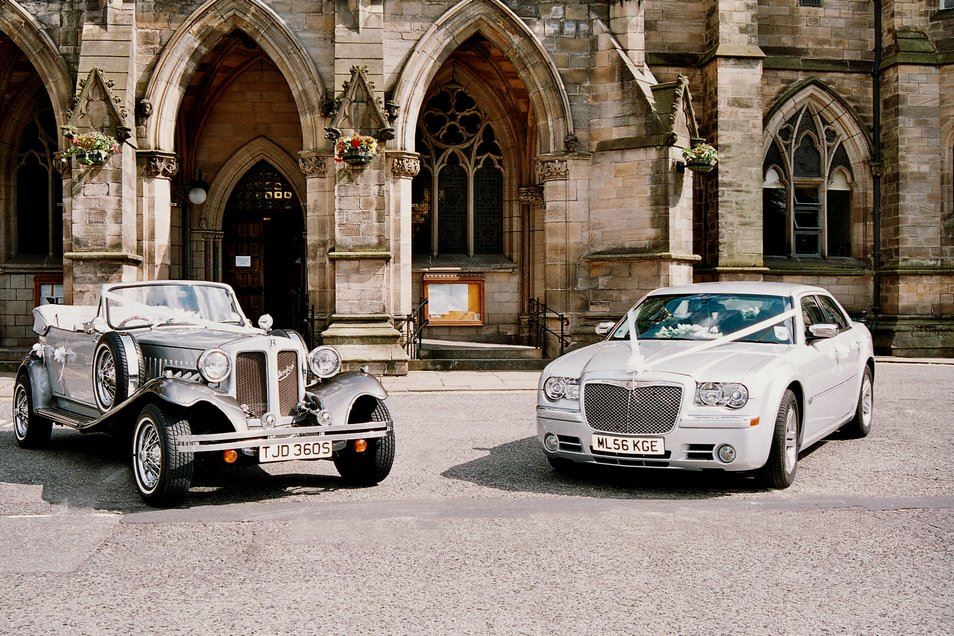 At Hire Society Wedding Cars, you'll find a team with an excellent reputation. This team are known for their friendly and professional service throughout the region and they've been steadily building that rep since 1995. Whichever car you choose, this team will guarantee that you'll get that exact car on your big day (no last minute swaps here) and your personal chauffeur will arrive in uniform and ready to assist you whatever way they can. Your chosen car will also come adorned with ribbons and silk flowers to suit your theme.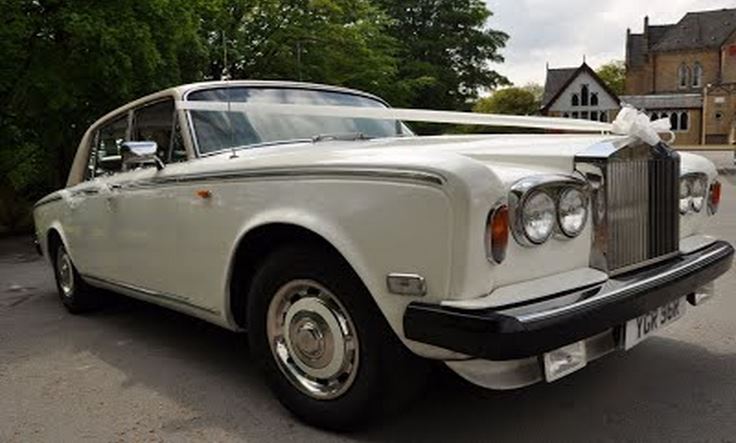 Elite Wedding Cars of Shaw is a family run business ready to provide high quality service. In fact, this team believe that nothing is too much trouble on your wedding day. If you feel the same, then continue reading. This team aim to make sure that you arrive at your wedding in classic style. With their luxurious range of vintage, classic and modern cars that are all perfectly maintained, you'll be super impressed with this team and everything that they are able to offer. With only one wedding booked per day, you can rest easy knowing that you won't be rushed on the biggest day of your life.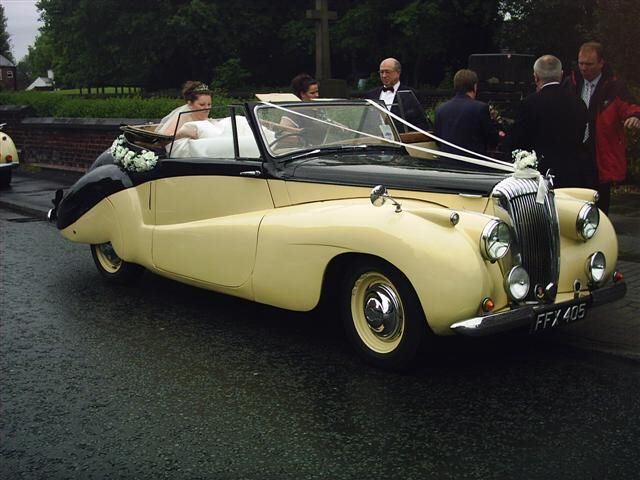 At Wedding Cars of Wigan, you'll find a well-established business that have been hiring out cars for weddings since 1991. This team realise that booking your wedding day transport is another important thing you need to take care of for your big day, but they also get that maybe you don't have the time to do it justice. This is why Wedding Cars of Wigan are so dedicated in getting their clients what they require for their wedding. They will help you make the right decision and find the ideal wedding car for you. With their collection of beautiful Daimlers, it'll be hard to say no.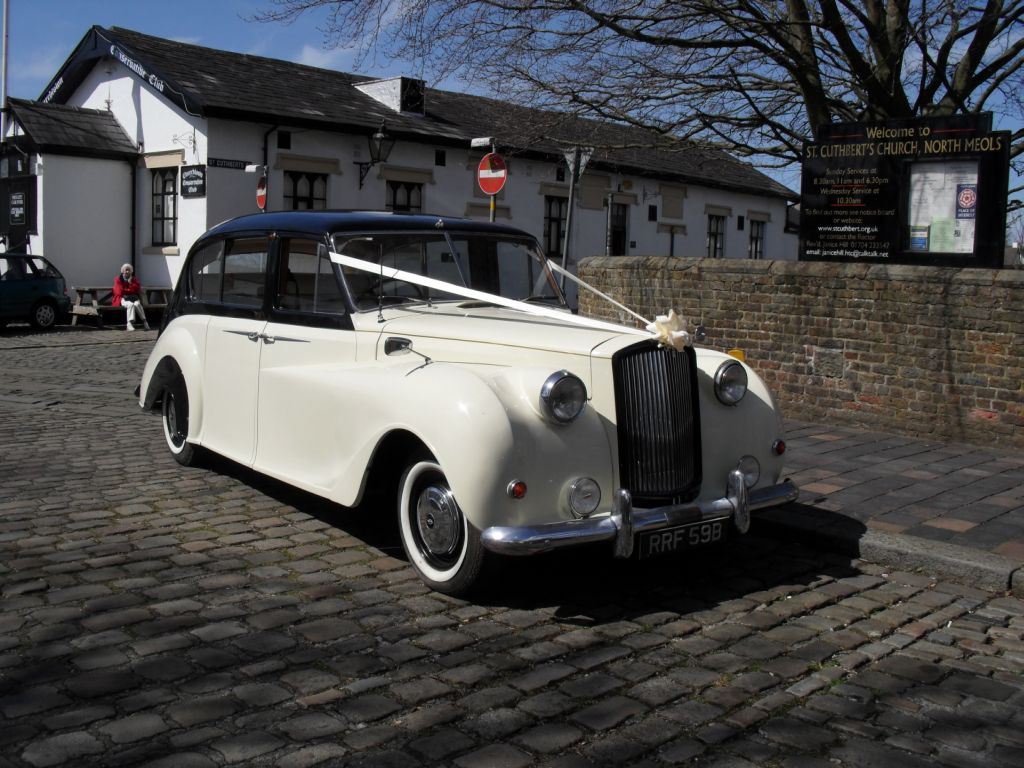 Magnolia Classics Wedding Cars are a team that believe that your wedding transport is a huge part of your wedding day. It's like the cherry on top of an ice cream sundae. You need it there and it makes all the difference. This is why this team are here to offer only the biggest and best car makes for hire including Rolls Royce and Daimler. Check out their classic fleet today.

Lea Cars are the kind of company that love how individual all of their clients are. They recognise that no two couples (or people!) are alike and so they offer completely bespoke service that is personalised to your needs and requirements. This means that whatever you feel like you need for your transport, like for example bottled water or a packet of tissues, this team will go the extra mile to make sure you have it all. This is a completely unique business model for wedding car hire, so jump on it and get everything you want from your car hire.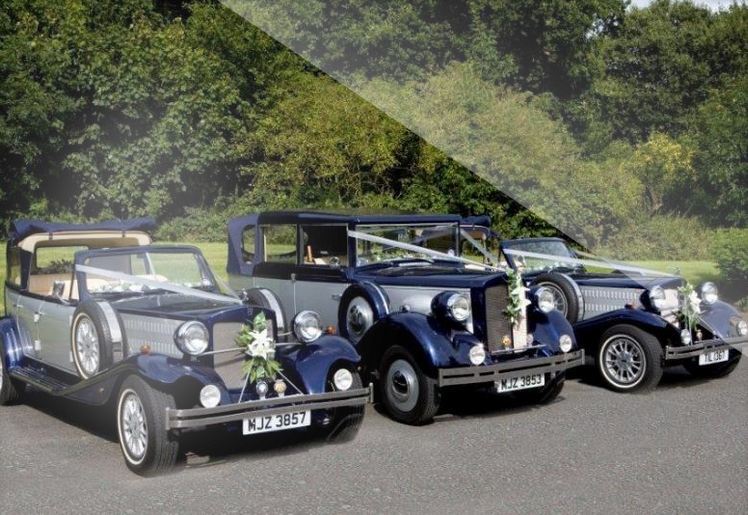 At Memorable Journeys, you'll find a classic fleet just waiting to be seen. This fleet is all about style and grandeur, which they hope will reflect the love felt on the day. In this fleet you'll find beautiful vintage style makes like the Regent and the Beauford Sedanca de Ville. You'll feel like movie stars in these elegant and charming cars. As they're modern made cars, you needn't worry about their reliability either as these babies run like a dream. Book with this team for immaculate car hire and first rate service.
Broughton Wedding Cars is made up of a team of professionals who are here to offer luxury wedding car hire at affordable prices. This team have a true passion for luxury cars, which doesn't just mean modern vehicles. No, we're talking true vintage luxury and it is fabulous. See this team's range including a 1957 Rolls Royce Silver Cloud, a 1928 Chevrolet Tourer and a Daimler Limousine. They even have a vintage style Beauford which is one of the UK's most popular wedding cars. Or for a quirkier option, choose this teams' 1964 Volkswagen Splitscreen Camper.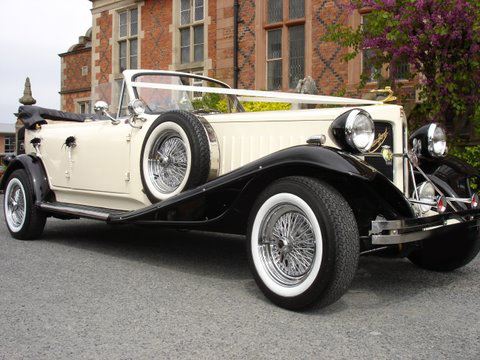 Always and Forever are here to offer you unique and professional service for your upcoming wedding day. This team offer vintage and modern makes, so you know they don't discriminate against anyone's personal style. If vintage is your thing, then you'll have a choice of two fab vintage cars or you love a modern ride, then their Mercedes S Class is waiting for you. This family run team is owned by Geoff and Karen Oldham who love to provide professional service with a personal touch.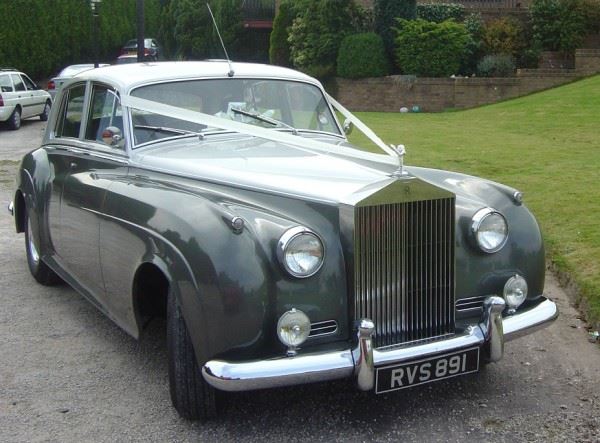 At Elegance Wedding Cars Wigan, you'll find a range of classics to choose from for your wedding day car hire. This team are all about the service. They are reliable, punctual and courteous. They also display fantastic attention to detail and will always go the extra mile to make your wedding day as perfect as they can. On offer in their fleet are makes including Rolls Royce, Bentley and Daimler, all of which would make the perfect ride for your wedding. With this team, get personal service, no pressure or feeling like you're being rushed and an immaculate classic car. What more could you ask for?