A beautiful seaside wedding requires a beautiful car. Here are the top 20 providers in the lovely seaside town, Hove.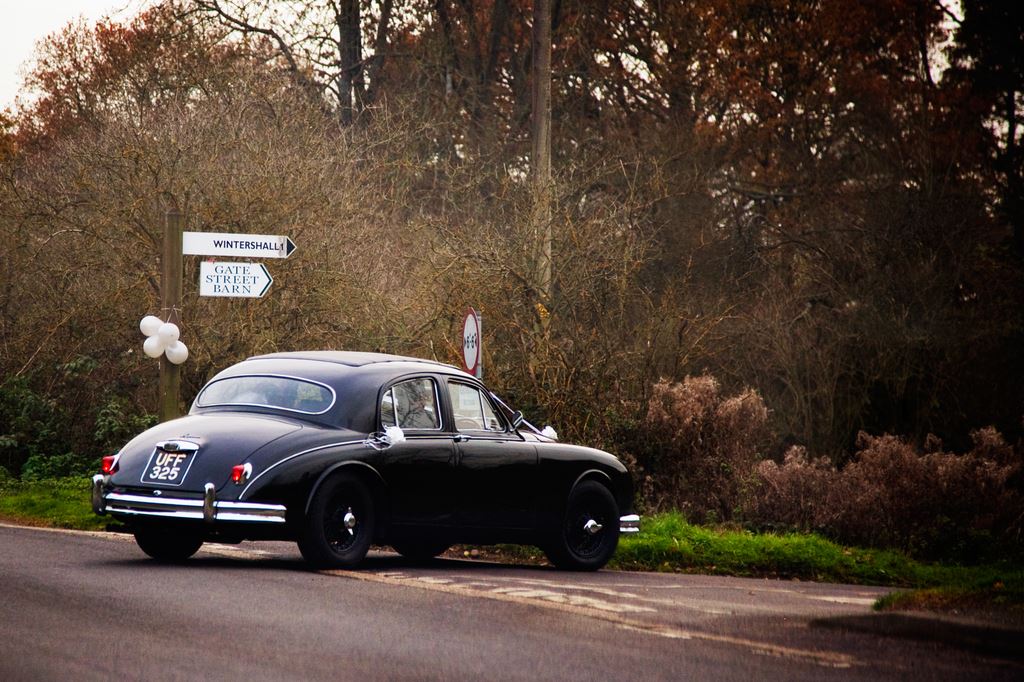 If you're obsessed with vintage cars, then you'll have to check out Ag Classic Wedding Cars. This team have a small fleet. It's a fleet of one. But that single car is a knockout. On offer is a 1959 Jaguar Sports Saloon car in a shiny black finish. The curvy shape of this car paired with its luxurious red leather upholstery make this Jaguar a perfect choice for your wedding day transport. Not only will you be riding in style, you'll also be in complete comfort. This car is understated elegance in full force.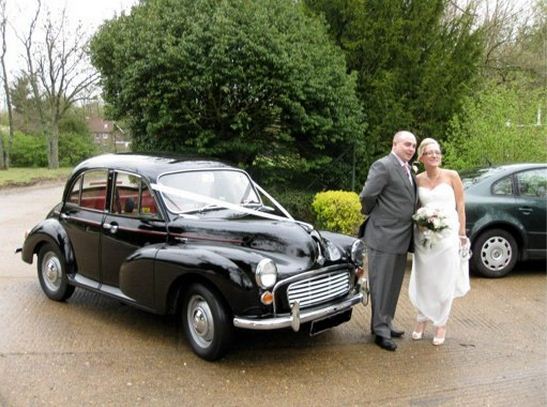 For those who've always loved a little Morris Minor, then you're definitely in the right place. At Alfreds Wedding Cars you'll find two adorable Morris Minors for you to choose from. If you're looking for something in a traditional tone, then the 1961 Old English white Morris Minor is the one for you. While the body of this car is white, the hood, sets and carpets are all maroon making for a wonderful contrast. If black and sleek is more your style, then the 1968 model is the one for you. Finished in lustrous black with red seats, this little car will be a classy addition to your wedding day.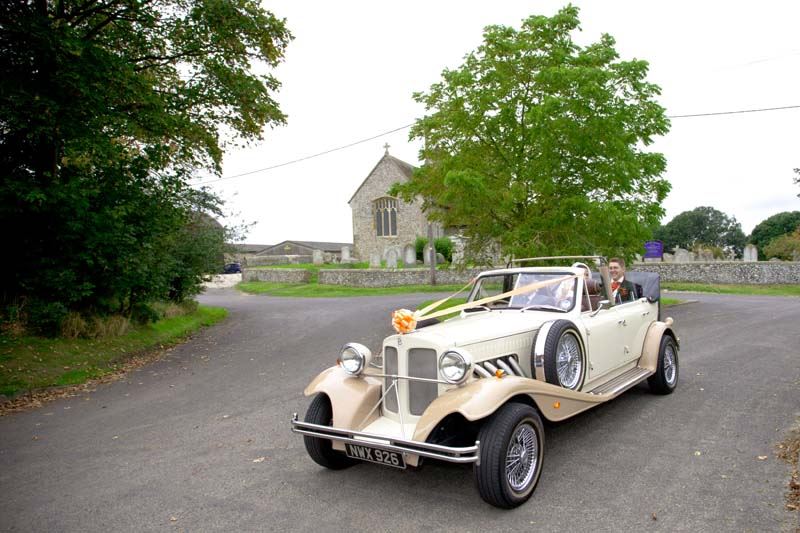 For some couples, the experience and professionalism of the team hiring out the cars takes precedent over the car. If service is what you're after first and foremost, then Chariots are a great choice for you. This team recognise that the ride to your wedding is one of the most important journeys you'll make in your life. And that experience needs to be treasured. This team love to provide perfect service so you can rest easy knowing that you're in safe hands. Choose from a range of modern, vintage or classic vehicles for personalised service and great cars.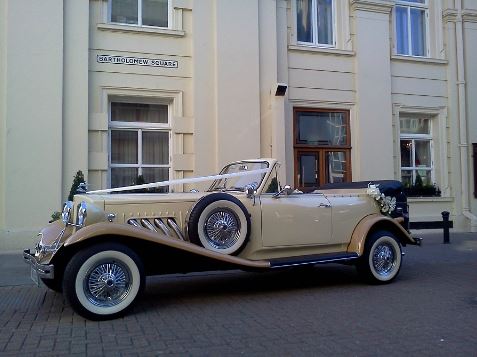 Cars don't get any dreamier than this. The team at Beauford Classic Wedding Car Hire have a delightful car on offer. Their 1930s style Beauford Open Tourer is a beautiful cream and caramel wedding car with matching cream interior and a black convertible hood. Feel like you're in an episode of Downton as you cruise along in this sensational car. This team have great service alongside their delightful car. They offer a complimentary bridesmaid trip before they transport the bride. This means 3 bridesmaids can be taken to the ceremony location first and then the driver will come back and collect the bride for her big entrance. You can't get much handier than that!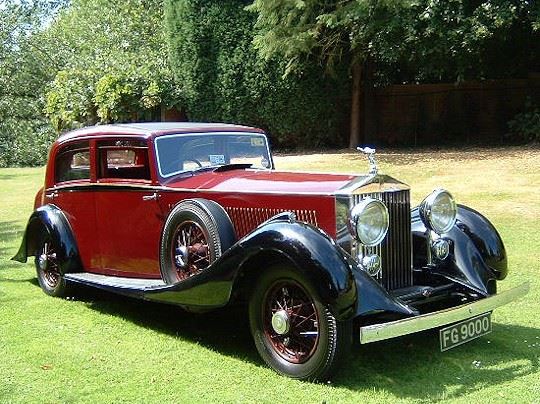 Amazing classic and vintage cars can be found in the unique fleet offered by The Ashdown Classic Wedding Car Collection. This team have years of experience of providing wedding cars in the area so they're well versed on how this all goes. This doesn't mean they'll treat you like anyone else though. With this team, it's all about personal and customised service.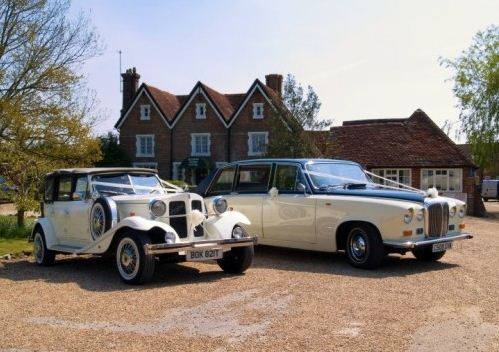 A family run business with a lovely collection of vintage and vintage style cars sounds pretty delightful, doesn't it? If this is exactly what you're after, then Premier Wedding Cars are the providers for you. Find your chosen car decorated in cream or white ribbons and bows so it really looks the part. Have your most relaxed car ride yet and do it complete style with Premier Wedding Cars. You won't be disappointed.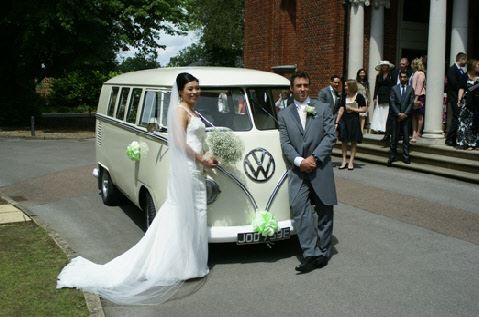 If vintage Volkswagen cars are your calling, then you simply have to get to you wedding in one. Bridal Bug Weddings are here to help. Book of their vintage VW classics and roll up to your wedding in the coolest style imaginable. You'll find that every chauffeur in this team is prompt and reliable so you'll be getting to your wedding comfortably on time. Find that they also carry an emergency kit with all the essentials like drinks, tissues and a sewing kit so that if you need something, they'll have it for it. They even offer complimentary champagne to the bride and groom. Cool style and fab service don't always get paired but when they do, you know you're onto a winner.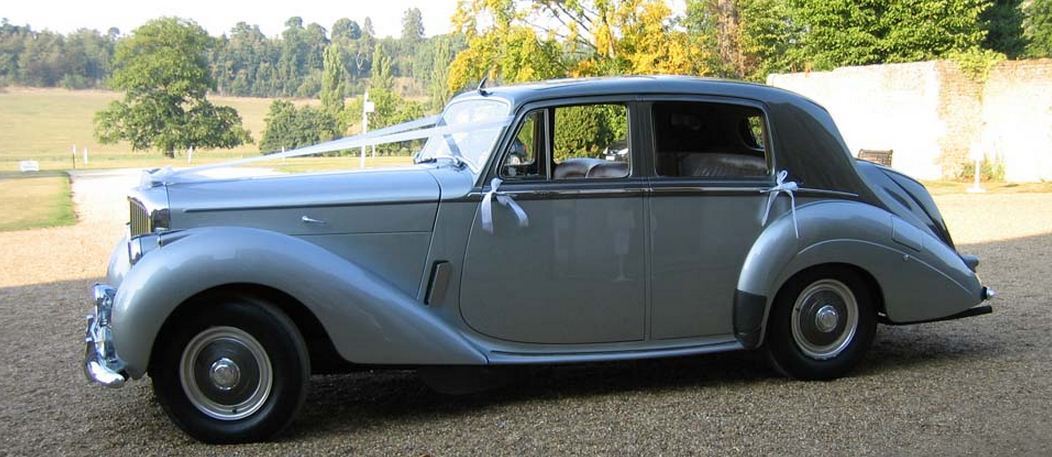 Beautiful Bentley wedding cars are only a few clicks away with Harvey's Chauffeur Cars. Receive only the most immaculate Bentley to escort you to your wedding, paired with the finest service you could wish for. Experience luxury and perfection in one of the Bentleys on offer. With a highly trained chauffeur to get you to your ceremony, you'll be feeling cool, calm and collected as you arrive. Get the best service and the best cars with Harvey's.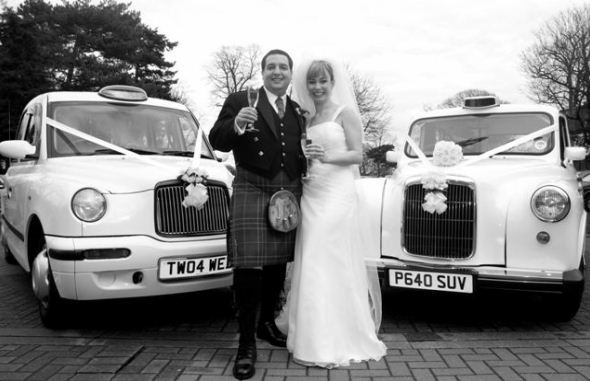 Even though you're marrying in Sussex, you might have an affinity with London. Let's face it, we all have an affinity with London. It's one of the world's most vibrant cities. A big part of what contributes to the wonderful fabric that makes up London's culture and aesthetic is the black cab. Instead of black though, how about a twist on a classic? White London Taxis offer what the name suggests: only the best white cabs that you can get for your perfect wedding. These little cabs are adorable and are a delightfully quirky alternative to a classic wedding car. Experience fun and joy as you ride to your wedding.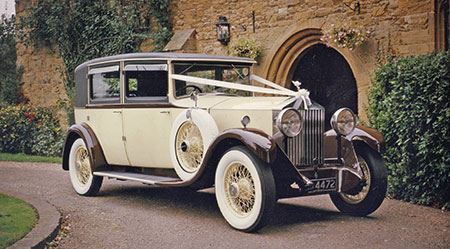 Sometimes for weddings, only a Rolls Royce will do. If this is sounding an awful like you or your partner, then you'll have to consider this team. Offering beautifully restored vintage Rolls Royces for wedding hire is this team's speciality. You'll receive not only a stunning car, but top quality professional service that includes attention to detail and years of experience. For top quality Rolls Royces, you can't go anywhere else.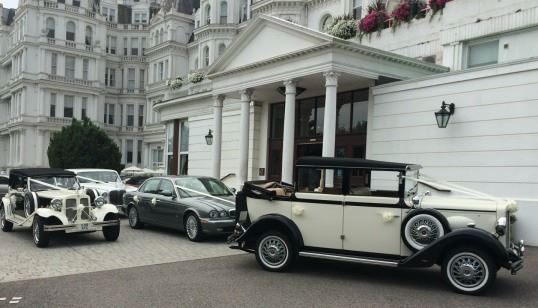 If you're looking for a wedding car provider who will endeavour to make your wedding day extra special, then Finest Wedding Cars are the provider for you. This team have a lovely expanding fleet that you'll be totally smitten with. Whichever classic, vintage style or modern car you choose from their fleet, it'll come with decorated with bows and ribbons, have champagne for the bride and groom and you'll have your own uniformed chauffeur on the day to get you to your wedding safely.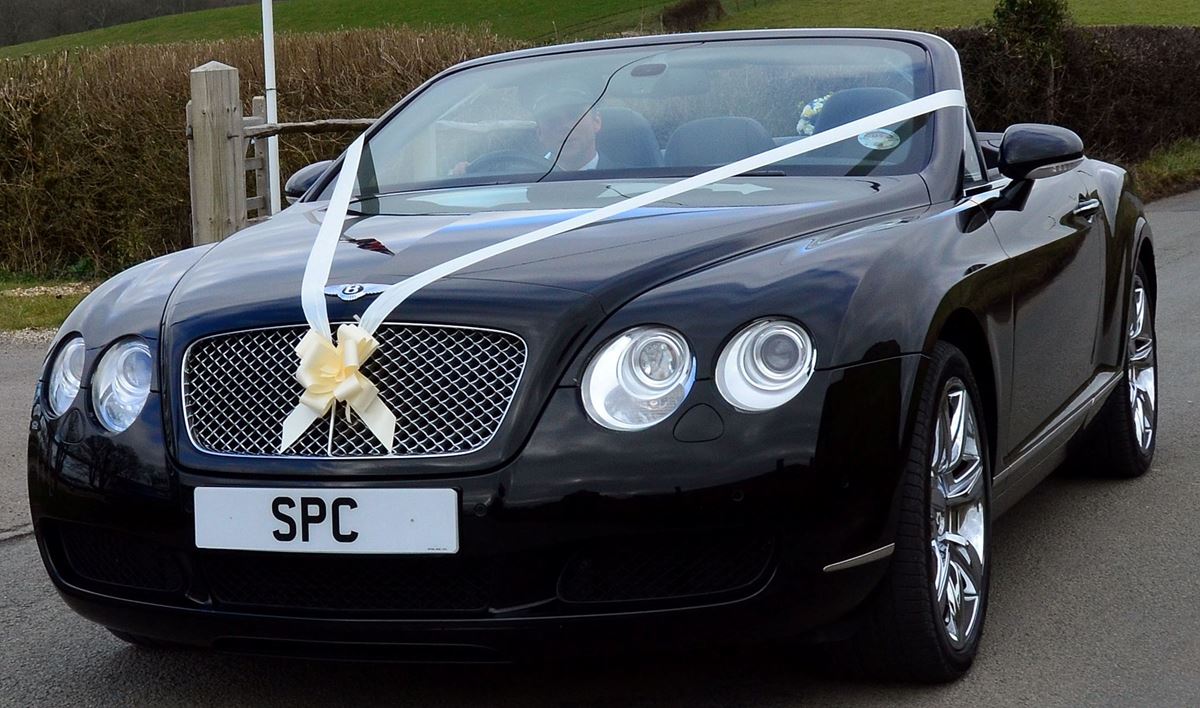 At Sussex Prestige Cars you'll find a team that prides themselves on providing amazing and always professional service. This applies to when you're booking your car hire and on the day when your uniformed chauffeur is escorting you to and from your wedding. In their fleet, you'll find a fabulous modern collection of cars including a Mercedes S Class, a Chrysler Grand Voyager and a Jaguar XJ Portfolio. These cars are the coolest of the cool and will certainly make you feel fancy when you're driving off to your wedding. Whichever car you end up choosing, it'll comes decorated in ribbons and have a fresh flower arrangement as well, all in the colour of your choice.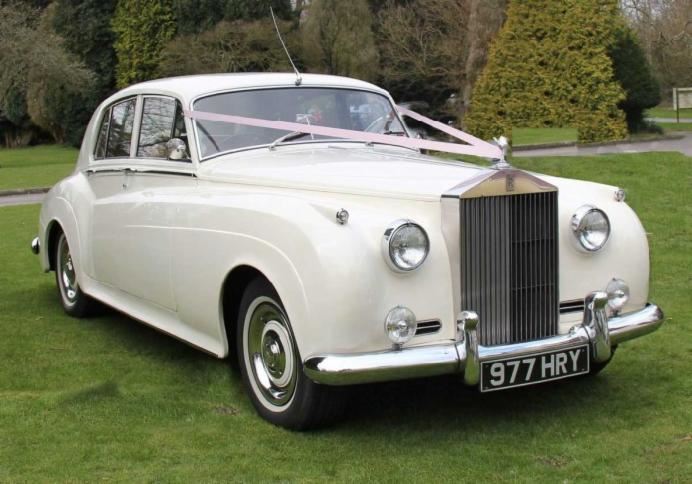 At D S Wedding, you'll find a family owned and run business that have been doing wedding car hire since 1986. This team specialise in supplying chauffeur-driven classic and vintage wedding cars, which are always beautifully maintained so that the drive to your wedding is smooth and worry-free. This team take a huge amount of pride in the work that they do. Their service is unbeatable and we think this is because they are truly dedicated to their work. Check out their Rolls Royce wedding car from the 1950s. It's graceful, elegant and perfect for any upcoming wedding.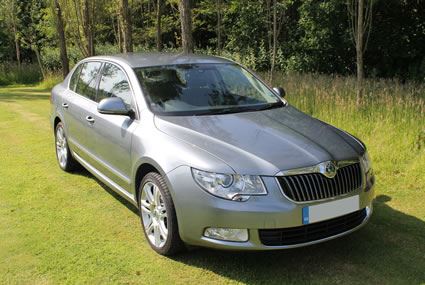 Beaver Cars are a family run business who offer top quality service and executive car hire. This team are proud to offer only the best in modern executive cars and this of course means that their fleet is made up of a range of BMW vehicles including the 7 Series, Full-sized Saloon, the Estate, the MPV and the Minibus. Your perfect car can be hired from this professional team for as little as £75. Don't hesitate to book.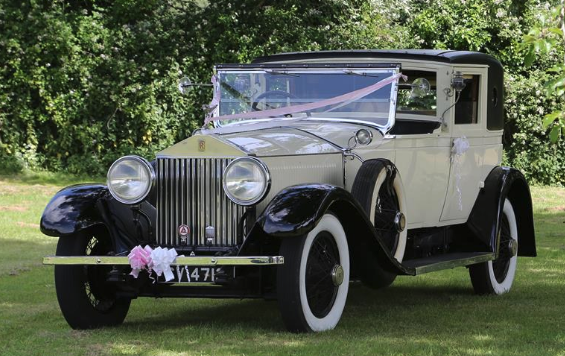 At West Sussex Wedding Cars, you'll find an amazing collection of luxurious vintage wedding cars to consider for your wedding car hire. Consider their true vintage Rolls Royce Phantom I which is from 1925. This classic beauty has so much vintage charm and is the perfect car for your upcoming wedding. A lustrous choice would be their Bentley R Type which is from 1952. This car is often regarded as one of the most beautiful saloon cars to have ever been built, and we can see why with its shapely yet clean-lined exterior. If you're looking for a convertible, then the Triumph Super Seven 8HP is the car for you. This caramel coloured beauty is from 1930 and is the vintage convertible of your dreams.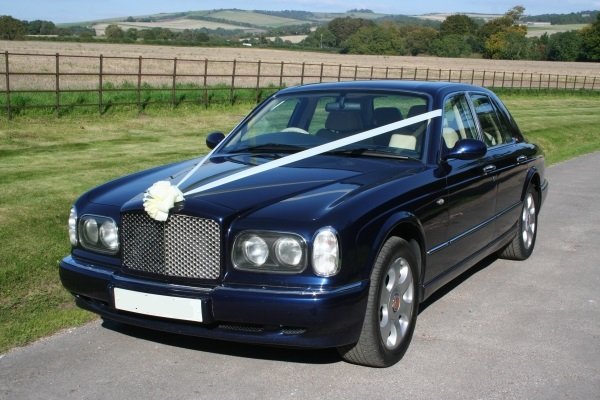 At Executive and Limousine Hire, you'll find a premium car hire service that is completely chauffeur-driven. This means that on the morning of you wedding, you'll only have to focus on getting ready because there'll be a car and a chauffeur waiting to take you to your wedding whenever you're ready to go. This team have a luxurious modern fleet that includes Mercedes, Bentley, Chrysler, Rolls Royce and Daimler makes for you to choose from. This team even offer free champagne with every booking.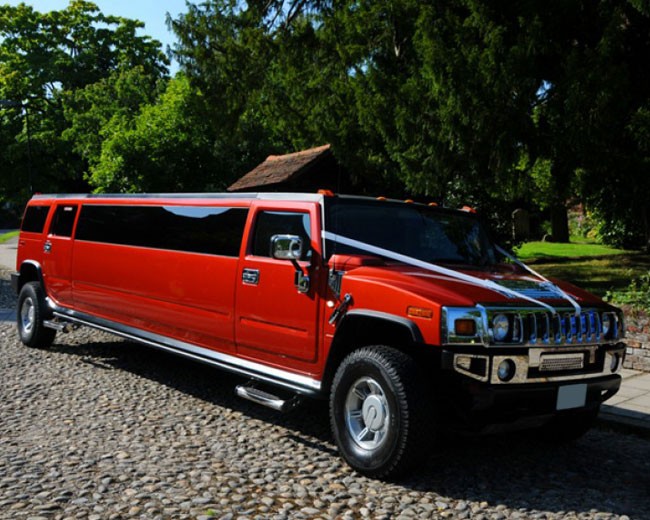 At Hummer Limo Hire, you'll find a team of professionals who would love to help you with your wedding car hire. This team have been in the wedding car hire industry for many years and have since become experts on providing only the best car hire. They have managed to build up an amazing reputation for themselves and always provide excellent service, for every single couple. Classic, modern and sports cars are on offer with this team.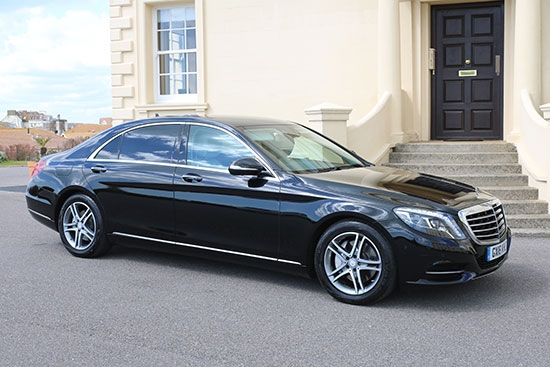 At Hove Executive Cars, you'll be getting a car service that is completely immaculate and personal. This team love to tailor their service to suit the needs of their customers, which only means great things for you. You'll be able to get the exact car hire and the exact service that you've always wanted from this dedicated team. The car that they have on offer for wedding hire is the Mercedes S Class. This beauty has a lustrous and sleek finish, alongside full leather interiors with accents of walnut. Your car will also come dressed in ribbons and bows on your big day! Don't hesitate to book your modern executive car hire for your wedding today.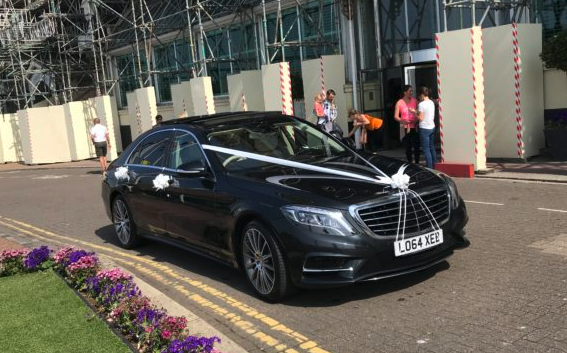 At Brighton City Chauffeur, you'll find that your car hire comes with a fully-trained and professional chauffeur who only wants to make your wedding day even more special. This entire team are dedicated to helping you get the most out of your wedding day and the way they do that is by giving you exceptional car hire that you won't forget. This team provide luxury wedding car hire with modern Mercedes cars including the E Class, Viano, Viano Executive and the S Class.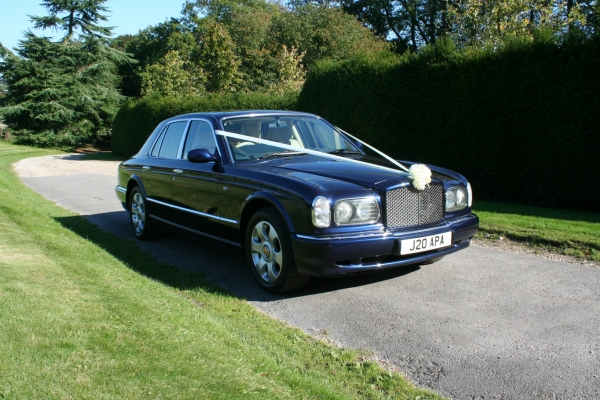 At Black Tie Limos, you'll be treated to fabulous car hire with a fleet of impressive cars and first class service. This team offer a range of cars to choose from for your wedding car hire. You'll find a Bentley Arnage, a Lincoln Limousine, a Mercedes Convertible and Maserati, just to name a few. All the cars in this fleet are totally luxurious and everything you could dream of for your wedding car hire.
For more on these providers in Hove, click here.