For your picture perfect wedding in Abingdon-on-Thames, you're going to need an exceptional ride. Here are the top 20 wedding car providers that service this area.
At 1st Class Cars you'll get the wonderful treatment that you truly deserve. This team have a large fleet of modern cars for you to consider for your wedding car hire. This team really go above and beyond to cater to all of your needs. No matter the size of the party needing the transport on your very special day, this team have got a solution.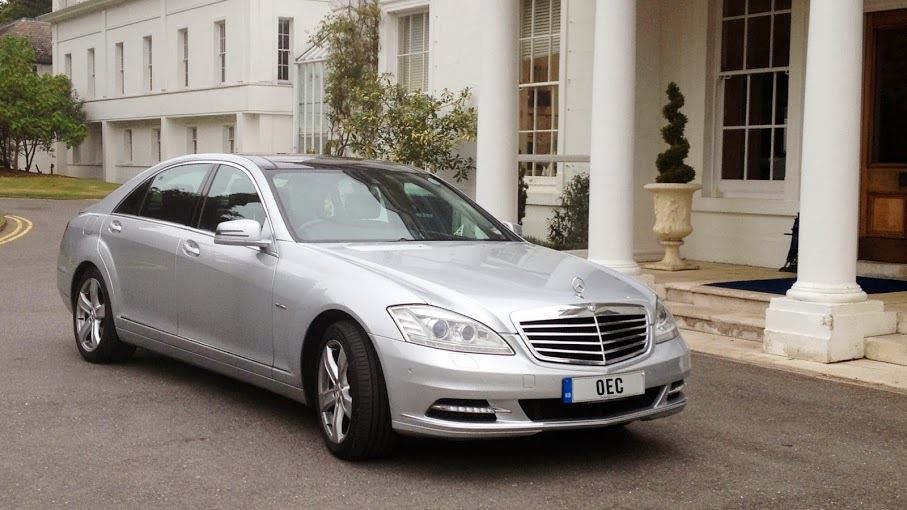 Oxfordshire Executive Chauffeurs offer chauffeur-driven wedding car hire for you to consider. With this team, you'll be given nothing but the best service, guaranteed. This team are so well experienced that they can make sure the first part of your wedding day goes off without the slightest hitch. In their fleet you'll find some of the finest modern luxury cars. The Mercedes Benz E Class and S Class makes are truly special. These pristine cars are both stylish and comfortable so you can relax as you're driven along in total style.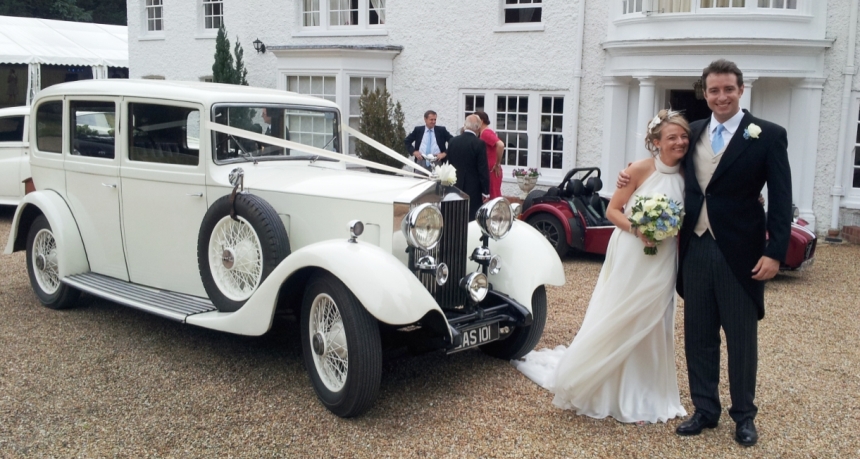 The team at First Choice Wedding Cars are dedicated to helping you find your ideal wedding transport for your wedding day. This very large and diverse fleet is full of immaculate and interesting vehicles, all waiting for you to consider them for your wedding day. This fleet is huge. You'll find everything in here from a green 1964 campervan to a Routemaster London Bus all the way to a mint green 1957 Cadillac sedan. Every style of car you could imagine is housed in this collection.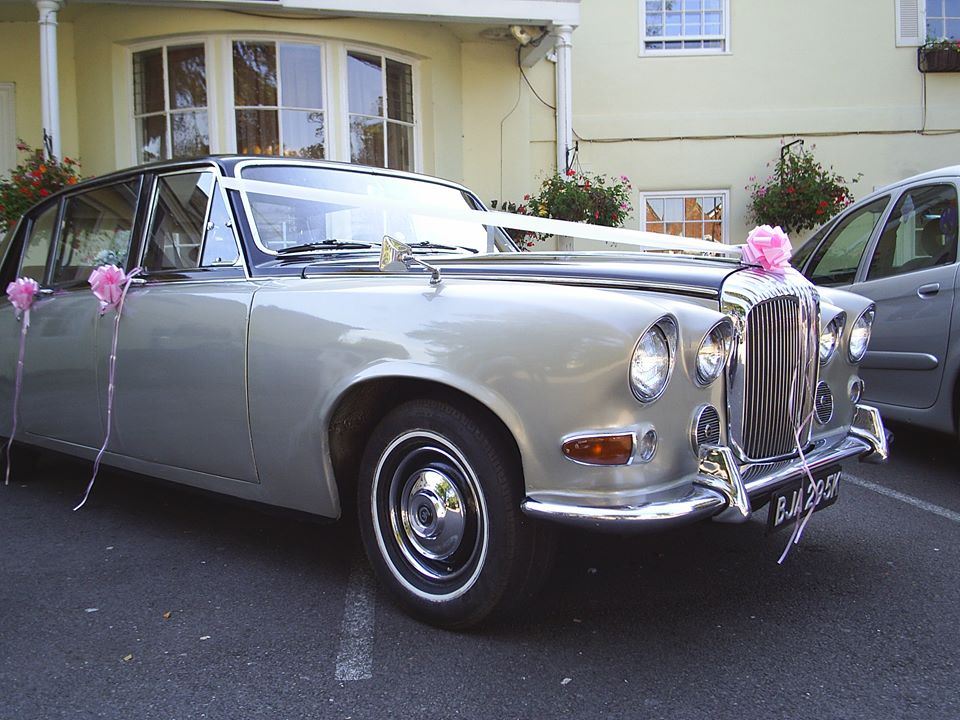 If you're after chauffeur driven limousines that will provide you with the utmost comfort alongside unforgettable style, then you've come to the right place. The John Walsh Wedding Car Company are here with two beautiful limousines to choose from. Although they're not your typical limousines. The first is a vintage 1968 Daimler DS420 Limousine. The design of this beautiful car was originally commissioned by the Queen, so if you fancy yourself a bit of a princess, this may be your ideal wedding vehicle. Next is the Mercedes Benz Platinum S Class Limousine. Again, this car is not your typical limousine either. It's very elegant and really looks the part.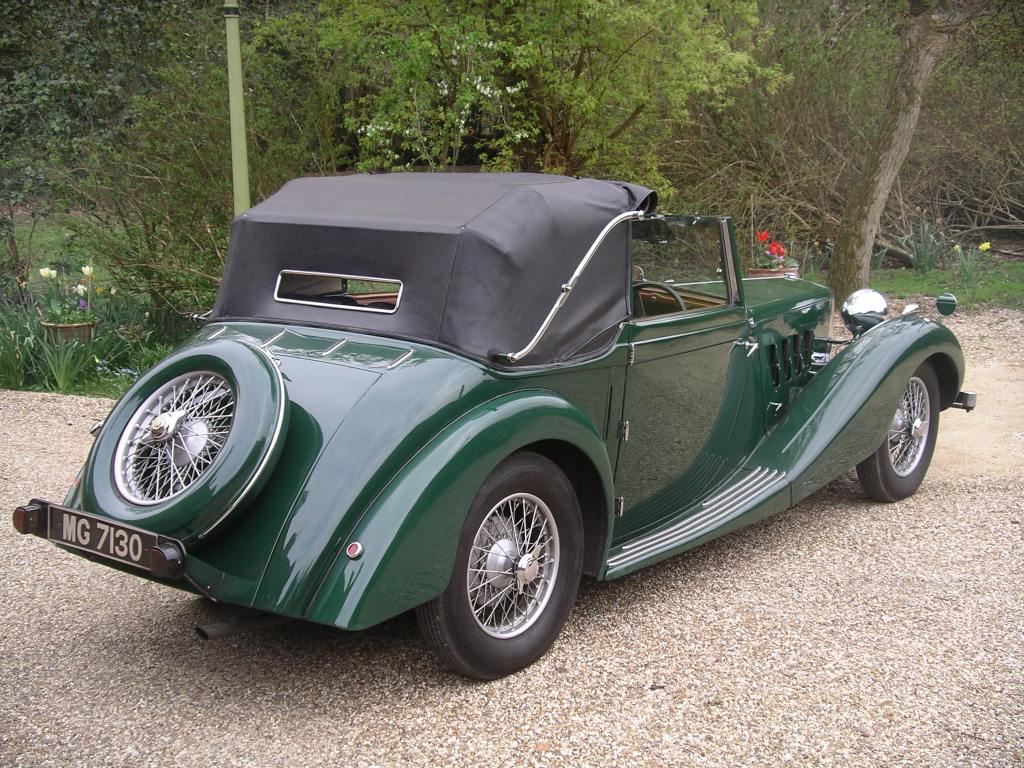 Ages Past have a truly fine collection of vintage and classic vehicles that everyone should consider for their wedding. Simply because, this fleet is amazing. Genuine 1930s Rolls Royce limousines and Cabriolets feature in this fleet. Find rare beauties like the 1965 Alvis TE21 Coupe which comes in a deep lipstick red that will look incredible in your wedding photos. For something truly unique, this team even have a collection of vintage buses and coaches that are true showstoppers. Their bright orange Bedford coach is from 1950 and can house 29 people. Also see their red and white Bedford bus which is from 1949. These unique coaches and buses are particularly great if you need to transport a number of your guests to your wedding. Ride around in some wonderful pieces of history with this team.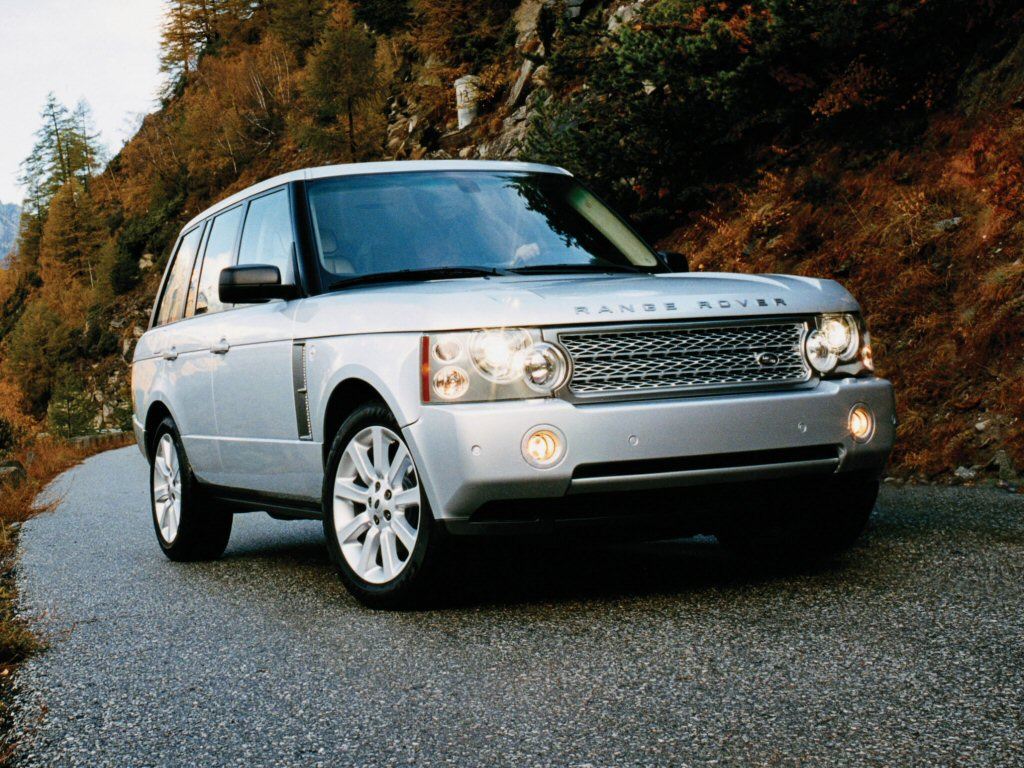 At Banbury Wedding Car Hire, you're guaranteed style, comfort and complete luxury. This team pride themselves on their ability to be able to offer immaculate vehicles while still keeping their prices affordable and fair. You'll be guaranteed a smooth ride when you book with this team. Their friendly chauffeurs are the epitome of professionalism.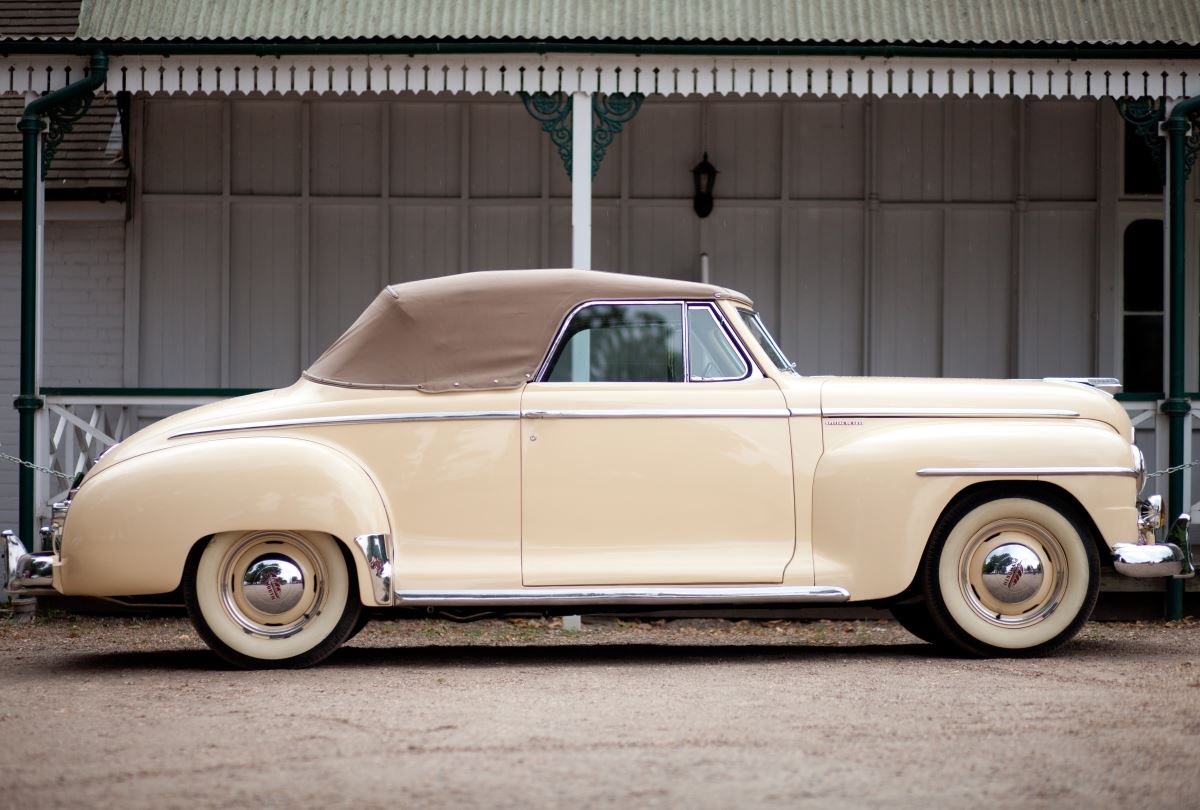 Have you always been fascinated with American culture? Do you love their iconic convertibles? If this sounds totally up your alley, then you are definitely in the right place with Deluxe Classics. This team have three fabulous American classics for you to consider for your wedding car hire. Their immaculate 1946 Plymouth convertible is an ivory dream with red and cream interior. This car is so well-cared for it looks like it was bought yesterday. Next, is their 1947 Plymouth Convertible. This one is just as elegant and cool, but in a jazzier colour: punchy red. From 1948 is their Plymouth Coupe. This one is very similar in style to the other two. It also comes in beautiful eye-catching red.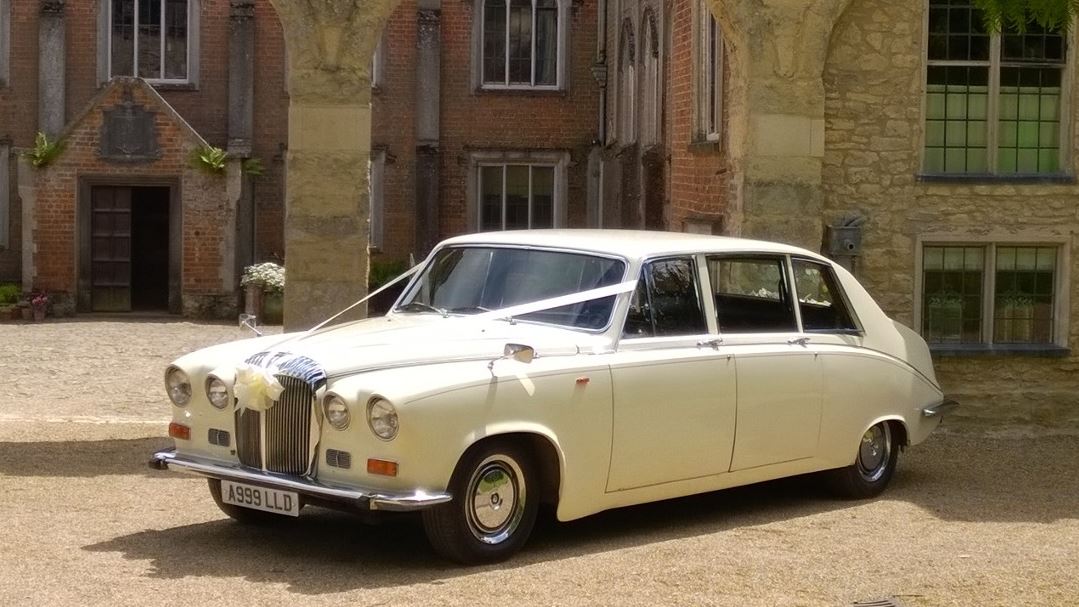 Two Hearts Wedding Car Hire are a family business that are here to meet your every need. This team offer personalised, tailored packages for your special day. This goes to show the full attention this team shine on their customers to make them feel valued. On the day, the service will be friendly and unrushed. You don't need to feel like you have to hurry to get ready. This patient and understanding team will never rush you. Find your perfect car in their modern and vintage collection.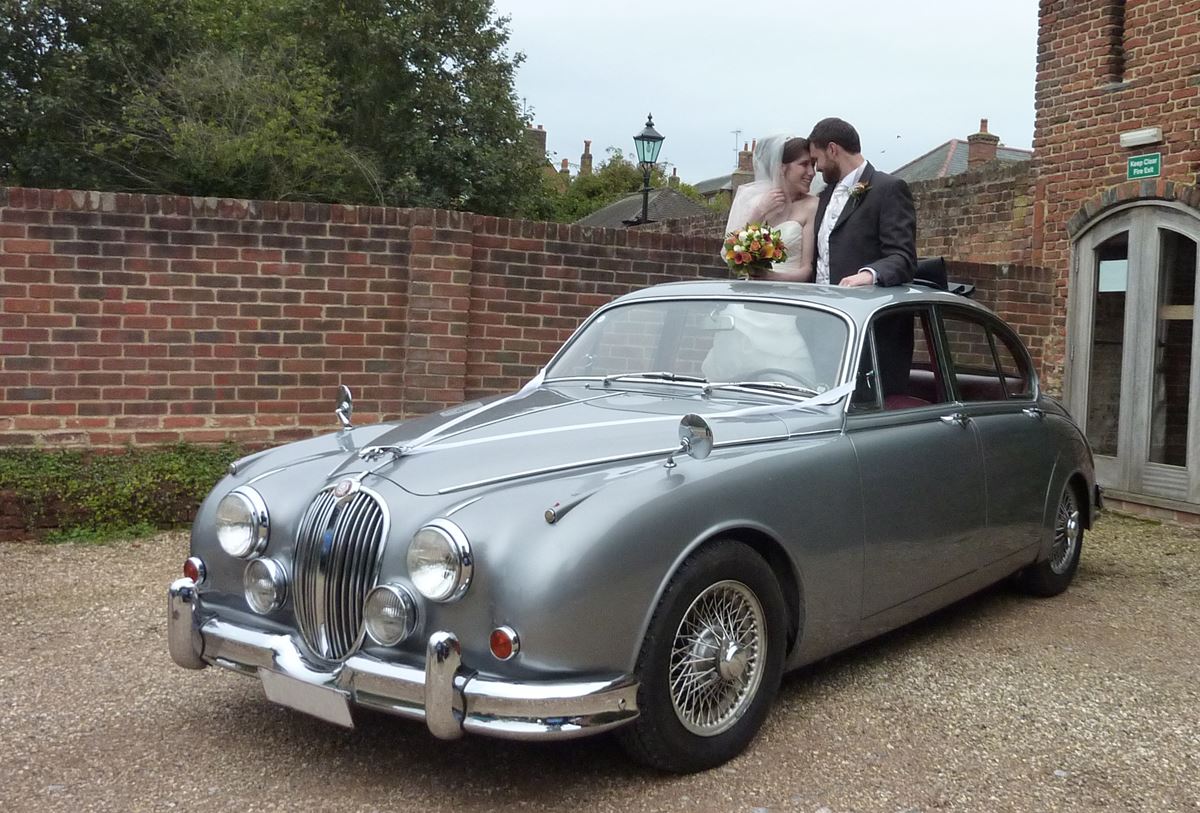 If vintage cars are the only ones you want to consider for your wedding day hire, then Acira Wedding Cars are definitely worth considering. This dedicated family business offers a wonderful selection of vintage and classic cars in their fleet. Find genuine vintage beauties like their 1935 Triumph Monte Carlo Tourer. This bright red car has been completely restored to its former glory so that car lovers like you can take a drive in this piece of history. The many other delights in this fleet come from the 1940s, 1950s, 1960s and 1980s. So many treats to be seen.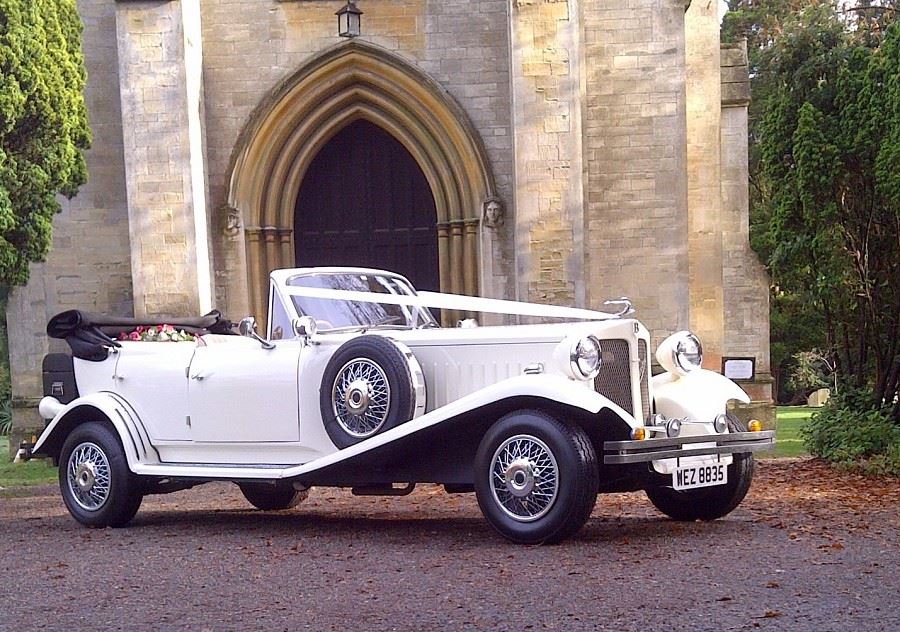 The chauffeur-driven wonders at Elegant Lady Wedding and Anniversary Cars definitely need to be seen. Find classics like Rolls Royce, Bentley and Beauford cars, all available at affordable prices. Luxury isn't spared in any of these beautiful cars, so make sure you check out this fleet and give this team a call.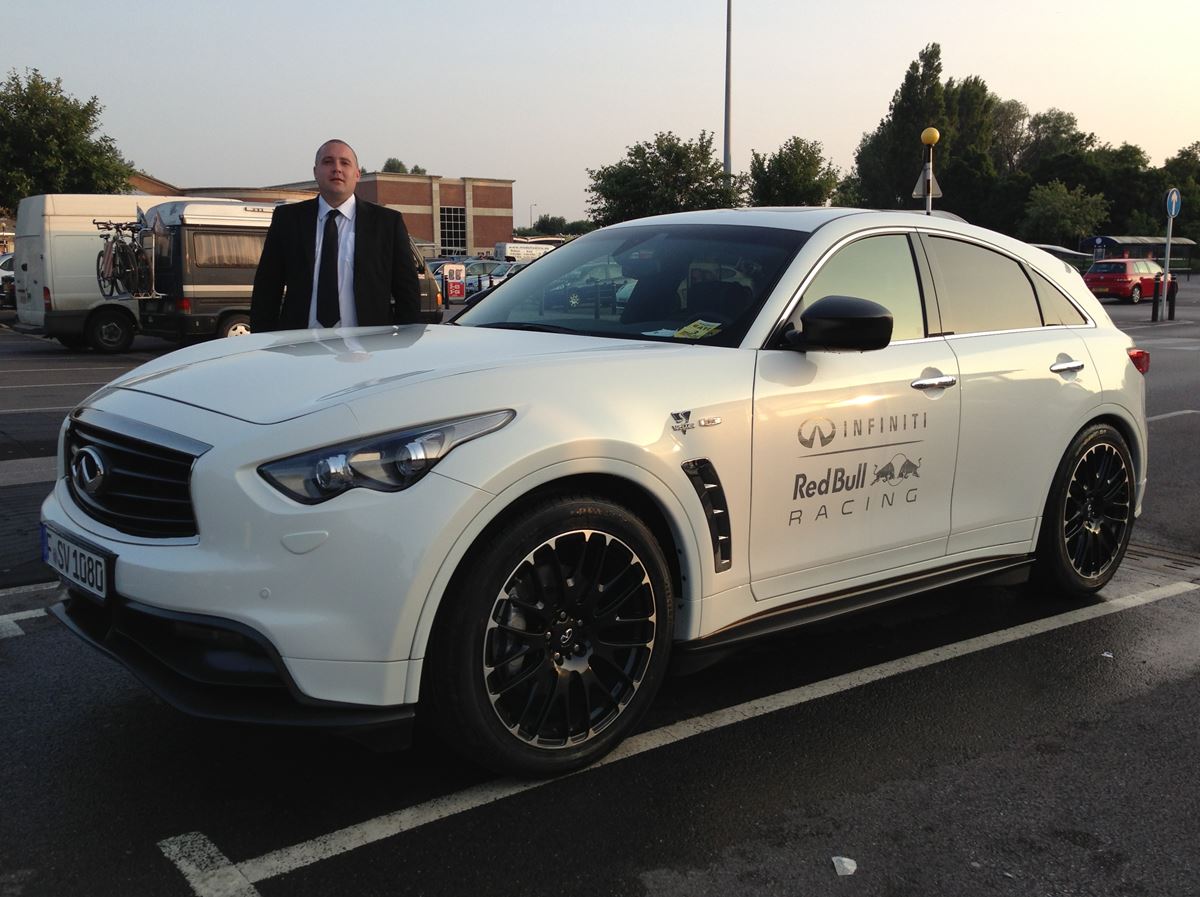 RDP Chauffeurs are a small family run business that is quickly on the rise, and rightfully so. An impressive variety of cars, from family oriented luxury brands like Lexus and BMW, up to more exotic, sports and performance vehicle options. Little touches, like complimentary water on arrival, and the ability to go out of their county catchment, as well as some of their incredible vehicles, are what make RDP Chauffeurs so special.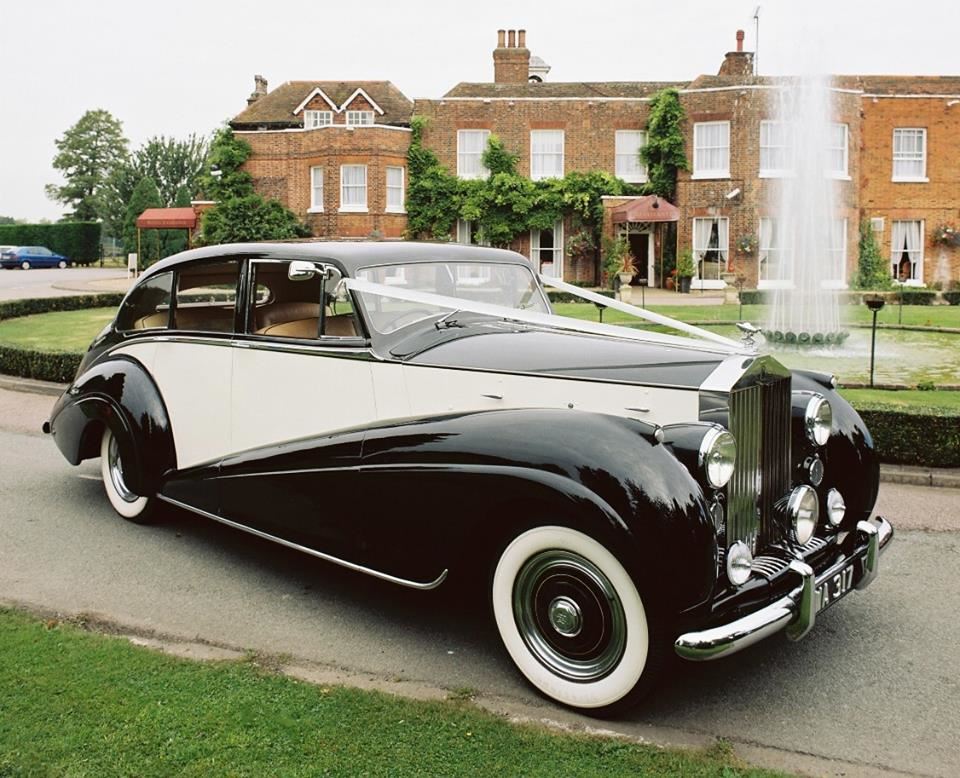 The team at London Legend Wedding Cars treat every wedding as the unique experience it is. No two couples are the same and therefore no two weddings are the same either, which is why you'll find that this team will tailor-make a package to suit your exact needs and requirements for your wedding. In their fleet, you'll find an extensive range of beautiful cars so that whatever your style is, you'll be covered. Find classic, vintage, quirky and modern cars, with even some London Routemaster buses. Find your ideal wedding car here.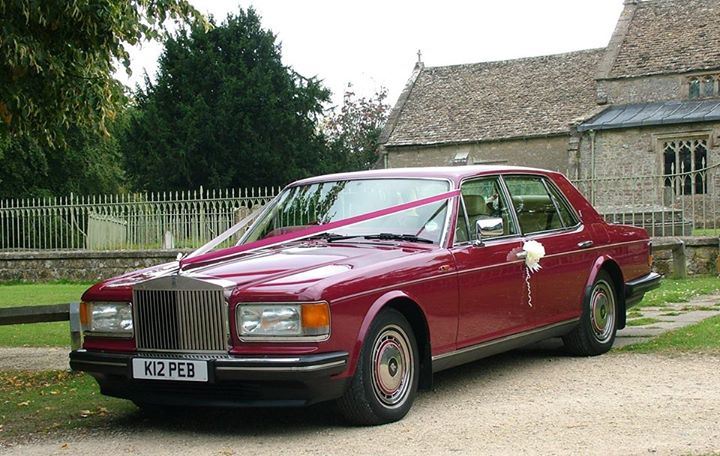 A high quality service with a proven track record of over 170 unique testimonials, Function Cars are here to stay with a fleet of vehicles that range from the classically elegant to the charmingly eccentric. Particularly popular is their range of stunning convertibles from the beautiful 1930's style Beauford, through to the always classy Mercedes Benz convertible, and somewhere in between, the iconic Morris Minor, in a beautiful sea blue/green. If individuality is something you want to evoke, you can't get much more unique than the Talbot Matra Rancho Decouverable. A bright orange, Range Rover style vehicle from 1981, it is believed to be the only registered example of it's make in the UK. The Rancho is truly a car and experience you won't find anywhere else.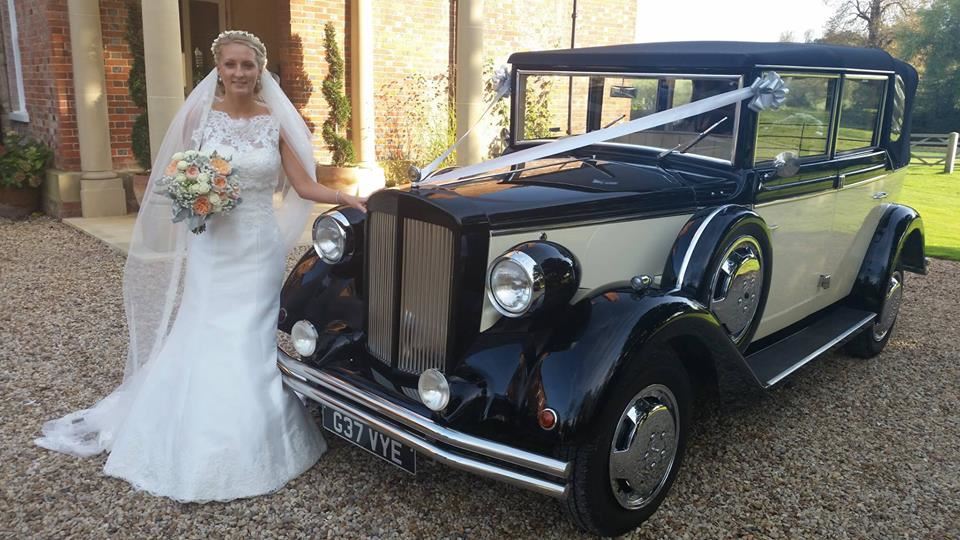 Now this is a fleet of cars stretched to impress. The Oxford Limo Company offer every kind of limo you could possibly conceive of. Looking for something classic and traditional? They have the iconic Chrysler 300, the definition of a classic limousine, available in silver or vanilla white. Looking for something a little more non-traditional? Why not go with a Hummer limousine, ranging from a more conservative white H2 model, to bright pink 16 seater, or the utterly unique 8 wheeler silver Hummer. Whatever you choose, you'll never fail to impress in one of these.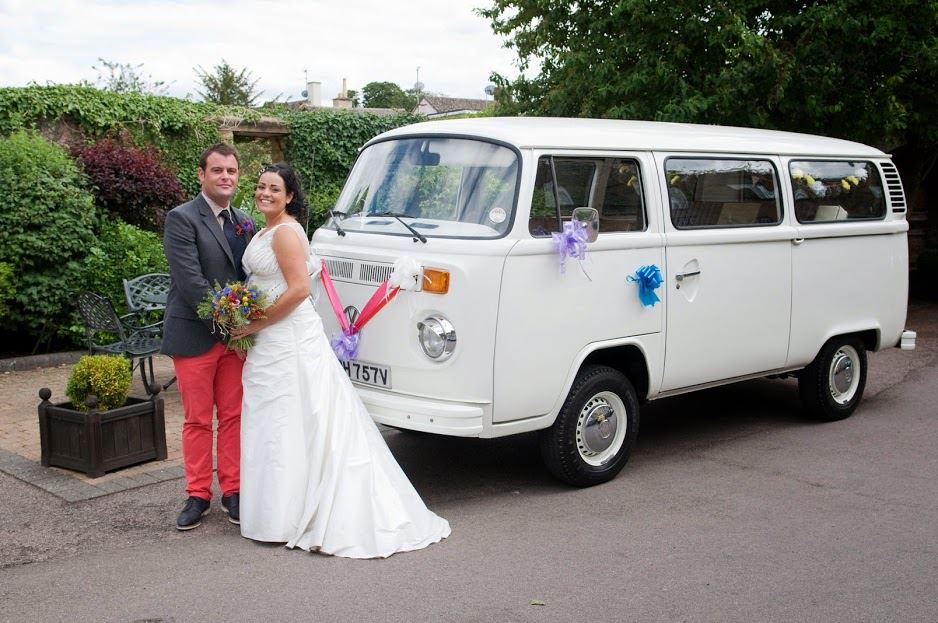 An exquisite service that covers every detail of the event, from your choice of ribbon colours and floral scheme, right down to the uniformed driver and chilled beverages available In each car. Wedding Cars 4 U offer a Mercedes Benz in both E and C Class varieties, an immaculate retro VW Camper van, and for the discerning car lovers out there, a Wolseley 12/18 from 1946, a stunning period vehicle with a sunroof, in a classic Black and White.
For those wanting to combine elegant style and stability with form and function, look no further than 4×4 Vehicle Hire. From iconic four-wheel drive models such as the Land Rover Discovery, the Audi Q7, or the exciting, all new Range Rover Sport SVR, whatever you choose, you'll be living large in luxury and safety. There are few cars more comfortable to drive than these. With safety and comfort ticked off the list, you can arrive and leave your ceremony feeling relaxed and excited for the times ahead.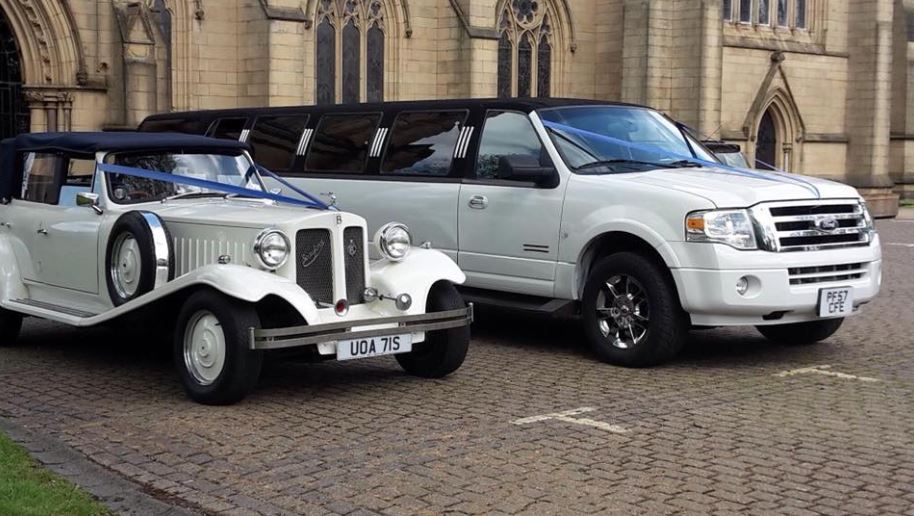 You'll be spoilt for choice when you choose Wedding Car Hire, one of the UK's biggest and fastest growing wedding car hire companies. A vast collection that can't be beat on choice or price, Wedding Car Hire has something for every type of occasion. Modern luxury and high end vehicles such as the Maserati Quattroporte, or the Aston Martin Rapide, go hand in hand with more classic, iconic vehicles, such as the Rolls Royce Silver Cloud, and the Bentley S. All come in a variety of colours, from a classic English white, to a luxurious, deep ruby red.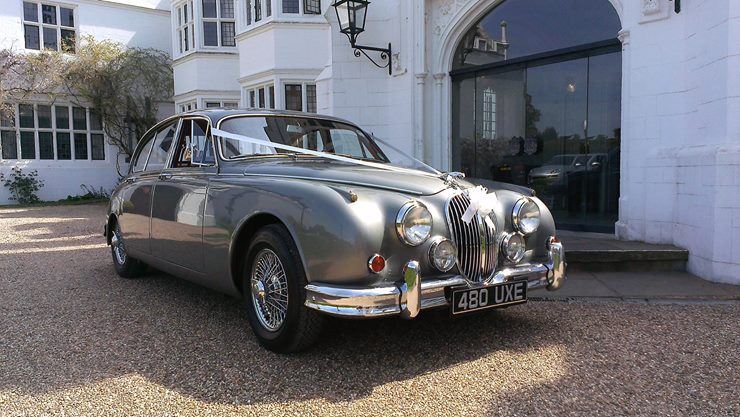 If you're looking for an utterly stylish classic car, then Henley Classic Car Hire are definitely the provider for you. This team like to offer cars that are a little different the standard wedding cars that are in vogue. They offer a beautiful fleet of vintage 1960s Jaguars, a 1960s Daimler and a modern luxurious Range Rover. You'll adore this collection if you're a fan of vintage cars as these ones are simply divine. With the classic 1960s curves in the chassis', the chrome detailing and the super shiny finish, you'll be feeling like an old school movie star in one of these delights.

Sheppard Chauffeur Services offer the impressive distinction of being a luxury chauffeur hire while also being eco-friendly. Just released in their already impressive line-up of vehicles is the incredible new Tesla Model X, an all-electric modern marvel of a vehicle, with exciting falcon-wing doors for that uniquely special entrance. Also on other, among other eco-friendly wonders, is the Aston Martin Cygnet, a rare and charming compact vehicle that will get you wherever you need to be with time to spare.

Stretched 4 U are a customer-centric, affordable service offering a wide array of limousine options. Their chief concerns are not what you do with the limousines, but how safe and comfortable you feel, and they boast competitive rates that you will be hard pressed to find a match for elsewhere. A massive list of cars available, from Rolls Royce, to Mercedes Benz, to Hummers, they have something for everyone. Colours range from classic black, whites and silvers, to the more eccentric and wild pink, for that special event that you want people to remember.
For more providers in Abingdon-on-Thames, click here.