Edinburgh is a beautiful old city. While it is lovely to walk around on a Sunday afternoon, its long hilly streets and alleys with the longest staircases ever, are sure to tire you out on your wedding day. To avoid messing your hair on Edinburgh's windy streets and keeping your day as relaxed as possible, here are the best wedding car providers Edinburgh has to offer.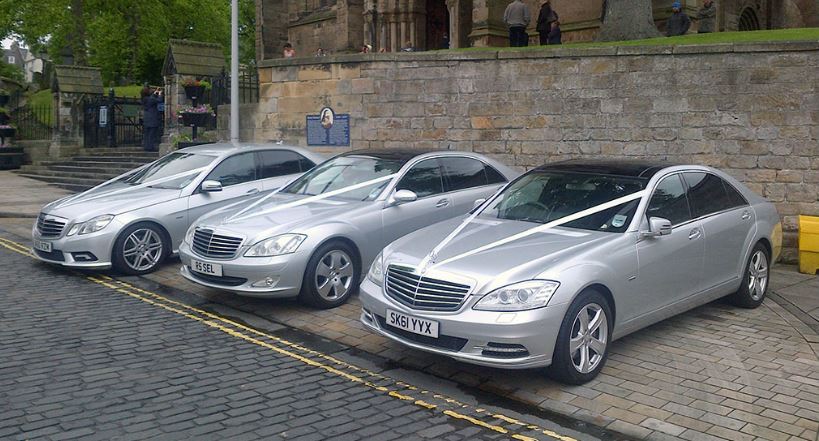 Driven Scotland like to provide high-class cars so that couples don't have to fret on their wedding days. For these reasons, this team offer the best that modern engineering has to offer with the Mercedes Benz E-Class and S-Class. These cars a classic and stylish and have all the best safety features alongside their luxurious interiors. This team are all about service meaning that their chauffeurs are friendly, efficient and professional. They'll even provide ribbons for your car in the colour of your choice.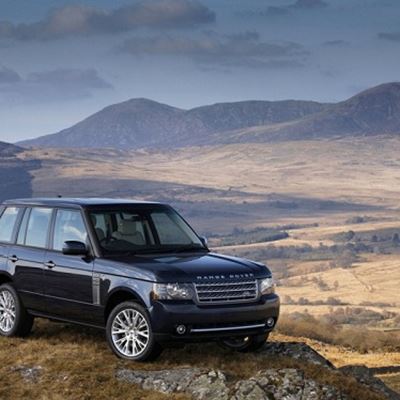 The team at Devere Chauffeurs have a strong focus on providing luxury class modern vehicles for wedding hire. With the ideal modern hire cars on offer like the Mercedes E Class, this team even have a few SUV style vehicles, as well as their adorable red Mini Cooper Cabriolet, which for those of us who have limited car knowledge means that this baby is also a convertible. So if you're looking for a fleet of modern and reliable cars, then you'll be ecstatic with this team.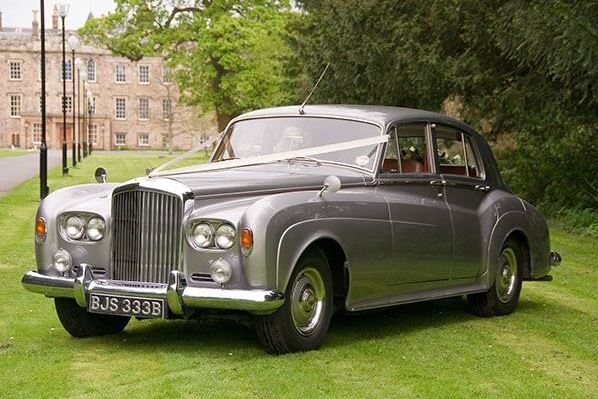 If you love vintage cars, then you'll love the collection of beauties on offer at Ecosse Classic Wedding Cars. This team have some classic vintage numbers to choose from or some quirkier vintage cars that might take your fancy. For some classic wedding vibes, the Bentley S1 or Daimler DS420, both available in multiple colours, are ideal for your needs. For something a little quirkier, the Volkswagen Beetle Cabriolet is adorable and would be lovely on a sunny day where you can have the top down. This team even have a Volkswagon Bay Window Westfalia van which is absolutely stunning in a vibrant pea green. Any of these vintage numbers would be a total showstopper, so get those guests talking by booking with Ecosse.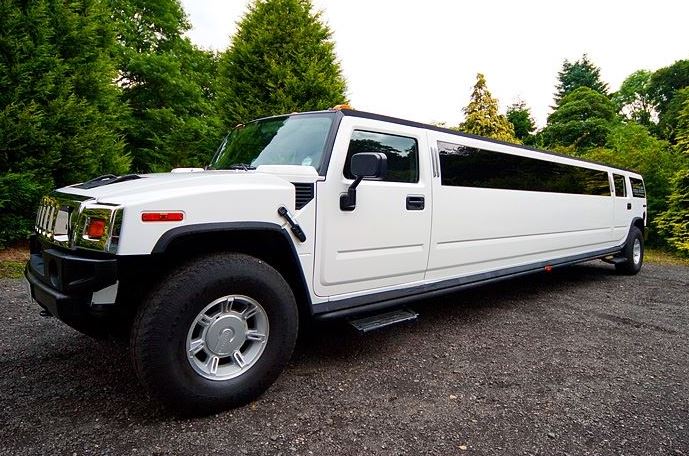 For a variety of modern and vintage style cars, the team at Ak Stretch Limousines have got you covered. This team have some beautiful vintage numbers like the Imperial Landaulet which seats 6 passengers and the Beauford which seats 2-3. Alongside these vintage gems, they also have some fab limos on offer like the Chrysler that seats 8 or their Hummer H2 limo which seats a whopping 16. For variety and professional service, make sure to check this team out.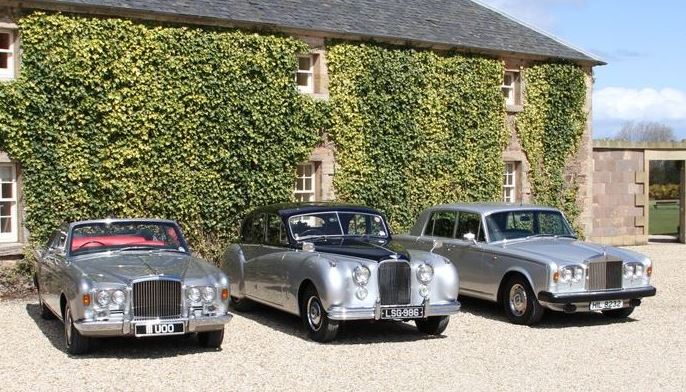 The team at Majestic Wedding Cars Edinburgh have a great range of cars to suit every style. With their London Talbot 75 or their Rolls Royce Silver Cloud I, you'll be feeling like a truly stylish couple from another era. And for those who love modern cars, this team have a Mercedes S Class and a Mercedes Viano which are the perfect pairing to get you and your bridal party to your wedding in comfort and sophistication.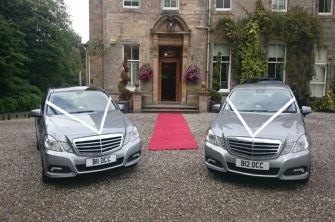 If you're looking for a friendly family run business that has delightful service, then you'll want to check out CC Chauffeur Cars. This team value their customers and so provide top quality service, professional and experienced chauffeurs and immaculately presented cars. They have a fleet of Mercedes Benz E Class vehicles on offer, which comes dressed in flowers and ribbons to suit your tastes.
The team at Avantgarde know wedding cars. They've been in the business for over 10 years and have a fleet that only includes the best of modern vehicles: The Mercedes Benz. If you're looking for a wedding transport company that has a great range of packages to suit every budget and is also super easy to book, then you're in luck with Avantgarde. Wedding packages include transport to your wedding, a courteous and uniformed chauffeur, transport to your reception, an elegant rear window flower display and car ribbons in a colour of your choice. You can't get a better deal than that!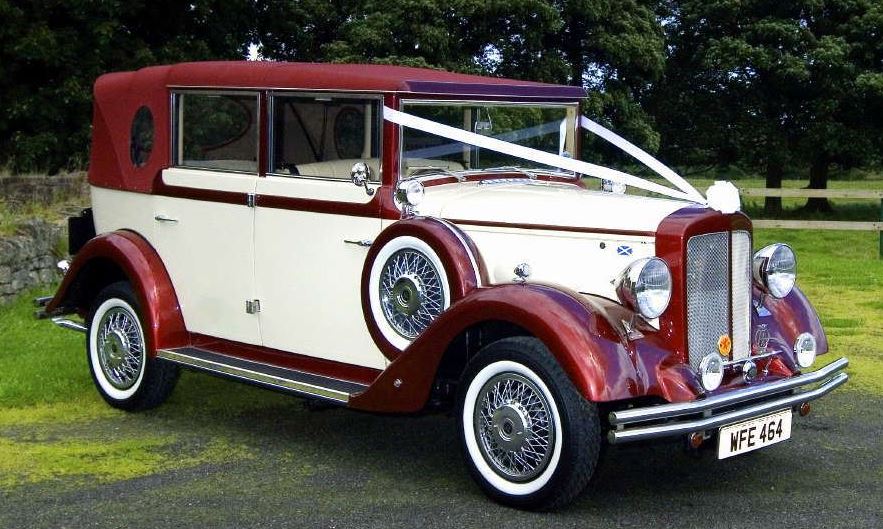 For a highly experienced team, you'll be impressed with what Rosebine Wedding Cars can offer you for your wedding transport. What makes this team so cool is that they don't stray from their bold and fab colour scheme, which is beautiful dark burgundy red and creamy ivory. In these two colours, they have a beautiful Regent Landaulette on offer which is a 1930s style car with modern engineering. Alongside this, they have two Daimler DS420 limousines on offer, which are both in rich burgundy. And in the same colour as the latter two, they have a Jaguar XJ6 on offer. If you're looking to make a statement and want to do that with the colour of your wedding car, then you'll have to give this team a look at as their cars are divine.

For a range of modern and classic cars, the team at Prestige Cars Grangemouth have got everything you'd want in a wedding car. Their 1962 Mk2 Jaguar will make you feel like Mr and Mrs James Bond with its cool styling and effortless class. If you want something a little more spacious, check out their 6 seater Volvo limousine which is ideal for taking the bridal party to your wedding. Whatever your car needs, this team are sure to have the solution in their fleet.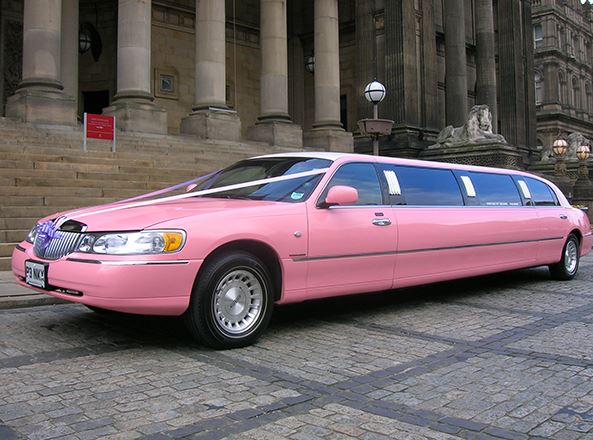 The team at Pink Limo offer some classic vintage style wedding cars which are perfect for any wedding. Alongside these classics, as the name suggests, they also have an awesome range of limousines for you to choose from. Varying in seat quantity from 8 to 16, you'll be sure to find your ideal limo for your wedding. And with a range of colours, including pink, black and white you'll definitely find your perfect match.
To tempt you further, click here for more information on these car providers.