Your wedding video soundtrack will make a huge difference to the impact of your wedding video so talk to your videographer about songs you'd like to include. Here are a few tips on selecting your wedding video soundtrack.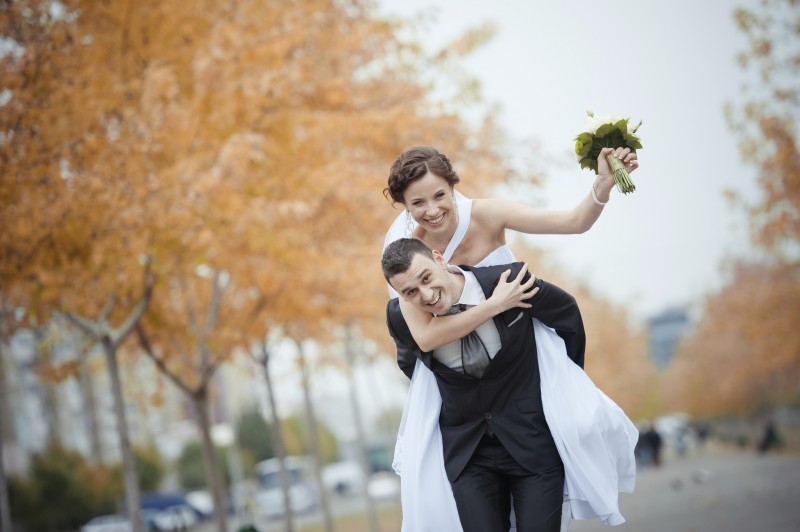 These five tips will help you select the right songs for your wedding video:
Add significant tunes
If there are tunes that are special and significant to the two of you then add them and don't worry what other people think. Pick music that you and your new husband love, and don't think too much about what the lyrics say and whether there are secret meanings or messages.
Use your wedding music
Use the music you walked down the aisle to, the song that you heard when you cut your cake, the tune that you danced your first dance to, and the song that played as you said your farewells. Adding some of the music you had on your wedding day ensures the video is more relevant and personal.
Include your band music
If you have a live band playing at your reception, try to get a CD of their music to use in your wedding video. It doesn't matter if you go with songs that weren't actually heard at your wedding reception so long as their songs all have a same feel.
Mix music styles
Hearing music that you loved at the time of your big day will remind you of that moment in time for years to come, but classic tunes will never go out of style and will ensure your wedding video doesn't even get too dated. Try to mix contemporary music, or your current favourites, with a few classic tunes.
Use pre-recorded music
The soundtrack will end up better quality if you go with pre-recorded versions of your wedding music, even though your videographer will record some of the music that was used on the day along with their footage.  Check out copyright law; you might have to buy a video recording license.
Ten classic wedding video songs
'Lets Do It, Let's Fall In Love' by Ella Fitzgerald
'How Sweet It Is' by Marvin Gaye
'All You Need Is Love' by The Beatles
'Brown Eyed Girl' by Van Morrison
'Tonight I Celebrate My Love' by Roberta Flack
'Can't Take My Eyes Off You' by Andy Williams
'You're My First, My Last, My Everything' by Barry White
'Moon River' by Frank Sinatra
'The Way You Look Tonight' by Harry Connick Jr
'I Only Wanna Be With You' by Dusty Springfield
Ten modern wedding video songs
'Closest Thing To Crazy' by Katie Melua
'Shine' by Take That
'She Will Be Loved' by Maroon 5
'Candy Man' by Christina Aguilera
'The Real Thing' by Gwen Stefani
'She's So Lovely' by Scouting For Girls
'A Moment Like This' by Leona Lewis
'Better Together' by Jack Johnson
'If I Ain't Got You' by Alicia Keys
'Beautiful' by Athlete
Use Easy Weddings to connect with your dream wedding suppliers.
Browse the directory and start planning today!