Your wedding day is something that only comes around once. Well, let's hope anyway. For that once in a lifetime day, you need that once in a lifetime car. The one that makes you feel like a million pounds. Here are our top picks for wedding car providers in Newcastle Upon Tyne.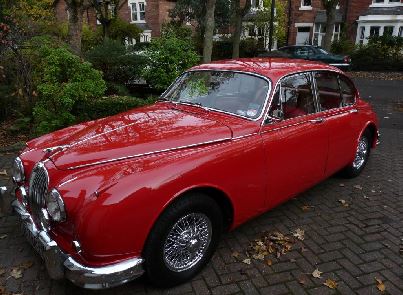 For you, a typical wedding car just won't do. Something white may seem boring. And something that looks like it belongs in a period drama is definitely not for you. You need something flashy and bold. This is where MMD Wedding Cars comes in. Their 1960s Jaguar Mark 2 is a complete dream. This flashy number is all curves and fabulous tyle. Did we mention that it's also bright, fire-engine red? Receive the best service from a friendly and reliable team and rock up to your wedding in the coolest ride ever.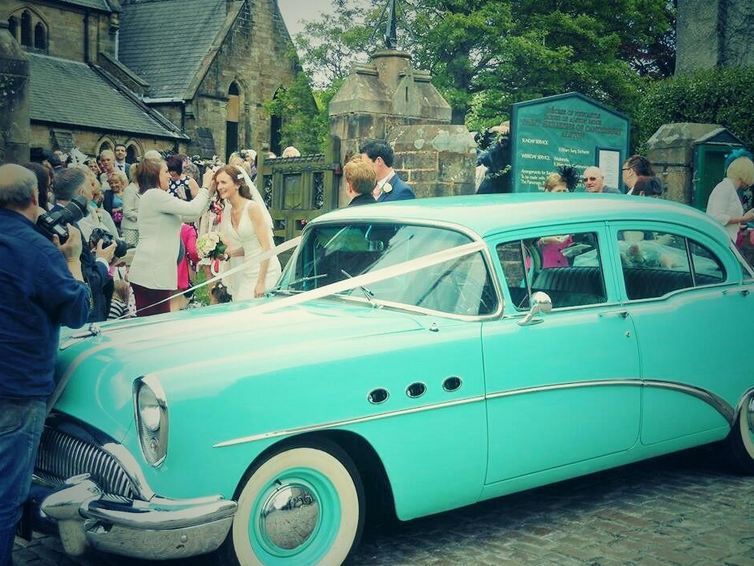 Sometimes that quintessential English wedding car just isn't going to be your speed. You might not be into cars that are older in style than 1950 and that's okay. You don't have to book that wedding car that everyone else is booking. You can book something unique, colourful and the complete opposite of English. Which is of course, American. How does a 1954 Buick Special sound? Does it sound even better if we tell you in comes in beautiful, bright and completely delightful bubblegum green? If you're the quirky couple who want that uniquely fab ride, then this colourful car is the one for you.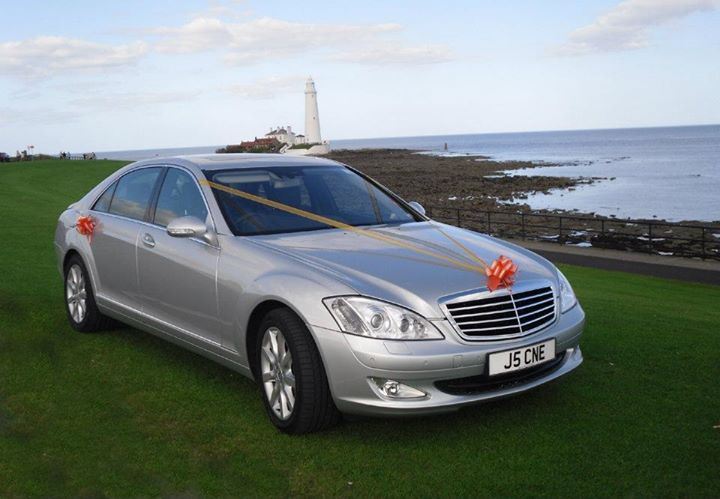 For lovers of all things modern, the team at James Cars North East have all of your needs covered. This team only have the best modern executive vehicles in their fleet. You'll find Mercedes and Audi models, all immaculately cared for ready to escort you to your wedding. With tailored packages alongside friendly and attentive service, this team are perfect for your modern car needs.

If you're looking to have your wedding day transport not only be for you but for your bridal party too, then Limobus North East are ideal. Even though this team is family run, you would have seen their well cared for Limobus on popular  tv shows including Channel 5's 'Hens Behaving Badly' and MTV's 'Geordie Shore'. Experience this famous car on your wedding day with all of your nearest and dearest.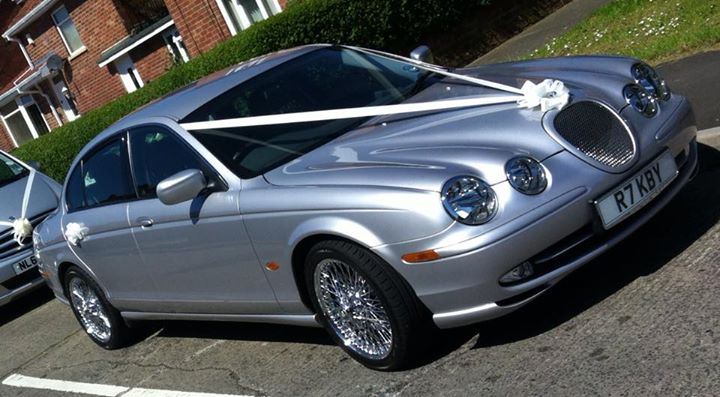 Professional service and a fleet of modern cars to choose from, make Rickerby Chauffeur Cars the perfect choice for your wedding day. Chrysler, Mercedes, Phaeton and Audi all feature in this sleek and sophisticated fleet. There's nothing better than riding in luxury so if this is what you're seeking for your wedding day, then this team has your lot.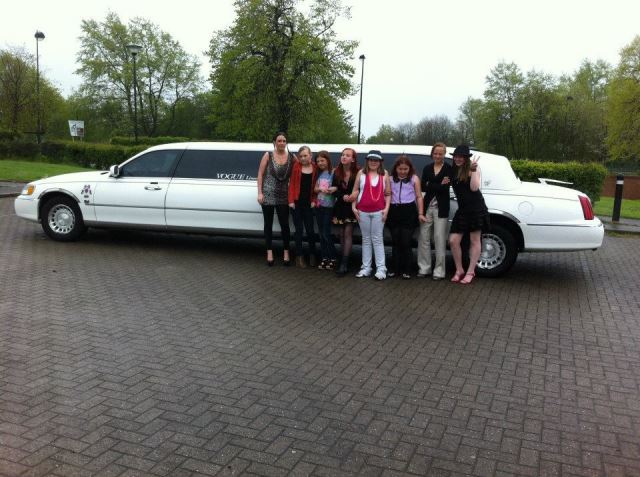 Do you ever wonder what it would be like to be famous? There's no better way to fulfil those wildest celebrity fantasies on your big day by showing up in Pinkerbelle – Vogue Limousine's hot pink stretch H2 Hummer. You'll be left seeing stars with the lasers and disco ball going and the music blaring from this nightclub on wheels while you cruise to your wedding. The tinted windows will leave the public wondering who the VIP is while you sip champagne and belt out the karaoke tunes. For those who want something a bit more tame, Vogue also offer a stunning range of traditional wedding cars and limousines.

There is nothing more elegant and nostalgic than being delivered to your wedding in a horse drawn carriage. You too can embrace this beautiful tradition and make it part of your special day. Carriageworks services the Northumberland area and beyond with multiple carriages to choose from, with their largest able to transport up to 8 people. Their most romantic option carries just two. It is an open-top ironwork carriage built in Paris in 1840, making it a true piece of history for your important day. You will be delivered to your destination by coachmen looking picture perfect in tailored livery. Your chariot awaits!

Make a classy and dramatic entry to your wedding in any one of the great classic cars on offer with Brooklands Wedding Cars. They have a selection of fairy-tale worthy rides, including the quintessential soft-top Beauford Convertible in gorgeous ivory and navy, to a 1920's Regent Landaulette straight out of the Great Gatsby. For more exotic fare, Brookland's also have a London taxi, a convertible VW bug, and a 1966 Ford Mustang as part of their fleet. There's truly something for everyone, so their selection is a must-see!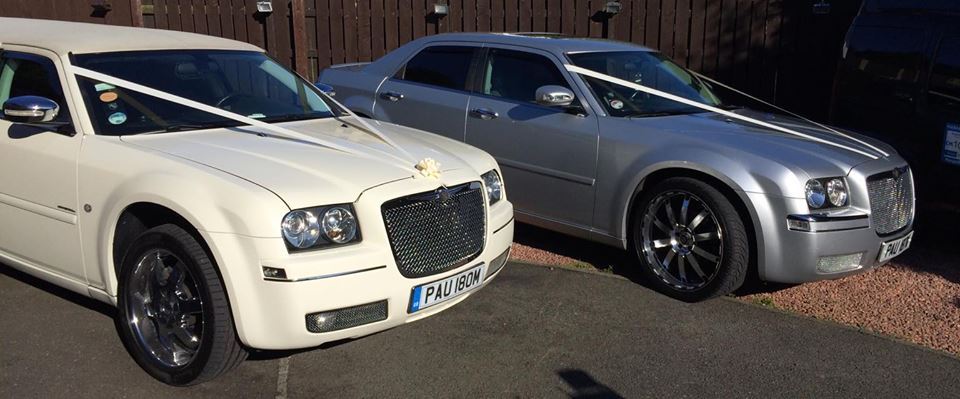 Find your perfect luxury wedding transport with one of the longest established hire companies in Newcastle Upon Tyne. Seaton Sluice Limos provide some seriously sleek limousines that aregoing to be ideal for your wedding day. All you need to do is sit back, relax and enjoy the ride, and all of your favourite mod cons too. Travel in style and in reliable and professional hands with this team. Sometimes a limousine is the only car that will do.
The team at Debonair Wedding Cars are the kind of team that care about their clients first and foremost. By having this amount of dedication to their clients, it means that this team won't double book their days. By doing this, it allows time for any mishaps or just extra time you may want with your choice of car. Not many wedding car companies do this as it does mean that they are giving themselves less business. This team are here to make your day as memorable as possible with their beautiful vintage cars, their uniformed chauffeurs and their individually tailored packages that are here to suit you.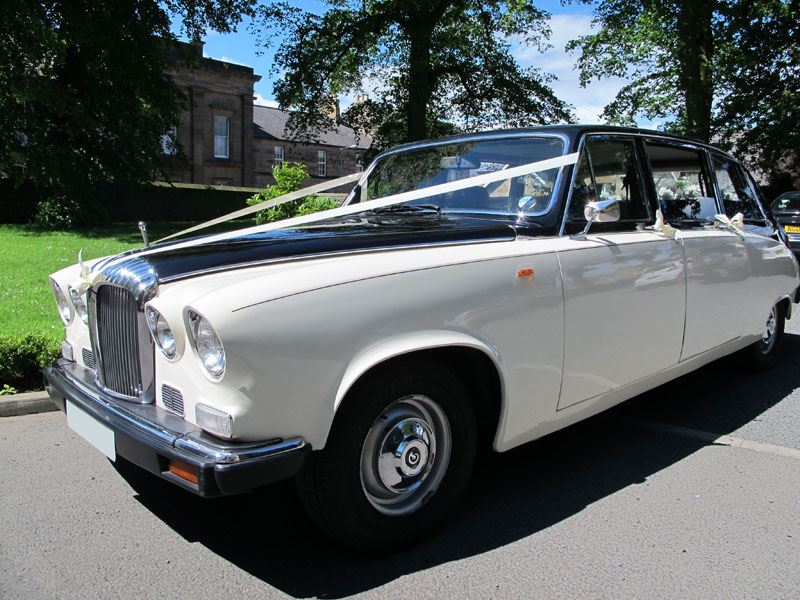 The team at Alnwick Wedding Cars believe that your wedding day can be beautifully enhanced with the help of a classic car. This is why this team have a fleet of wedding classics from the 1970s and 1980s on offer to make your wedding day extra special. Choose from a Rolls Royce, Bentley or Daimler from their vintage collection or if modern is your bag, then their luxurious Jaguar XJ is the car for you. No matter which car you deem right for you, it'll come dressed in silk flowers, ribbons and bows so it'll truly look the part.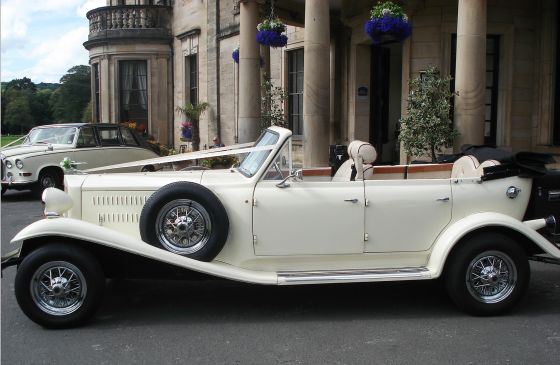 The team at Blue Eagle Wedding Cars are here to offer their great range of cars for your wedding day. This is a family run business who have been hiring out wedding cars for over 25 years. This has given them loads of experience and means that they've been able to perfect their service. This team are proud to offer their beautiful collection of vintage wedding cars at competitive prices for your upcoming wedding. Let this team transport you to your wedding in style, luxury and elegance. In their fleet you'll find Beaufords, Rolls Royces and limousines.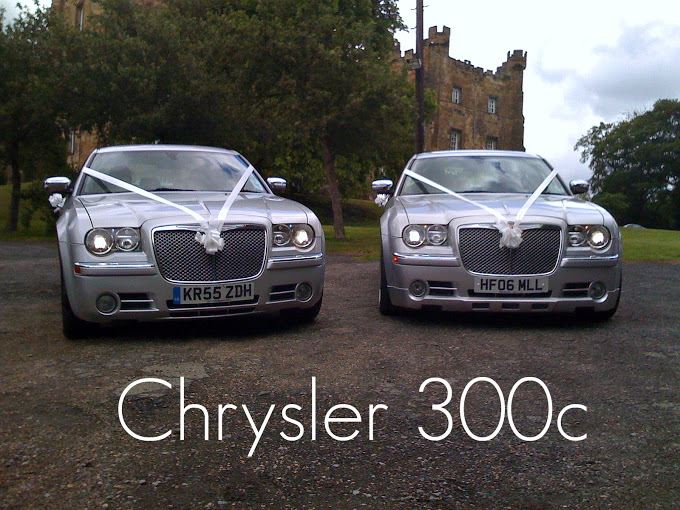 At Newcastle Wedding Cars, you'll find only the best modern luxury makes. Find makes including Mercedes, Jaguar, Chrysler and Bentley in their exclusive and luxurious fleet. On the day, this team will come collect the bride in your car of choice, which will be adorned with silk ribbons to really look the part. The bride will then be chauffeured over to the venue and the chauffeur will wait there until the formalities are concluded, any photographs are taken and the couple is ready to move onto the reception. The service with this team is great. So if you're a modern car lover, then this team is definitely the one for you.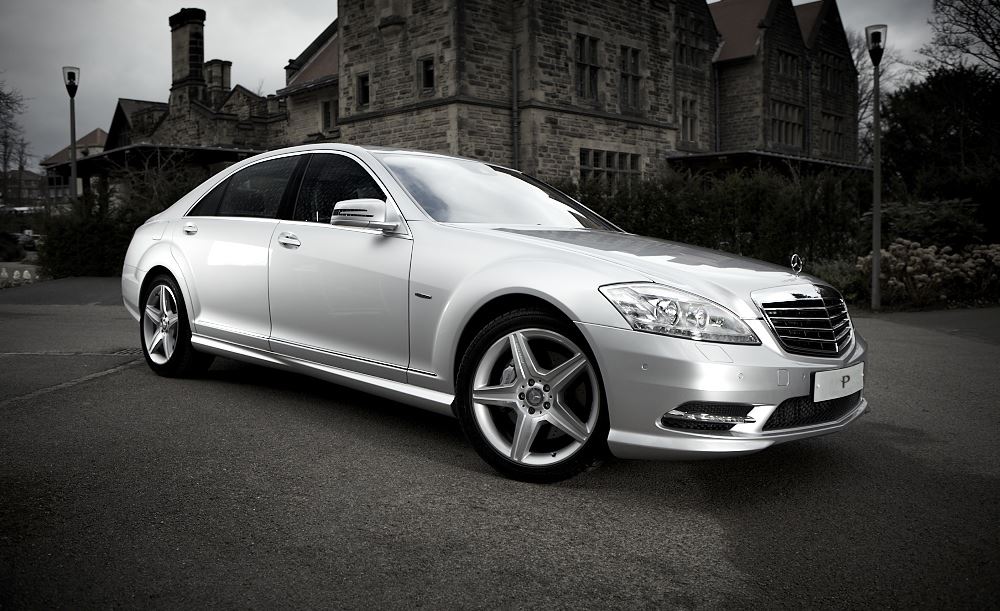 At Status Wedding Cars, you'll be delighted to discover a unique range of wedding packages for you to consider for your upcoming wedding. This team offer a fabulous collection of luxurious Mercedes vehicles, so if you love a luxury modern make then you're in the right place. Booking with Status Wedding Cars not only means that you'll get the modern car of your dreams, but you'll get your own professional chauffeur for the day who will be there to get you anything that you need.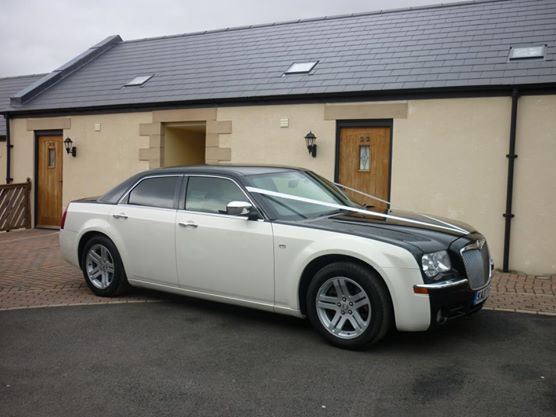 If you're hoping to book your wedding car hire with one of the largest wedding car companies in North East England, then you've come to the right place. Campbell Wedding Cars are a dedicated team based in South Shields who have been in the wedding car hire business since 2000. This team cover a large area across the North East, including Newcastle Upon Tyne. Their range of cars includes Regents, Bramwiths and Badsworths which are all vintage style beauties. They also offer a modern Chrysler which is a lovely choice for those who love all things new and shiny.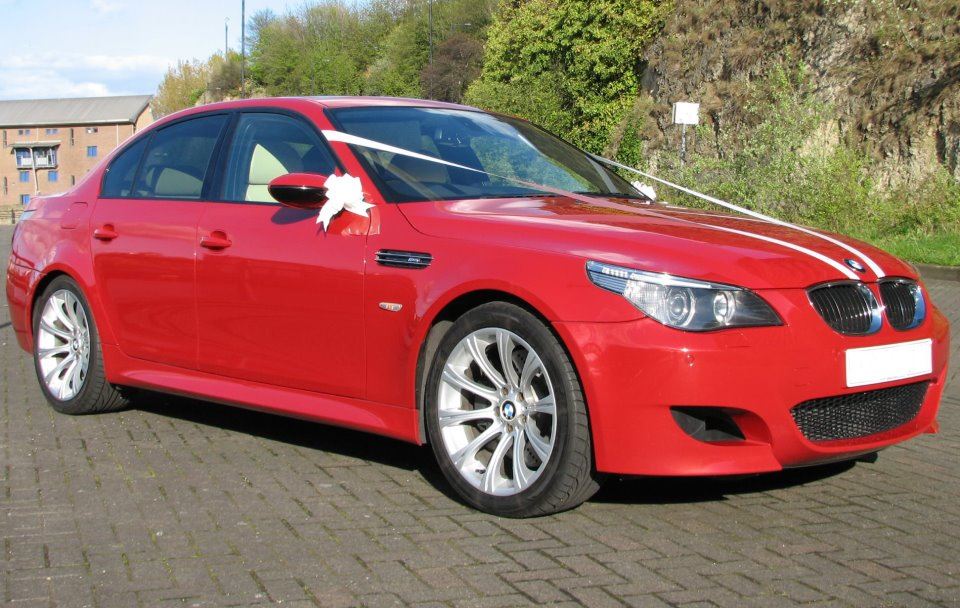 Sunderland Wedding Cars are a family owned and run wedding car hire business who are here to offer professional and reliable service. This team is run by husband and wife Nigel and Elaine. These two had their own wedding car hire disaster when they got married and so endeavour to never let that happen to any of their clients. Which will surely put you at ease, as one thing we all want from our wedding providers is reliability. Book your luxury modern wedding car hire with Sunderland Wedding Cars today; you won't be disappointed.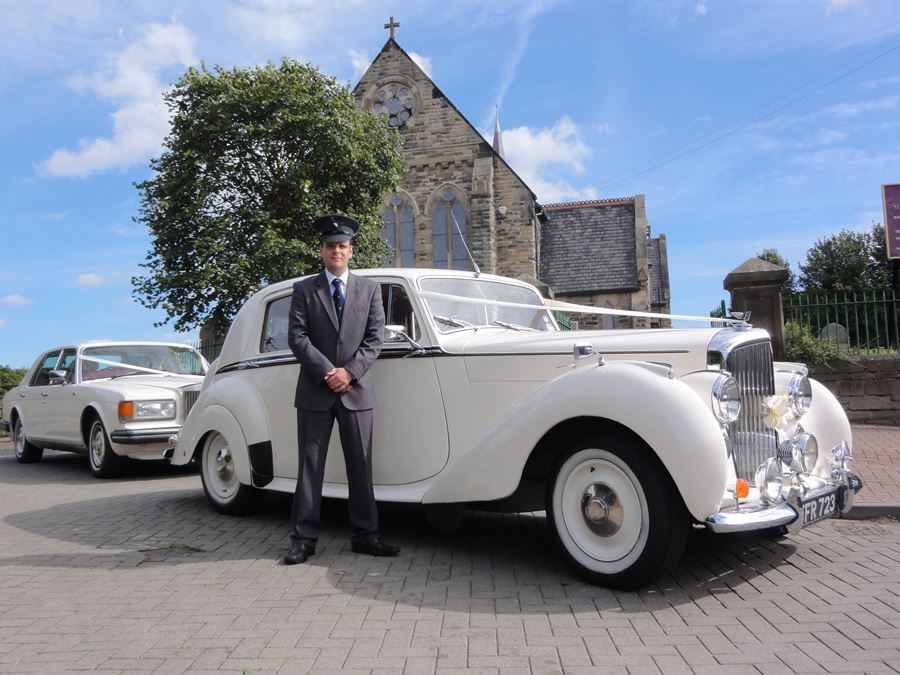 At ATW Wedding Cars, you'll be delighted by their collection of exclusive vintage cars for you to consider for your wedding car hire. This team are here to make your wedding day as memorable as possible, which is why they offer a beautiful collection of vintage and classic cars that are completely chauffeured for your comfort and ease. This team guarantee that the bride will arrive at the ceremony in spacious and luxurious comfort. Pick ATW for a team who put love and care into everything that they do.

The team at Benchmark Executive Cars are here to offer luxury chauffeur driven car hire for your upcoming wedding. This team are all about providing their clients with unparalleled levels of luxury, comfort and safety. This is why this team offer only the best luxury makes including cars from BMW, Mercedes and Chrysler. Let this team find the perfect car for you and your upcoming wedding.

Park Executive Chauffeuring Service are a new team on the block who have traditional values. This team are all about providing great quality service that is still affordable. This team offer their modern executive fleet for your upcoming wedding. All of their cars come in pristine condition so you needn't fret about quality. The service from this team is always reliable and with their professional chauffeurs, you'll be guaranteed politeness and punctuality at every turn. If you're looking for modern luxury and dedicated service, then the team at Park Executive are the right team for you.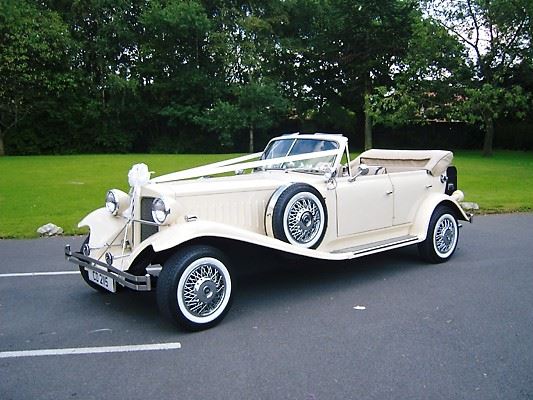 If you're looking for an elegant fleet of wedding cars to choose from, then One to One Wedding Cars is the provider for you. This team offer the quintessential wedding car, the Beauford convertible in classic cream. This is the idyllic car to take you to your wedding. It's timeless and elegant style are enough to make you feel as though you've gone back in time. You'll feel like a 1930s movie star in this delightful car. If you think bigger is better, then this team offer an extended Beauford convertible which is ideal if you're bringing a few people with you or if your dress is just that big. With modern Mercedes makes to complement these classics, you'll be spoilt for choice.
For more of Newcastle Upon Tyne's best cars, click here.