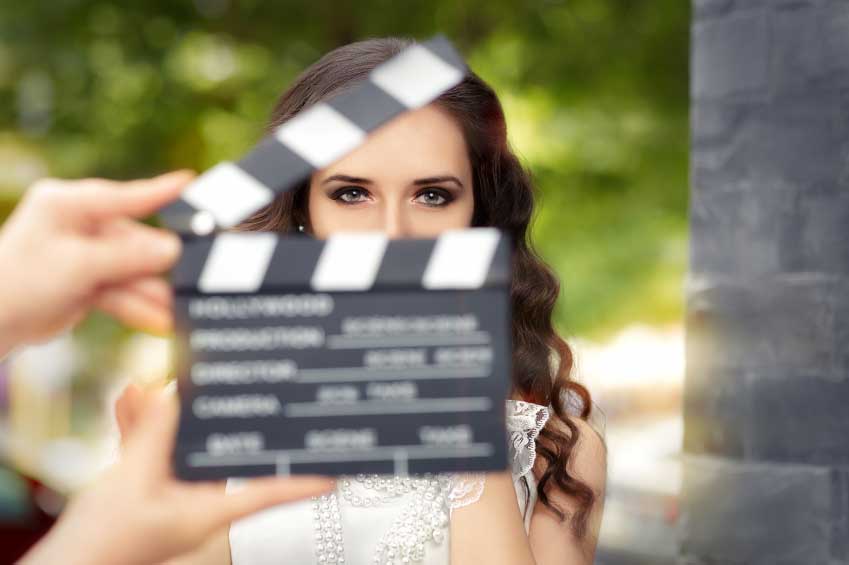 Your wedding video is something you will treasure for many decades (and, hopefully, watch many times during that period), so you want it to reflect your style as a couple – and give anyone watching it a true picture of what your big day was like.
The do this, you must not only find a wedding videographer who is great at what they do but also one that suits you and your partner's style and personalities.
Obviously, the overall look and feel of your final wedding video will depend on your budget and the videographer you choose, but here are 17 questions every couple should ask potential wedding videographers before signing on the dotted line.
Are you available on our wedding date?
It may sound obvious, but many videographers are booked months, if not years, ahead, especially the really good ones. So, before you launch into your questions and ask about their offerings, find out if they're even free on your wedding date.
What is your style of videography?
If you're at the stage of speaking with a wedding videographer, you should already have perused their portfolio to get a rough feel of what their story-telling style is because there is no such thing as a standard wedding video and not every style suits every couple.
Perhaps you prefer wedding videos shot in the cinematographic style of a movie? Or, maybe, you're partial to a fast-paced news style or a slower, more documentary style where your love story will unfold? You'll only know what style your potential wedding videographer shoots if you've watched their show reels and/or videos of previous weddings.
If you like their general style, but want something a little different, don't immediately discount them. Ask the question: what other styles can you shoot in?
Why? Because they may have multiple camera operators and editors who can shoot and cut video in your preferred style even though their show reel doesn't necessarily reflect it.
[ew-supplier-carousel]
What is your videography background?
Following on from the previous question, ask about your wedding videographer's background because they can be quite diverse, from self-taught practitioners who are true video artists to those trained at film school or at a TV station or on a film set.
Your videographer's background will affect their style of videography, but also how they do things overall. It's wise to ask about sort of training and experience the person you're putting in charge of recording your big day has.
How many weddings have you filmed?
No matter how experienced your videographer when it comes to filming and editing, you definitely want to know how many weddings they'll have filmed prior to your own big day.
Filming a wedding is vastly different from filming, say, a TV commercial or a film. Weddings are about capturing certain key moments and conveying the feel of your big days and telling a story. You want to know that your videographer, no matter how technically perfect he or she may be, will be able to read the mood of your event and, of course, record your big day without missing out on key moments.
This only comes with experience, so you probably don't want your wedding to be a videographer's first job.
Is the videographer you're meeting with the person who will be filming on your wedding day?
Your wedding day is so important and should be nothing but fun-filled – and you don't want anything or anyone to bring you down. That's why it's important to have a rapport with all your wedding suppliers, especially the ones who will be spending large chunks of your wedding day with you.
If you're meeting with a wedding supplier, be they a wedding videographer or a wedding caterer, ask if they are the person (or people) who will be servicing your wedding on the day or whether someone else will be there.
You don't want to spend your day taking instructions from someone you don't get along with, so if the person you're meeting isn't the person who will be shooting your wedding, ask to meet them before you seal the deal.
How many camera people and cameras will be operating on the day?
Be sure to ask how many people will be shooting your wedding day – and how many cameras they will be operating.
Obviously, this will vary on the wedding videographer's staff and equipment, but also on your own wedding budget.
Generally, the more cameras and operators, the better the final result. After all, if you're paying for a single operator with a single camera, don't expect shots of the bride walking down the aisle – and shots of the groom when he first sees her, or of your wedding speeches – and footage of the audience reactions.
Of course, if you're just after a simple, but accurate video record of your big day for posterity – or don't have a huge budget, a single-camera operator will suffice nicely!
Are there any additional costs we may encounter?
You definitely want to find out about any potential extra costs you may be liable for.
What if your wedding goes over time? What if the videographer has to travel to several locations during the course of the day? Will you be charged extra for travel? How much will significant edits cost?
Get a very clear picture from your wedding videographer about your final cost as well as what things will cost extra.

What is your cancellation and/or refund policy?
Nobody likes to think about having to cancel a service but, like having a Will made, it's prudent to be aware of and ready for all possibilities, even the unfortunate ones.
The fact is, things can go wrong and sometimes do, so ask what will happen if you have to cancel your contract; whether or not you'll get any money back and, if so, how much.
How long will it take you to edit our video?
Editing a video, especially one as complex as a wedding video is time consuming, so ask when you can expect to see your finished wedding video straight up.
Depending on the popularity of your chosen wedding video company, it can take anywhere between a few weeks to a few months to get back your final wedding video. 
While many wedding videographers will send you a short wedding 'trailer' within a few days – and some particularly clever ones will even manage to have a short, same-day edit in time for the wedding reception, it may take a while to get it back, so ask how long, roughly, your wait will be and what will be delivered when.
Most videographers are crystal clear about time-frames and setting client expectations, so they are generally spot on with the time-frames they give you.
What exactly will you film on the day?
This will depend on your budget and the package you purchase, but whatever you settle ensure you walk away with a really clear idea of what will end up in the final product that is delivered.
Does shooting begin before the bride gets dressed and will both the bride and groom's pre-wedding activities be filmed at their homes or will filming start the moment they walk down the aisle?
Will the final video include footage of the entire ceremony or just snippets and will the videographer capture your first dance and wedding speeches?
What about your first dance and big exit?
What exactly will be delivered and by when?
Again, this will depend on your budget, but ask what you will be delivered and in what format/s?
Will you receive just one single long-edit video? How long will it be? Will you receive a shorter highlights video?
Many wedding videographers deliver a short highlights 'trailer' version of your wedding quickly so that you can share it with guests – and on social media, though some don't. Others will offer it as an additional extra that you must pay for, so be absolutely clear on what is included in your package.
Also, find out how the final product will be delivered. Will you receive a nicely formatted DVD (almost nobody delivers wedding videos on DVD unless requested to do so) or will it arrive on a USB containing high-definition videos as is the current norm?
What about the audio?
In your quest to get the perfect video, don't forget about the audio.
What sort of audio equipment does your wedding videographer have? Lapel mikes for clearer footage? If not, can they plug straight into a celebrant's PA system to ensure they capture every word of your ceremony?
Note that some ceremony locations, especially some churches, won't allow the use of microphones, but regardless, don't forget to enquire about the quality of the audio being captured with your video.
There's no point filming your hilarious best man's speech if you can't hear a word he's saying.
How do you back-up your footage?
You'll only get one go at your wedding day and your wedding videographer will get only one chance at capturing it. So, you want to know that all that your precious wedding footage is safe between the time it is shot and the time the final product is delivered to you.
And your wedding videographer knows this – and will, presumably, take steps to protect your footage from being destroyed, lost or damaged.
Some vidoegraphers immediately back up their raw footage after an event with many of them keeping at least two copies, though some keep three or four copies… just in case!
After that, some videographers, especially those who have had disaster strike in the past, are especially cautious and will even store a hard drive containing yet another copy of your footage in a fire-proof safe!
It's extra peace of mind so don't be shy about asking how your precious wedding footage will be safe-guarded!
For how long do you keep the footage?
A typical day's wedding filming takes up between 60Gb and 150Gbs of storage space, which is a lot and not something a business can keep forever, certainly not if you're a videographer who films dozens, if not hundreds of weddings every year.
Knowing this, it's wise to find out what your wedding videographer will do with the raw footage once your wedding video has been delivered and signed off on.
Most will keep the original footage for between two months and a year after your video is delivered, but after that period, your footage will, most likely, be deleted forever.
Have you worked with <insert the name of your wedding photographer> before?
Your wedding photographer and wedding videographers may be from different companies, but they'll need to work very closely as they're both trying to capture the same key moments – without getting in each other's way.
While most professionals can work with other wedding vendor perfectly well, it's re-assuring to know that your wedding videographer and your wedding photographer have worked together before and will, likely, know each other's way of working, which will lead to a better final result for both of them – and you.
Again, it's about a little extra peace of mind, so ask the question.
Are changes available once we see a first edit?
Editing a video, especially one as complex and sentimentally crucial as a wedding video is a complex task and a LOT of work. Plenty of love and art and time (three or four full days of editing) can go into putting together a two to three-hour wedding video, so the last thing your videographer wants to do is present you with something you hate – or that need heavy re-editing.
Ask whether or not you will see a rough first draft before too much work has gone into the final product. This will allow you to be a lot happier with the final product – and save your videographer's time.
That said, you may not need to ask as most videographers will edit the video to follow the exact order of events, so it's rare that any significant edits need to be made to a final video. Once it is delivered, find out how long you have to make any changes, such as editing out portions of an offensive wedding speech or someone you no longer want in your wedding video, for whatever reason.
You'll usually have a 30-day period in which to have minor re-edits made without further cost.
What music will you be using in my wedding video?
The music used in your video will affect how it looks and feels markedly, so ask what sort of music your videographer intends to use. Is it soft and romantic or fast-paced and edgy? And is that the feel you're going for?
Also, ask about whether the videographer has an APRA/AMCOSS licence, which will allow them to use pretty much any song you can think off legally, however, this licence only applies to the main, long-edit video that is for your private use.
If you're putting any video (or portions of your wedding video) online, such as a highlights reel, any music contained in it won't fall within the scope of the videographer's APRA/AMCOSS licence, which only applies to domestic use of music.
In that case, if you do want to upload your frenetic bouquet toss which was performed to Beyonce's Single Ladies, you'll need to seek permission from the actual rights holders of each piece of music directly.
Not only can be time consuming and expensive, it's not easy and probably won't be worth the effort.
The alternative is that your wedding videographer will provide you with a version that contains different music, most likely some sort of royalty free music, which doesn't attract the same fees or rules as the music most of us want to include in our wedding videos. Other alternatives are production music, which is used to set the mood in films, as well as stock music.