Your choice, your voice, your ceremony! Every wedding written especially for each couple - no two love stories are the same, so why should your ceremony be the same as everyone else's?
Helping you to create beautiful alternatives to traditional ceremonies
Would you like a Wedding Ceremony that's unique to you with all your favourite words and music? A ceremony that you and your partner have complete control over? 
No need to book a licenced venue, you can choose ANY venue you like! Be it your garden, boat, or shed!  Your only limit is your own imagination.
If you think this would be expensive, then why not give me a call you could be pleasantly surprised.
All ceremonies are writtten uniquely to each couple and can include absolutely anything that you have set your heart on.  I will learn about your lovve story and your journey to your engagement and use what you share to craft your perfect ceremony that reflects your past, present and future, your hopes and dreams.  We can include symbolic elements such as hand fasting, a wine or beer ceremony, a rose ceremony, or anything else that is relevant to you, creating something that no one else has ever used before.
Your choice, your voice, your ceremony!
Jane and Darren were delighted with the ceremony created for their perfect day this year and write....
Hi Teri
We had the most amazing day - everything just went perfectly including the weather (we were preparing for the worst a couple of days before).  You were absolutely amazing and your contribution made our day very special. Thank you so very much!!! Jane and Darren
Your choice, your voice, your ceremony! 
About
I am outgoing and friendly, I love meeting new people and being creative. My creativity will see me writing, sewing and taking on interior design projects, which often involves a paint brush! Mum to three grown up children and Nan to 7 grandchildren aging from 1 year to 21 years of age! (yet I'm only 59!) I have been a wedding and family celebrant for over 10 years and love every moment of working with couples to create their perfect day...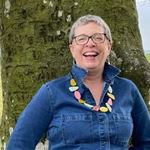 Teri Stout
Business Owner