Practicalities of an outdoor wedding reception
Posted in Wedding Venues | 7 January, 2014 — Comment
---
An outdoor wedding reception is a fabulous idea – blue skies and sunshine, the scent of fresh flowers, and beautiful countryside views. However there are a few practicalities to bear in mind when planning an outdoor wedding reception.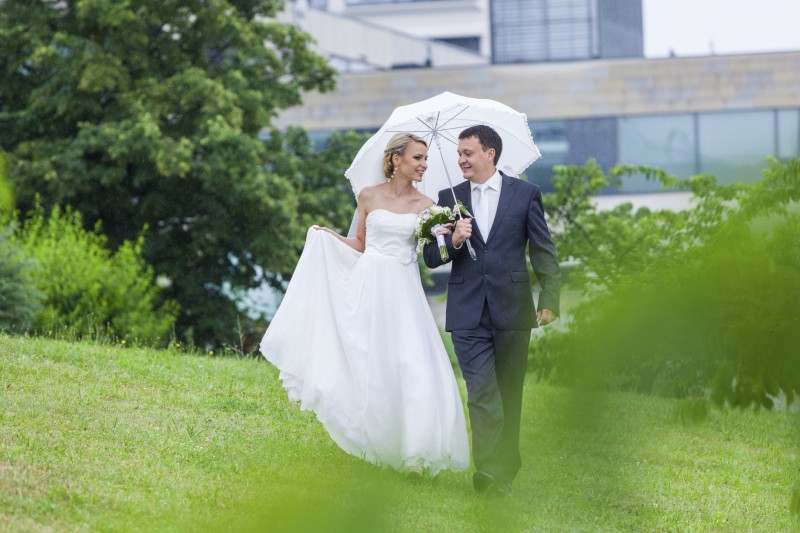 When planning for an outdoor wedding reception, keep these five practicalities in mind:
The changing weather
Always create a backup plan for an outdoor reception as the unpredictable British weather means there's a good chance that high winds or rain could spoil your plans. If you are hiring a marquee you might be able get away with it, but if you are thinking about spending the reception completely outdoors, hire your local village hall as a backup just to be safe. In the event of light showers you may just need to make sure there are some gazebos where your guests can take shelter, and provide a good supply of umbrellas.
Basic facilities
Your outdoor reception location may look stunning, but does it have the required facilities you will need like toilets, car parking, and electricity for the caterers? There are always options for getting around these situations, such as portable toilets, a hired minibus from a local car park, and generators, but you will need to be prepared well ahead.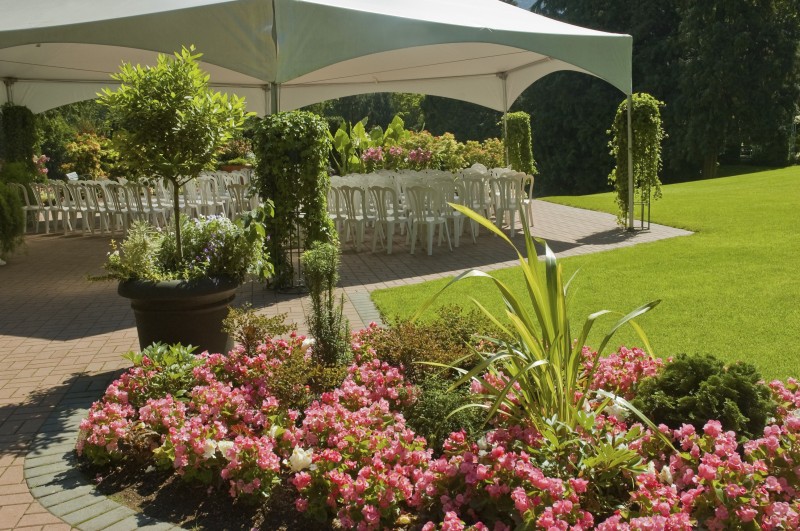 Wedding photos and video
As part of your search for a photographer or wedding videographer, look for suppliers that have experience in outdoor wedding receptions and are able to show you examples of their previous work. Ask your photographer to check your venue before the special day to get some ideas for locations. They may need to have specialist equipment such as light meters, shades, or amplifiers with them, and they may need extra time to set these up prior to the wedding.
The outdoor elements
Outdoor venues look the most beautiful when in full bloom, but not only to your guests. Wasps and insects will be attracted to blooming flowers, as well as food and drink, and may be a quite a nuisance. If you are planning to be outdoors for the whole reception, ensure your guests are aware of that so they can have insect repellent, a good hat, sun cream, and appropriate clothing with them. Just naming the venue and assuming your guests will understand is not enough, some guests will still expect the reception to provide an indoor option.
Soft or uneven ground
Take a good look at the ground where you plan to hold your reception. Is it level enough for a marquee? Will disabled guests be able to access it? Is there space for tables as well as an area to dance? What is the drainage like? Even if the day itself is dry your guests won't have a lovely time if they are dancing in standing water from the previous day's rain. Look for a practical area of ground – remember you can add decorative elements with a hired archway or gazebo to change the way the surroundings look.
---
Related Articles
---
Comments  
Leave a Reply
---