Getting married at golf club wedding venues
Posted in Wedding Venues | 7 January, 2014 — Comment
---
Many golf clubs are now designed to accommodate weddings and come equipped with lush function suites, on site catering, and complete wedding packages for you to choose from, as well as beautiful countryside views. Some golf club wedding venues are licensed to hold civil ceremonies and many even have their own wedding co-ordinator who will ensure your big day goes with a swing.

Golf club weddings are becoming increasingly popular, due to the combination of great facilities and stunning locations, so include your local clubs on your list of venues to visit. If any of your close family are long standing members of a nearby club, find out whether they do weddings; you may even get a discounted rate.
Photo opportunities at golf club wedding venues
A golf club should provide a perfect setting for wedding photos, with lovely countryside views, but the golf course itself might also provide your photographer with a few ideas. A dreamy shot of the two of you teeing off together with a sunset in the background could be magical. For something more tongue in cheek, have the groom bent double under two hefty bags of golf clubs as the bride completely oblivious, takes her shot.
Your guests can get in on the golf photo fun too. Have clubs and golfing paraphernalia ready for them to use as props and set up an area where they can have their photos taken, either with a digital camera that can be used to create a slide show, or a Polaroid camera so the photos can be pinned to a display board.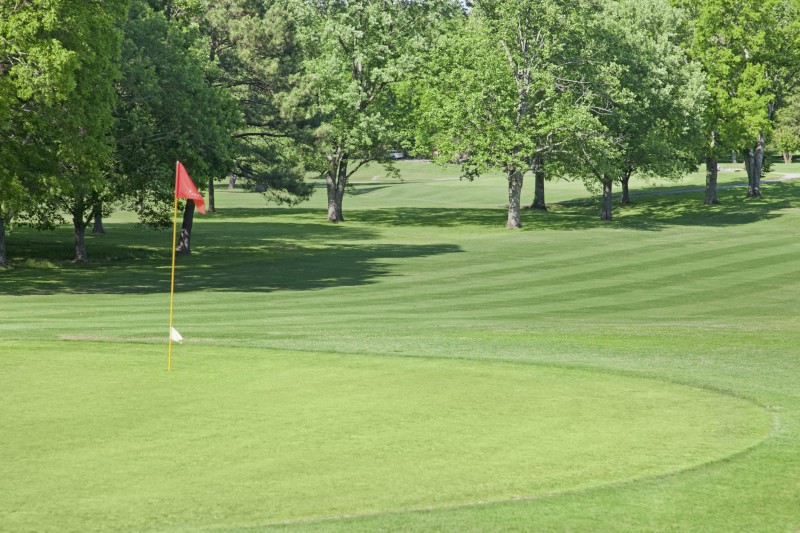 Incorporating a golfing theme
Using a golf club wedding venue is particularly appropriate if you and your fiancé are passionate about golf, and you can include the sport in your wedding theme. We're not expecting the groom to arrive at the wedding in plus fours, but your invitations could have a simple golfing motif such as crossed clubs, and you could send save the date fridge magnets in the shape of golf balls.
If you're holding your ceremony and reception at the golf club venue and don't see the need for a fancy wedding car, you could ask to borrow a golf buggy to transport the two of you around the course. As well as some great photo opportunities, this adds a bit of fun to the wedding, and may also save you a few pounds.
Your seating cards could be attached to tiny flags similar to the ones used to mark the location of the hole, and your seating plan could be presented to look like a golf course. Your wedding favours could be tiny golfing bags with chocolate clubs, or simply five chocolate golf balls in a small box or bag. Perhaps you could use golfing terms to name the tables such as 'the fairway' and 'the fringe'.
---
Related Articles
---
Comments  
Leave a Reply
---