Evening reception etiquette – everything you need to know
Posted in Wedding Venues | 7 January, 2014 — Comment
---
If your guest list just keeps getting longer and your budget only gets tighter, there's a simple solution – shift some guests to your evening reception list. If you're worried about offending people by only inviting them to your evening do, check out this guide to evening reception etiquette.

Be clear with your invitations
Always print a separate invitation card for the evening reception and head your cards with 'evening reception' or 'evening celebration' rather than the standard, 'wedding invitation' in order to set your guests expectations accordingly. Always instruct your invitees of any dress code that may be applicable so they don't stand out from your day guests.
Also, remember to state whether or not your single friends can bring a date.  Inform your evening guests of a definite starting time, and ensure you have finished your dinner and are ready to welcome them. Take care to keep the wording of your invitation informal, writing that you will be getting married on a certain date and that you'd love to see the recipient at your after-party to celebrate.
Deciding who to invite to what
While your family circumstances will dictate which relatives you invite, for those of you with a large family it may be best to just invite your immediate relatives to your dinner and more extended family (aunts, uncles and cousins) to your evening reception. Make sure you apply the same rules to your fiancé's family. When the bride's family are organising the wedding, it isn't uncommon for more of her family to be invited than the groom's.
When it comes to friends, you can usually categorise your guests as work colleagues, university buddies, etc. As a rule you are best off inviting every member of a particular group to either the whole wedding or just the evening gathering. To be inconsistent may see you causing offense, embarrassment or awkwardness amongst these groups.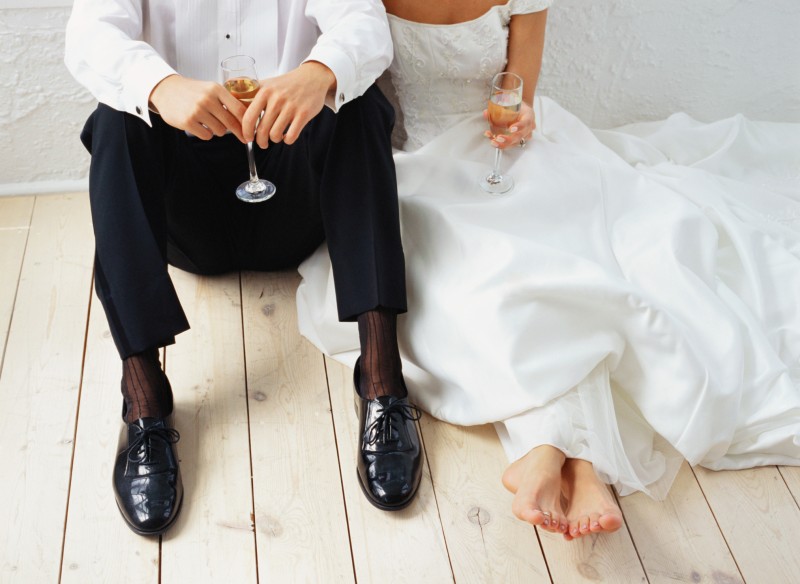 Make your evening guests feel welcomed by…
Supplying plenty of bubbly when they arrive, and laying on a buffet dinner
Deferring your receiving line until the evening so that they can be a part of it
Making sure there are wedding favours and cake for them
Using digital frames at the reception venue to display photos taken during the day
Not changing out of your wedding outfits, or leaving the party too early
Saving a wedding ritual such as the first dance or cake cutting for the evening
It is entirely up to you which guests you invite to the whole wedding day, and which are invited just to the evening reception. Your friends will overjoyed just to be included in your celebrations and will understand your budget restraints. Anyone that complains about not being invited to the whole day doesn't really deserve to be there at all.
---
Related Articles
---
Comments  
Leave a Reply
---