When it comes to weddings, often we forget about how we're going to get there. Going in your own car won't do for the bridal party so hiring a luxurious wedding car or two is the best option. Here are our top 20 choices for wedding car providers in Cheshire so that you can ride in style as well as feel comfortable and at ease on your wedding day.
The At Your Service team are all about that: service. They are a highly proficient team that will get you to your wedding safely while riding in utter style. These beautiful vehicles are driven by trained professionals that won't lose their personable and friendly demeanours. With their selection of luxurious Mercedes-Benz S Class limousines to deliver you to your ceremony and reception in the most fabulous style, you'll love what this team has to offer. If the vintage look is more your style, then not to worry, you can book their beautiful 1930s style car. With 6 passenger seats available in this stunning vehicle, you'll be transported to another era with the sumptuous leather interior, high roof and red carpeted floor. For a team who'll deliver you safe and soundly with true class, then book At Your Service for your wedding now.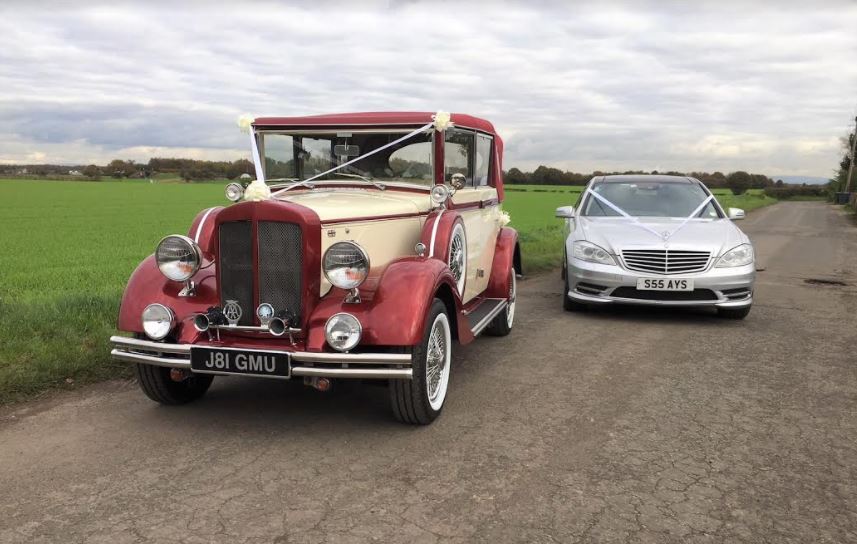 If you're all about vintage luxury, then you'll be in awe of the selection of vehicles that Horgans Wedding Cars has to offer. Their wide selection of cars are stunning vintage style vehicles with varying qualities to suit your needs. Their Beauford and Regent cars are both convertibles, so if you're blessed with sun in Cheshire on the day of your wedding then you'll love riding in either of these cars. With their fabulous selection ranging from four seats to seven, you'll be sure to find that one of these beauties matches your needs. Choose Horgans for award-winning cars and great service. You'll love the 1930s style uniforms worn by the chauffeurs!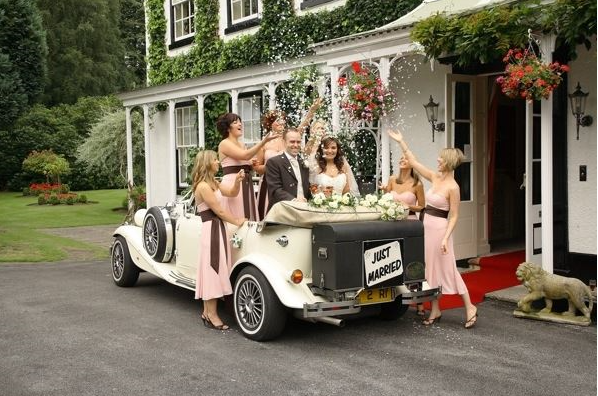 If you're looking for a grand entrance with a twist, then the motors on offer at Little Limos will be your best bet. Want to cruise up to your wedding like a total rock star? Then, look no further. Little Limos pride themselves on their individual selection of cars. They have a classic white VW Beetle Convertible, which is both classy and quirky, or for the full rock star feel, maybe you'd prefer to show up one of their split-screen original VW Combi Vans. You'll love the friendly service and the quality of these genuine vintage cars.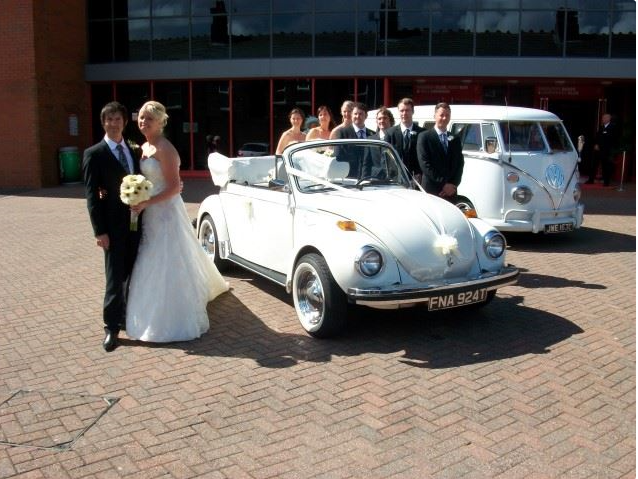 If you want to be driven around on your wedding day in true class, sophistication and classic engineering then the vehicles at Top Calibre may be the ones for you. This team hold a fleet of Mercedes-Benz S Class vehicles which is the perfect modern car to be escorted in. You'll love the soft leather seats and wood trimmed interior for that real sense of refinement. For highly trained professional drivers and beautiful, high class transportation, choose Top Calibre.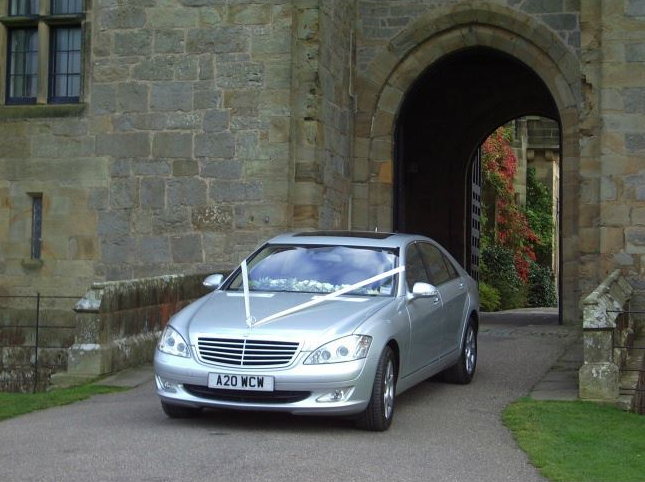 The main vehicle that Klassic Cars use is a beautiful 1930s style Beauford. These cars are perfect for weddings. With ample space in the back to accommodate the bride's dress and the option for the car to be used as a convertible (weather permitting, of course), you'll feel like royalty in this amazing vehicle. The drivers are smartly dressed and offer considerate and friendly service. They'll even give the bride and groom a complimentary bottle of champagne on route to their reception. It can't get any better than that!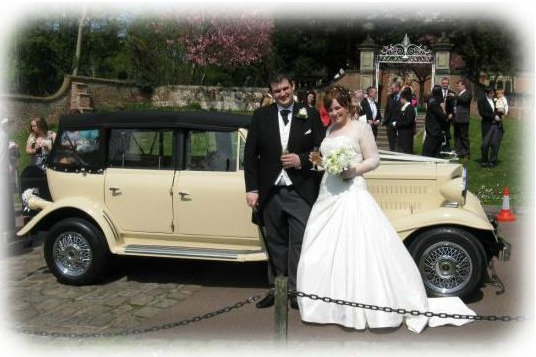 Limo Hire Northwest are a family run business that aim to exceed their customer's expectations. With super friendly service, professionalism and a well-maintained fleet of limos to offer, you really can't go wrong with Limo Hire Northwest. For a stunning limousine to whisk you off to your wedding and then deliver you to your reception, choose this team.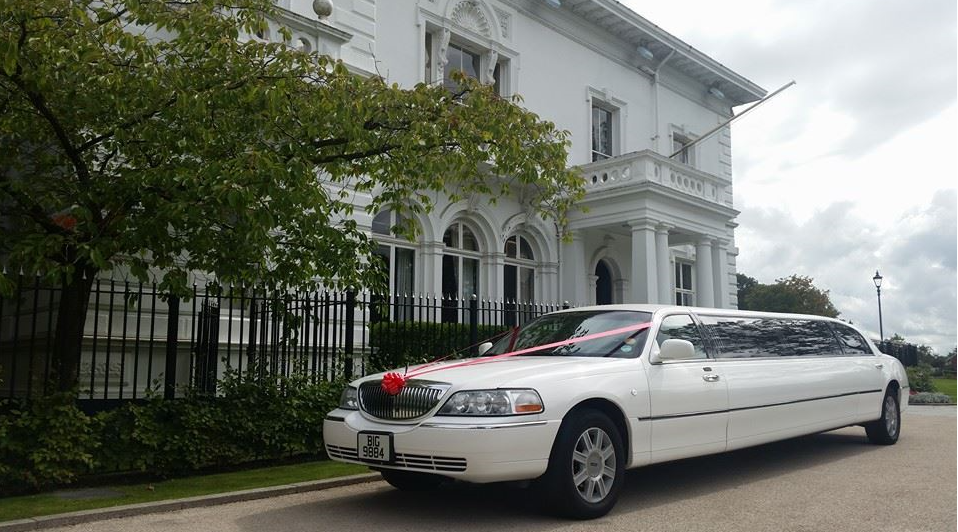 If you're looking for a vintage style car for yourselves and something modern for the rest of the bridal party, then you'll love the selection of cars on offer at A Lamont Wedding Cars. This team offer both a 1930s style Regent and a 1920s style Imperial for true vintage luxury. Their modern cars are a selection of Mercedes-Benz S Class and R Class vehicles for those who want a clean, modern looking ride.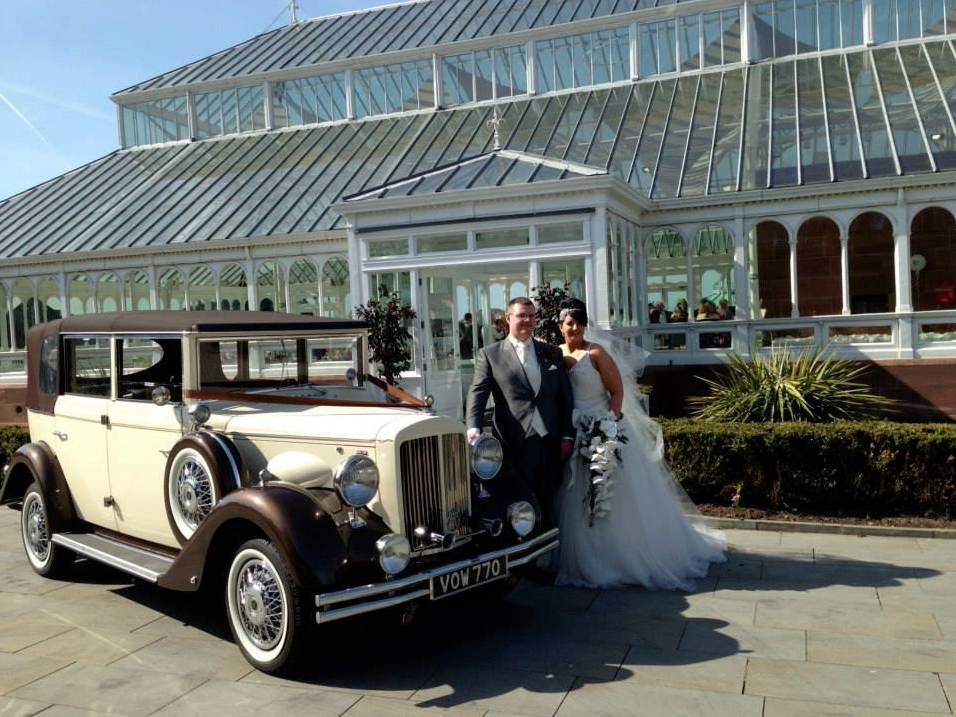 High Style Wedding Cars offer a range of quality vehicles for you to choose from. They offer the classic 1920s and 1930s style vintage cars alongside the modern Mercedes-Benz, so no matter what your style is, you'll be covered. This team even offer a cute 'his and her' package with two sister cars leased for the day, one for the bride and one for the groom. After-all, the groom should arrive to his ceremony in style too.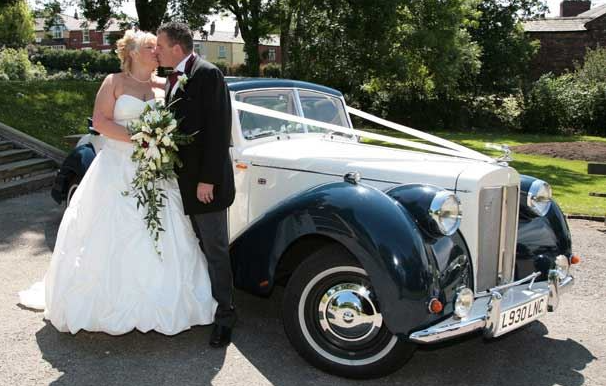 If you're a lover of true vintage mechanics, then you'll be smitten with the cars at Volkswagen Wedding Cars. As the name suggest, this company offer only Volkswagens which is perfect for those groovy couples who are true hippies at heart. Choose between the fabulous split-screen Combi van in stunning green, or the adorable 1969 Beetle for true style and vintage charm. You'll love been driven around in one of these super hip cars for the day.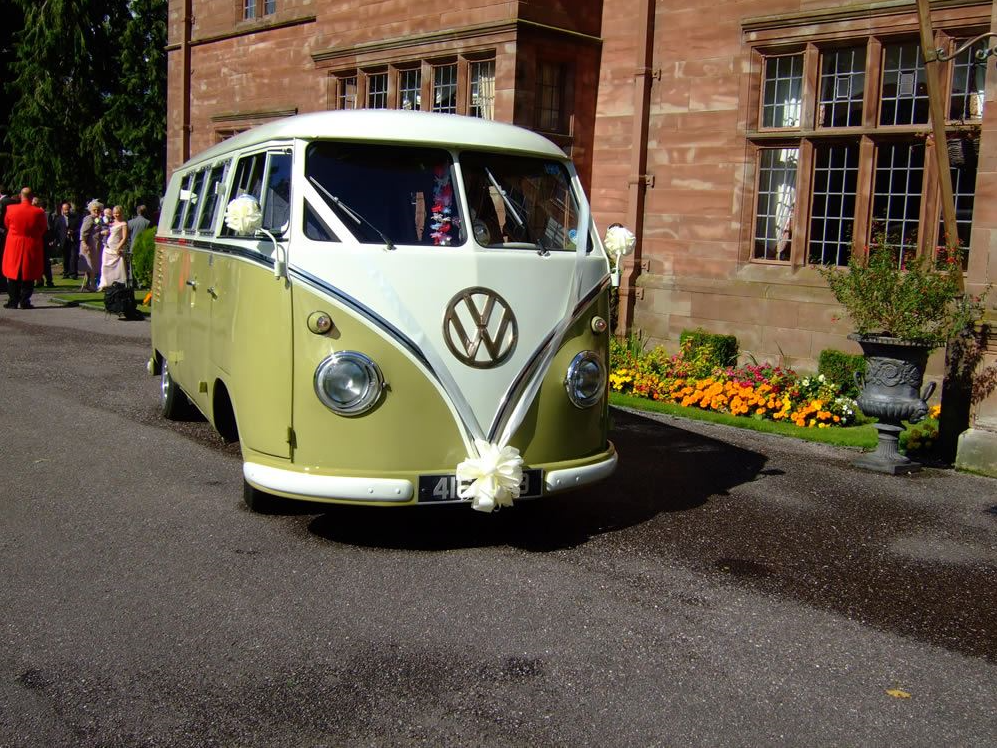 For timeless class and elegance, a 1930s style Beauford is the perfect choice for your wedding, and this company has a whole range of them. With luxurious leather interior and amazing convertible roof, you'll feel like the Windsor's in one of these lavish cars. Along with the beautiful car, you'll receive high quality service from your personal chauffeur plus a complimentary bottle of bubbly. Talk about utter heaven.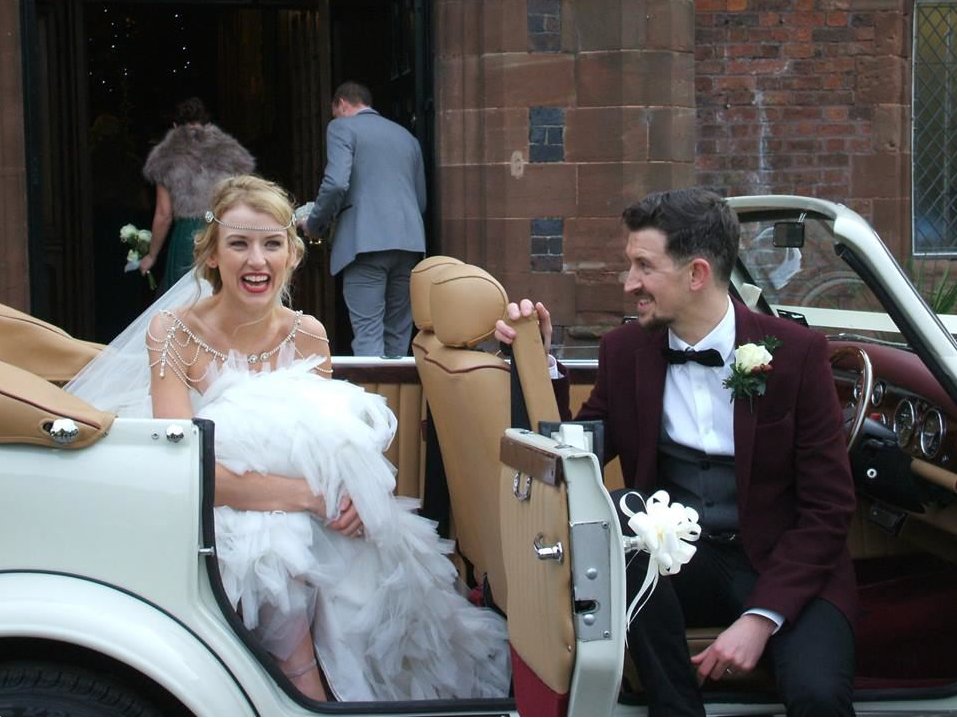 If you're big fans of Jaguars, then you'll want to check out Luxury Classic Jaguar Hire for your wedding. This team specialise in the hiring of vintage Jaguars for weddings, all of which are either from the 1960s or the 1970s. With this dedicated team, attention to detail is imperative, which is why you'll find that if you go with them, you'll receive nothing but the best service and the most immaculate cars. This team even offer self-drive wedding car hire which is quite rare in this industry. So if you can't think of anything better than driving yourselves to your wedding in a fabulous vintage Jag, then give Luxury Classic Jaguar Hire a call. It gets even better too as you could score yourself one of two discounts if you book through Easy Weddings. Check it out today.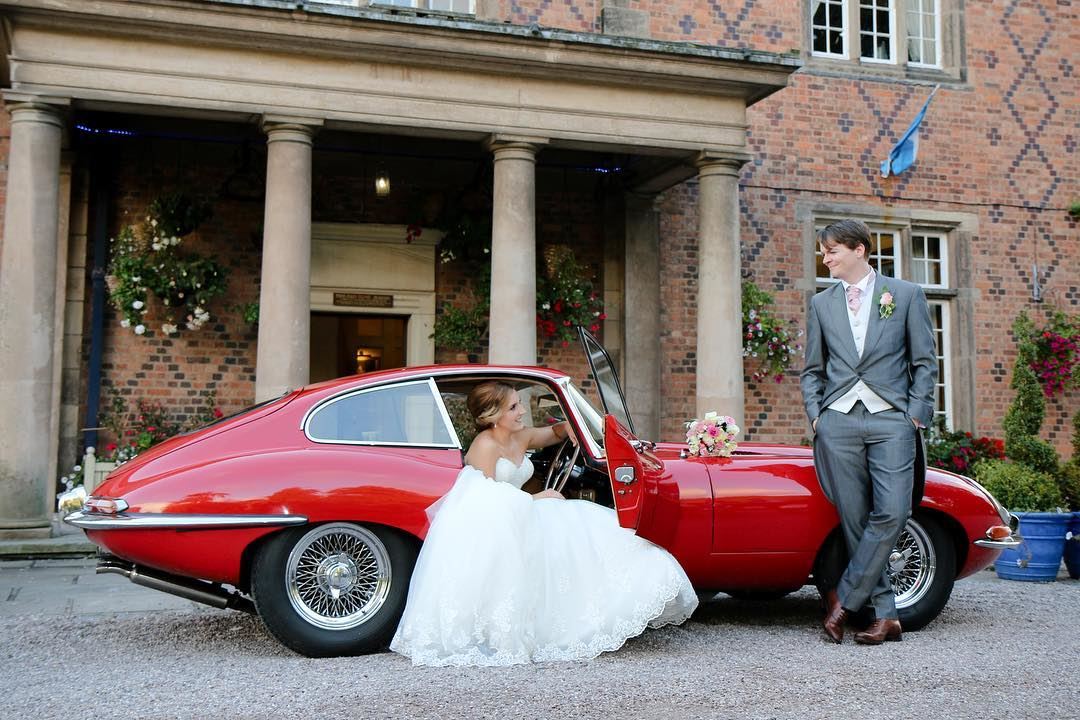 At WeddingCarHire.co.uk, you'll find an extensive and varied fleet, plus a dedicated team to help you have the best possible wedding transport. Service and immaculate cars are what this team are all about. They work across the UK and are one of the UK's most popular wedding car providers, so you know they must be doing things right. All of your favourite, vintage, modern, luxury and quirky cars can be found here.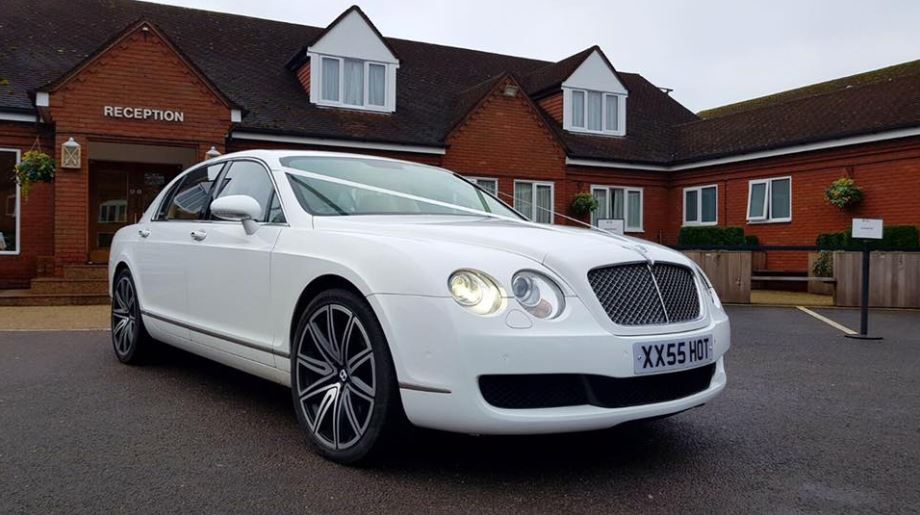 The family run business of Vintage VWs 4 Hire strive to be the very best Volkswagen wedding hire company in the North West. This team are all about the personal touch. Yes, they're professional and dedicated, but they won't treat you like you're just another walking pay check. They'll treat you like the unique people you are and aim to find you the idyllic car so that your wedding is as perfect as can be. If you book one of this team's amazing vintage Volkswagens today with Easy Weddings, you could receive a 10% discount on your car hire.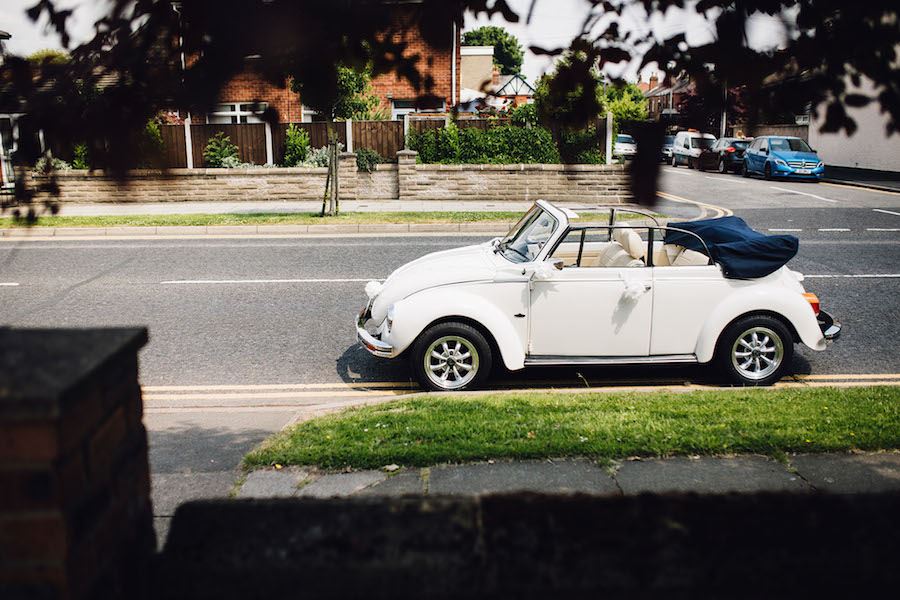 The team at Cheshire and Lancashire Wedding Cars are proud to offer their friendly yet professional service for your upcoming wedding day. This family run team have a great reputation for their excellent service and specialise in chauffeur-driven car hire for weddings. In their fleet, you'll find a great range from modern makes including Chrysler and Mercedes and vintage and vintage style numbers including Beauford and Daimler.
At Classic Wedding Cars Cheshire, you won't find your run-of-the-mill cars that you would at other care hire companies. Instead, you'll find a unique and distinctive collection of cars that this team hope will perfectly suit your personal aesthetic and style. In their fleet, you'll be smitten with their MK2 Jaguars and their Triumph Vitesse. Their main car would have to be their creamy white MK2. This vintage dream is perfect for weddings because of its traditional colouring, but it's distinct and interesting so you'll still make that wow factor entrance. Check this team out today, you won't be disappointed.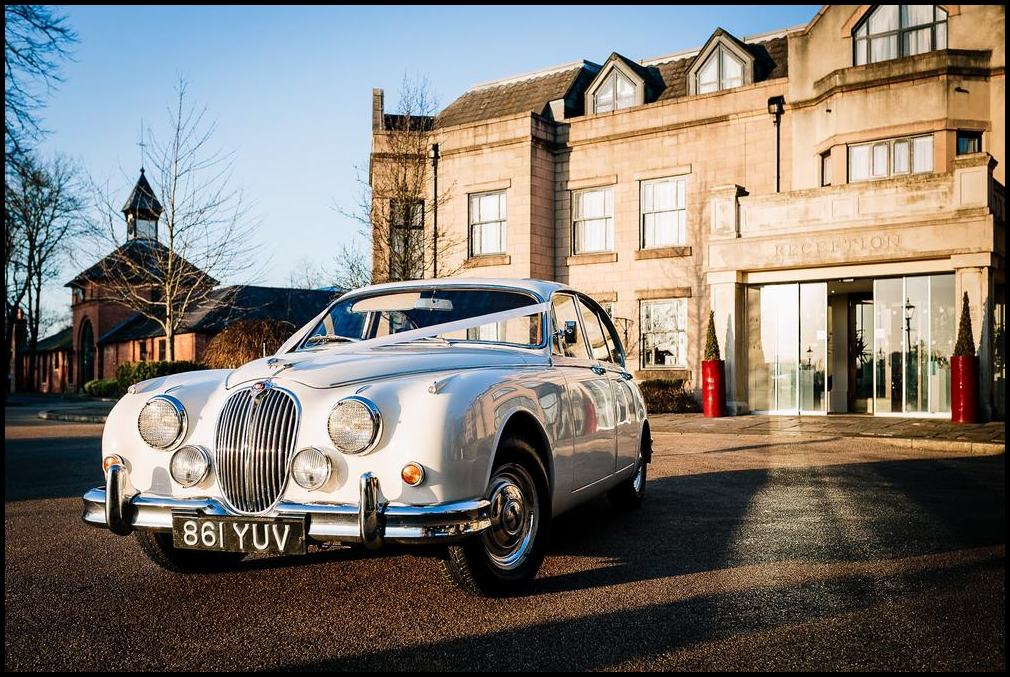 At Grosvenor Classic Cars, you'll find cars varying in style, colour and age that you might like to consider for your wedding day car hire. You'll find vintage Edwardian style Rolls Royce makes, 1930s style Beaufords, Daimler and Jaguar limousines, plus modern groom's cars. Every style is covered in this fleet, so make sure you check them out. This team offer great service and have the cars to match.

The team at Cheshire Luxury Cars are all about modern vehicles that are almost too luxurious. If you're a fan of modern luxury cars, then you're definitely in the right place. This team have the best chauffeurs and they work their hardest so that the ride to your wedding is the best it can possibly be. In their luxurious fleet, find makes including Range Rover and Rolls Royce in a range of models to suit your own personal needs. For the team who will provide the personal approach and tailor everything to suit you, you can't go past Cheshire Luxury Cars.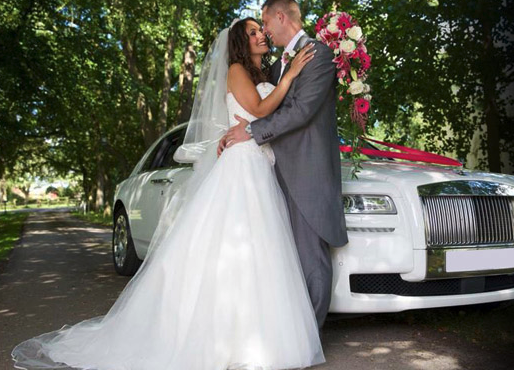 Chester Wedding Cars are a great choice if you're looking for a wedding car hire company who have loads of experience. This team have an amazing range of classic and vintage cars in their fleet for you to consider. Their 1930 Rolls Royce Saloon comes in a deep burgundy and is an amazing piece of motoring history. This car is a total stand out and you'll feel like an old-timey movie star riding along in it. Their 1962 Austin Princess Vanden Plas is a lovely choice for your wedding car hire as its classically beautiful, shapely and comes in creamy white. You'll certainly be able to relax a you nestle into the grey leather interior of this beauty.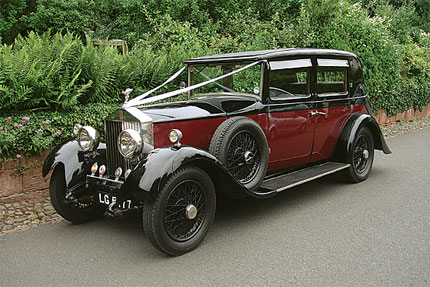 Alsager Wedding Cars and Limousines are an independent wedding car company who have been in the business since 1999. This team pride themselves on their professional and luxurious service that always has a personal touch. This team are all about making your special day memorable and with their range of modern cars that are completely divine, you'll not be forgetting your wedding transport anytime soon. This team even offer a vintage Rolls Royce which has to be seen. Check them out today.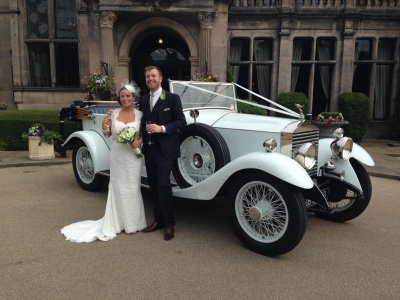 Gardenia Wedding Cars are the family run business who always aim to exceed your expectations by providing the most professional and friendly service. This team specialise in chauffeur-driven wedding car hire so that you don't need to worry about a thing on your big day. They offer a beautiful 1930s style Beauford wedding car so that your big day starts off in complete perfection. Check out their beautiful car, 'Isabella' today. You won't be disappointed.