It was a light-hearted joke that broke the ice for Ria Tamone and Benjamin Price to become more than just friends.
The Sydney pair had travelled to Port Douglas for a mutual friend's birthday and after spending a few days together Ria, 29, decided she wanted to see Ben, 28, again. "When it came time to say goodbye Ben was packing his ute and I said something like 'we will catch up soon'," recalls Ria. "Ben replied with 'I will call you' and continued throwing things into the tray."
Quick to pull him up on his brush-off, Ria pointed out that he didn't even have her number. "Ben laughed as if caught out and I proceeded to grab his phone and enter my number." Three days later, he called.
They were married in a church wedding at Cardinal Ceretti Chapel in Manly on December 7, 2013 surrounded by 145 guests. "We chose this chapel because my brother was married here and we love the appearance," says Ria. "The view overlooking Manly beach and beyond is another reason we loved it."
Celebrations continued at Manly Golf Club.
"The wedding day was a beautiful sunny 25-degree Sydney summer day. We were very lucky to have such brilliant weather," says Ria.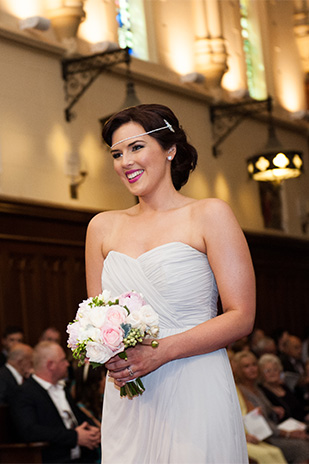 Ria says her two nephews walking down the aisle was a highlight of the day as the older one was pinching the other's bottom the whole way along!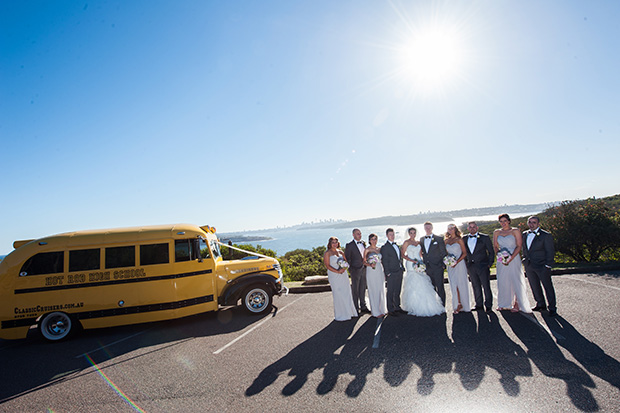 Ria's ravishing Demetrios dress was purchased from Brides of Beecroft and altered by Miss Carla in Manly.
"I loved our cake. We wanted something different than your normal wedding cake. We took inspiration from fairy bread – something fun and colourful," smiles Ria.
Photos courtesy of T-One Image.
Featured Suppliers:
Bomboniere: DIY sugared almonds / Brides Accessories: Stephanie Browne Australia / Brides Gown: Demetrios from Brides of Beecroft / Brides Shoes: Georgie's Bridal Shoes / Bridesmaid Shoes: Tony Bianco / Bridesmaids Accessories: Swarovski / Bridesmaids Dresses: Bridesmaids Only / Ceremony Music: Jasmine Strings and Jessica Nowosad / Ceremony Venue: Cardinal Ceretti Chapel / Entertainment: Baker Boys Band / Flowergirl Dress: Bebe by Minihaha / Flowers: Wild Lotus Floral Design / Grooms Attire: Spurling Formal Wear / Grooms Shoes: Julius Marlow / Groomsmen Attire: Spurling Formal Wear / Hair: Yasmin Orr Hair and Makeup Artist / Invitations: Papette Boutique / Makeup: Yasmin Orr Hair and Makeup Artist / Pageboy Attire: Aussie Ties / Photographer: T-One Image / Reception Venue: Manly Golf Club / Rings: Parade Jewellers / Transport: Classic Cruisers / Venue Decor: Beach Balloons / Videographer: T-One Image / Wedding Night Venue: Novotel Sydney Manly Pacific
Comments